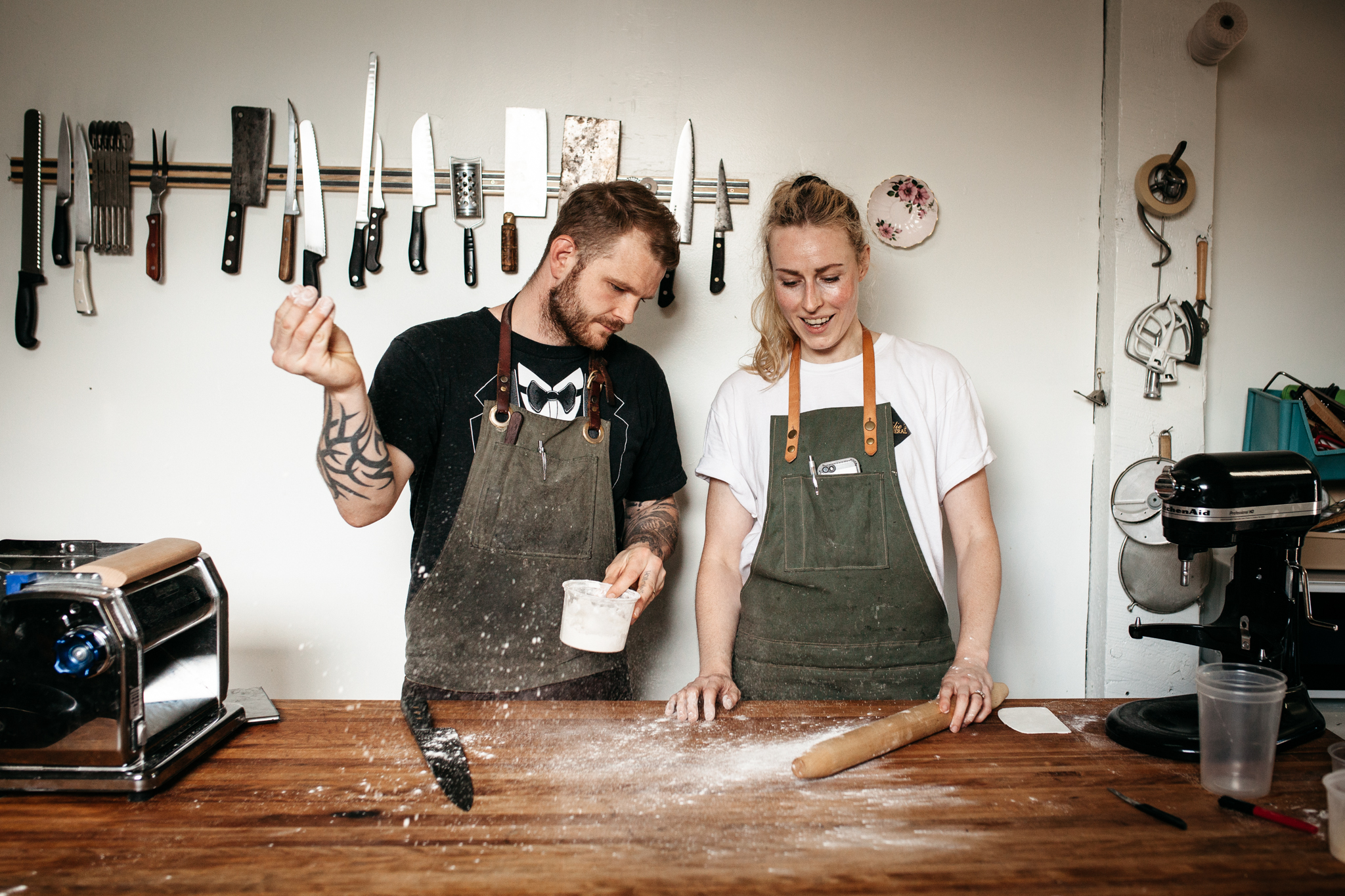 For over 50 years, the Golden Dragon building in Saskatoon's Riversdale neighbourhood housed a family-owned Chinese-Canadian restaurant with a retro-kitsch aesthetic that would make David Lynch purr. Since a change of ownership in 2011, however, the dining room's silvery-beige crane wallpaper, Howard Johnson's-orange banquettes, hand-painted glass lantern lighting, and power-clash crimson and pink paint job provided a backdrop for the contemporary cuisine of the Hollows, a distinctly atmospheric restaurant serving food prepared using farmhouse preservation techniques.
"Our customers often regale us with tales of the old-time glamour of their past visits," says co-owner and chef Christie Peters, a Saskatonian former model who relocated from Vancouver with her partner, fellow chef and co-owner Kyle Michael, to craft contemporary dishes from locally farmed and foraged produce. "We love everything about the building, and strive to maintain its sixties aesthetic."
Peters's meals are at once modern and evocative of a time when prairie inhabitants lived more closely with the land. "We strive to highlight the unique ingredients that grow here in this harsh climate; crabapples, pineapple weeds, rose hips, sea buckthorn berries… And we focus on cellaring and preserving vegetables during the harvest season, in order to sustain us throughout the long harsh winter," she says. Dishes like tempura dandelions and local Diefenbaker trout tartare with salt and vinegar beet chips, gnocchi with carrot top pesto and brown butter, and roasted bone marrow served with a tiny scoop of luscious green sage salt make the spot a culinary destination, and the cocktail list—which sees a mix of signature cocktails using local ingredients like sea buckthorn and rhubarb and a classic section offering vintage beverages rarely found these days (Pink Lady, anyone?)—is fantastic.
Peters and Michael also opened Primal, their second restaurant, in 2015, specializing in time honoured Italian food and handmade pasta using Saskatchewan heritage grains (a surprisingly uncommon practise given the region's world-class wheat) and whole animal butchery. Together, the young entrepreneurs are taking advantage of the opportunities a smaller community affords, ushering the city's dining scene into a new phase with due respect for its culinary history.
The Hollows, 334 Ave C South, Saskatoon SK S7M 1N4.
_________
Never miss a story. Sign up for NUVO's weekly newsletter, here.