The Art of Charcuterie During a Pandemic
A shared culinary experience through individual edible art pieces.
If there is one thing this year has taught us, it is our ability to enjoy the slower, uncomplicated moments in our day. Who knew that simply gathering, reminiscing, and connecting over a memorable meal would be a nostalgic luxury of the past?
Charcuterie is an edible art form that has fuelled French social gatherings for decades. From the French words for flesh and cooked, charcuterie is a paradox derived from the European notion that nothing should go to waste, yet it can also be designed and grandly presented in the most sophisticated of ways.
"Charcuterie boards are abundant and versatile, and they are aimed at gathering people together," says Katie Eyre, founder of Brie & Banquet Wild Catering Co. "All of the ingredients combine so many amazing local creators and food crafters while providing an interactive experience for guests as they choose their own adventure, taste test various combinations, and graze through their interactions with one another."
Eyre opened Brie & Banquet to apply her love of design in a way that celebrates vibrancy and beauty through delicious edible arrangements and tablescape artistry. Through food, she aims to make lavish, quality ingredients more approachable in a whimsical, unconventional, and unpretentious way while encouraging the romanticism of grazing culture.
"I have always described Brie & Banquet's style as romantic, as the shared style and finger-food vibe make it extra luscious," says Eyre. "When I was in Paris, I noticed how prominent the grazing culture was there —you could order a cheese and charcuterie plate almost anywhere. Taking this time to slow down with a glass of wine and a few bites of cheese on a bench by the Seine doesn't get any more romantic."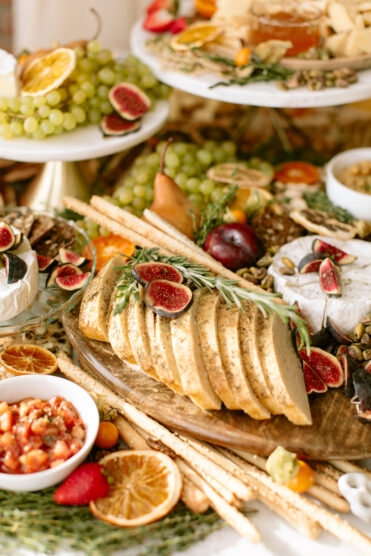 The dichotomy of luxury ingredients being styled creatively and consumed so casually is a form of culinary poeticism. With a craving to pay homage to the way we once were (pre-COVID), Eyre quickly shifted from boldly styled shared grazing plates to offering solo-sized charcuterie boxes.
"Individually portioned grazing plates are the perfect alternative for a socially distant gathering," says Eyre. "They make it super easy to accommodate guests' individual dietary needs while still reflecting the interactive playfulness of traditional charcuterie and not compromising on style or aesthetic."
For anyone interested in designing their own grazing platters, Eyre's advice is simple. "The perfect charcuterie board will be bright and beautiful with a full dynamic mix of flavours and textures."
How does one achieve this? "I recommend including your favourite cheeses, at least one hard, one soft, and a goat or vegan cheese option for lactose-intolerant guests," she says. "My must-haves are olives or a rich tapenade, a local pickled item, a vibrant jam or jelly, nuts, crackers, fresh fruit, and cucumber. Always build a platter with inclusions that you love."
Whether your gathering is an online Zoom call or small in-person get-together, these individualized grazing plates eliminate the awkward dilemma of determining how to serve food while limiting the number of people interacting with the spread. Most importantly, they are a momentary solution that continues to allow friends and family the collective shared experience of this beloved culinary adventure while maintaining our personal space during this time.
_______
Never miss a story. Sign up for NUVO's weekly newsletter here.