Sea Bass in Crazy Water From Chef David Rocco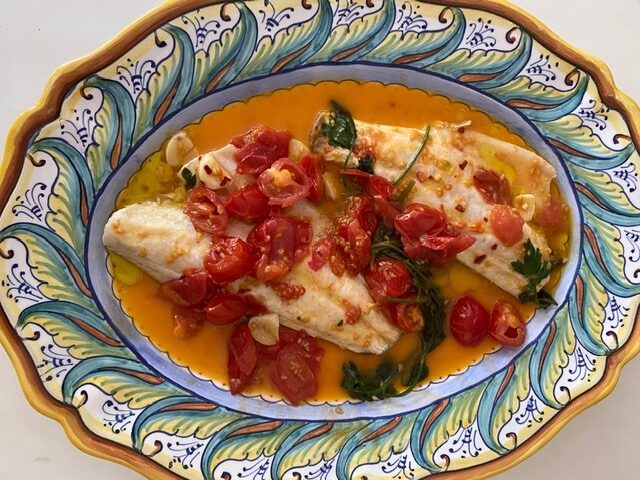 If there is one thing we can all agree on, it's being suckers for simple recipes that pack a flavourful punch. Celebrating the launch of Zestspot, this sea bass in crazy water recipe from chef David Rocco is easy enough for even the most novice in the kitchen—a savoury dish that will be your saving grace if you are pinched for time or just don't know what to make for dinner. It is quick, delicious, and something everyone can enjoy, a healthy, guilt-free indulgence that will be a great addition to your dinner rotation.
Ingredients for Sea Bass in Crazy Water
4 sea bass (or branzino) fillets (4–6 ounces each)
¼ cup extra-virgin olive oil
2 garlic cloves, thinly sliced
1 teaspoon chili flakes
Flat-leaf parsley
1 pint (25–30) cherry tomatoes, cut into halves
½ lemon, squeezed
2/3 glass of dry white wine
1 cup of water
Salt to taste
Method
1. In a cold pan, add the sea bass fillets, olive oil, garlic, chili flakes, parsley (whole stems or chopped), and cherry tomato halves (squeezing the juice into the pan).
2. Add lemon juice, wine, and water.
3. Bring the pan to a high heat until the liquid begins to bubble.
4. Once it starts bubbling, reduce heat to medium-high and add salt. Use a spoon to baste the fish with the liquids in the pan.
5. Cook for 5–7 minutes or until the sea bass flesh turns a pale white and flakes.
6. Serve immediately, dividing the tomatoes and liquid evenly among the servings.