Recipe: No-Bake Blueberry Cocoa Snowballs
Nothing says Christmas and the holiday season like snow. And for the more temperate provinces that aren't lucky enough to get a good dusting of snow this year, they can make their own with these snowballs.
No-bake cocoa snowballs are the perfect snack to keep you satisfied between holiday dinners or cookie cravings. With BC Blueberries as the secret ingredient, these snowballs are also filled with vitamins, minerals, and antioxidants. They're easy to make and blueberries can be found in the freezer aisle throughout any season.
Makes 14–16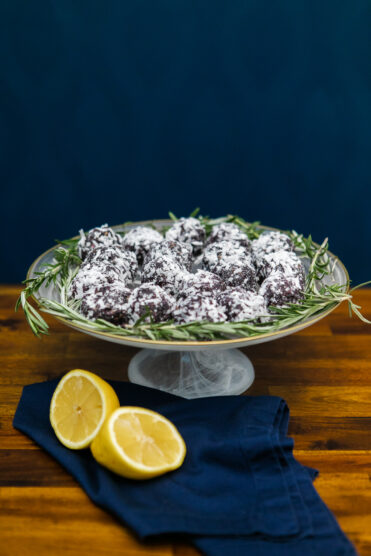 Ingredients
1 cup (150 grams) frozen BC Blueberries
1/2 cup (75 grams) pitted dates, chopped
1/2 cup (30 grams) unsalted raw sunflower seeds
1/3 cup (25 grams) dried blueberries
1/3 cup (80 millilitres) sunflower or nut butter
1/4 cup (25 grams) cocoa powder
2 tablespoons (25 grams) flax seeds
2 tablespoons (25 grams) hemp hearts
1 tablespoon (15 millilitres) coconut oil or softened butter
2 teaspoon (10 millilitres) lemon juice
1 teaspoon (5 milliliters) cinnamon
1/4 teaspoon (pinch) salt
1/2 cup (75 grams) shredded unsweetened coconut, plus extra 3/4 cup for coating
Method
In a food processor fitted with the S blade, pulse all the ingredients except extra 3/4 cup shredded coconut (scrape down the sides every few pulses) until combined into a crumbly mixture but not puréed.
Remove blade and refrigerate for 15 minutes if mixture seems too moist.
Moisten fingers with water and form into 1 1/2-inch bite-sized balls.
Roll in 3/4 cup shredded unsweetened coconut to coat.