Montreal's Best Ice Cream Sandwiches
Ice cream sandwiches are, at face value, a simple thing: a layer of sweet, frozen cream placed between two layers of biscuit, wafer, or cake. However, the cool creation has come a long way from the typical store-bought versions. In Montreal, glaciers are employing artisanal methods that play with both cookie and cream elements. Here, we share five of the best spots in the city for ice cream sandwiches—you won't find these in the frozen aisle of a grocery store.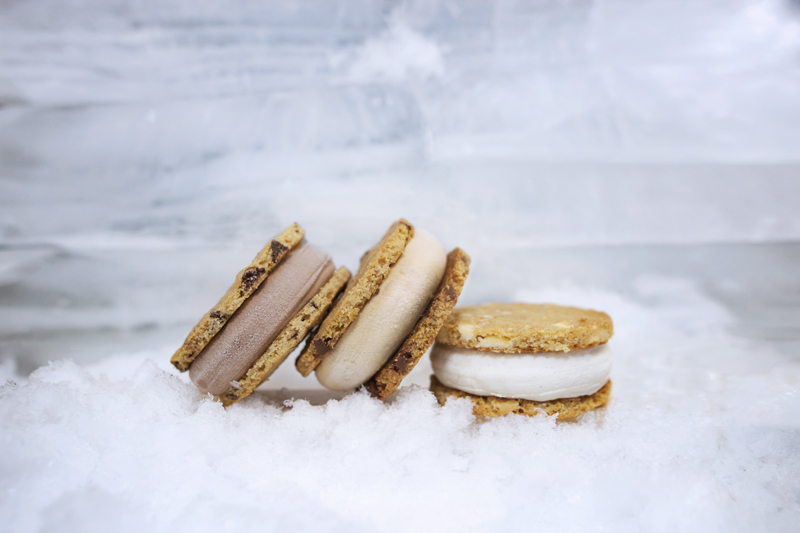 Les Givrés
With 10 years in the ice cream business under their belt, two parlours in business, and a third opening later this year, Les Givrés is an enterprise of both stability and creativity. Their parlours feature both ice cream and pastries, so it seems only logical that they combine the best of both worlds. "Guided by our artisanal values of creativity, passion, and respect for the source of our natural products," says general manager Francois Berthiaume, "we're proud [of our] local and natural ingredients, dealing with local farmers as much as we can." Expect classic ice cream flavours like chocolate, vanilla, and caramel, sandwiched between homemade cookies. 2730 Masson Street & 334 De Castelnau Street East.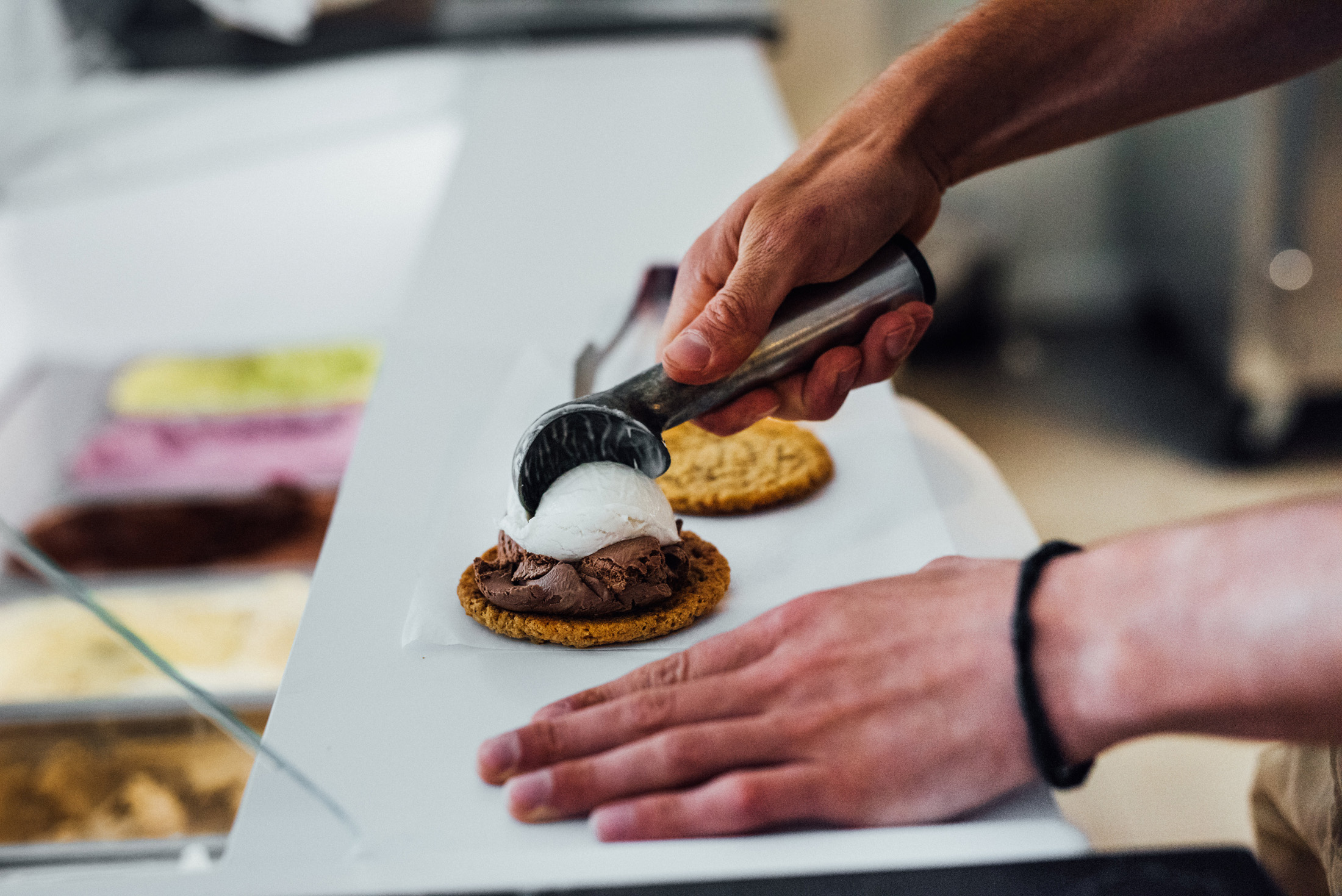 Dalla Rose
This ice cream shop comes from Nick Rosati and Michael Dalla Libera who met while working as general manager and chef de cuisine, respectively, at local hot spot Nora Gray. Featuring unconventional flavours such as sunflower seed and lime leaf, the frozen goods are paired with the work of their resident baker Candice Pearson who creates fresh cookies for the sandwiches. "Although we only serve seven to 10 flavours at a given time," says Rosati, "we have a catalogue of over 30 ice creams at the moment, and that could well be 31 by the time I open up shop tomorrow." With an extensive and inventive menu, Dalla Rose is one stop you'll want to return to time and time again. 4609 Notre-Dame Street West.
Felix & Norton
Established in Montreal in 1985, Felix & Norton's gourmet cookies are now sold across Canada—its ice cream sandwiches, however, are only available in Montreal. Served from a bright pink food truck—the first in the city—the sandwiches are a decadent combination of freshly baked cookies (six varieties in total) and either vanilla bean or salted caramel ice cream from Essence Glacier. "Normally, ice cream sandwiches in a lot of places are premade with cookies that are hard and tough to bite through, but these—because the cookies are still soft and warm—make for a really amazing taste sensation," says founder Michael Eskenazi. "People come from all around just to order them." Promenade du Vieux-Port.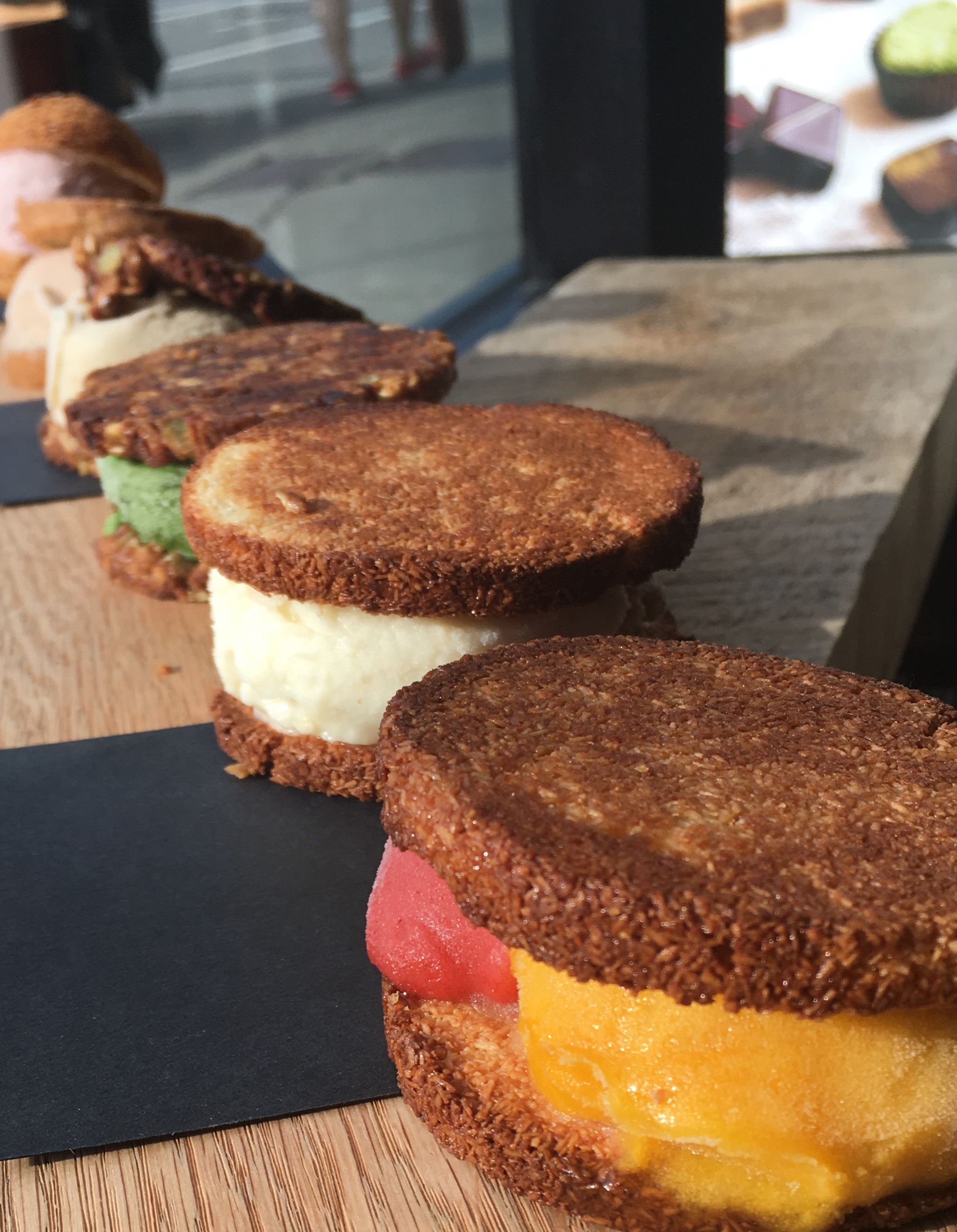 Fous Desserts
A full gamut of cookies, ice cream, chocolates, jams, croissants, and cakes are churned out regularly at this local favourite from chef Franck Dury-Pavet—including ice cream sandwiches. Co-owner Hiroko Fukuhara encourages patrons to play with different combinations of flavours and textures when it comes to creating the frozen treat. "You can taste ice cream even better with cookies or any other baked goods," says Fukuhara. "It's more stimulating to add different textures—crunchy, crisp, moist, soft, puffy—with ice cream." Visitors can order two flavours (or more) at a time, such as hazelnut ice cream and strawberry sorbet, and can couple them with anything from crunchy oatmeal to spiced almond rococo cookies. 809 Laurier Avenue East.
Léché Desserts
Josie Weitzenbauer and her Saint-Henri bakery Léché Desserts may make some of the best doughnuts in town, but the buck doesn't stop there. Her pastries, with a supple chewy-fluffy ratio, have gone on to be used as grilled cheese and ice cream sandwiches. "They're leavened doughnuts, with flavours like lime coconut, passion fruit, maple glazed, cinnamon sugar, and raspberry cream cheese glazed, served with a vanilla soft serve," explains Weitzenbauer. "Our doughnuts are special treat in themselves, and making them into ice cream sandwiches is just an over-the-top indulgence to enjoy on a beautiful summer day. We need to treat ourselves." 640 Courcelle Street.
Find more of Canada's best ice cream sandwiches, here.
_________
Never miss a story. Sign up for NUVO's weekly newsletter, here.