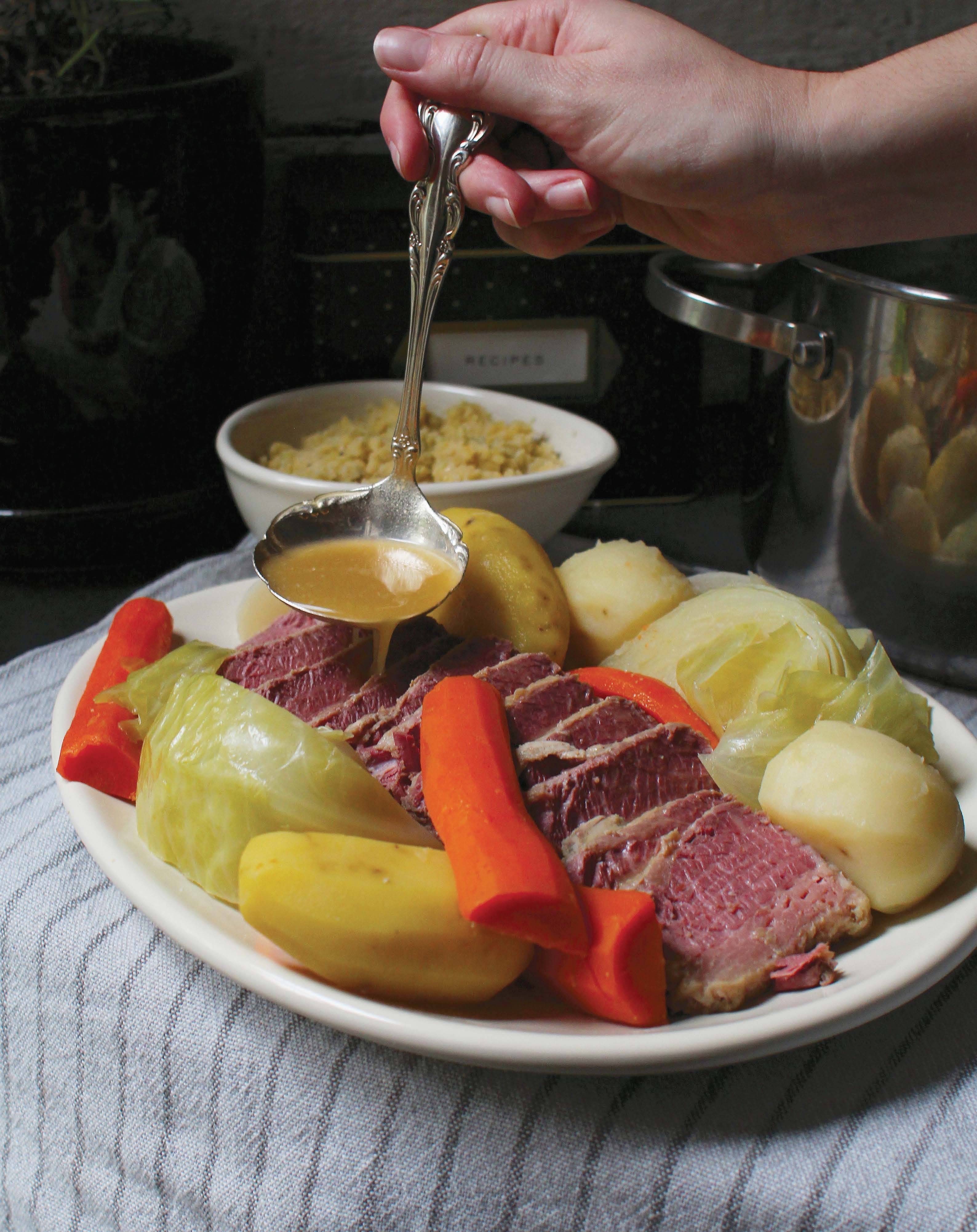 A recipe excerpted from Feast: Recipes and Stories from a Canadian Roadtrip by Lindsay Anderson and Dana VanVeller.
Off the northeast coast of Newfoundland lies Fogo Island, a place which to us has a sort of mythical air about it. It's rugged, dense with history, and now home to the acclaimed Fogo Island Inn. While we couldn't make it to the island itself, we did get to meet the inn's executive chef, Murray McDonald, and taste his food at the Roots, Rants, and Roars Festival in Elliston. Here, Chef McDonald kindly shares his recipe for one of the most classic of Newfoundland dishes: Jiggs Dinner. When done right, it's comfort food at its best, with a broth so flavourful we would happily consume it all winter long. The salt (or corned) beef needs to be soaked overnight, so plan accordingly.
Serves: 4 to 6
Ingredients
1½ pounds (680 g) salt or corned beef
½ cup (125 mL) dried yellow split peas
1 small cabbage (about 450 g), cut into 6 wedges
1 small yellow onion (about 120 g), peeled and left whole
1 turnip (about 150 g), peeled and cut into 6 wedges
3 large carrots (about 210 g), peeled and cut in half lengthwise
3 medium potatoes (about 360 g), peeled
3 large parsnips (about 210 g), peeled
1 Tbsp (15 mL) unsalted butter
⅛ tsp freshly ground black pepper
For serving:
Mustard pickles, Pickled Northern Beets (page 248), and/or grainy mustard
Method
Soak the salt beef in cold water for 8 to 10 hours (or overnight), then drain.
Put the split peas in a cloth pudding bag or tied in a few layers of cheesecloth, leaving room for expansion. Place the soaked beef in a large pot and add the bag with the peas, fastening the bag to the handle of the pot. Cover with water, bring to a boil, then lower the heat and let simmer for 2 hours.
After the beef and peas have simmered, add the cabbage and onion and let cook for 20 minutes. Add the turnip and carrots and simmer for 20 minutes more. Add the potatoes and parsnips and cook until tender.
Remove the split pea bag from the pot and turn the peas out into a small bowl. Mix with the butter and black pepper and cover with foil until it's time to eat. Remove the salt beef and vegetables (excluding the onion) from the pot.
Reduce the cooking liquid over high heat for 15 minutes, or until it has become a flavourful jus.
While the cooking liquid is reducing, slice the beef and arrange neatly with the vegetables on a platter. When ready to eat, serve the peas in a side dish and pour the reduced cooking liquid over the dinner like a pan jus. Serve with homemade mustard pickles, pickled beets, and/or some grainy mustard.
Learn more about the story behind the cookbook, here.
Find more classic Canadian recipes from Feast here.
Excerpted from Feast: Recipes and Stories from a Canadian Roadtrip by Lindsay Anderson and Dana VanVeller. Copyright © 2017 Lindsay Anderson and Dana VanVeller. Published by Appetite by Random House®, a division of Penguin Random House Canada Limited. Reproduced by arrangement with the Publisher. All rights reserved.
_________
Never miss a story. Sign up for NUVO's weekly newsletter.