Chocolate Chip Cookie Squares
A recipe from Toronto Eats by Amy Rosen.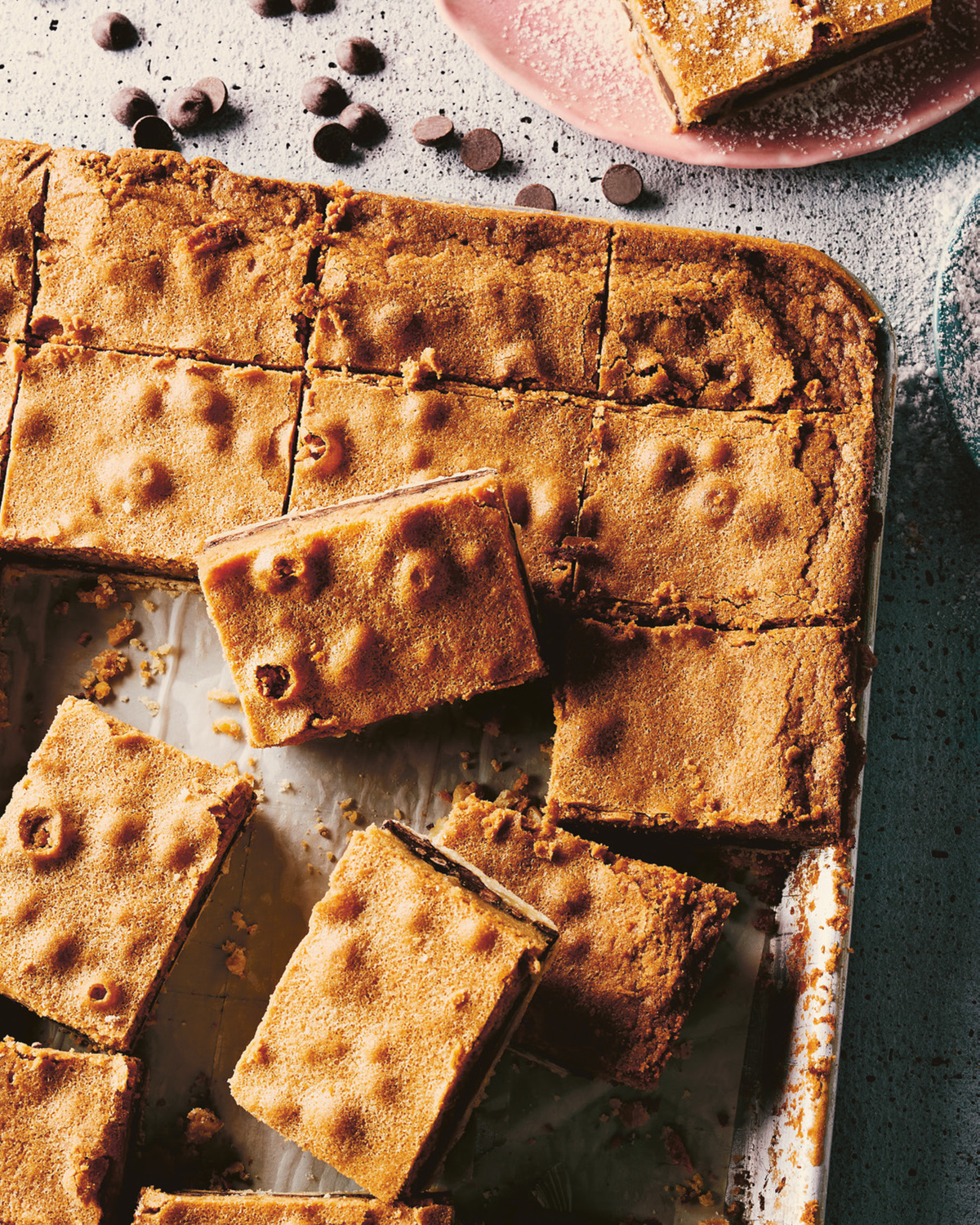 "If you love the classic chocolate chip cookie, you will especially love our squares recipe," says The Rolling Pin's co-owner and pastry chef, Vanessa Baudanza. "It's the perfect spin on the cookie for a family gathering or work holiday party."
Excerpted from Amy Rosen's Toronto Eats.
Chocolate Chip Cookie Squares
By Vanessa Baudanza and Isabelle Loiacono of The Rolling Pin.
Makes 24
Ingredients
Crust
1 1⁄3 cups all-purpose flour
¼ tsp salt
2 Tbsp granulated sugar
1⁄3 cup unsalted butter, chilled
¼ cup whole milk
1 tsp vanilla
1 cup semi-sweet or dark
chocolate chips
Filling
2 large eggs
½ cup granulated sugar
½ cup packed brown sugar
¾ cup unsalted butter, room temperature
½ cup all-purpose flour
Method
Crust
1. Preheat the oven to 325°F. Line the bottom and sides of a 9 x 13-inch baking pan with parchment paper.
2. Combine all dry ingredients in the bowl of a stand mixer fitted with a paddle attachment.
3. Cube butter and add to the dry ingredients. Turn the mixer on low, mix, and gradually add in milk and vanilla. (The mixture will be very crumbly.)
4. Transfer mixture into the baking pan, pressing down firmly and evenly along the bottom.
5. Sprinkle chocolate chips on the top of the crust.
Filling
1. Beat eggs in a large mixing bowl for 4 to 5 minutes on high speed until foamy. Add sugars and beat for another 2 to 3 minutes.
2. Lower the mixer speed, add butter and flour, and mix until thick and creamy.
3. Gently pour filling into the baking pan and spread gently with a spatula to cover all chocolate chips.
4. Bake for 25 to 30 minutes, or until a knife inserted halfway comes out clean. Put aside to set, preferably overnight.
For more recipes from Amy Rosen's Toronto Eats, click here.
_________
Never miss a story. Sign up for NUVO's weekly newsletter.