Avocado Kale Caesar Salad
A recipe from Toronto Eats by Amy Rosen.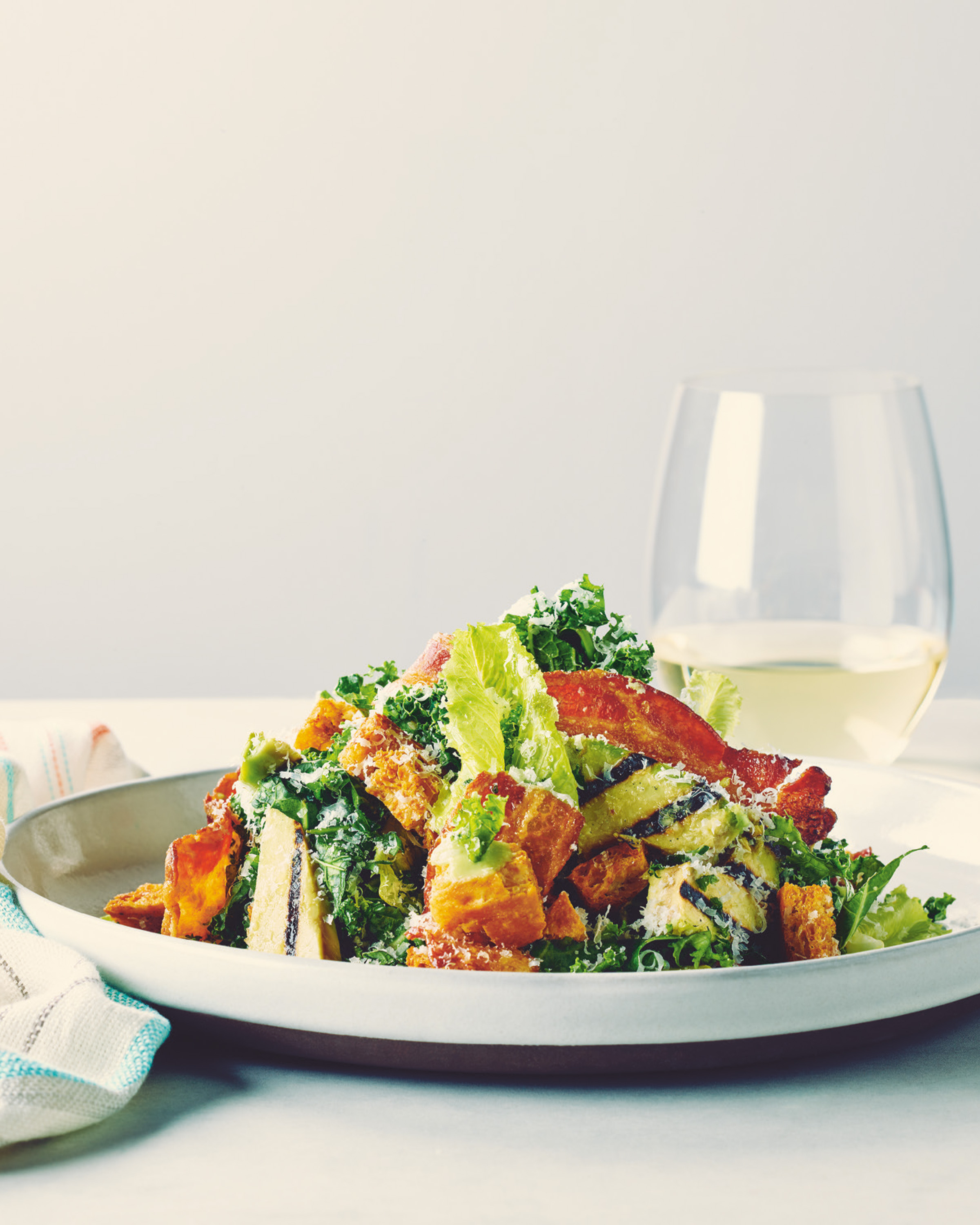 This recipe from Robert Bragagnolo of Carver (Toronto's pocket-sized, standing room–only restaurant on Peter Street), amps up the classic Caesar salad with bold, peppery kale and a drizzle of creamy avocado dressing.
Avocado Kale Caesar Salad
By Robert Bragagnolo of Carver.
Serves 4–6
Ingredients
Avocado dressing
2 avocados, peeled and pitted
Juice of 1 lemon
¼ cup avocado oil
¼ cup cold water
2 Tbsp grated Parmigiano-Reggiano
½ clove garlic, finely chopped
¼ anchovy filet, finely chopped
1 Tbsp salt
Salad
6 strips bacon
2 bunches kale, shredded
1 romaine lettuce heart, coarsely chopped
4 Tbsp Avocado Dressing
Pinch of salt
4 Tbsp grated Parmigiano- Reggiano
1 avocado, sliced
1 cup croutons
1 lemon, cut into wedges (optional)
Method
Avocado dressing
1. Place avocado, lemon juice, avocado oil, and water into a blender and blend for 1 to 2 minutes, until smooth and creamy.
2. Add Parmigiano-Reggiano, garlic, anchovy, and salt and purée for another 30 seconds, until well incorporated. (If mixture is too thick, add more cold water.)
3. Refrigerate until needed. Makes approximately 1 cup.
Salad
1. Preheat the oven to 400°F. Place bacon on a baking tray and bake for 7 to 8 minutes, or until crispy.
2. Place kale and romaine in a large bowl, add dressing, and mix thoroughly to coat.
3. Add a pinch of salt to taste, and add more dressing if desired.
4. Place dressed leaves in a large serving bowl, sprinkle with Parmigiano-Reggiano, and top with avocado, bacon, and croutons. Serve with lemon wedges, if using.
For more recipes from Amy Rosen's Toronto Eats, click here, .
_________
Never miss a story. Sign up for NUVO's weekly newsletter.