Sierra's Insanely Awesome Brownies
A recipe from Toronto Eats by Amy Rosen.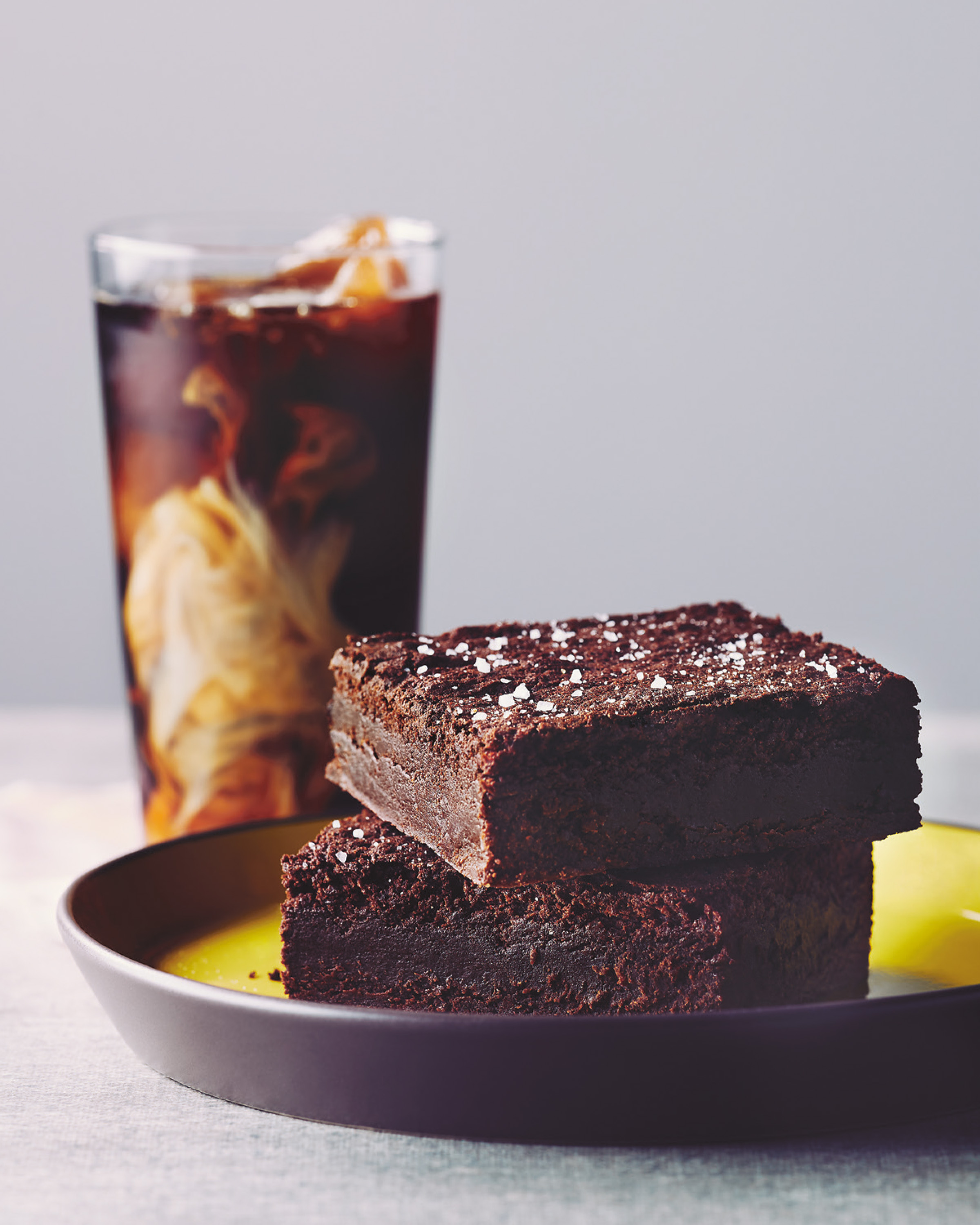 Ezra Braves takes coffee seriously. At the Espresso Institute of North America in Toronto's St. Clair West neighbourhood, Braves trains aficionados and café owners in his "laboratory" of coffee grinders, espresso machines, and percolators. He applies the same level of dedication and expertise to baked goods—and the result is seriously good. These fudgy brownies sprinkled with kosher salt and crushed coffee beans are a decadent indulgence, best enjoyed with a smooth cold brew.
Sierra's Insanely Awesome Brownies
By Ezra Braves of The Espresso Institute of North America.
Makes 24 brownies
Ingredients
1 lb dark chocolate (use 70% for an intense chocolate hit)
2 cups unsalted butter
¼ tsp salt
1 ¼ cup cocoa powder, sifted
1 cup high-quality organic pastry flour, sifted
5 eggs
3 cups granulated sugar
Flaked sea salt or kosher salt
Coarsely ground coffee beans
Method
1. Preheat the oven to 350°F. Spray a 9 x 13-inch rectangular pan with non-stick spray and line with parchment paper. In a double boiler, or a bowl set over simmering water, melt chocolate, butter, and salt and mix with a wooden spoon until well mixed. Set aside to cool.
2. In a medium bowl, combine cocoa and flour.
3. In a second medium bowl, whisk together eggs and sugar until pale and fluffy. Fold chocolate mixture into egg mixture until combined, then fold in flour mixture. Pour batter into the pan and spread out with a spatula.
4. Bake for 35 to 45 minutes, until the top forms a crust. Garnish with flaked salt or kosher salt and crushed coffee beans.
For more recipes from Amy Rosen's Toronto Eats, click here.
_________
Never miss a story. Sign up for NUVO's weekly newsletter.