Chef Ned's Geoduck Nachos with Avocado and Grapefruit Vinaigrette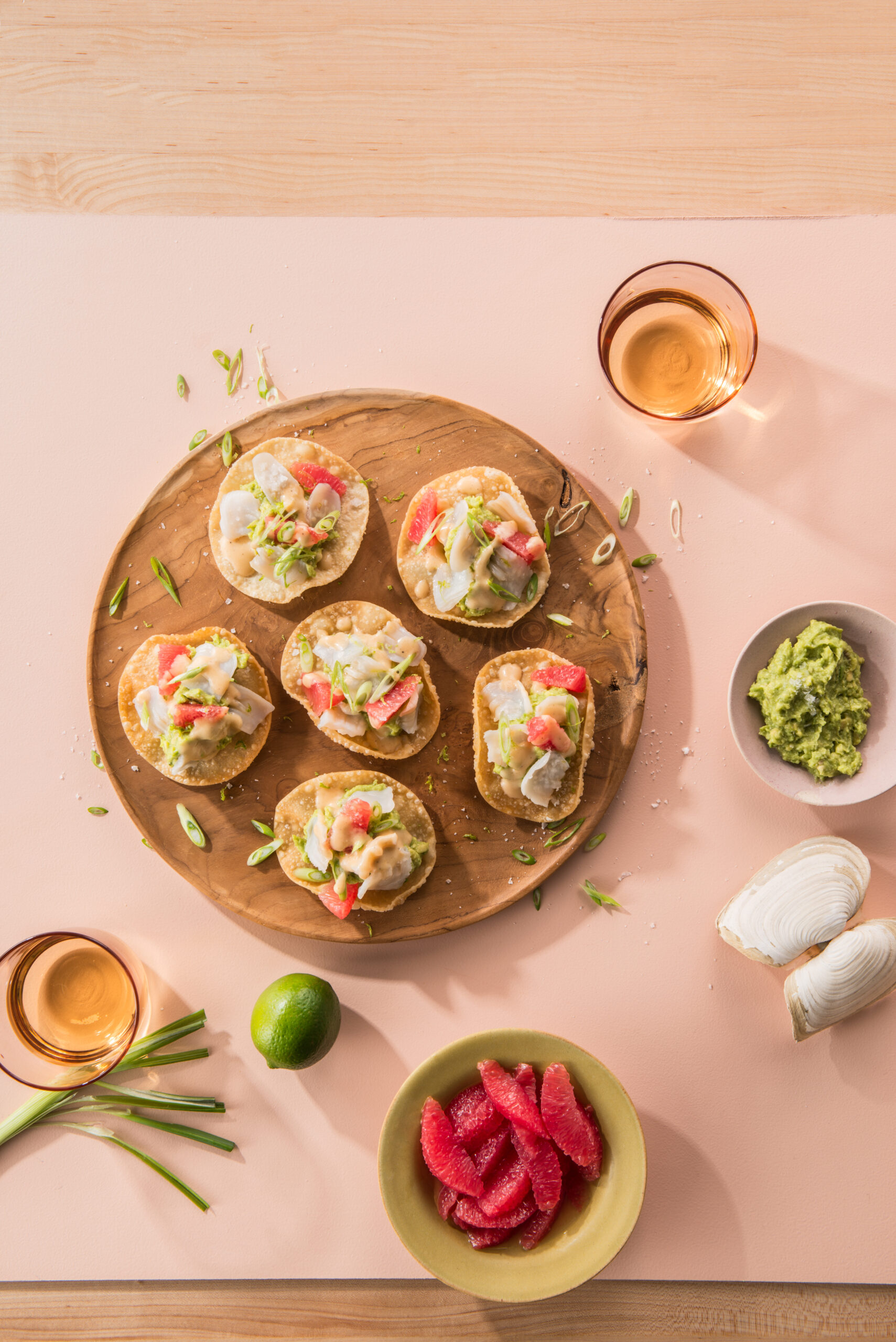 The Village of Naramata is located on the eastern shore of Okanagan Lake. It is an area known for scenic routes, bountiful orchards, and romantic vineyards. Escaping Vancouver's perpetual rain, days spent in Naramata are filled with sunshine. This charming oasis is home to Naramata Inn, where head chef Ned Bell focuses on hyper-local menus that enhance diners' connections with Naramata. Here, he shares his savoury and citrusy Geoduck Nachos with Avocado and Grapefruit Vinaigrette recipe—an indulgent dish that serves perfectly as a crowd-pleasing appetizer.
Ingredients
For the Grapefruit Vinaigrette:
Zest and juice of 1/2 grapefruit
2 teaspoons Dijon mustard
1/2 teaspoon sea salt
1/2 cup canola oil
For the Geoduck Nachos:
24 round gyoza or wonton wrappers (about one 10 ounce package)
1 (1 1/2 pounds) live geoduck
2 ripe avocados
2 tablespoons lemon juice (about 1 lemon)
1 tablespoon extra-virgin olive oil
Sea salt and coarsely ground black pepper
1 ruby red grapefruit, segmented
Lime zest, for garnish
2 scallions, chopped, for garnish
Method
For the Grapefruit Vinaigrette:
Combine the grapefruit zest and juice, mustard, and salt in a small bowl.
While whisking, slowly drizzle the oil in a thin steady stream until incorporated and the mixture is emulsified. Adjust seasoning to taste. Alternatively, you can do this with an immersion blender or in a blender or small food processor.
Can be made ahead of time; will keep refrigerated for up to 2 weeks (although the grapefruit flavour will start to weaken after a few days).
For the Geoduck Nachos:
Preheat the oven to 325°F. Line 2 baking sheets with parchment paper. Spread the wonton skins on the baking sheets, and bake for 15 minutes or until golden brown. Set aside to cool.
Meanwhile, to prepare the geoduck, bring a large pot of water to a boil. Place a bowl of ice water nearby. The clam's shell will be slightly open. Slice between the shell and the meat on both sides to separate the adductor muscle from the shell and allow it to open. Open the shell, pull out the meat, and cut off the siphon tube. Reserve the body meat for another use but discard the sack hanging from it. Add the tube to the boiling water and cook for 1 to 2 minutes. Transfer the tube to a bowl of ice-cold water to stop the cooking. Peel off the skin. Halve the tube lengthwise and thinly slice.
Cut the avocados in half lengthwise and remove the pit. Scoop the flesh into a medium bowl. Using a fork, coarsely mash the avocado with the lemon juice and olive oil. Season with salt and pepper to taste.
When ready to serve, slice the grapefruit segments crosswise into thirds. Spoon a little of the avocado mixture into each wonton crisp, add 2 slices of geoduck, and then drizzle with the vinaigrette. Garnish with lime zest and scallions.
Chef's note: Wonton wrappers come square or round, and some are thinner than others, so a 10-ounce package might have 30 or it might have 50. It all depends on the brand. They also go by many different names—wonton skins, gyoza wrappers, pot sticker skins, you get the idea. For this recipe, just about brand will do, although I prefer round shapes. If you can only find square, cut them in half diagonally to make triangles.
_________
Excerpted from Lure by Ned Bell and Valerie Howes. Photographs by Kevin Clark. Copyright 2017 by Chefs for Oceans, recipes copyright by Ned Bell. Excerpted with permission from Figure 1 Publishing. All rights reserved. No part of this excerpt may be reproduced or reprinted without permission in writing from the publisher.