New Initiative Highlights Black Winemakers
Focusing on diversity in Canada's wine industry with Ontario's Nyarai Cellars.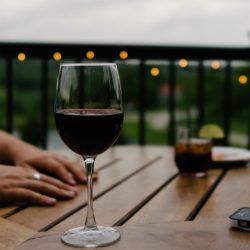 The past year has focused attention on the racial diversity of many institutions, from corporate boards and universities to the media and police services. The Canadian wine industry has largely escaped attention, and the number of BIPOC winery-owners and winemakers is not known with any certainty. Some wineries have Indigenous and Asian owners, but only one Black owner/winemaker in Canada is listed in a new international directory of Black winery-owners: Steve Byfield, who owns and makes the wine at Ontario's Nyarai Cellars.
Byfield, whose parents came to Canada from Jamaica in the 1960s, made music before he made wine. He is a pianist who studied music at York University in the 1990s, had his own jazz band, and envisaged becoming a music educator before starting to make his own wine as an amateur. Serenaded by the results, he was drawn to professional winemaking and began working at Ontario's Southbrook Vineyards in 2001. Four years later he became assistant winemaker.
After working at other wineries, Byfield started his own brand, Nyarai Cellars—nyarai means "humility" in the Shona language of Zimbabwe. Nyarai Cellars, whose first vintage was 90 cases of sauvignon blanc in 2009, is a virtual winery: it owns no vineyards or winemaking facilities. Instead, Byfield buys grapes from growers each year and makes his wine using the facilities of an established Niagara Peninsula winery.
According to Sip Consciously Directory, an online resource that lists Black winery owners, wholesalers, and retailers throughout the world, Nyarai Cellars is one of only 44 Black-owned wineries. Most are in the United States, with six in South Africa and one each in Canada, France, Germany, and Italy. The directory is a collaboration between Angela McCrae, a media strategist who created Uncorked and Cultured, and Dr. Monique Bell, a professor of marketing at California State University at Fresno and author of Terroir Noir: 2020 Study of Black Wine Entrepreneurs, which showed that although Blacks typically make up more than a 10th of wine consumers in the United States, they own fewer than 1 per cent of the wineries.
Nyarai Cellars is a small winery, with production measured in the hundreds of cases each year. Over the years, Byfield's portfolio has included varietal wines such as viognier and sauvignon blanc, as well as blends and a sparkling wine.
Steve Byfield works quietly and unassumingly. He consults for other wineries and has modest ambitions to produce small volumes each year, with perhaps more chardonnay and auxerrois in his portfolio. Much of his production is sold to restaurants, although that has been a limited sales channel during the pandemic. Nyarai Cellars is likely to remain a virtual winery—Byfield says, "If I win the lottery I'll buy some property"—and although its wines turn up less commonly on wine store shelves, they are worth looking for.
Byfield's current wines—a white, a red, and a rosé—are all blends. Nyarai Cellars Field Blender's White 2020 brings together vidal, chardonnay musqué, sauvignon blanc, viognier, and gewürztraminer in a very attractive dry, crisp, and flavourful combination. Nyarai Cellars Rosé 2020, made from gamay, pinot noir, cabernet franc, and merlot, is a darker pink than the pale hues currently popular, but it sacrifices nothing to quality. It's dry and shows good complexity and structure—a serious but very drinkable wine. Nyarai Cellars Cadence 2014 is a blend of cabernet sauvignon, cabernet franc, merlot, and malbec—four of the Bordeaux varieties. Although it's already more than six years old, it's remarkably fresh and delivers layered fruit, and good structure and balance.
Current Nyarai Cellars wines
Nyarai Cellars Field Blender's White 2020 (Product of Canada)
Nyarai Cellars Rosé 2020 (VQA Niagara Peninsula)
Nyarai Cellars Cadence 2014 (VQA Niagara Peninsula)