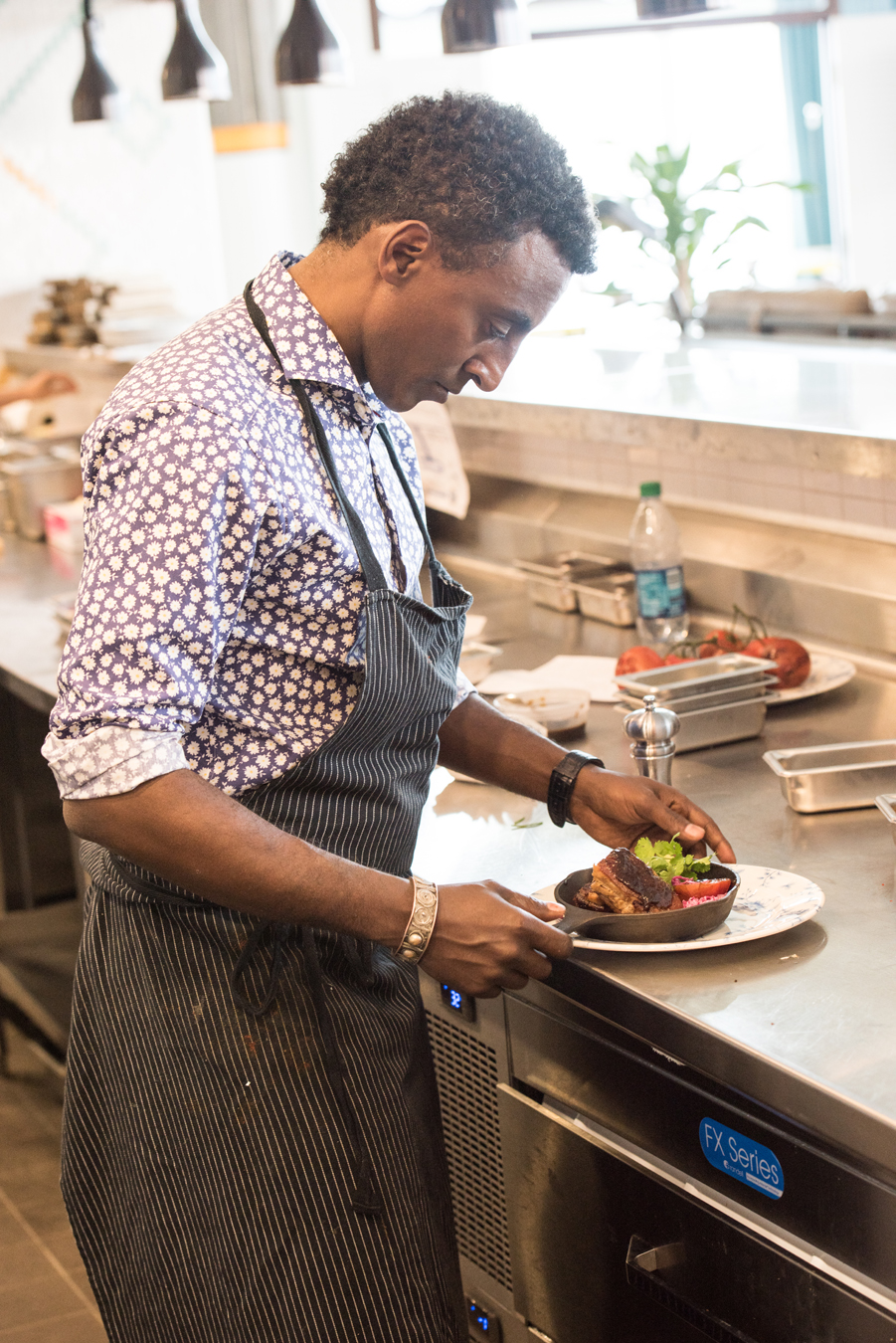 Show me a restaurant menu, and I'll show you a window into a chef's soul. Okay, soul might be pushing it, but you'll certainly find dishes that point to his or her roots, childhood, cooking background, and recent influences and surroundings. Star chef Marcus Samuelsson is a perfect example of that. When you scan the menu of the newest restaurant he presides over, Marcus' Bermuda at the Hamilton Princess & Beach Club (a Fairmont managed hotel in, yes, Bermuda), you'll see fried chicken and waffles, jerk pork belly, and grilled conch tostadas. Take a look at the menu at the acclaimed New York restaurant he owns, Red Rooster Harlem, and there's mac and greens, blackened catfish, Harlem chowder, and a dish no one could resist called shrimp, hog, and grits. (Look no further than downstairs to find another Samuelsson establishment, Ginny's Supper Club). At his most casual restaurant, Streetbird Rotisserie, also in Harlem, the menu is more or less devoted to chicken, be it—again—fried, rotisserie roasted, or starring in a bowl of ramen. It's hard to imagine all this comfort food comes from a chef who made his name two decades ago making sophisticated Scandinavian food, and in doing so became the youngest chef to be awarded a coveted three-star review in The New York Times.
Today, at 46, Samuelsson is cooking very differently. His style combines international influences with traditional cuisines from Sweden, as well as Africa, Japan, and most recently the neighbourhood he now calls home, Harlem. Born in Ethiopia, the New York–based chef was raised in Sweden and moved to the United States in 1994. "I moved to America based on diversity," says Samuelsson, "and New York City at the time was the place for me."
The Manhattan restaurant that rocketed the young chef to fame was called Aquavit, and the cuisine was (and remains) distinctly Scandinavian. And this was back when Scandinavian cuisine had yet to break out into world domination mode thanks to chefs like René Redzepi of Noma or Magnus Nilsson of Fäviken.
From there, Samuelsson's cooking took another turn when he served Asian-fusion cuisine at Riingo (since closed). The six cookbooks he has authored range from Aquavit: And the New Scandinavian Cuisine (Houghton Mifflin, 2003) and The Soul of a New Cuisine: A Discovery of the Foods and Flavors of Africa (Wiley, 2006) to New American Table (Wiley, 2009), where he explores the regional cuisines of the U.S., to his memoir, Yes, Chef (Random House, 2012). And if you're thinking you've seen him on TV, you would be correct. Samuelsson has appeared on talk shows ranging from Today to Charlie Rose, and has proved a fierce competitor on Food Network reality programs like Iron Chef and Top Chef Masters, where in 2009 he beat out chefs like Susur Lee and Rick Moonen to nab first place.
But the Marcus Samuelsson of today seems quite different from the 20-something being showered with critic's stars, or the 30-something competing to become a star himself. For one thing, his food is now quite casual. "I'm thinking about what I'm feeling at the moment," says the chef in an interview between the lunch and dinner service at Red Rooster Harlem. "And right now that's casual, and comfort, and elegance. I like a restaurant where you can eat at the bar. It's a more democratic way of cooking. I take pride in my cooking not for the 1 per cent, but for people who are looking for good food with good value. I love fine dining, but I love all kinds of dining. And I like it to be elegant and social—and delicious."
Peering down at a whole fried chicken at Marcus' Bermuda, I'm seduced not only by the golden beauty of the bird and the gorgeous smell wafting up from the succulent flesh beneath its bubbly carapace, but the presentation as well. The bird is first placed on the table whole for all to admire, and then swept away and returned expertly carved alongside grits, collard greens, hot sauce, and a ramekin of whipped chicken-liver butter. The dish may be composed of simple Southern fare, and yet in the hands of this chef, a humble chicken is given star treatment worthy of a grande table in Europe.
Samuelsson's menu in Bermuda lists signature dishes like that showstopper of a fire pit–roasted jerk chicken and blackened fish with grits (often made with the meaty regional fish, wahoo), yet there are local ingredients and dishes on offer as well. "I work with local farmers and fishermen in Bermuda," says Samuelsson. "We enjoy being local. It's not me dictating the cooking so much as the island telling me what to cook. Right now I love these wonderful small lobsters they have."
In the hands of this chef, a humble chicken is given star treatment worthy of a grande table in Europe.
For Samuelsson, there's a certain amount of storytelling that goes into creating a menu. "I try to find the balance between local and my journey as a chef. Of course there will be always something local there, but also Ethiopian spices on my food."
As for inspiration and ambition, the chef remains humble. "My community in Harlem is my inspiration right now. We are here, and we still have a long way to go. My focus is on creating jobs. In Harlem we have two restaurants and 75 per cent of my staff comes from the community. I feel we are a success because the community where I am now has embraced me. But I never take that for granted. You have to constantly measure where you're at. You're only as successful as your next dish."
As for other people evaluating Samuelsson's work, the chef's experience comes to the fore. "These lists and stars and accolades will always be something chefs can aspire to. It's great for team morale and it's nice to have customers' compliments. And there will always be interest. But as a chef, you have to find your merit too. Working on your business and your food is far more important," he says. "At the end of the day, you have to operate your restaurant, focus on your product, control your take on a specific vision of a dish. You are the one driving your own bus, no matter what anyone else says."
Further advice from Samuelsson for budding chefs includes opening your eyes to the world. "You really have to travel," he says, citing his own trip to Japan as a young chef. "It was a game changer for me, as was working with a diverse series of chefs and being open to cooking with as many diverse ingredients and flavours as possible."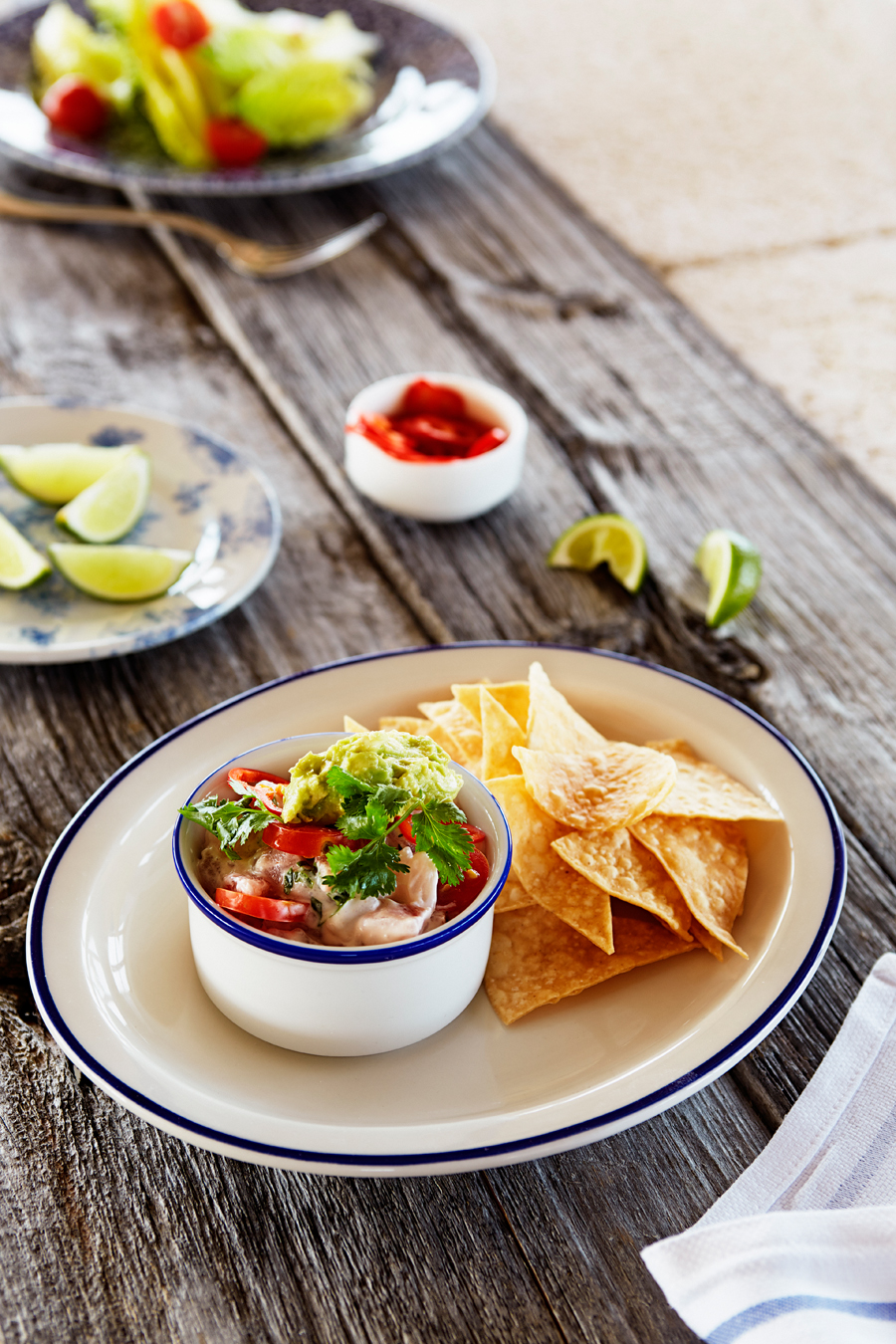 Despite the plethora of international influences in his cooking, Samuelsson's three mentors are American. First, Leah Chase, the New Orleans–based owner of Dooky Chase's restaurant who is credited as being the grande dame of Creole cuisine. Then there is the late Charlie Trotter, the Chicago chef whose intricate tasting menus represented the most sophisticated cuisine, on a par with the world's best. And, also, Daniel Boulud, the genial Frenchman whose international empire reaches from the formal restaurant Daniel to the more casual bistros, bars, and cafés under the Boulud moniker. Why those three chefs specifically? "Ms. Chase is a part of American history," says Samuelsson, "and they all massively changed the landscape of dining in this country."
He himself is contributing to change in America as well. Selected to cook the first state dinner for the Obama administration back in 2009 for the prime minister of India, Manmohan Singh, Samuelsson served a primarily vegetarian menu, emphasizing local and seasonal products including herbs and vegetables harvested from the White House garden.
When Samuelsson is not in the three restaurants he owns (or seven others he is chef at), on TV, or cooking for world leaders, he enjoys cooking at home for his friends and wife, model Maya Haile, as detailed in his latest book Marcus Off Duty (Houghton Mifflin, 2014). Samuelsson's spare-time recipes range from Ethiopian to Swedish to Mexican, to Caribbean to Italian, to the best Southern soul food, resulting in dishes like coconut-lime curried chicken, mac and cheese and greens, and pumpkin tart with garam masala. He also contributes to FoodRepublic.com, a male-skewed website he co-founded and describes as "GQ online, but more about food."
Simply put, cooking, for Samuelsson is a lifetime journey. "It's my passion," he says, "my life. I enjoy the young kids in the kitchen as much as my older mentors. And right now is a great time to be a chef."