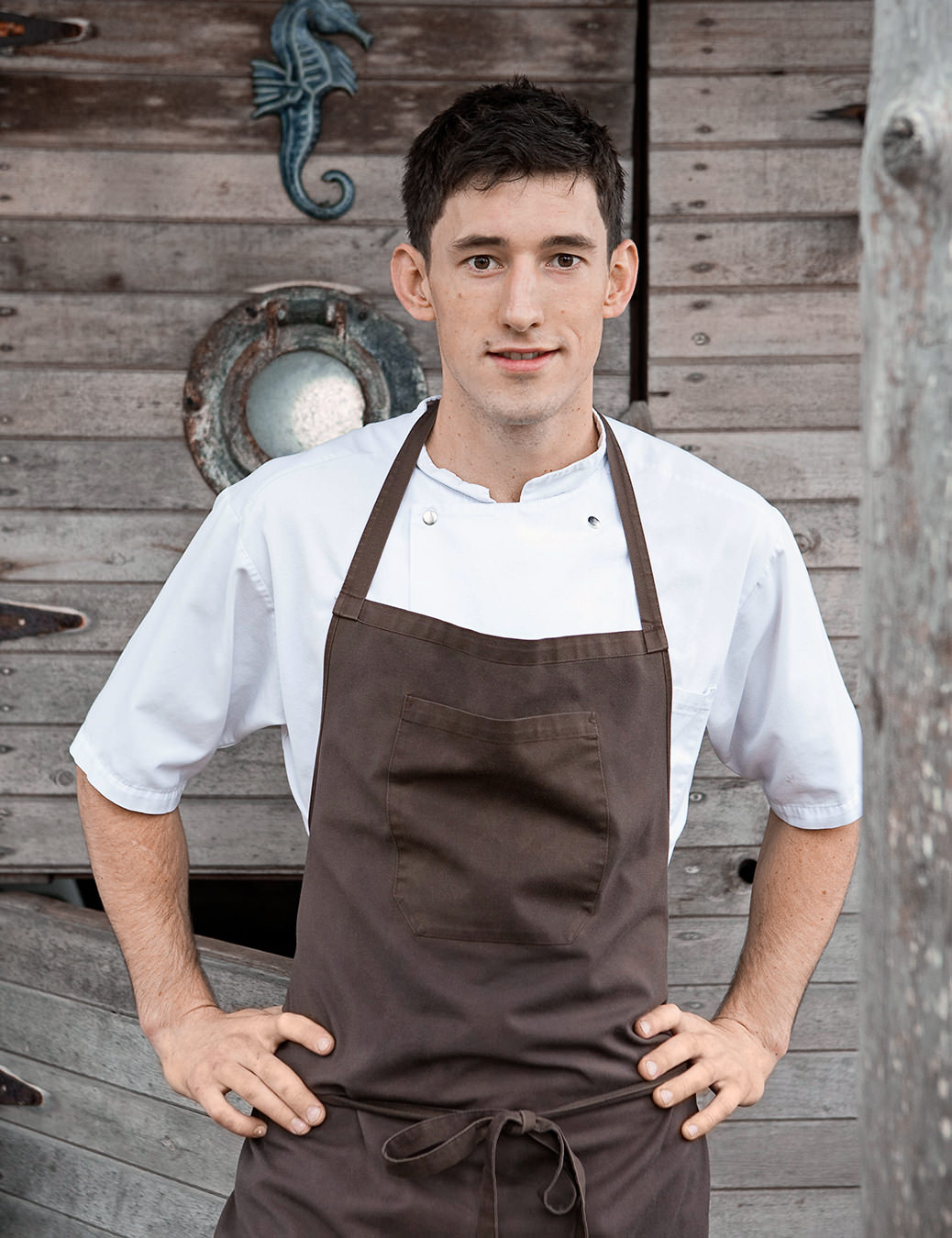 The owner of the tiny, far-flung island inn in Washington state posted a Craigslist ad seeking a seasonal chef. Across a continent and an ocean, it caught the attention of a young cook seeking to make his mark.
Blaine Wetzel was in the middle of a year as a chef de partie at Copenhagen's Noma, a restaurant that had just hit full stride and was about to be named to the top spot on S.Pellegrino's World's 50 Best Restaurants list for the first time. Say what you will about restaurant ranking systems—it made for a great starting point in negotiations.
For six months, and without ever having met in person, Wetzel and Willows Inn's Riley Starks (owner of the inn at the time; he's since sold it) had daily phone conversations, negotiating a nine-hour time difference, to discuss their visions of the future.
In addition to Noma, where he worked with renowned chef René Redzepi, Wetzel learned his craft at world-class restaurants like Michel Richard Citronelle in Washington, D.C., and Aubergine at California's L'Auberge Carmel hotel. Along with being an innkeeper, Starks was also an organic farmer and fisherman, offering unparalleled raw materials to the kitchen and having first-in-line access to anything he didn't grow or catch himself.
Wetzel, who grew up just a few hours south in Olympia, Washington, arrived for his first day of work in late summer of 2010. He was just 24. He'd never seen Lummi Island, never shook Starks's hand. He just booked a ticket and got on a plane.
"When I started here, it was posted as a job for a seasonal chef for six months a year. One chef with a sous-chef around three days a week and a dishwasher on weekends," says Wetzel. "A lot of the time it was only me."
That changed fast. Two years after that Craigslist ad, Wetzel now has a restaurant staff of more than 10 and is on track to create one of the world's next great restaurants.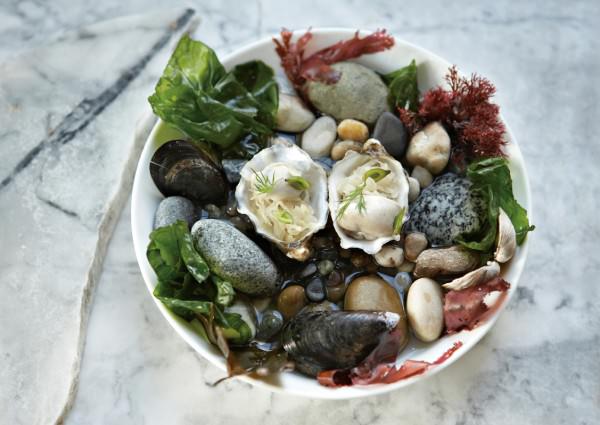 I accompanied Wetzel on some of his first days on the job in late 2010, as he picked mushrooms on his way to work, prepared three-course prix fixe meals, developed his relationships with Starks's fishing and farming contacts, and learned to work with the abundance offered by the Pacific Northwest.
At the time, the young chef told me he wanted to create the "best meal of their life" for his diners. It sounded like a lot of bluster, but when I got to know his quiet confidence and easygoing manner—two qualities often in short supply in restaurant kitchens—it seemed more like an opportunity to showcase the ingredients at his disposal.
Popularity and momentum grew, and that year, the inn had the busiest November in its 100-year history. The New York Times wrote up Wetzel in January and June 2011.
"Those Times stories caused a lot of encouragement," he says now, straight-faced. This summer, the inn announced two July weeknight events, First Harvest Dinners, as they were called, where Wetzel was joined by chefs like Kyle Connaughton, John B. Shields, Sean Brock, Jason Fox, and Belgium's Kobe Desramaults; each dinner was $350 a plate, and they sold out in 30 minutes.
"I don't hit you over the head. There's more of a subtle purity to it," says chef Blaine Wetzel, going on to describe his cooking as almost familiar, rustic, and masculine.
Wetzel's early days working at Willows Inn were an amalgam of his culinary training and the products Starks supplied. He served local wild mushrooms with his own fresh cheese on a purée of woodruff so densely green it gave the dish a primordial flavour. He tucked tiny pearls of tapioca between oysters and their shells in a nod to French Laundry restaurateur Thomas Keller's "Oysters and Pearls" dish, and added zing and crunch with home-pickled cabbage. Slow-roasted beef cheek, raised by Starks's Lummi Island farmer friend Phil Tucker, was a visceral reminder of the inn's physical and qualitative distance from any supermarkets. Yet Wetzel was simply finding his feet.
A little more than six months after my first meal there, I saw evolution in a dish where marinated organic grains that had been whirled into a watercress purée gave textural snap—the flavour of early summer in its prime. Above it all, ribbons of geoduck capped the dish with a just-plucked-from-the-sea flavour.
There was still more change to come."I found that my style of cooking up to this point was always someone else's food, but you realize which elements of which dishes you like," he says. "The first year or two, you're perfecting your own style. You might have an idea or an experience in the bigger picture—service, decor, menu—but eventually, all those things start to become your own thing."
Two years into it, Wetzel now has a handle on the island's bounty and what he can get when. The inn has grown, too, with renovations to the main building and the rooms, and the kitchen has been expanded. Most importantly, the young chef has developed his own style, one that emphasizes a light, clean, and pure flavour.
"I don't hit you over the head. There's more of a subtle purity to it," he says, going on to describe his cooking as almost familiar, rustic, and masculine. "People in the dining room can see the chefs run outside and chop wood for the smoker, or we might cook a whole filet of salmon and carve it down, country style," he adds, the latter dish taking advantage of his one-sitting prix fixe menu.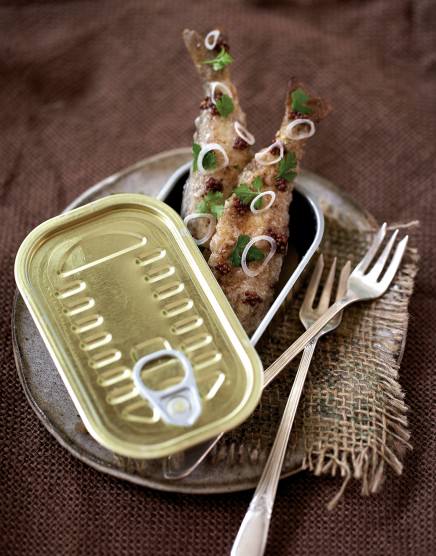 "At Noma, it's a very cosmopolitan cuisine, very composed, avant-garde, and technique oriented. Razor clams might be poached and rolled into a cylinder, wrapped in a thin gel of parsley, sprinkled with frozen horseradish and drizzled with dill oil," he says, murmuring "Sounds great!" as he thinks about it. "Here, we might take off half the shell and sear it à la plancha, then serve it with a beautiful vinaigrette and fresh and wild herbs. It's something that showcases what it is a bit more.
"You'll never see a chef here trying to transform a vegetable into a shape, and we'll use scallops when we have scallops. If we don't have any? We'll take them off the menu," he adds. "It's subtle. Fleeting. But it's the highest quality, prepared simply." Which is not to say it's without risk.
All summer long, when he can get his hands on just about anything a chef could want, he still looks forward to the bounty of the fall. His duck, for instance, comes from a farmer on nearby Whidbey Island who times its arrival to coincide with the end of salmon season. "Two weeks before, in fact," he corrects. "Then we can hang them in the cooler and concentrate their flavours."
On another night, he might send out a whole porcini mushroom as an entrée, as opposed to what he calls "a bigger bombshell of a dish."
"In the oven, we confit the mushrooms slowly in clarified butter, then put them into a sauté pan to colour and caramelize them before adding sprigs of pine and juniper berries, serving it with a woodruff purée."
A cocky chef might say, "Beat that, Redzepi!" but Wetzel attributes much of the ability to do his own thing to what he learned behind the line in Copenhagen. The most important thing he learned at Noma wasn't how to roast a pig or forage for wild herbs. Creativity, it turns out, can be taught.
He brings up the example of each chef de partie at Noma needing to come up with a new menu item idea once a week as a potential dish to serve at the restaurant. "Every week, you and the best chef in the world think about your idea—what you like about it and what you don't," he says, describing how he learned to be critical of his own work. "It's helped me to cut away the crap and find what's really great. That way, you can change it, make it better and make better food."