Bulgari B. Cocktail Ring Program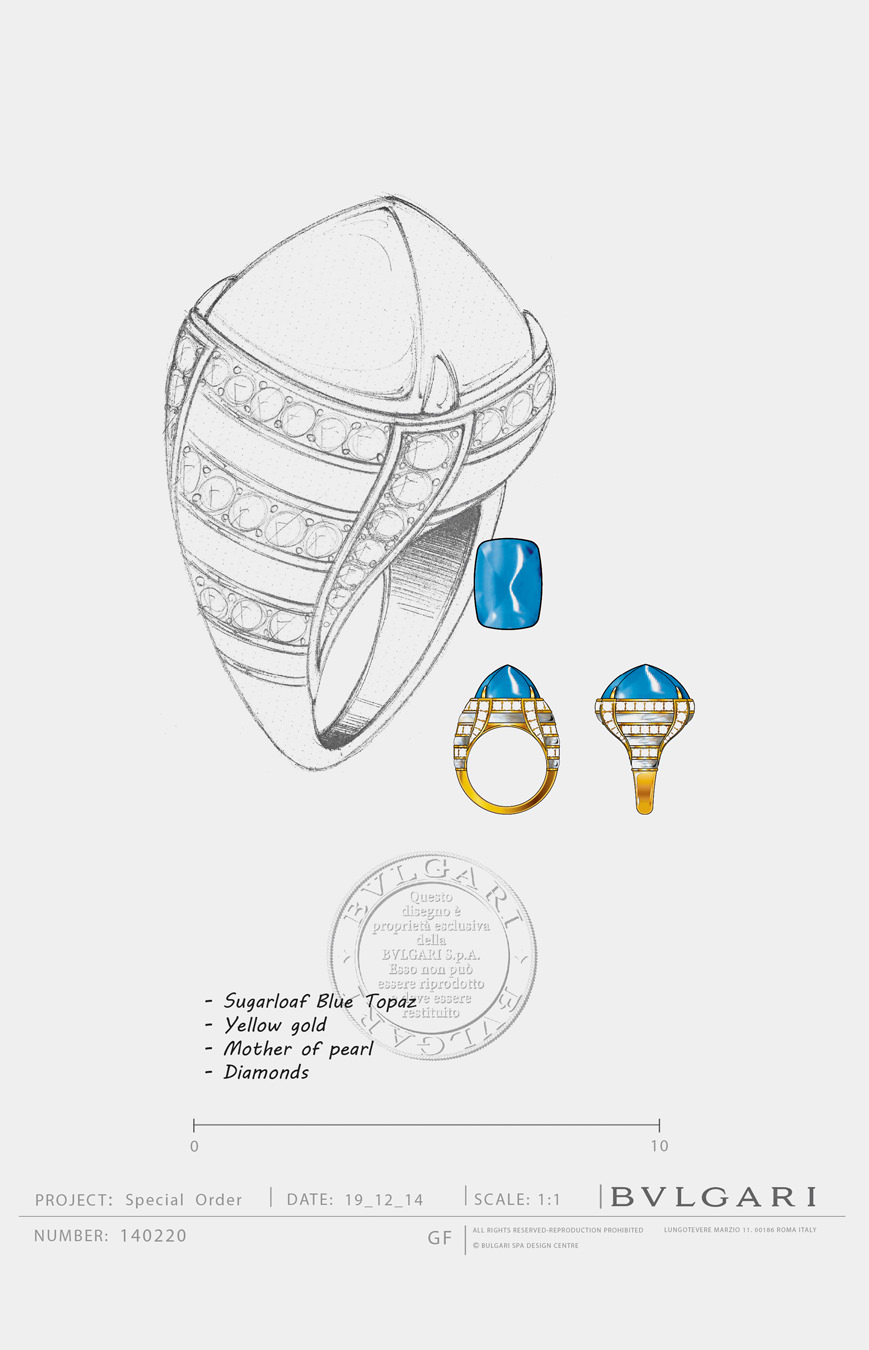 In an effort to create the ultimate retail experience, luxury brands are offering everything from in-store spa services to gourmet eateries on the premises. Bulgari takes it up a notch, trumping the VIP cocktail party with a cocktail ring program that allows any customer to customize. The cocktail ring—which came into popularity during the Prohibition era as a cheeky way for women to highlight the drinks they carried—is bold, colourful, and outrageously creative. Sotirio Bulgari founded his jewellery company more than 100 years ago with the sole aim of making fine jewellery that deviated from the traditional, diamond-based Parisian school of design. His fearless sense of colour and use of gemstones became iconic to the brand. Bulgari baubles were made for the chic, confident everywoman rather than the bland aristocracy, so it makes sense that the company is now offering a bespoke program.
The B. Cocktail Ring program allows customers to create any one of a possible 100 ring combinations. It's a little bit like joining a colouring book party, with a vast palette of crayons to play with. You start by choosing one of three setting styles, then pick a gold colour (white, yellow, or pink, with diamond accents), followed by a centre stone of about 15 carats selected from either peridot, blue topaz, amethyst, rubellite, or pink tourmaline, in either cabochon or faceted cuts. You then choose a second gemstone—turquoise, mother-of-pearl, or pink opal—to be set into concentric rows on the outside of the band, with each tier separated by a row of diamonds. Mixing and matching these colour choices is potentially hard work, but if the program stands to demystify the creative process, it is also likely to renew our appreciation for the talent of Bulgari's jewellers. The program constitutes accessible bespoke, and promises an engaging shopping experience. Seventy-five days after the order is placed, the new ring will arrive.