Want Les Essentiels de la Vie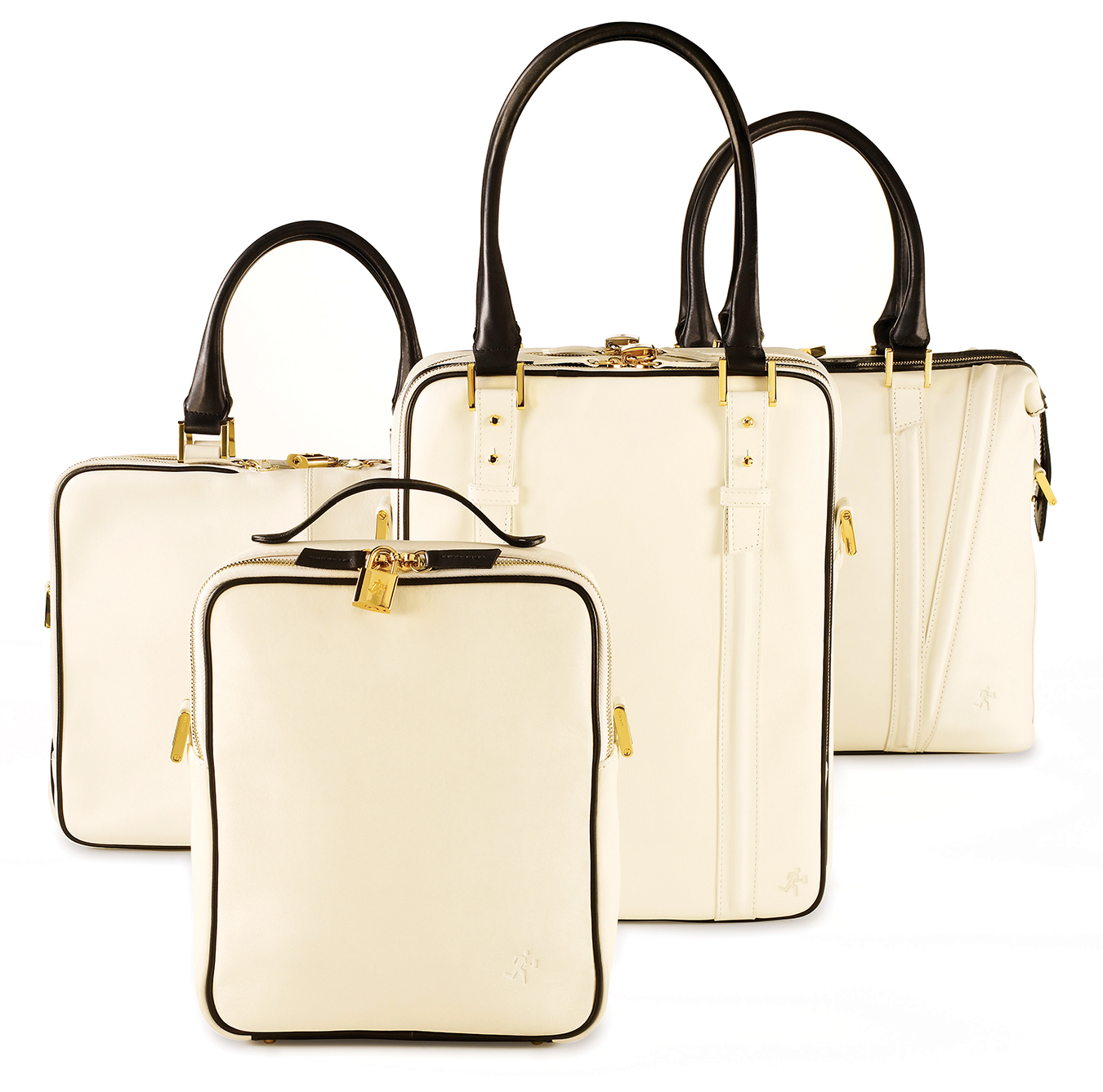 Although the idea of travel may have once evoked glamorous notions of first-class ocean liners, heavy leather trunks, and high-society ladies with cinched waists and linen handkerchiefs, these days the business of getting from point A to B is an inane process involving airport check-ins, compromised cabin leg room, and jet lag. Enter identical twins Byron and Dexter Peart, a set of Montrealers who have created a tony line of voyageur bags and accessories to cater to this new generation of tech-savvy globe-trotters and slick city commuters. With their haute brand Want Les Essentiels de la Vie, the brothers aim to reinvent the romance of that bygone era.
Says Dexter, the older brother by 59 seconds, "We don't like putting definitions on demographics per se—it's more of a psychographic. Our market lives a certain lifestyle. Probably the one thing that resonates the most is that the customer travels quite a bit." Their aim is to fill a small retail niche between the likes of Tumi or Samsonite, and Goliath labels like Louis Vuitton and Gucci. "The accessory industry is not very cluttered. So for us, it's kind of interesting that we're coming in as the new kid on the block and concentrating exclusively on luxury accessories."
The 38-year-old Pearts seem to have successfully pinpointed a soft spot in the consumer's psyche that promises that you are what you wear. In creating emotional triggers on level with buying a Steve McQueen watch or Sidney Poitier suit (two men who were sources of style inspiration for the brothers), the Pearts operate based on the theory that anyone can buy in to a desired persona.
In line with the clean lines of mid-century modern furniture—still more visual fodder for the Pearts whilst growing up—the Want collection bears an understated retro flair. Despite the fact the Pearts had no formal design training (they both went to the University of Western Ontario to study economics), both had high-level experiences with prominent fashion houses: Dexter was vice-president at Miss Sixty Canada, and Byron was marketing director at Diesel Canada. Working contrary to the transient notion of women's fashion, the Pearts relied on their own sense of quality, taste, and style for their personal entrepreneurial projects.
Dexter credits his brother as being the visionary. "I'll give him that," he says. The impetus for Want can be traced back to a business trip Byron took to Stockholm in the late nineties. Dexter remembers the telephone call he received. "Byron said, 'You have got to see Stockholm. It's so amazing. It's so much like Montreal: the weather, the people, the culture. But the design is so much more developed here. People look at design in a different way than we do.' "
Originally, Want's focus was not on bags or accessories, but clothes. Inspired by the Scandinavian design scene and aspiring to re-create a piece of that at home, the Pearts opened a boutique in Old Montreal in 2000. "It was a very small store, only 600 square feet, but in it we had the desire to put a reflection of where my mind was at," says Byron. It was called Want Stil ("style" in Swedish), and there they were the first in North America to showcase Swedish brands, such as Filippa K, Acne, and Nudie Jeans. Want Stil eventually closed in 2005, but, as Dexter describes the experience, it was "sort of an incubator," for it was also here where the brothers debuted their own, albeit short-lived, brand, called Want Menswear.
In 2006, 200 units of the first Want Les Essentiels de la Vie products—the de Gaulle computer bag, as well as the Narita iPod case, which is no longer in production—arrived on the scene. The de Gaulle was, of course, named after the airport in Paris—and all products henceforth were baptized in similar fashion, named after Haneda (Tokyo), Trudeau (Montreal), Kennedy (New York), and so on. The convention continues with Want's retro-looking travel totes: Malpensa, Charleroi, Deurne, and da Vinci (in 24-, 48-, and 72-hour sizes) that open up like doctor's cases, and other cosmopolitan accessories, such as a swank passport wallet, and, as launched in Paris last spring, an iPad case made with Italian craftsmanship, cut from rich Norwegian leather, and lined with fine Turkish cotton. For spring 2011, the new leather O'Hare shoulder tote bears a sleek, pillow-like shape.
The designs, almost all of which include a signature gold-and-silver zipper, lean toward a more masculine feel, although Dexter insists Want is not gender oriented, and says, "Is a Jean Prouvé chair made specifically for a man or woman?"
Beyond the retro feel of their collection, the Pearts also put emphasis on the modern lifestyle. Byron explains, "You leave the house with these essential things: your wallet, your iPhone, your computer bag, your iPad. For this generation, these are our cherished items—that iPhone that falls on the floor, that you get all upset for when you break your screen. There are ways to buy a rubber thing around it, but we try our best to respect the design, and hopefully complement it in any way that we can."
The brothers also have a partnership with Opening Ceremony (a less expensive canvas collection in primary colours), along with J. Crew, the quintessential source for Americana fashion. Here, the Pearts' charming good looks and discerning dandy style were showcased in the iconic catalogue when they posed for a business profile to complement their special organic-cotton Good Goods collaboration, Want Organics for J. Crew (now in its second run). Other travellers' items in the works include a maternity bag (or paternity bag, as Dexter is a new dad), and possibly a roller suitcase. Further down the road, the idea of a retail location is on the horizon. Says Dexter, "It will likely be a small space again, but one where you get all the Want products in one place." And what jet-setter wouldn't be seduced by that?
Photo: De Gaulle computer bags from Want Les Essentiels de la Vie.