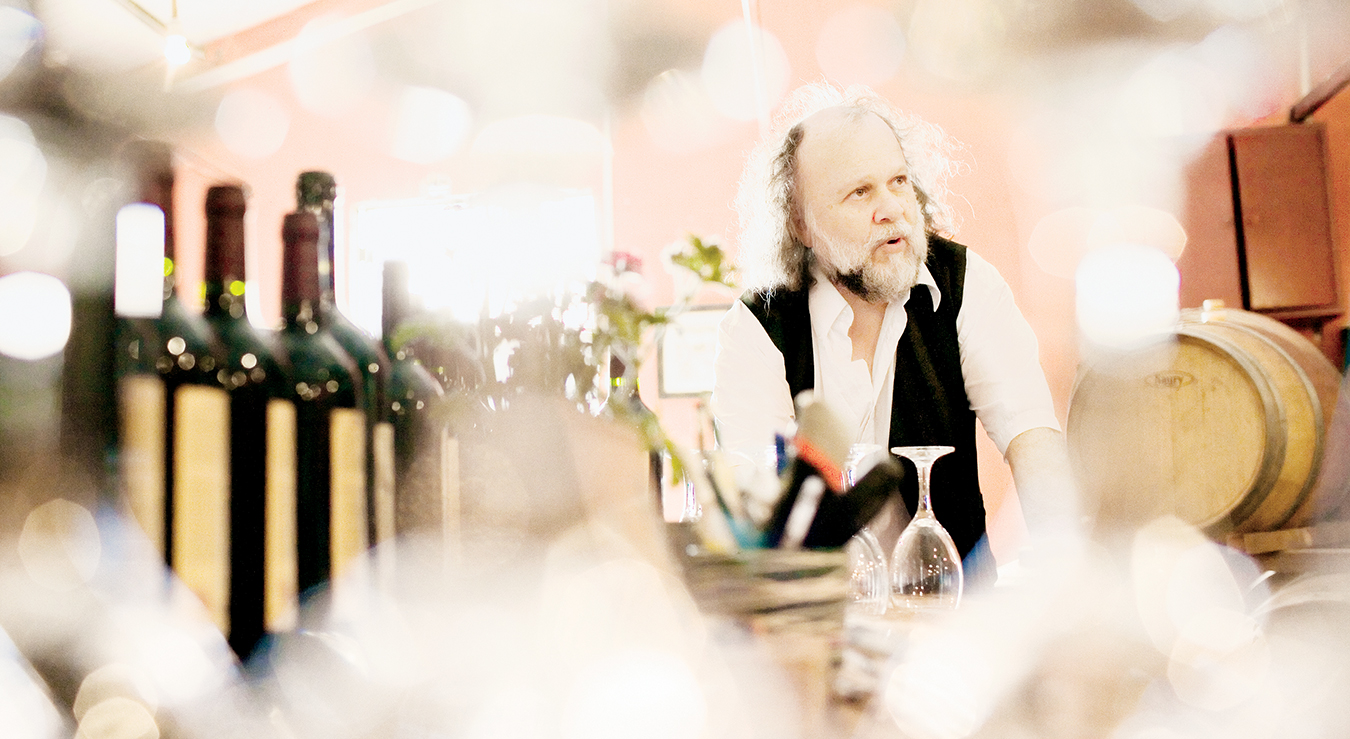 Tell me what you know about wine from Israel. Cloyingly sweet? Only for religious occasions? Not quite. As the country's pre-eminent oenophile, Daniel Rogov, writes in the eponymous Rogov's Guide to Israeli Wines: "Today Israel is acknowledged as a serious wine producer," one with upwards of 150 wineries now producing labels that draw attention.
The irony is that this is a country that's been making wine for 5,000 years. Those antique drinking glasses on display at the enormous Golan Heights Winery are the real thing, dating back to Byzantine and Roman times. Israel is so deeply into wine that the official tourism logo depicts two men carrying grapes. Haim Gan, founder of the Grape Man Wine & Spirits Center in Jaffa, points out, "Wine is mentioned in the Old Testament 141 times. Noah was the first grape grower. It's part of our heritage, part of our religion. You have to drink four glasses of wine at Passover. At Purim, we say, 'You have to drink until you don't know yourself.'" According to Gan, genetic analysis of seeds found in an ancient amphora factory indicates that the land had 300 indigenous varietals—"until the Ottoman period," he explains. "The Turkish [people], as Muslims, didn't allow production of wine and alcohol except for religious purposes." Apart from that, this once-flourishing industry ceased to exist until the late 19th century when Baron Edmond de Rothschild brought in funds, experience and French varietals.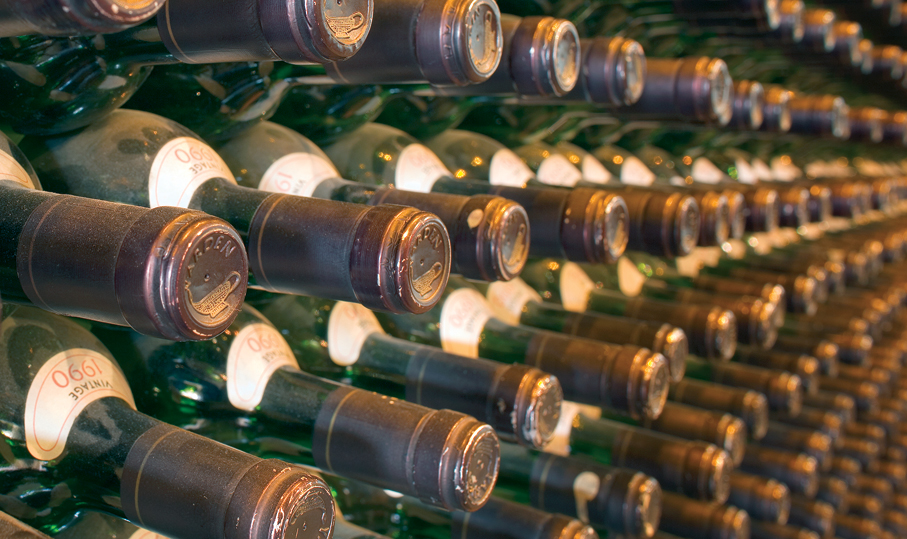 Flash to Ze'ev Dunie in 1994, a filmmaker shooting a documentary on Israeli wines—Lying Down in a Cool Dark Place—with no idea what he was getting himself into. The film's emphasis on the inherent magic of wine in its journey from vineyard to bottle, and his exposure to the passion that all good winemakers share, set him off in a new direction. By 2000, he had founded Sea Horse Winery. His timing was perfect: he caught the industry just as it was starting, when only a handful of wineries existed. Today, they spread from the Upper Galilee to the Negev desert.
Owned by four kibbutzim and four collectives, the Golan Heights Winery in northeastern Israel was founded in 1983 (the start date of the quality revolution, says wine educator Gan, when travelling Israelis came home having experienced wine elsewhere). The cool climate, high altitude and volcanic basalt soil nurture 15 varietals, from chardonnay and sauvignon blanc in the northern Golan to Muscat of Alexandria in the south. The resulting 35 wines produced at Golan Heights are a carte des vins in themselves, with everything from brut and blanc de blancs to icewine, called HeightsWine.
Production at Golan Heights totals six million bottles a year, with 70 per cent of it dry red wines. As well, all of it is kosher (identified by a circled K); this isn't so with all Israeli wineries, but it does broaden the market both at home and overseas. The time-honoured rules and procedures are stringent: fruit cannot be picked till the fourth year, so that vines have a chance to grow strong; every seventh year, the land is allowed to rest; and from the time the juice flows until the bottle is capped, only Sabbath-observant Jews can touch it.
As a result, you sometimes come across the anomaly of a winemaker who never handles the wine, as Astrid Kampen Hasday, managing director of Bazelet Hagolan winery explains. Established in 1998 by owner and winemaker Yoav Levy, and one of about 10 boutique wineries in the Golan Heights, it produces only cabernet sauvignon, with an annual production of 25,000 bottles. All wines are aged in oak; the Bazelet Hagolan wines for about eight months and the Reserve label for 20.
Grown on 30 dunam of land (a dunam is an Israeli measure equivalent to 1,000 square metres), the black currant-size grapes are harvested by hand. "We want very sweet grapes," says Hasday. "We want the dark, dark bordeaux colour. We only have one variety of grape so the whole game is in the barrel." She does all tests with barrel samples, but she cannot touch the barrels; instead, a travelling team made up of 10 Sabbath-observant men bottles the wine. "You don't have to touch the wine to make good wine," Hasday maintains.
"We have a terroir that has its identity, and the wine should express that."
A third of Bazelet Hagolan wines are exported to Japan, Italy and the U.S. The labels also show up in Israeli restaurants, but while ordering from a wine list was unheard of not that long ago, these days there's a real thirst for oenological education.
Housed in a 1,200-year-old building amongst the alleys and archways of Old Jaffa, Haim Gan holds regular Friday tastings. Israeli wines show a New World approach, he says. "Fruit in front, smoky, chocolate, low acidity, ready to drink, high alcohol. It's wine to drink and have fun with." He's also positive about what lies ahead. "We've got great weather to produce grapes, we've got knowledge and we've got winemakers going to Australia and California…"
What Ze'ev Dunie of Sea Horse Winery brought back from the U.S. in the seventies wasn't oenology, but a knowledge of independent filmmaking. "Sound, lights, editing, everything. I turned that approach to winemaking," he says. "I do everything. It's totally handmade, including the bottling."
Why Sea Horse as a name? "It's a beautiful, unique creature not from reality." Rampant and lush, his vineyard is planted with syrah and zinfandel, and has an almost fairytale quality. Dunie grows organically and plants densely, and where the average yield in Israel is five to six kilograms per vine, he says, "mine is one kilo. I get very intense flavours and concentration in the fruit. [Though] from a financial point of view, it's a disaster." Leasing his own 0.7 hectares and renting some land from neighbours gives him 1.5 hectares, enough to grow a tenth of his total annual production of 1,000 cases; he buys additional syrah and zinfandel and other varietals, all non-organic. Growing organically, he says, is to protect his own health.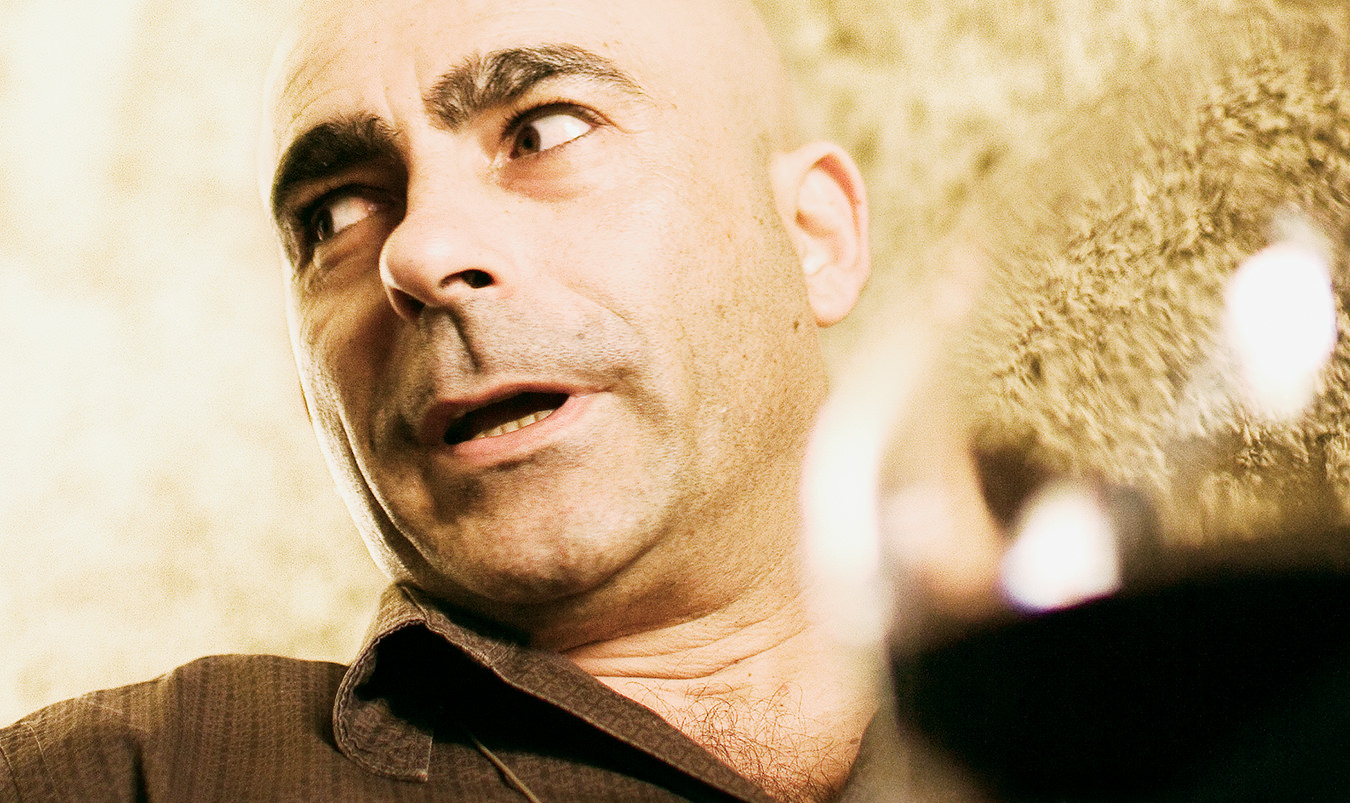 This is not a technologically sophisticated operation—more "buckets and wheelbarrows", as Dunie calls it. And he advocates a non-interference policy when it comes to the grapes: "If you are blessed with good grapes, the best thing is to stay back, don't get too involved with the process," he says. "My winemaking philosophy is not to interfere. The only time I do is in the aging process." He starts blending at six months in the barrel, using a mixture of American and French new and old oak. "The one thing I learned by myself is I should treat each variety as if it's a different fruit. Each is a different child, a different baby," he says.
Dunie also tries different ratios, holds blind tastings for friends. "That's the most joyful process. … We have a terroir that has its identity, and the wine should express that," he says. Using a hand-cranked machine from France, he attaches self-designed labels that feature his fingerprint along with the names of artists he admires: "Camus, Fellini, Munch, Antoine [de Saint-Exupéry], and that guy called Lennon who made music," he says. "He has a bottle, too."
In his view, wine is an art like any other. "My metaphors come from music. Cab-merlot is classical music. It's serious, respectable, a tie and a suit. These other varieties—syrah, zinfandel—are jazz; they're sensual but just as complex." Expanding comparisons to cinema, he says, "A good film walks home with you. In a wine, one of the terms people use is 'it's long'; like a good film, it lasts." Speaking of the entire industry, he says, "There are some very nice quality wines made in Israel. I'm convinced in a blind tasting they will beat many top qualities in the world. The time has come to demonstrate what I'm talking about." The way Dunie and his fellow winemakers see it, like a movie, the opening credits are just about to roll.