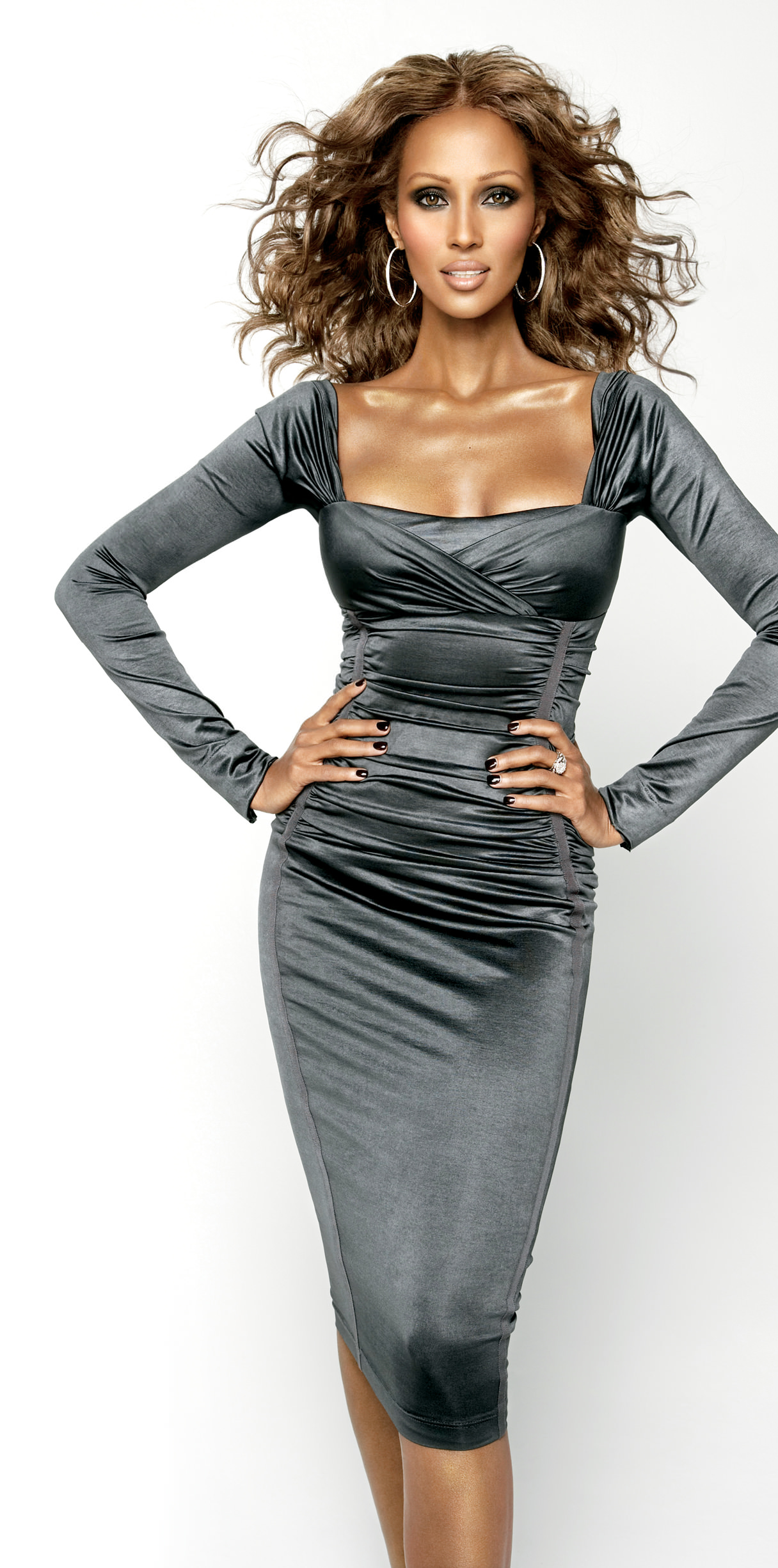 It was a fortuitous twist of fate that helped lead Iman to where she is today: founder and CEO of her own successful, self-titled line of cosmetics, and host of the reality-TV series Project Runway Canada. Had the coincidence in question not happened, she also likely wouldn't be the global ambassador for the charity Keep a Child Alive, married to rock star David Bowie, or mother of their seven-year-old, Alexandria.
Instead, she'd probably be working at the UN—"Unfortunately," she says. "I say unfortunately because I'm not crazy about bureaucratic machines. But that's what I probably would have gravitated to because that's what would have been available to me. And somehow I probably would—unfortunately again—have been involved in politics. Now, knowing what I know, it's much more effective to be a citizen. You can make more changes being a citizen than being inside the system. When you're a politician, you become part and parcel of the system. You have to say certain things and play by the rules, which as a private citizen you don't have to."
Political-science student Iman was head­ing to the University of Nairobi one day when renowned photographer Peter Beard stopped her in the street.
"He'd asked if I'd ever been photographed before," she says. "I thought, Oh God—he's American, he's white. White people always think African women haven't seen a camera. I said, 'Of course I've been photographed.' He said, 'Who?' I said, 'My parents.' He said, 'No, professionally.' The only time I had ever seen women in magazines—not like Newsweek or TIME magazine—was my brother's Playboy. I said, 'No, I'm not that kind of a girl.'"
When she kept walking, Beard followed and explained that he wanted to take portrait shots. "Then he said, 'I'll pay you,'" says Iman. "And that's why I was interested, because [I was a refugee and] I had to come up with tuition for university." A few months later, he had a contract for her with a modelling agency in the U.S.; it offered $250,000 (U.S.) for the first year.
"People say I'm a role model. I don't want to be a role model to anybody. It's a big responsibility and I'm a human being. I have made mistakes," she says. "It's a hard time to be a young girl. The mundane that is celebrated these days—what girls aspire to. When Lindsay Lohan was passed out in her car, the American Apparel hoodie she was wearing sold out. This is the way we're living now."
The only person she wants to be a role model for is her youngest daughter. "It's hard to be a parent. You become a preacher. Then suddenly, you become, 'Oh, she's old!'" The deal with Project Runway Canada worked only because it was shot in Toronto, making it easier to travel back and forth to her home in New York.
In Iman's home country of Somalia, her looks are considered average. "In my country, people say, 'If she can be a model, all girls can be models,'" she says. "At this age, I'm comfortable in my own skin." As well she should.
Photo by John Var Der Schilden.