Mathilde Thomas of Caudalie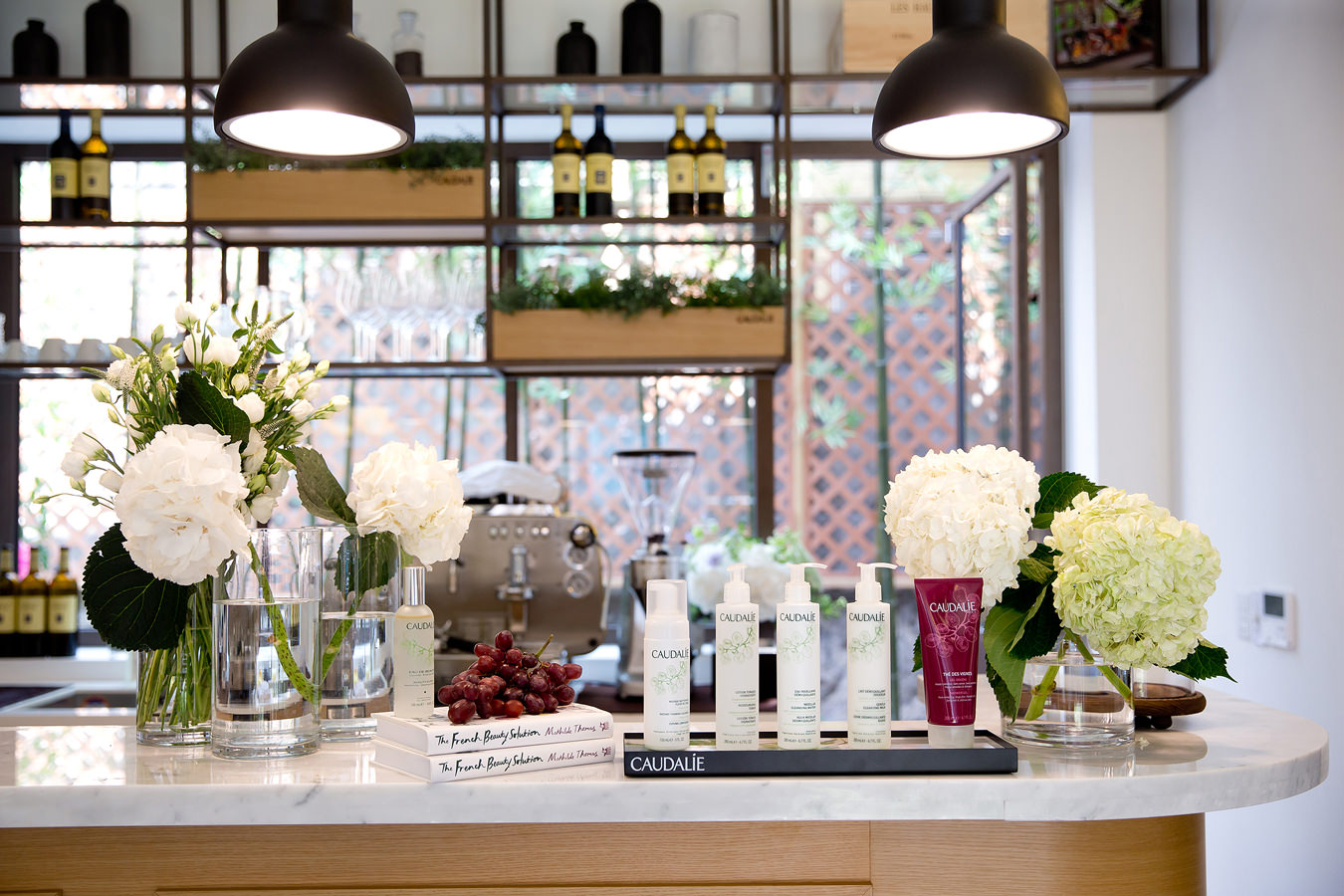 Call it the millennial cure. When Mathilde Thomas, co-founder of the French skin-care line Caudalie, set about formulating her new Vine[Activ] range, she wanted to create an antidote to the busy, frenetic lifestyle that those in their mid-20s to 30s lead: the non-stop days, late nights, unbalanced sleep patterns, high levels of stress, and, most of all, the frequent exposure to environmental toxins, which can take a toll on your complexion. Thomas's solution? An "anti-cell burn-out" complex composed of grape seed polyphenols and other powerful antioxidants that are designed to recharge your skin like a green juice. It's been piped into a quartet of essentials: glow-enhancing serum, 3-in-1 moisturizer, energizing eye cream, and overnight detox oil (the latter is not currently sold in Canada). "They're all very detoxifying," Thomas says.
Detoxing has been on Thomas's mind a lot lately. While Caudalie hails from the vineyards of Bordeaux, Thomas recently moved from New York to Hong Kong—a notoriously polluted city. "It's so bad, I was talking to my husband this morning and he said the pollution level [Air Quality Index] is 100. Compare that with New York, where the level is 22." Ultimately, the move was prompted by business and a desire to take the vinothérapie-focused brand that she founded just over two decades ago with her husband, Bertrand Thomas, to the next level. "We're family owned, and we love it like this," says Thomas. But, she explains, the skin-care industry "is so competitive that you have to be global, and we didn't know Asia." Given the explosion of K-beauty (such as BB creams from South Korea and sheet masks) and the huge growth in Asia-Pacific markets, Thomas quickly realized she had to get boots on the ground there, and fast.
Rather than hire a remote team, the stylish jet-setter moved her entire family—including her three children—to the Hap Mun Bay coast of Hong Kong. "The kids cried for six months," she says of the cultural adjustment. They live in a modern-style house, complete with air filters in every bedroom. "We're right on the beach. It's beautiful, but polluted," says Thomas. "Still, my husband swims in the water." Every month, she travels to Seoul, where Caudalie has a three-storey maison in the trendy Itaewon neighbourhood that houses a beauty boutique, an airy, wood-trimmed spa, and offices on the top level. The upside to battling chemicals and intense smog is that the setting is an ideal testing ground for the Vine[Activ] range."The serum is the first thing you put on in the morning and night," Thomas says of the hyaluronic-infused, cushiony formula. "Then the moisturizer protects from the pollution and is loaded with polyphenols. It smells like orange blossom." Nights are for the detox oil—rich with carrot oil, among other ingredients—while the eye cream treats dark circles with horse chestnut and licorice anytime. "I recommend you also put it around the mouth," she instructs, tracing the pearly cream along the border of her lips.
Another benefit to having a base in Seoul? Thomas can duck into pharmacies to discover the next Asian beauty innovations before they hit Instagram—imagine every type of mask imaginable, and illuminating potions and pore-shrinking lotions as far as the eye can see. "It's all about brightening and having clear, luminous skin," she says. The futuristic options also inspired Caudalie's latest concoction: Vinoperfect Concentrated Brightening Essence. Launched this spring, the lotion-like water seals in hydration and prepares your skin to better absorb the ingredients of the products you apply next. "It has white peony to brighten the skin, organic grape water to soothe and moisturize, and also glycolic acid to even out your tone," Thomas explains. She sweeps it on as the first step in her routine, layering it under the brand's cult-classic Radiance Serum for a supercharged, dark-spot-fading boost. In tests, the essence doubled the effectiveness of the serum, notes Thomas, and is the first product of its kind in the Caudalie range.
"We were helping do a wine tour when we met this group of researchers," says Thomas. "They told us we were throwing away the most interesting part of the grapevine."
If Thomas seems eager for adventures—in skin care and beyond—it's in her DNA. Her parents were competitive skiers who met on the slopes of Val d'Isère and later founded a successful sports gear company and supermarket in the south of France. Thomas grew up sailing on her parents' boat and soaking up the outdoors. "My parents sent me to camp when I was 11 through 18 in the U.S. because they wanted me to learn English, and I loved it." She landed at the Navajo Trails Adventure Camp in Utah, where days were spent kayaking, hiking, and horseback riding. Thomas liked it so much that she even became a counsellor.
Apart from camp, "The only thing I liked in life was fragrances and essential oils," says Thomas. "I was totally passionate about it, always." So she enrolled in business school with every intention of becoming a perfumer. In-between her studies, she met Bertrand Thomas, and they instantly clicked. Life took an unexpected turn in 1990 when her parents sold their businesses and bought the venerable Château Smith Haut Lafitte winery in Bordeaux. The then–20-year-old Thomas and her boyfriend (and soon-to-be husband) rolled up their sleeves and pitched in.
"We were helping do a wine tour when we met this group of researchers," says Thomas. Among them was Joseph Vercauteren, a world-class specialist in polyphenols and a professor of pharmacognosy at the University of Montpellier. "They told us we were throwing away the most interesting part of the grapevine—the grape polyphenols and resveratrol," she says of antioxidants that protect the skin that are found in grape seeds. That sparked an idea. Why not bottle these natural powerhouses into beauty creams and elixirs?
Teaming up with Vercauteren, the couple launched Caudalie in 1995, churning out concentrated, youth-enhancing essentials infused with vine extracts—moisturizing grape water, purifying grape marc—which they first sold in French pharmacies. Now their products are sold in more than 44 countries. Thomas heads up product development, while her husband handles "all the rest: finance, managing retail, boutique openings," she says. Bestsellers include the Beauty Elixir, a pore-minimizing mist created in 1997 that's become a favourite of makeup artists, and Resveratrol [Lift] Firming Serum, which contains a patented blend of strengthening resveratrol and micro hyaluronic acids to tone and plump skin.
To extend the benefits of the range, Caudalie has a number of vinothérapie spas, the newest of which is located in New York. Formerly in the Plaza Hotel, it now occupies a 1,000-square-foot space in a townhouse on the Upper East Side. "I wanted a much cozier environment, like an apartment," says Thomas. The lounge has a working fireplace, and the bookshelves are lined with objects and artwork selected by her. "It's much more intimate," she says, sitting on a low-slung couch. Similar to the brand's other spas, Château Smith Haut Lafitte wine and light bites will be served. "We need to purchase a little trolley where we will put the organic tea, the wine, the fresh grapes, and the almonds that we always carry," says Thomas, thinking like a gracious hostess preparing for guests.
Next, she will hop a plane to return home to Hong Kong to her family. Theirs is a tight-knit clan—they even have a band called the French Fries. "We hire them when we have a boutique opening," says Thomas, smiling. "My older daughter will sing, the younger one does the tambourine, my son will play the guitar, and my husband plays the drums." And her role: "Me? I'm the manager! I don't do music." So, could this next generation run the brand someday? Thomas says it's too early to tell. "I don't know if it's a gift to give them the reins of the company, or if they should start their own story." Stay tuned.
Never miss a story, sign up for NUVO's weekly newsletter, here.