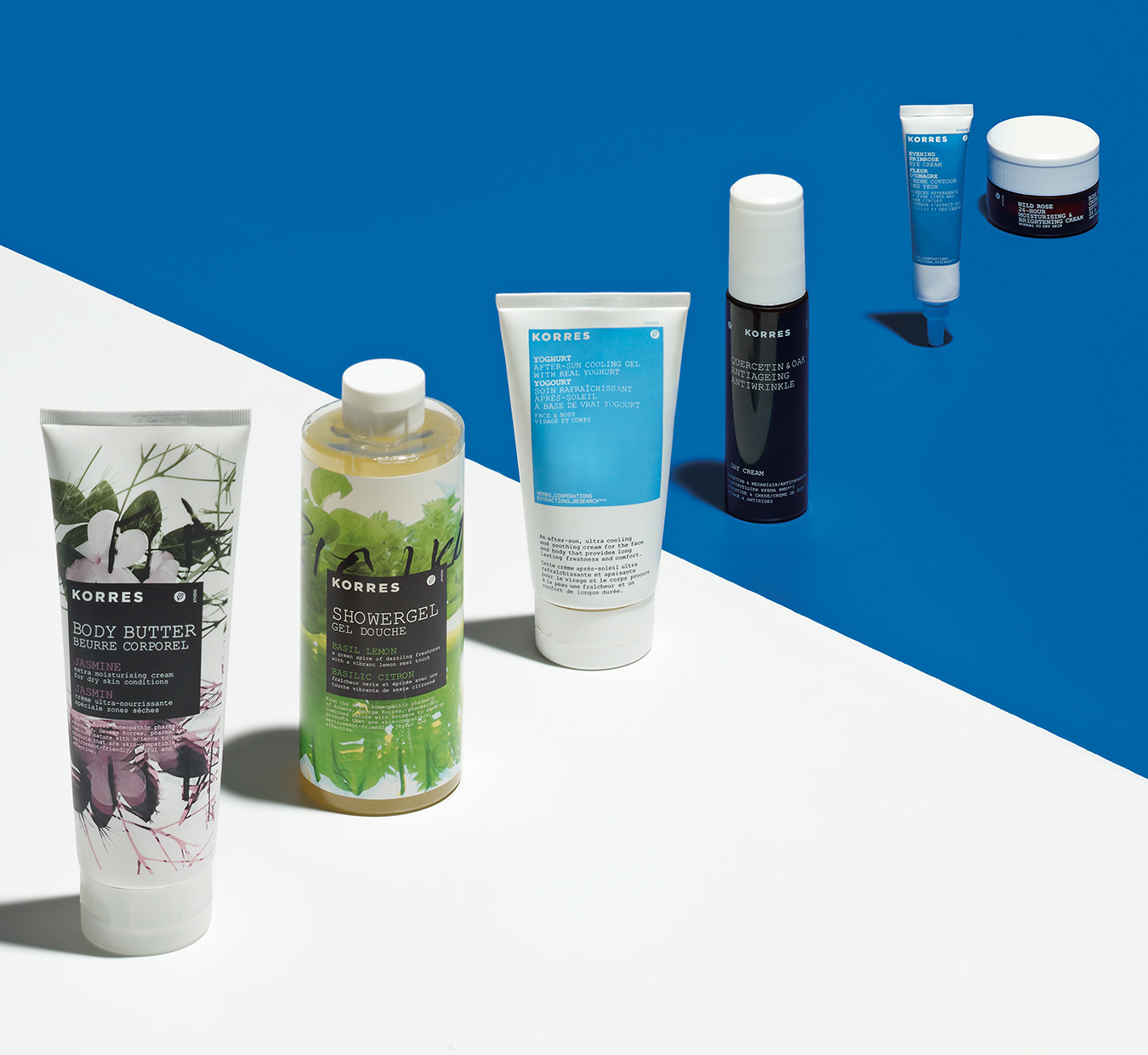 It was a love story from the first. In the oldest homeopathic pharmacy in Athens, George Korres concocted natural remedies—teas, salves, wild rose oil—and attracted customers from across the country. Lena was one of the regulars, a fiercely intelligent chemical engineer with a passion for science and botanicals. And a lovely smile. When George launched Korres in 1996—inspired by his customers' repeated requests for natural beauty products—Lena was his first hire.
Today, Korres is among the most respected natural beauty brands in the world, smashing innovation boundaries by using technology inspired by Nobel Prize–winning discoveries in chemistry, and earning international acclaim for everything from its eco-friendly products to its contemporary packaging. Its 2011 foray into the Canadian market was met with the kind of breathy excitement usually reserved for first kisses. The cherry on top? Lena and George are now married with children.
"I was in love with the pharmacy before I was in love with George," Lena remembers, laughing. "It had such a nice energy, and a team of loyal and very passionate young people. When we launched Korres, we wanted to capture that spirit."
Lena and George started small, creating creams by experimenting with the pharmacy's stockpile of fresh herbs and organic oils. Soon they were fielding calls from rival pharmacies asking to stock their lotions. The first Korres cosmetic product—Wild Rose 24-Hour Moisturising & Brightening Cream, infused with the pharmacy's wild rose oil—is still a bestseller. When it became clear that Korres had legs as well as vision, Lena and George sat down with pen and paper to plan their brand's future.
"I remember it as if it was yesterday," Lena says with that smile. "We knew that as companies grow, they can lose their orientation. We wanted to isolate the principles that make Korres, Korres." They came up with four, which continue to form the backbone of the brand: using natural ingredients, supporting all claims with science, making products affordable, and making them gorgeous. "Back then, the natural products that did exist were very boring," recalls Lena, now the head of product development. "The packaging would be brown with a little touch of green, remember? But beauty products can make people so happy. If you have a cream that smells nice and has beautiful texture, it's a little joy that you can have every day." All Korres products are free of mineral oils and propylene glycol, but Lena is adamant that efficacy and the sensual "experience" of beauty are paramount. "I wouldn't be willing to use a natural product if it doesn't work or smell nice," she says, bluntly. "Natural is just not enough."
Natural done right, however, is the company's holy grail. The country's flora (close to 6,000 species, 905 of them endemic) power the little beauty company that could. In fact, Korres employs its own plant hunters. Dubbed the "Indiana Jones of herbs", Orestes Davias is head plant hunter, a writer, and a botanist who travels around Greece studying plants and their beauty benefits. The brand also boasts its own network of independent farmers. "Many plants live in remote regions up on the mountains, and they're very difficult to cultivate," explains Lena. "The people who have lived there for generations know how to grow them. We want to help them by buying their plants, but it also helps us: we get the best quality ingredients from the best places." These relationships existed before Greece's current economic crisis, but Lena acknowledges that they're even more important now. "Our country is an agricultural country, and in many ways, our company is agricultural too. We're in this together."
Commitment to this quality yields results—most recently, the discoveries that led to the brand's breakthrough Quercetin & Oak anti-aging line. After a trio of scientists shared the Nobel Prize for chemistry in 2004 for their work on proteasomes—"basically the anti-aging mechanism of our cells," says Lena—Korres and an array of research groups, including the National Hellenic Research Foundation and the University of Athens, spent five years applying those scientific findings to the wilder world of beauty. The result is science made sexy. Lena counts the Quercetin & Oak Antiageing & Antiwrinkle Night Cream among her all-time Korres favourites, along with the Yoghurt After-Sun Cooling Gel, another recent innovation that features edible yogurt, the only beauty product in the world to do so. "Sun and yogurt—perfect for Greece, no?" she says, laughing.
Sixteen years after Korres was launched from behind the pharmacy counter, it now employs almost 300 people in Greece alone, and boasts both a New York flagship and a recent licensing agreement with beauty behemoth Johnson & Johnson. The natural-cosmetics landscape is also dramatically different—Korres is no longer among only a handful of players on the field. "Around 2008, there was all this craziness about natural, but at the same time people were confused, even people in the industry," says Lena. "Sephora was asking us, 'What should natural mean?' " The Korres solution was to introduce a fact panel on each of its products, listing red-flag ingredients such as parabens and "Yes" or "No" beside each one. As Lena explains, "The point is being transparent so that people can make a choice." Spoken like a beauty visionary with heart.