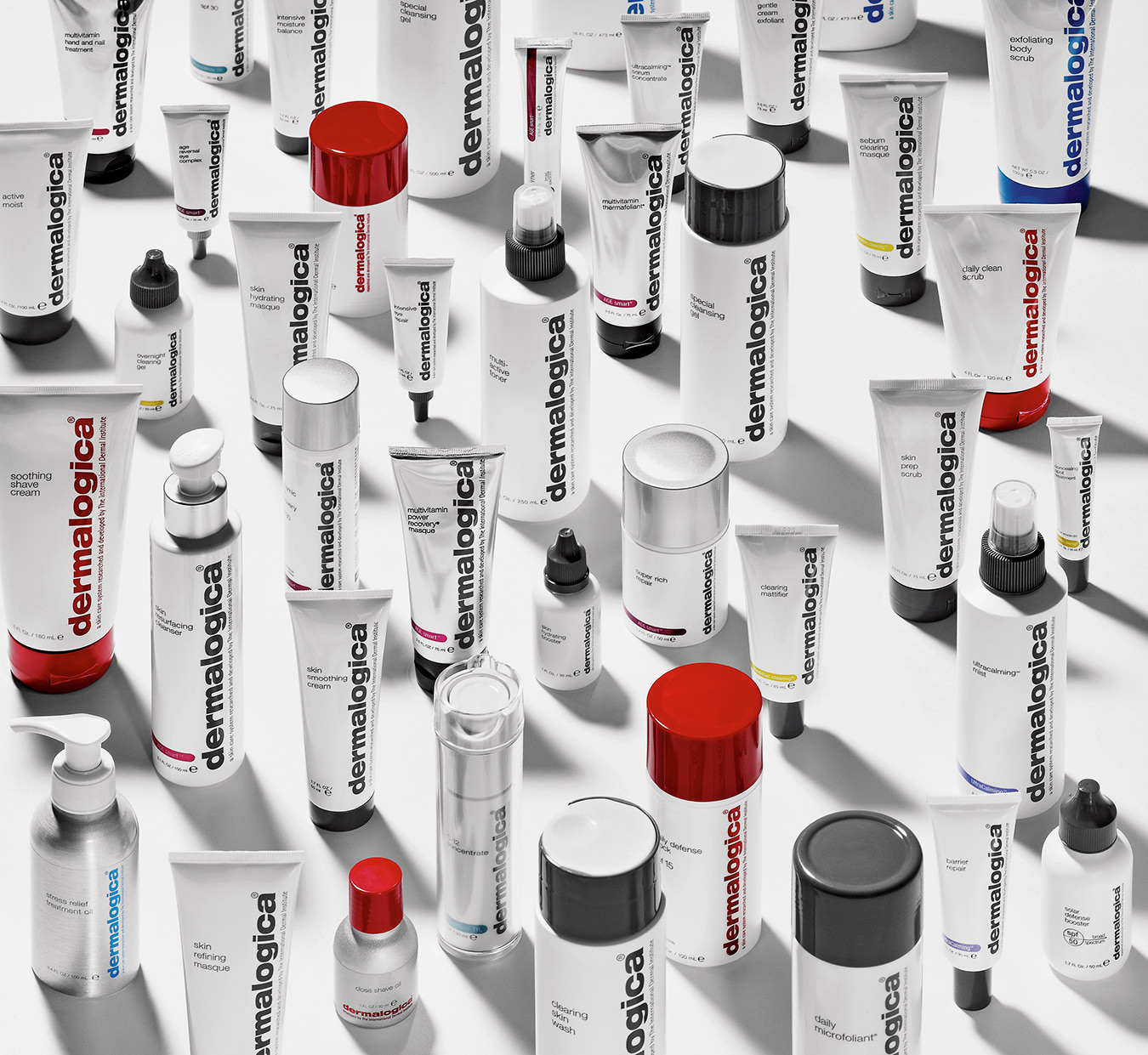 Picture this ad: a soft-focus shot of a naked woman sleeping on a rock, framed by hibiscus, and equally flowery promises courtesy of a pink jar with a curly gold font. "Helga of Russia" is what Jane Wurwand laughingly calls that category of beauty campaign, which, when she founded Dermalogica in California in 1986, was the mass depiction of skin care.
So Wurwand set out to create something new. "Dermalogica isn't about pampering or indulgence," she explains. "It's about a skin treatment that works." This was a radical notion when Dermalogica hit the market just over 25 years ago. American brands like Estée Lauder and Redken dominated the realms of makeup and hair, but there were no dominant players in the skin-care world that proposed building a brand around skin health. Dermalogica's no-nonsense grey and white packaging and science-y name only bolstered its alien impression. "For the first couple of years, people couldn't even say the name, or they just remembered that it was something odd," recalls Wurwand, who—along with her then-boyfriend, now-husband, Raymond—was repeatedly turned down for a bank loan to launch the business. No one wanted to hear about it. "That was a real challenge," Wurwand says. "Of course," she adds with a grin, "that was also the opportunity."
Today, Dermalogica is a vital part of the billion-dollar global skin-care industry, counting star products like Daily Microfoliant (an exfoliating rice powder) and PreCleanse (a cleansing oil fortified with kukui nut, rice bran, and borage seed oils) among its portfolio. Celebrities such as Uma Thurman, Liv Tyler, and Victoria Beckham are known fans of the brand. But beyond Dermalogica's success on paper, there is a second, more exceptional story. Dermalogica is not for casual consumers—and not just because it's only sold in authorized salons and spas where there is a licensed skin therapist. It's a brand that sparks a lifelong relationship. Adherents speak of Dermalogica's signature Face Mapping—in which the face is divided into 14 zones and analyzed for congestion, hyperpigmentation, breakouts, and dehydration—with the breathy excitement of Jacques Cousteau rooting around the Pacific.
When you talk to Wurwand, the fervour makes sense. In her warm, down-to-earth way, she couldn't be more passionate about her calling. "I can't remember a time when I wasn't fascinated by the skin," she muses. Growing up in a small town near Edinburgh, she mashed up oatmeal to create her own face masks. On Saturdays, she used her allowance to buy yeast facial packs. "I'd snip open the top very carefully, and apply a third of the sachet," she remembers. "One packet would last me the week—I was very judicious." At 13, she worked one day a week in a hair salon, but she was never tempted to strand her first love. Wurwand went to beauty school and became a licensed skin therapist, and then in 1983, at 25, she moved with Raymond to Los Angeles.
Dermalogica now employs over 100,000 trained skin therapists around the globe. At its head-quarters in Carson, California, a curated team devotes its days to exploring breakthroughs in skin health and maximizing the thrill of the skin-care experience, from pouring cleanser into your palm to delicately dabbing on eye cream. "Tactileness—people love that about skin care," Wurwand says. "We work equally hard on the feel as on the smell."
She says that she sees each finished product in her mind, but the process of getting there can be "torturous", taking up to two years and 50 formulations. Wurwand and her team test drive all the products, making notes on texture, scent, and efficacy. "It's an essential step," she says. "I don't understand manufacturers who don't use their own products. It would be like a fashion designer who doesn't see the garment on anyone. How else can you know?"
Dermalogica's big, recent launch was the new Age Smart SkinPerfect Primer SPF 30, an anti-aging weapon that aims to blur the line between makeup and skin care. "All the primers on the market prepared the skin for foundation," explains Wurwand, "so we thought, 'What if the primer acted as the foundation?' " Featuring a potent blend of pearl powder, white tea, and peptides, the SkinPerfect Primer smoothes and hydrates the skin, reflects light, stimulates collagen, and protects against UV rays. It won't mix you a drink, but it will likely put you in a toasting mood.
Wurwand has earned the right to feel pretty celebratory herself, in part because of the success of joinFITE (Financial Independence Through Entrepreneurship), an initiative Dermalogica launched in partnership with Kiva last year. So far, joinFITE has provided over 20,000 women with small loans to start or grow their business, and has attracted celebrity support from stars such as Diane Keaton and Charlize Theron. The joinFITE initiative is particularly close to Wurwand's heart. She was raised by a single mother, a nurse, who "drilled into my sisters and I that if we learned a skill set, we'd always be able to make a living." As Wurwand points out, 98 per cent of skin therapists are women. "My pride and consciousness about that has just deepened," she says. "The products are great, but ultimately I want Dermalogica to matter beyond the product. I want it to have a legacy of helping women. More than anything, this industry is built on the power of touch. That's a beautiful thing."