The Beauty Behind The Fresh Range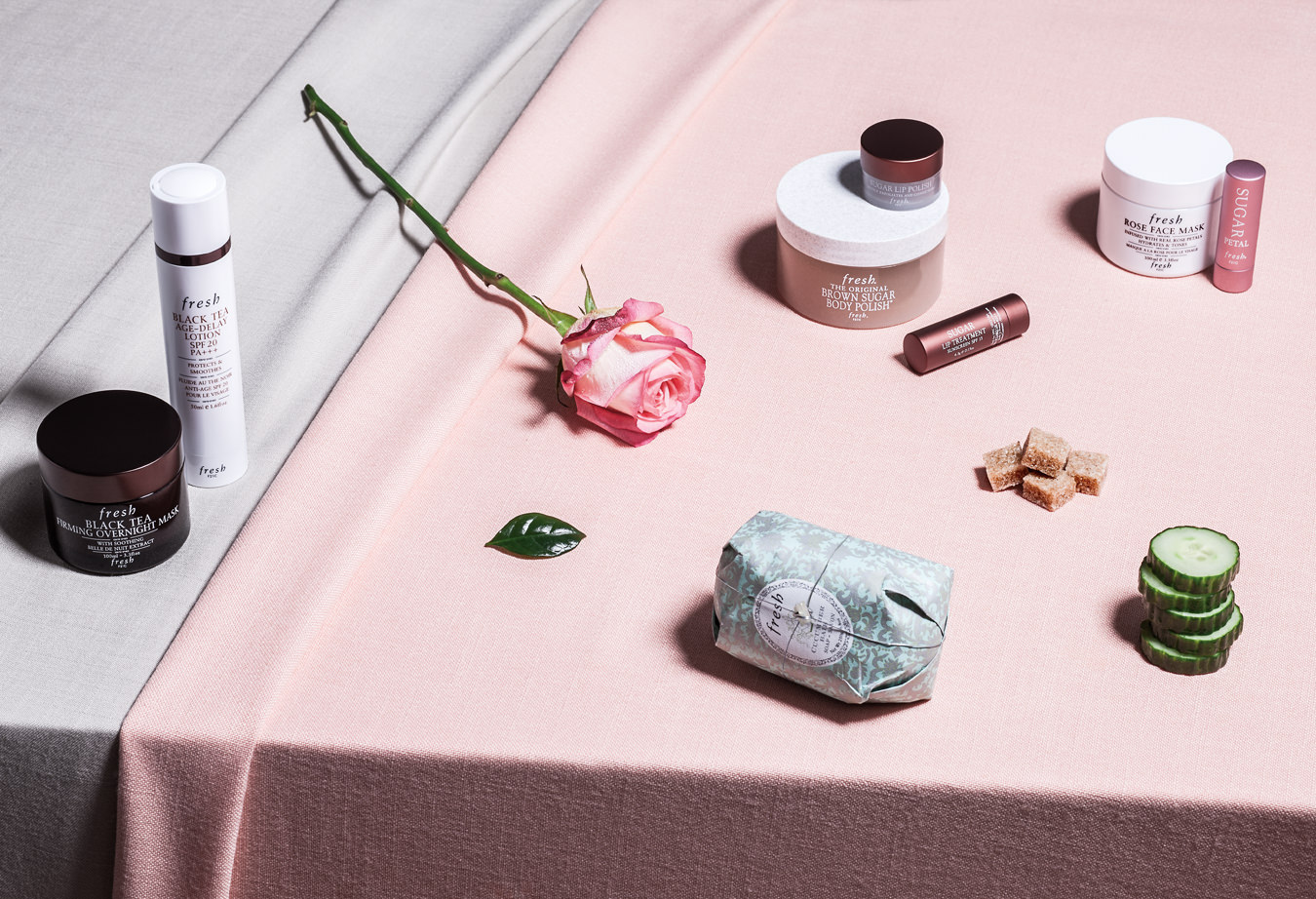 It all began with 1,000 bars of triple-milled, vegetable-based, single-note-scented soaps that were handcrafted in southern France. Lev Glazman and Alina Roytberg, co-founders of Fresh, then wrapped these oval-shaped artisanal offerings by hand in their Boston kitchen, using decadent paper held together by wiring and a single, colourful semi-precious stone.
"In [the early nineties] people were not aware that a beautiful soap makes a big difference," says Glazman, the brand director and president. "I have always dreamed about creating a soap that would be my own. It's a full, sensorial experience and I wanted to bring something to the world that was very different from what people had used before."
Born in St. Petersburg, Russia, and raised in Tel Aviv, Glazman moved to Boston in the mid-1980s when he was 23 and started a window-washing business. He met Roytberg through friends, and they married in 1990. A year later, they created a beauty store called Nuts About Beauty, a boutique apothecary selling a variety of products. Finding instant success, they decided to create something on their own, starting with a formula for soap in 1993 (branded Fresh), and eventually moving to beauty products full circle.
Glazman has always been obsessed with perfume, stemming back to his early childhood in Russia, where the predominant fragrance was Red Moscow. As a result, "most of the people smelled the same—which was pretty horrible. My mother smuggled a French fragrance into the country, and it smelled delicious. So different from what I was used to," he explains from his newly renovated Manhattan offices on Fifth Avenue and 18th Street. "I loved how she transformed when she put it on, how beautiful it made her feel. Perfume is an expression. It carries someone's spirit. It's their signature. I became infatuated with that."
Fresh has gone from single-note-scented soaps to a comprehensive beauty brand including skin care, fragrances, hair care, and even candles.
Glazman says when he started Fresh, "there was no story to many beauty products. I wanted to connect with what I was putting on my body and connect with beauty traditions while making them relevant to what they are today."
Aside from the soaps—which sold out in three days when Barneys brought them into their store in 1995—the company has been extremely successful creating products and categories that were not previously available to the modern market, while culling ideas from tradition and family remedies along the way. "There has to be history because things start somewhere," Glazman says. "Technology lets us dream about something and lets us do it, but I'm interested in something that withstood and survived time and proved to work."
In 1996, Fresh introduced their Milk line. "We were the first ones to talk about whey proteins and skin-softening properties. Milk is wholesome, sophisticated, and simple," he says. The Soy line came next, followed by Sugar. "Another game changer was Brown Sugar Body Polish, [which is still a bestseller]. Some people didn't know sugar is a natural humectant, which means it locks moisture into the skin, and [sugar] is a natural antiseptic. I wanted to share that with the world. I wanted people to experience certain ingredients in a whole new way."
The Rice line came next, which was inspired by Glazman's ingredient research; he went to Japan to learn more about the grain, and how the farmers who were cultivating and washing the rice had such soft hands. Then came Crème Ancienne, their incredibly decadent face and body cream that was created from a 1,800-year-old recipe and based on the world's first cold cream. The cream, made by monks in a monastery in the Czech Republic, is just one more innovative idea born from history and brought into modern relevance with an alchemistic spirit.
"We never started this business for money. It was about ideas coupled with creating something we could share with others."
Part of what makes Fresh successful is the power people behind the brand. Glazman leads the product development, initiating the idea and the ingredients used, overseeing the products from conception to fruition; Roytberg leads the creative, with packaging design and marketing. "We have found a perfect balance," he says. "We really understand how each excels in a particular area, and there's a lot of respect in that."
Over the past two decades, Fresh has gone from soaps to a comprehensive beauty brand that offers more than 150 products focusing on fragrances, skin care, body products, lip balm, hair care, and even candles. Bought by LVMH in 2000, the little company that could has become a staple in the beauty arena while earning a position upon vanities and medicine cabinets alike, not to mention cosmetic counters globally.
"LVMH offered full autonomy," states Glazman. "We had to be the gatekeepers for the brand. And they needed to trust us with the vision, decisions, and direction of the line, and where we wanted to take the company into the future." More important than agreeing to the couple's non-negotiables, LVMH offered a higher level of innovation paired with a facility that was unparalleled to what Glazman had experienced before. "I was unstoppable with what I wanted in terms of formulations," he says. "LVMH gave me the opportunity to create the world I wanted while competing with the giants out there."
Today, Fresh has 20 stand-alone boutiques globally (some even house mini-spas), and can be found in leading stores such as Barneys, Nordstrom, Neiman Marcus, and Sephora. Within the last few years, Fresh has also exploded into the Asian market: Hong Kong, South Korea, Singapore, and mainland China.
"We never started this business for money. It was about ideas coupled with creating something we could share with others," Glazman says, handling Fresh's newly released products: Lotus Youth Preserve Eye Cream, Sugar Nude Tinted Lip Treatment Sunscreen SPF 15, Black Tea Firming Overnight Mask. "I get great pleasure from developing a product from a piece of paper, learning about the history and the tradition behind the idea, and then standing next to a customer in a store and hearing them say, 'This is a great product.' That's one of the best moments."