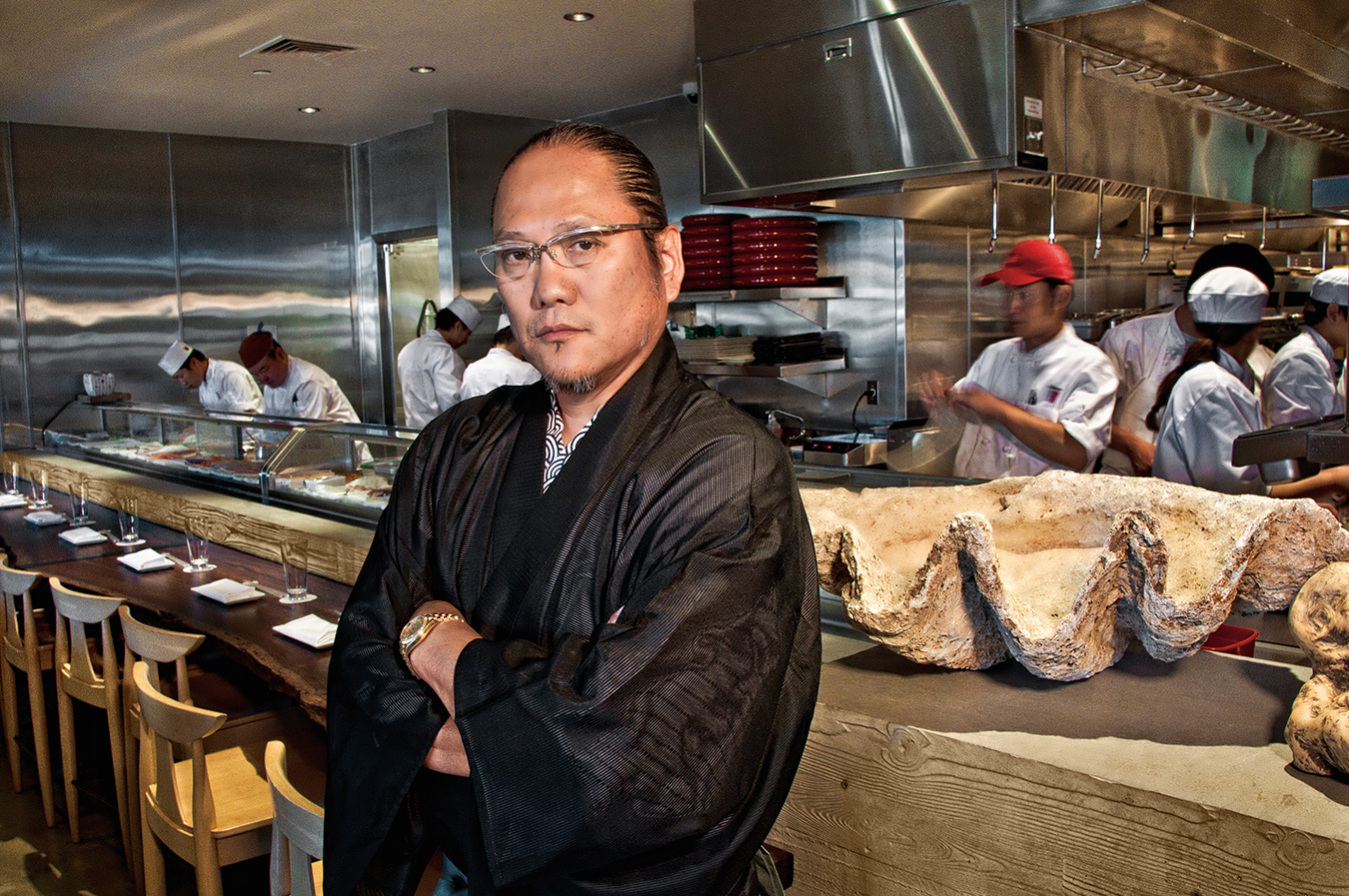 The man sitting next to me is holding a coffee cup in one hand and is wildly pointing with the other. "There he is!" he whispers loudly to his wife, who looks around wildly and says, "Where? Where?" The "he" in question is chef Masaharu Morimoto, who has nonchalantly entered the amphitheatre at the Culinary Institute of America at Greystone in Napa, California, to perform a cooking demonstration. Morimoto, as he is known to his legions of fans, finds a spot next to a few suddenly star-struck cooking students. The room is packed, with spectators seated in the aisles and smartphone cameras fixed ready to document the chef's every nod, grin, and knife cut.
There are dozens of food TV personalities today who carry the "star" moniker, yet charisma—not cooking chops—often plays the leading role in their success. The Marthas, Giadas, and Nigellas may score big with the foodies, but professional chefs look to the likes of Mario Batali, Eric Ripert, and Daniel Boulud for inspiration. Add Masaharu Morimoto to that list. Chef, restaurateur, food TV icon, and author of Morimoto: The New Art of Japanese Cooking, this 59-year-old Hiroshima native has become the face of contemporary Japanese cuisine.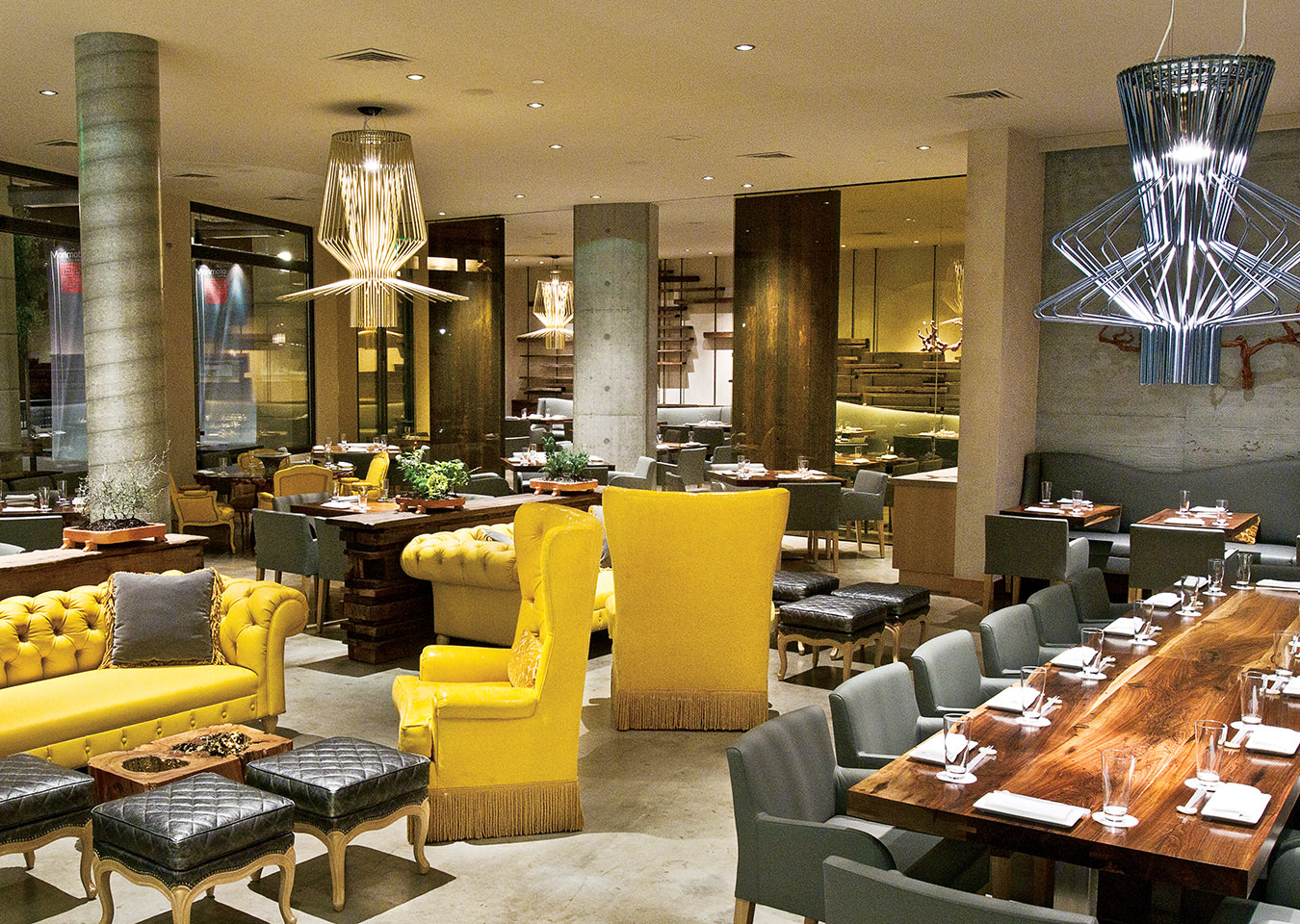 Before setting his sights on dominating the local sushi scene, Morimoto was to be drafted as a baseball catcher in Japan's major leagues. But when a shoulder injury put an end to his sports career, his focus turned to his second childhood dream: to be a sushi chef and open a restaurant. After a seven-year apprenticeship, Morimoto opened his first restaurant in Hiroshima. But five years later, he sold up and moved to New York. No doubt an influence, the famous Nobuyuki "Nobu" Matsuhisa became Morimoto's employer from 1994 to 2001. Yet whereas Nobu's fusion cuisine was more Japanese/South American in style, Morimoto's was centred on North American/Asian influences.
When Morimoto made his debut back in 1999 on the Japanese TV series Iron Chef, the new wave of Food Network foodies gawked at his silvery chef's outfit and awesome knife skills. But it was his Western spin on traditional Japanese dishes that made Morimoto a star. Before Morimoto came on the scene, classically trained chefs in Japan would never have dared create dishes like toro tartare, tuna pizza, and crispy fried chicken with ginger-jalapeno sauce. But that's just how Morimoto made his mark: using his knowledge of tradition while removing its constraints, combined with an eye for colour and presentation and a palate for texture and flavour. Whereas Nobu was always the chef's chef, Morimoto had the upcoming generation of cooks ogling his stellar technique and nouveau Japanese dishes on every Iron Chef showdown.
Later, as one of the featured chefs on Iron Chef America, Morimoto went mainstream and started to open a series of eponymous restaurants, beginning with Morimoto Philadelphia and then Morimoto New York. He later opened restaurants in Boca Raton, Napa, Waikiki, New Delhi, and Mexico City. His latest ventures include Morimoto Maui, and Japonais by Morimoto in Chicago. A Morimoto South Beach is slated to open in June, and a Las Vegas Morimoto is scheduled to open in the Mirage next year.
"A young cook cannot just buy an expensive knife. Sharpen your hands first. Sharpen your skills. I have been cooking for 40 years. I am still learning."
And what's it like to dine at Morimoto's table—no, make that sushi bar? Fascinating. Facing a row of young Japanese chefs, whose nimble fingers assembled intricate sashimi plates and pressed rice into quenelles to shape the base for classic nigiri, I delved deep into his 10-course omakase menu. After a simple miso broth comes the house signature dish of toro tartare: a square of finely minced sustainable bluefin served with fresh wasabi, puffed rice, sour cream, avocado, chives, and a paste made with dried seaweed. Then arrives a flurry of dishes including kampachi (yellowtail) dressed with yuzu soy and seared with sesame and extra-virgin olive oil, bagna càuda with peppers and fresh vegetables, and house-made agedashi tofu and spring asparagus blood orange salad. And just when it was all looking so modern, you're presented with textbook sushi, followed by a trio of spicy shrimp, pork belly with rhubarb glaze, and seared American Wagyu beef with potato crust. To top it all off, yuzu tapioca, and white chocolate ganache with coconut foam and mango sorbet, as well as a mignardises "tree" garnished with cotton candy, Matcha sponge cake, and homemade marshmallows.
But back to the CIA amphitheatre with the foodies, the fans, and now one big fish. Hanging from a long chain is a large object wrapped in a black plastic bag. Morimoto rips it off to unveil monkfish. The mission of Morimoto's cooking demonstration is to use as much of the fish as possible. Reaching for one of the steely knives he has lined up on the counter, Morimoto breaks the fish down in a matter of minutes; fins, fillets, tail meat, and finally head and even cheeks and intestines are butchered and lined up for cooking. Only the jawbone remains hanging on the hook. The chef transforms the fish into dishes including a monkfish liver soup with tofu and shiitake, sashimi with yuzu and soy, and Kentucky-fried tail meat. There are oohs and aahs with the presentation of each dish, and after the last morsel of fish is plated, Morimoto bursts into song, bows, and exits.
In the flesh, Masaharu Morimoto isn't all that different from his TV persona. On occasion, he smiles. He even cracked a few jokes during his cooking demonstration. But on the whole, he's furrow-brow focused, and it is apparent when I watch him sternly instruct a young chef behind the sushi bar at his Napa restaurant (all done in hushed Japanese) that he is quite the taskmaster. He's not the easiest interview either.
When asked what it takes to be a star chef today, Morimoto says, "A chef is a chef. All of the departments and jobs are equal. Whether you chop vegetables or steam fish, everyone is the same." As for cooking technique, he considers it a given. "There are cooking schools in Japan to learn technique, whereas we used to learn in the kitchen. But it's all part of the profession: peeling vegetables, making rice. A young cook cannot just buy an expensive knife. Before buying an expensive knife, sharpen your hands first. Sharpen your skills. I started when I was 18 and have been cooking for 40 years now. I am still learning."
With his empire growing at quite a clip, Morimoto is beginning to pull ahead of the pack (even if his former employer, Nobu, still outnumbers him in international restaurants), but it's never easy. Says Morimoto, "I have to keep running. Chefs are trying to catch you in your cooking. But I can only say good luck to others because opening a restaurant is not easy. If you have money and connections, go ahead. But it's also about building a relationship with customers—and making your employees happy. If they aren't happy, how can the customer be happy? It's about teamwork, passion, and energy. We are a family."
Besides the chef's innovative take on Japanese cuisine, Morimoto's restaurants are also famous for their stunning design and young-and-fun atmosphere. The sushi crowd is a glamorous slice of the restaurant-going public, and Morimoto understands the importance of setting the scene. "A restaurant is about atmosphere, atmosphere, atmosphere," he says. "I'd say so much so that we place 70 per cent of the emphasis on atmosphere and 30 per cent on food. But with the food, that 30 per cent has to be 100 per cent."
You can't have a conversation with one of the world's most famous Japanese chefs without asking a few obvious questions. Did he enjoy the now-cult 2011 foodie documentary Jiro Dreams of Sushi? "Never saw it," he says. Does he have any cooking idols? "None," he answers without missing a beat. Does he get back to Japan often? "No," says Morimoto. "I'm a stranger to that country now. I have no time, and no reason to return." Does he watch Iron Chef? "I'll watch it on my deathbed," he shoots back matter-of-factly. Is he proud of his famous technique and knife skills? "No. It's natural," he answers with a shrug.
Finally, I ask him a question he seems interested to answer: can he offer a few words of advice to all those young chefs who so admire him? After a minute of reflection, Morimoto says, "Try to keep a routine. My routine is my excitement. Normal life is very important. Don't jump too high. Keep it in the middle. Don't dream too much, just go, go, go."
Photos provided by Morimoto Napa.