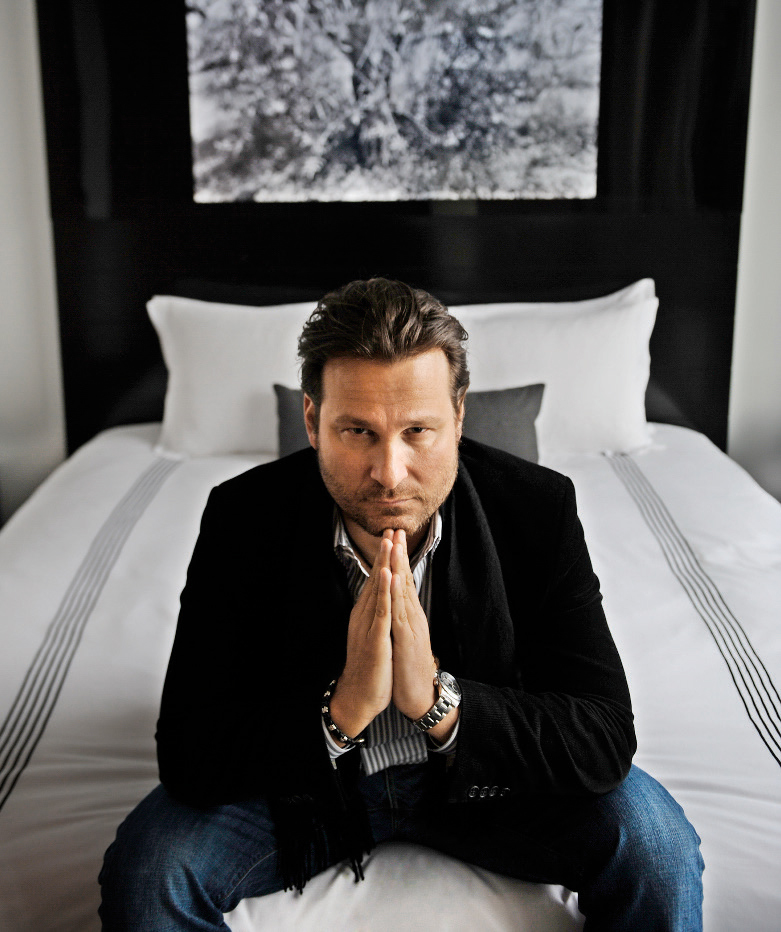 If anyone creates a reality TV show about teams competing to open the coolest hotel—and it's only a matter of time before someone does—Jason Pomeranc and Tony Cohen would be the stars. The handsome thirtysomething entrepreneurs are two of the individuals behind a $50-million hotel project owned by Cohen's Global Edge Investments and Freed Developments. It bears the Thompson Hotel brand, owned by Pomeranc and his two brothers, Larry and Michael, and Stephen Brandman. Thompson Hotels is touted as a boutique hotel management company, even though Pomeranc eschews that word ("It's such a broad term, like supermodel"), operating five hotels in New York, including the original 60 Thompson in SoHo, as well as one in Washington, one in Chicago, and two in Los Angeles, including the famed Hollywood Roosevelt Hotel.
The new Toronto property will be the first Thompson-branded hotel outside the United States. The hotel's 30,000 square feet of dining and event space includes a screening room, a rooftop bar and lounge with a swimming pool, a 24-hour yoga studio, a skating rink, and a signature restaurant, Scarpetta, which will be operated by the New York–based company and restaurant of the same name and chef Scott Conant. The recent announcement that the Toronto City Centre Airport will expand is another draw. "You can do Thompson to Thompson in two hours, to three different cities: New York, Chicago, and D.C.," says Cohen. "Name anywhere else in the world where you can take a plane and be downtown hotel to downtown hotel in two hours."
Cohen is a former tennis pro–turned– entrepreneur and hotelier, and is co-owner of the Germain Hotel in Toronto. Pomeranc studied law and worked as an attorney before joining his brothers' commercial development company and persuading them to focus on hotels. The first thing the brothers tried to bid on was what became the Hudson Hotel, the original "boutique hotel" owned by Ian Schrager. "After we lost the bid, we went for lunch and saw outside the window a for-sale sign on a vacant lot across the road. We said, 'That would be a good place,' and that became the first hotel."
What makes a great hotel? Pomeranc says it's a thousand little things. "Handling whatever comes up, and whatever comes up is not in the book. Someone is always having an unexpected crisis. We solve problems, take care of customers."
Aside from the usual A-list amenities (high-thread-count sheets, 42-inch plasma TVs, and cushy bathrobes made by Sferra), there is custom millwork with built-in workstations, floor-to-ceiling windows, heated marble floors in the bathroom, and hardwood floors with area rugs (instead of broadloom, which can become as dingy over time as the bedspreads at a Super 8).
Thompson publishes its own in-house magazine, Room 100, which reflects Pomeranc's love of the arts and includes celebrity profiles, fashion, and artist features. Why the title? "In hotel lore, room 100 is famous because room 100 of the Chelsea Hotel is where Sid Vicious killed his girlfriend," says Pomeranc. "But the real reason for the name is because in the George Orwell novel 1984, room 101 was the torture chamber, where all your nightmares came true. Room 100 is the opposite, where all your aspirations and dreams come true."