Jefferson Alvarez at Divino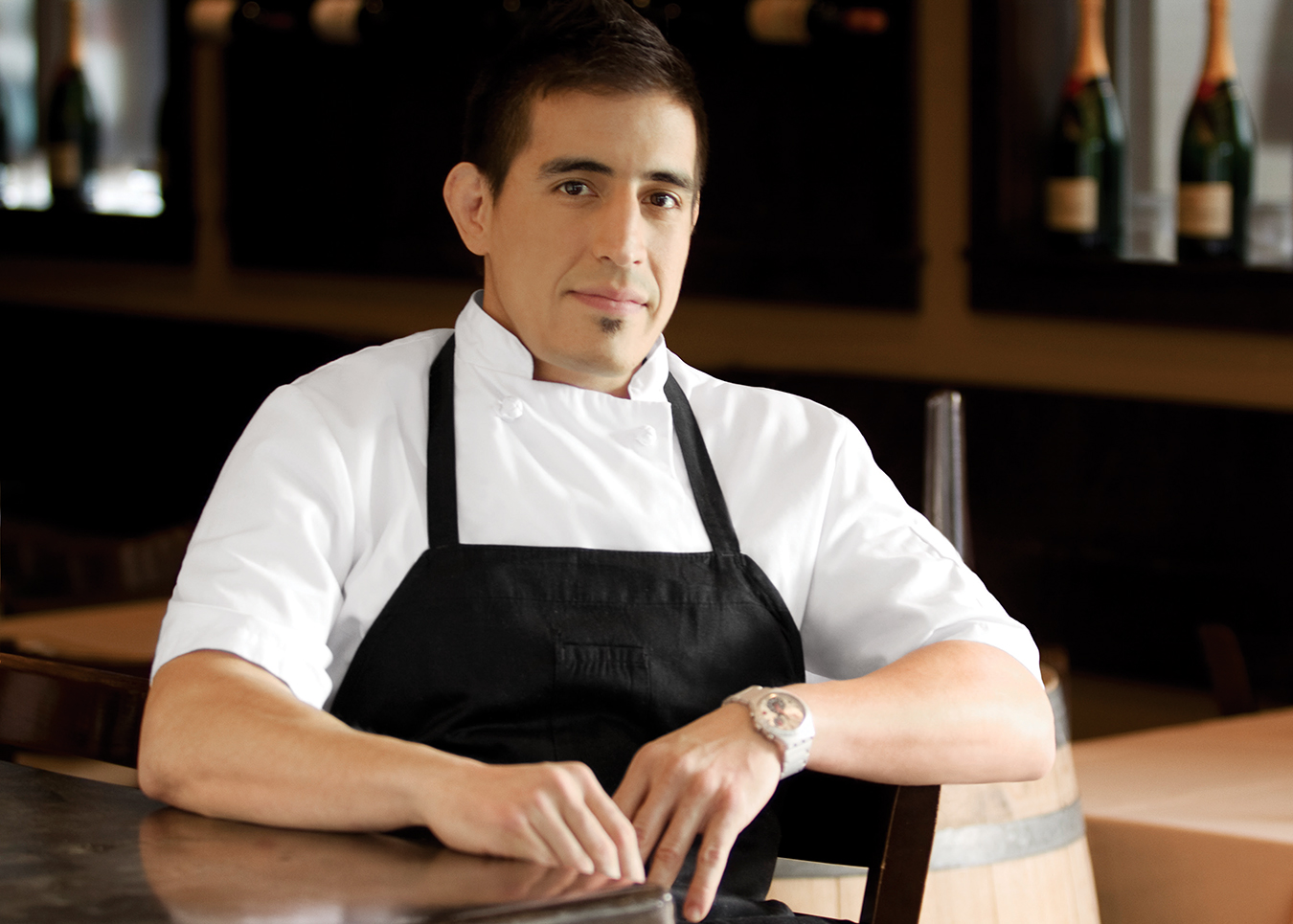 Jefferson Alvarez was 16 years old, and had already known for most of a decade that he wanted to be a professional cook, when he left his native Venezuela, with its pampas-fed beef, chickens scratching busily in pens, and vegetable gardens everywhere—all making for great, healthy eating. His father and his sister are working chefs, too, so it is fair to say it runs in the family. That was the basic template for him, and he chose Toronto as a landing place.
Why Toronto? "Well, it is in Canada, for one thing," he says with a smile, implying that there is no further discussion necessary on that point. He worked first at Centro under the now-famous David Lee (of Nota Bene, and formerly of Splendido) and Marc Thuet, followed by Canoe under Anthony Walsh, and then staged at Susur under Susur Lee. These larger-than-life figures showed Jefferson how to manage things in a busy kitchen: the pace, the unremittingly high expectations. And then he did a lengthy stint with Claudio Aprile, now at Origin and Colborne Lane but then presiding over Senses. It was with Aprile that Alvarez took things a little more into his own hands, creating his identity. "Claudio is very creative. Most importantly, he showed me that food can appeal to all the senses, and that aromas, scents, can help create a wonderful food experience," he says. "At that time, I began to think truly outside the box."
Like many cooks before him, Alvarez made his way through a variety of kitchens, learning new techniques at every step. He passed through the kitchens of two Michelin-starred restaurants in Spain (Arzak and Martín Berasategui), followed by a memorable stop at Morimoto in Philadelphia. "Morimoto—a perfectionist," he says. "I learned a lot about fish there. He had access to the best, the very best product from around the world, and they had specialists in everything."
Later, Vancouver beckoned. "I had heard a lot about the food scene in Vancouver. In Europe, there is a regional cuisine, obviously, but also they bring elements from other areas, all nearby. I wanted to see what a true regional cuisine might be, in terms of a local restaurant only using local ingredients, and always seasonal. That is difficult to do, so I looked at it as a good challenge."
He was working in a restaurant in downtown Vancouver, but had walked by the Divino Wine Bar on Commercial Drive many times, since he lives right in the neighbourhood. "I thought the place looked interesting, small, a nice bar—just a good local place. But one day I learned they were looking for a chef, so I just walked in and introduced myself to the owner."
"I never really repeat myself too much," says Jefferson Alvarez. "Each cut is different, and so different things will work with it. The true flavour of the meat tells me how to use it."
That would be Ted Grippo, who had opened Divino nearly two years previous and had yet to find real traction in terms of what the kitchen could do. When he sat down with Jefferson, it seemed to be a real meeting of the minds. Jefferson says, "I told him I wanted to really explore things, but stay true to the region, and be strictly seasonal. And," he pauses and smiles, "for an Italian owner to tell me I can cook whatever I want—that was an important step. It meant he trusts me. And I trust him, since he has worked on the wine list, and given me the support I need."
That support includes a newly minted herb and vegetable garden, which provides fresh organic and seasonal produce. It also includes nurturing relationships with farmers, ranchers, and fishers, from whom he can get the best of everything. And a new sommelier, David Fert, who works closely with the chef to make the wine and food pairings memorable. With this kind of new fusion cuisine, that is still not exactly a slam dunk.
The word fusion gets thrown around a lot, and in some ways that is not a bad thing. Take Asian elements, add some French technique, and there you have the makings of a superstar career, such as Jean-Georges Vongerichten. Still, for a person going into any given restaurant, the word can seem far too vague. Does the melding of any two styles, cultures, or approaches automatically mean it's fusion? Fortunately, Jefferson Alvarez has something specific in mind when he uses the word. "We have this fantastic meat, muskox from a specific rancher up north, and the meat changes its aroma, texture, and flavour, depending on the time of year," he says. "Sometimes it is a bit gamier, sometimes it has a nice grassy note. It just depends what the animal has been eating. We look closely at those flavours, and try to enhance or contrast them with other things on the plate. That's why I never really repeat myself too much. Each cut is different, and so different things will work with it. The true flavour of the meat tells me how to use it. So it is a fusion of the techniques I have learned, the flavours that are available to me any given day, or with each season, and the regional ingredients." He takes it one step further. "Especially with Claudio, I learned that the smells, the textures, how it looks on the plate, are all essential to engage the customer, in every way. In the end, the food tastes better."
There is no beef or chicken on the menu; pork is only present in the form of cured meat. The rest is game, like that muskox, fallow deer, reindeer, caribou, and then such delicacies as pheasant and quail. Plenty of excitement is generated in the kitchen when word comes out that a new spot has been found where they can pick fresh ramps or wild mushrooms. And, of course, the fish. "Seafood is relatively easy, for me. In Spain we had so much variety, and at Morimoto there was the strict, technical approach—all very helpful to me now. And here in this region, we can have such interesting products. I love the spot prawns. The octopus. I am now trying to source gooseneck barnacles. I admit, though, that the local clients are pretty strict about staying loyal to the local products. I can sell 100 portions of halibut before I sell even one portion something like red mullet. We stay very close to home."
The menu changes every month at Divino. "It takes me a full month to get each new menu ready," says Alvarez. "I always want to make a new thing. It takes time to get a new menu exactly where I want it."
Judging from the consistently busy room, with all 48 seats (including even those at the bar) often full, things are going the chef's way. And when you taste, for example, a ceviche with finger limes and lychee, or a coffee-crusted muskox tenderloin, all crunchy on the outside and nearly like butter inside, you can readily discern why not just the locals but also, increasingly, visitors from across town or across the country are making their way here. It is because Jefferson Alvarez, for all his technical prowess, plating wizardry, and top-grade ingredients, never misses one crucial thing: the food always tastes great.