What Makes for a Destination Winery?
Why the Okanagan Valley's Phantom Creek is destined to become one.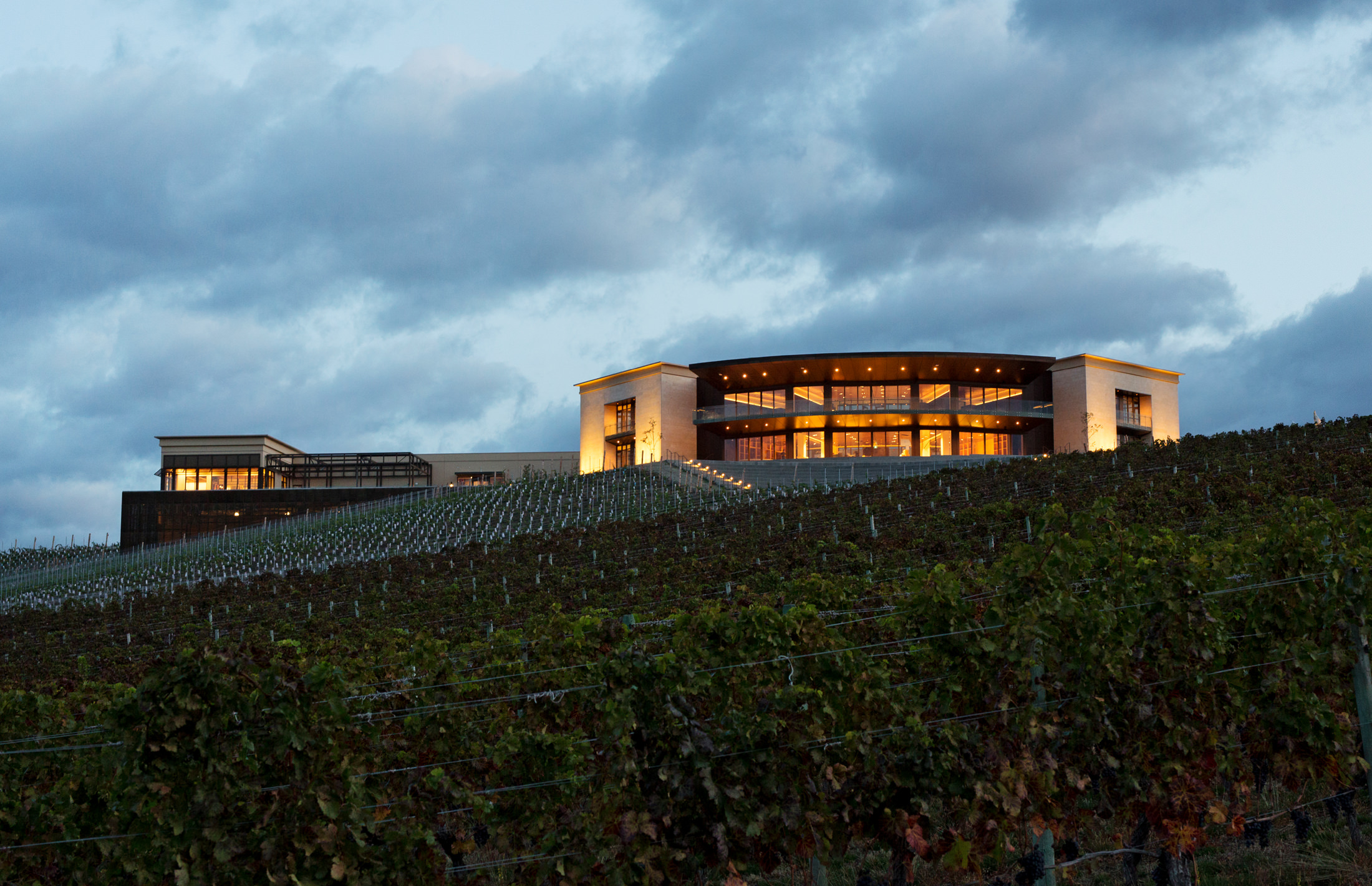 British Columbia's Okanagan Valley—by far the province's most important wine region—is getting an addition that will shake up wine tourism there: a new destination winery. It's called Phantom Creek Estates.
While many wineries tout themselves as such, true destination wineries are those that wine tourists, and sometimes wine nerds, put at the top of their must-visit lists. They might be there for any one of several reasons. The quality of the wine is an important draw, but others include reputation, architectural grandeur, tastings and tours, and attractions such as art exhibits and concerts.
Although we can debate which wineries should be considered destinations, there's no doubt about some. Bodega Catena Zapata in Mendoza, Argentina, features architecture that resembles a Mayan pyramid and draws tens of thousands of visitors for quality tastings each year. So does the Antinori winery in Tuscany, where a breathtaking facility with the awe-inspiring dimensions of a cathedral is tucked inside a hill. Château La Coste in Provence attracts visitors as much for its hectares of open-air art installations as for its wine. Robert Mondavi Winery in Napa Valley stands out as a prime destination among others, such as Opus One and Beringer.
Canada, too, holds its fair share of destination wineries. In Ontario's Niagara Peninsula, Jackson-Triggs and Stratus Vineyards—within sight of each other—count as destinations. The name alone fills the parking lot of Wayne Gretzky Estates, especially during summer. In the Okanagan Valley, where Phantom Creek Estates is located, the unrivalled destination winery for more than two decades has been Mission Hill Family Estate. On a hilltop at the northern end of the wine region, with a fine view of Okanagan Lake, Mission Hill offers memorable Italianate architecture that includes an archway, a bell tower, and a loggia, as well as an amphitheatre for summer concerts.
The newcomer, Phantom Creek Estates, is destined to play an important role in the southern part of the Okanagan Valley, a region noted for its red wines made from syrah and the red Bordeaux varieties. The winery sits on the Black Sage Bench overlooking the valley, and although it appears imposing, that is just the visible part: the extensive winemaking and barrel-aging spaces are below ground, where they benefit from naturally cool conditions. The above-ground structure houses a restaurant, tasting rooms, and facilities for events, as well as an outdoor amphitheatre.
Phantom Creek is the brainchild of Vancouver businessman Richter Bai. He conceived the idea of building a winery as a legacy project for his family. He began to look for land that could produce the kinds of wine he especially likes: Bordeaux red blends and Alsatian whites. In 2016, he purchased vineyards and an unfinished winery belonging to the late Harry McWatters, a pioneer of the Okanagan Valley's modern wine industry. McWatters' unfinished winery is the nucleus of Phantom Creek. Bai also bought the Phantom Creek Vineyard on the slopes below the winery, and another (Kobau Vineyard) on nearby Golden Mile Bench, the Okanagan's first sub-appellation.
These vineyards, now the core of Phantom Creek's production, are planted almost exclusively with red grape varieties. The seven-acre Phantom Creek Vineyard, for example, is planted with cabernet sauvignon, syrah, malbec, petit verdot, and merlot varieties. This vineyard produces an impressive and elegant cabernet sauvignon that perfectly expresses the essence of the variety. In the 2016 vintage, the fruit is complex, has breadth and depth, and the acid is calibrated to the weight of the fruit. It's a complete wine, and if you want a textbook example of cabernet sauvignon, this is it.
The winery's icon wine is Phantom Creek Vineyard Cuvée, a red blend that is mainly reserved for members of the Phantom Creek wine club. The 2016 vintage is cabernet sauvignon, petit verdot, and malbec, with smaller contributions from cabernet franc, merlot, and syrah. This is a more robust red than the cabernet sauvignon, but they share a style that embodies excellent fruit definition, balance, and freshness. They are serious but drinkable wines, the sort you want more than one glass of. Another fine cuvée—this one made from merlot, cabernet franc, and cabernet sauvignon—comes from Phantom Creek's Becker Vineyard.
To make its white wines, Phantom Creek has sourced grapes from elsewhere in the valley. But despite his red-dominant vineyards, Bai has invested a great deal of capital in white wines. He has engaged as his white wine consultant Olivier Humbrecht, the respected winemaker and owner of Domaine Zind-Humbrecht in France's Alsace wine region and France's first Master of Wine. At Phantom Creek, he consults in the vineyards, and in the winery, and is also fully engaged in the process of transitioning the vineyards to organic and biodynamic cultivation; the winemaker, New Zealander Francis Hutt, has extensive experience making organic and biodynamic wines.
Phantom Creek offers well-crafted and delicious white wines. The Pinot Gris 2017 is a harmonious, luscious, well-textured wine whose ripe fruit and juicy acidity are perfectly balanced, while the Riesling 2017 shows bright acidity with a little tartness that is a precise complement to the nicely layered fruit. Both were sourced from farther north in the Okanagan Valley (Okanagan Falls and East Kelowna, respectively), but later vintages will be made from Evernden Spring Vineyard fruit once it is in production.
There's no question that Phantom Creek has what it takes to be a destination winery. The public facilities—tasting rooms, restaurant, and amphitheatre—are spacious, stylish, and welcoming. Then there is the very high quality of the wines. There is plenty of hype surrounding Phantom Creek that no doubt will result in plenty of visitors once it officially opens. After that, it is unimaginable that it will not develop a reputation as one of the Okanagan Valley's destination wineries and draw even more visitors to the southern end of the region.
The winery's icon wine is Phantom Creek Vineyard Cuvée—a robust red that embodies excellent fruit definition, balance, and freshness.
________
Never miss a story. Sign up for NUVO's weekly newsletter here.