Chef Justin Leboe of Pigeonhole and Model Milk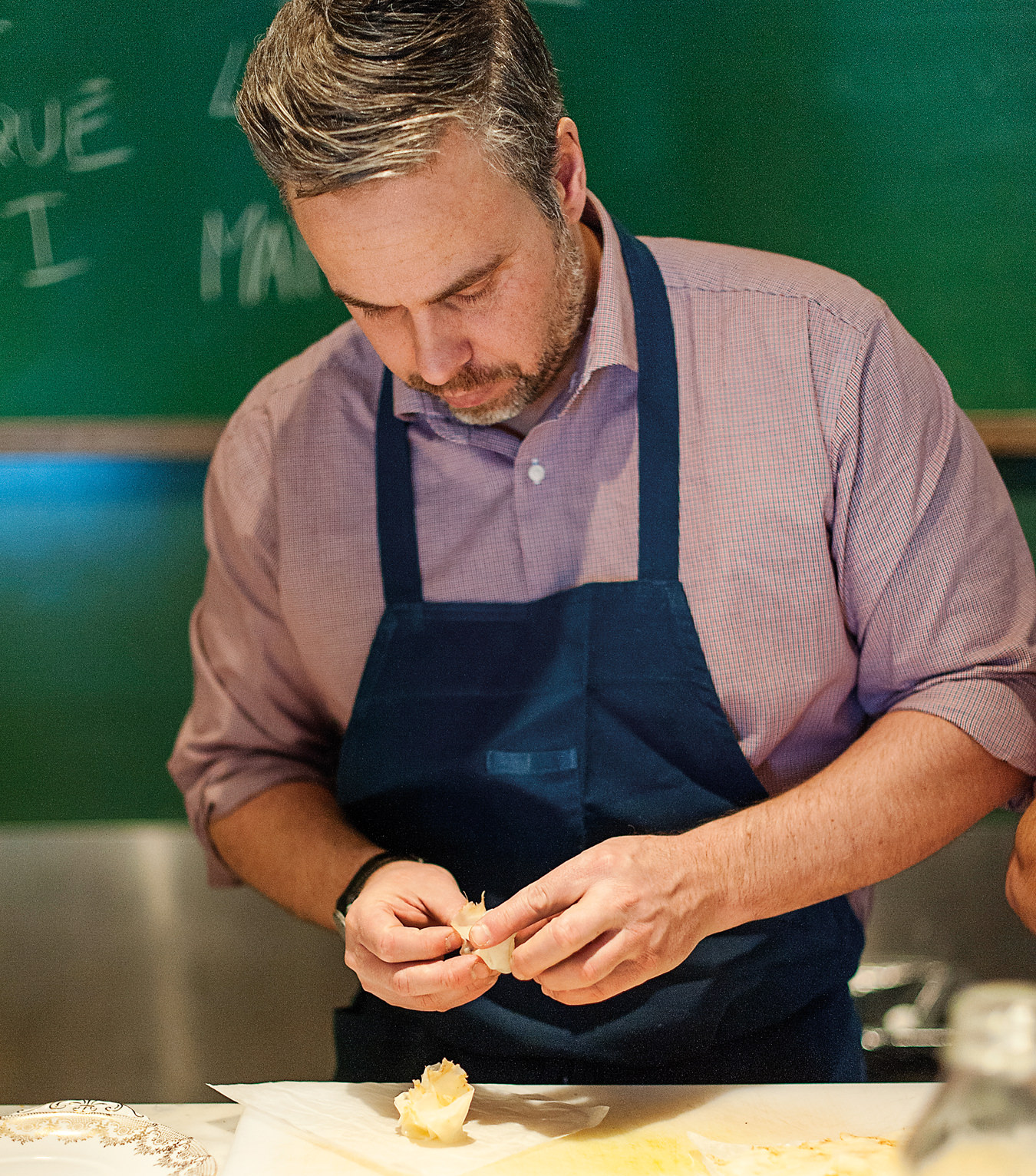 It's mid-day at Calgary's mega-popular Model Milk. A cook pops open the door and tosses a bag of garbage in the dumpster. Model Milk is not open for lunch, but it's abuzz with activity. A team of chefs is huddled in the large open kitchen, discussing menu changes. The fricassee of calamari is a standard here, grilled with guanciale, edamame, pimento, and garlic croutons. So is the spaghetti alla chitarra, covered with hay-braised rabbit, pecorino, and walnuts. But executive chef Eric Hendry is covering options for the family-style Sunday Supper—fried halloumi, sour cherry gastrique, falafel, tahini-yogurt red lentil soup, steelhead trout, lamb sausages with leeks, feta-dill creamed spinach. Dessert? Hendry canvasses his team for ideas.
But Justin Leboe isn't among them.
Model Milk is not an arbitrary name; it comes from the dairy that was once housed in the art deco brick building. (The kitchen sits on the former loading dock, while dining tables fill the space where pasteurizing tanks once resided.) The sprawling building is also home to an event space called PDR (Private Dining Room), a cocktail lounge within that, called Model Citizen, and Pigeonhole, now known as Canada's top new restaurant of 2015, according to enRoute magazine.
Here, another group of chefs is prepping for the evening meal, this time under the direction of chef de cuisine Garrett Martin. Naturally, business boomed following the enRoute award, and while it settled down after a few months, the Pigeonhole team feels the responsibility to always be in top form. Pigeonhole's small-plate format allows the chefs to add and subtract at will. The grilled cotechino with hominy grits is a recent arrival, while a tuna dish with lime, soy, and puffed rice is in the works.
Leboe isn't here, either.
In fact, he's out walking his dog, Manchas, a Mexican street dog that Leboe calls a "trash racer", which he picked up from a rescue operation in Mérida over a year ago. Upon returning, Leboe glances quickly at his brigade, not wanting to distract them, and sits down to a leisurely espresso. "It's all about keeping chefs happy and motivated," he says, describing his style of managing his various employees who, with service staff, now number 80. Leboe explains that he's there not just to offer direction to his staff, but also to provide "an atmosphere of quality ingredients and a desire to create a cuisine of substance that finds the core essence of those ingredients."
Menu development is critical in an operation that changes regularly. "The ultimate is to have everyone involved in the creation of new dishes," he says. "When everyone buys in, the food and the experience is so much better." Leboe goes on to explain his menu philosophy: "In an era of chef-driven restaurants, the food doesn't have to be regionally focused. It's just about good, clean food."
This outlines both the concept and the name behind Pigeonhole. While planning the restaurant with partners Brad Morrison and Victor Choy, Leboe (who spent four weeks staging in the kitchen at Copenhagen's Relae to inspire Pigeonhole) decided that he didn't want the new place to hew to a specific culture, such as Italian or French. He didn't want to be "pigeonholed". Good choice. It would be hard to pigeonhole the eclectic Leboe on even his blandest day.
Take his name: Leboe. It's not, as many suspect, of some French origin. It's Norwegian, and is pronounced Lee-boh. "There were too many Olsons," Leboe says with a laugh. When his grandparents—Olsons—emigrated from Norway almost a century ago, customs officials felt they had filled out too many forms with that name. So they were given an anglicized version of the village they were from. Ergo, Leboe was born.
His grandparents farmed in interior British Columbia, milking cows and growing vegetables. His parents had a large acreage with a huge, year-round garden that produced a wealth of produce, from raspberries and potatoes to beans and carrots. "I hated weeding the carrots and beans," Leboe recalls, "but I tasted how real vegetables taste." Leboe credits these early farm and garden memories for giving him an understanding of food. But he credits snowboarding for launching his kitchen career. "I wanted a snowboard," he recalls. "My parents said I had to work for it."
So Leboe landed a job washing dishes at Vancouver's short-lived Umbertino's under Umberto Menghi. He was mesmerized by the food and the intensity of the kitchen. But he lasted only three days. When they found out he was only 13, they sent him packing.
But Leboe returned after his next birthday.
This time his tenure lasted about five months. Knowing that his life would not be in the dish pit but in the kitchen, he offered numerous suggestions on how Umbertino's could improve its operations. After one too many suggestions he was told his position was no longer needed. "No room for an uppity dishwasher," he says with a laugh.
But his dismissal did not deter him from working in other restaurants. While going to school, he toiled in a number of Italian kitchens, cutting baskets of tomatoes and eggplants until his hands burned from the acids, working his way up to preparing pastas. By the time he was 16, he was good enough to work on the line. Even during the two years he spent at Vancouver's Langara College studying philosophy and political science, he continued to work three or four days a week in restaurants.
Leboe's days at college left him longing for something that truly satisfied him. He foresaw his academic life as leading to a mundane legal job writing contract law rather than one solving international issues as a human rights lawyer. A life in the kitchen was more appealing. Dropping out of school, he travelled for a couple of years through Europe, Southeast Asia, and Australia. Returning to Vancouver, he got serious about a career in restaurants, helping open C Restaurant under chef Robert Clark. Then it was on to Bacchus Restaurant at the Wedgewood Hotel with chef Robert Sulatycky and a series of other fine restaurants with top-notch chefs, including stints at Daniel in New York and the French Laundry in Yountville, California.
One thing Leboe never did was enroll in culinary school. But he did challenge the exam for his Red Seal and passed easily. All the learning he had done along the way stood him in good stead, and even more learning was in the offing. Leboe credits chef Lee Parsons, whom he worked under at Niagara-on-the-Lake's Prince of Wales Hotel, with teaching him techniques that he uses to this day. "It's the idea of doing simple reductions for sauces. And cooking them independently rather than combining all the ingredients in one pot."
Then, over a year and a half as chef de partie at the Inn at Little Washington in Virginia, Leboe worked all the stations, giving him an appreciation of not only the inn's quality but also the business side of the restaurant industry. From Virginia it was on to Los Angeles, and a couple of years at the Peninsula Beverly Hills, as chef de cuisine. And then his first executive chef position was offered, at Waterloo House in Bermuda, where he spent three years. He was even named Best Chef in Bermuda one year. "But I knew I had to leave," he says. "Or I'd become an island lifer."
Leboe was headhunted to launch Rush, a large, sumptuous restaurant in downtown Calgary. It brought him closer to family; he has an uncle and aunt in the central Alberta city of Olds, as well as his parents on the West Coast. He spent three years at Rush, garnering a #3 on enRoute's Best New Restaurants of 2009 list before shifting over to Model Milk, where he landed a #2 on the national list in 2012. Now, with Pigeonhole earning this year's top spot, he has run the enRoute table, the first restaurateur/chef to do so.
So what does he do for an encore? That is, besides running his small restaurant empire?
He'll continue to travel the world in search of new ideas, for one thing. "I have a couple more restaurants in me," he says. "I'd like to do classic Italian the way Umberto used to do it. But with my own spin on the classics."
It turns out there is room for an uppity dishwasher after all.