The field of car design is one built upon massive egos. Since the start of this decade, designers have been thrust into the spotlight by their respective employers in the interest of promoting brands in a way that doesn't really relate to the traditional measures by which we have come to assess cars—performance, handling, comfort, convenience, and the like. Of course, there have been star designers for almost as long as there have been automobiles—Harley Earl, designer of the original Corvette, springs to mind—but the whole notion of car designers garnering popular attention is a relatively recent development.
In many cases, it's so much (exhaust) smoke and (rearview) mirrors. Sure, these designers have well-tailored suits, angular eyeglasses, and plenty of hauteur, but in many cases their work is either too derivative or too damn ugly to warrant any praise. They are the equivalent of the modern starchitect whose buildings resonate with few people, and have the added drawback of being neither user- nor eco-friendly.
But in some instances, the attention is warranted. Designers such as Henrik Fisker, who worked with Aston Martin and BMW, have soared above the crowd and gone on to create their own companies, fuelled by unquestionable ambition and no small amount of talent. Others, like Chris Bangle, the former chief of design for the BMW Group, have become lightning rods for controversy, yet have also had an undeniable influence on modern automotive design.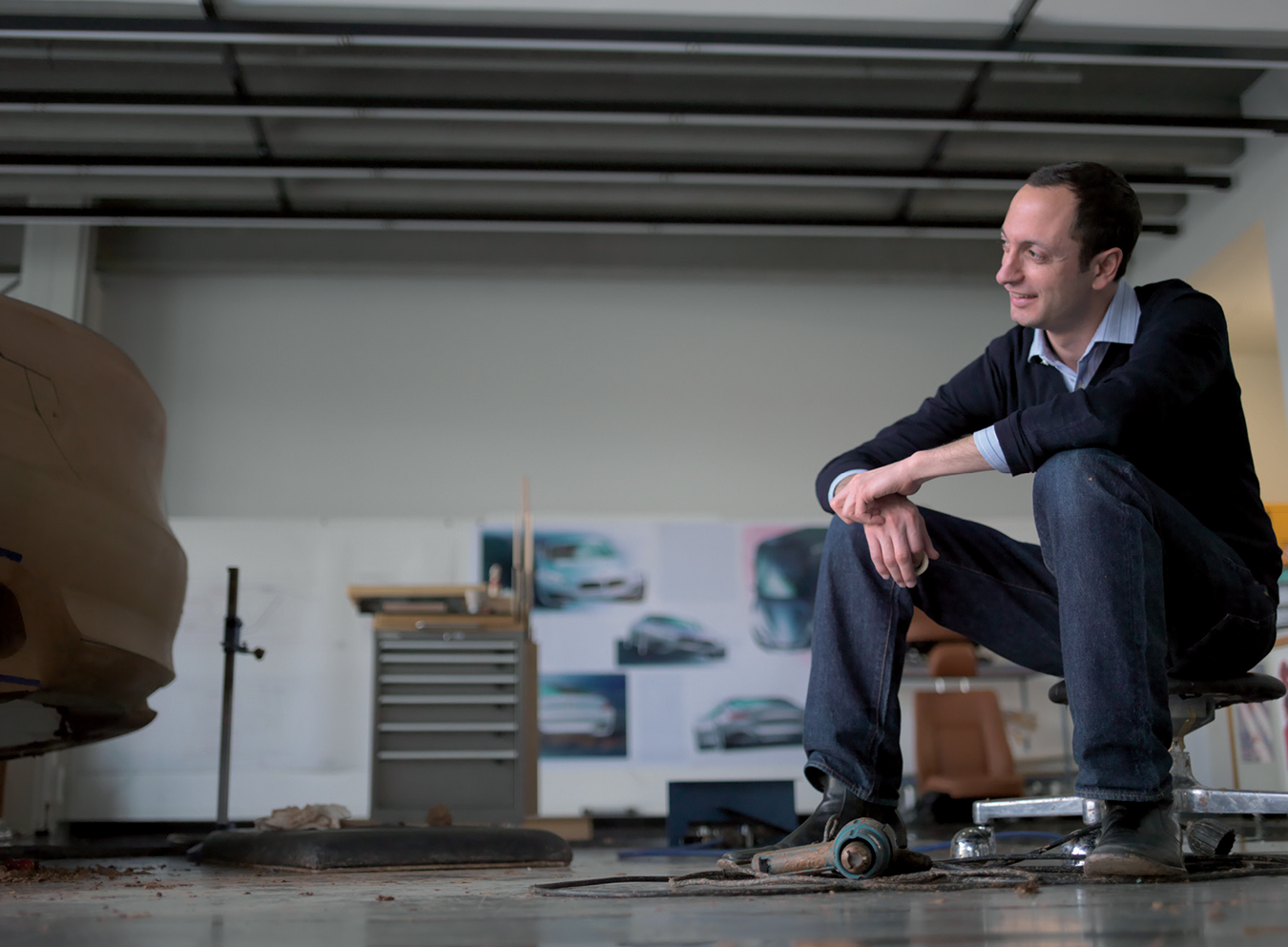 Of the new generation of automotive designers, one man stands out—not just for his success rate in designing a sequence of very desirable cars, but also for his sheer humility. That man is Karim Habib.
Born in Beirut, Habib moved with his family to Montreal in 1981, where his fondness for cars took hold. Like many young men, he grew up with posters of cars on his bedroom walls. But he wasn't swayed by the obvious models that inspired dreams, like the Burt Reynolds–era Pontiac Trans Am or the Lamborghini Countach. Rather, he fell in love with the more subdued Italian designs of the sixties and seventies, when Italian supercars rose to prominence and gave rise to Fellini-inspired flights of fancy.
"In general, I've always been inspired by Italian cars and mostly by the stuff that was done by Bertone like the Lancia Stratos Zero," says Habib. "I drew cars quite early, but I didn't know I could be a car designer. I drew my own line of cars, at about 10 or 11 years old, and created a full catalogue of all the cars."
Habib's interest held fast throughout his youth, right up until he set about the difficult task of deciding on a career direction. "When I was about to start university, I wasn't sure what I wanted to do: architecture, design, or engineering. I was really into fencing, so I decided to focus on that and take a safe profession [engineering] until I figured out what I wanted to do. I found out about the Art Center, and that's when I knew that car design was for me." That was the Art Center Europe in Vevey, Switzerland; after graduating from McGill University with a bachelor of engineering in 1993, Habib entered the automotive design program there.
A few years later, he journeyed to California—that mecca for car culture—to attend the much-lauded Art Center College of Design in Pasadena. When Habib graduated with a bachelor of science in transportation design in 1998, he had already been hand-picked by Chris Bangle to join the BMW Group. With an offer he couldn't refuse, the freshly minted designer left California for Munich, a city of considerable modernity and its own brand of austere charm.
Upon his arrival, Habib became involved in numerous projects, including, notably, the design for the interior of the 2003 BMW 5 Series. At the time, this mid-sized sedan had already forged a reputation as the segment leader from a performance standpoint—the redesign helped to put the 5 into the "aesthetically important" space as well.
Of the new generation of automotive designers, Karim Habib stands out—not just for his success rate in designing a sequence of very desirable cars, but also for his sheer humility.
Then came the BMW Concept CS, for which Habib is well known in the industry. This sensuous four-door sedan debuted at the Shanghai Auto Show in 2007 and was met with critical acclaim and no small amount of lust (of the internal combustion variety). In fact, the response was so strong that BMW earmarked the CS for production.
However, continued emphasis on fuel efficiency and the recent economic downturn triggered a rethink, and led to the decision to shelve the CS in the fall of 2008. "I'd be lying if I said I wasn't disappointed," Habib admits. "I invested all the passion and the lust that I have for cars into this car. The fact is, this car was only meant as a concept initially. It worked so well and people liked it so much, we decided to build it, but then the situation changed. The world has changed quite a bit over the last two years. When the world changes, you have to react."
Consolation soon arrived in the form of the 2009 BMW 7 Series. The previous model, designed by Adrian van Hooydonk, head of BMW Group Design, and overseen by Chris Bangle, was released in 2001. It was as polarizing as could be—the bulging trunk lid caused consternation that was matched only by the criticism aimed at iDrive, a dial in the centre console used to operate the comfort and convenience features—although it did find a sizable audience, due in no small part to the company's stellar reputation for producing serious driving machines. (Interestingly, both the trunk and the iDrive system—or, more accurately, close facsimiles thereof—soon appeared on all manner of competitor vehicles, despite the criticism.)
When attempting a major redesign of a seminal car, imitating the existing model is not an option, particularly for a company like BMW. So it was that Habib was tasked with creating a worthy successor.
"Of course, I knew there would be a lot of attention on the car," he says. "But … the design process itself, the selection process is pressure enough." At BMW, a project begins with an internal competition—about 20 different designers vie to have their initial sketch proposals for the new car make it to the next round. This process continues, in reality TV–style, until only the winning design remains. "You're competing with 20 guys around the world," Habib explains, "and you want to be the one who comes up with the chosen design in the end. I just focus on the object in front of me and the values we set for the car in the beginning and my own instincts." It worked; Habib's design won out.
One of the designer's most memorable learning experiences took place in Villa d'Este, Italy. On a special training course, Habib studied old-school car-design techniques—no computers, just pencils, paper, and plaster—alongside a draftsman who worked for legendary company Bertone in the 1960s. At one point, as Habib was struggling to find the perfect lines to complete the hood of his car, the old master handed him a tired-looking wooden ship curve—the same one used to draft the mythical Stratos Zero concept car. "For a second, I thought he was pulling my leg," Habib recalls of the experience. "After I asked for the tenth time if he was serious, I accepted it for what it was: the Holy Grail of car design. I felt like the previous generation was handing over the baton to my generation. It was a fantastic moment that will always stay with me."
This experience, no doubt, had some measure of influence on the new 7, but Habib is not the type of designer to compare his work to that of the all-time greats. At most, he will comment on the elements of the new sedan that give him a sense of personal satisfaction: "The part that I'm most proud of is the body side—it incorporates a lot of very subtle work in light and shadow. It was very important to me that this car represent flame surfacing [an element of design language that combines convex and concave surfaces to resemble a flame] at its most refined. It's not the same type of surfaces as on a Z4, but in a lot of ways, it builds on that."
Certainly, the 2009 BMW 7 Series is a subtle car; there's only the slightest trace of showmanship in the design—the chrome appliqués on the sides of the front door. (Habib believes that there is value in ornamental design, as long as it's functional and it gives "a deeper meaning to those things that at first sight might not seem like they follow function".) But everything else about the car is refined and understated, which makes perfect sense when you consider that the design is a reflection of the man responsible.
Having achieved such great feats at so young an age, Habib has without question left an indelible mark at BMW. Early this year, after the much-anticipated and highly lauded worldwide release of the 7-series, he made the difficult decision to move on, and in true Habib character, exited quietly. But you can be sure that whatever else he lends his touch to in the future, it will exemplify his accomplished sense of elegance, functionality, and class. The accolades have come, and will undoubtedly continue. Yes, Karim Habib is a modern anomaly: a designer who comes by his hype honestly.
Grooming: Martine L'Heureux using Redken hair products and Benefit skin-care products.