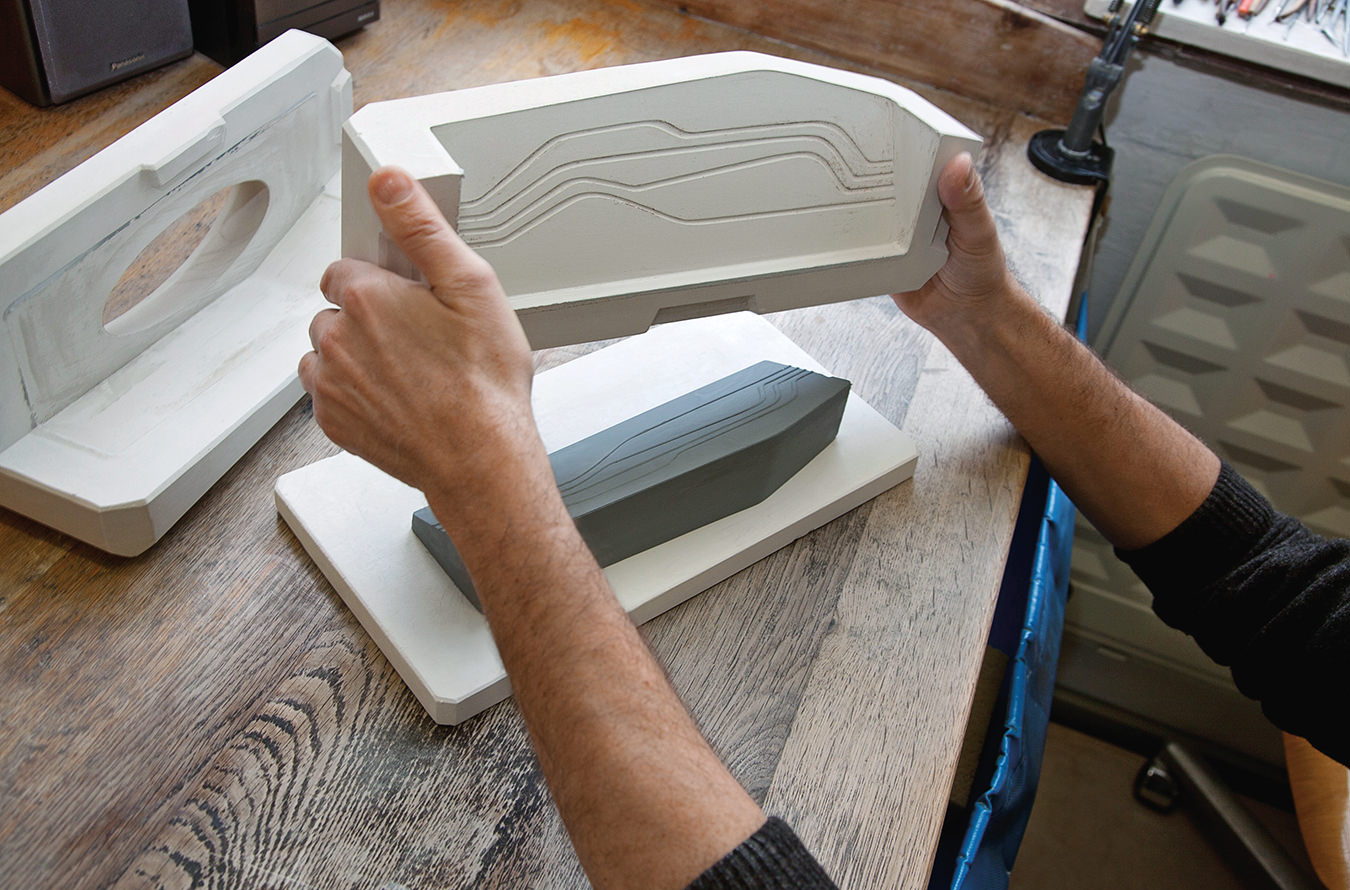 Imagine a sculptor who moonlights as a landscape architect. Or a painter who elects to dabble in interior design. This is the equivalent of DesignworksUSA, a wholly owned subsidiary of the BMW Group with co-operative design studios in Munich, Shanghai, Singapore, and just northwest of Los Angeles, in Newbury Park.
From the outside, the DesignworksUSA building in Southern California has the industrial look common to large enterprises in the creative services industry. The range of products on display (a Husqvarna motorcycle, a photocopier, a coffee maker) is the first clue that the company's portfolio stretches far beyond a car manufacturer design consultancy.
DesignworksUSA began in 1972 as a small, three-person design studio in Malibu founded by acclaimed industrial designer Charles W. Pelly, and quickly expanded into larger facilities, first in Van Nuys and then Agoura before landing in Newbury Park in 1988. Early design projects included farm equipment for Steiger, a Waterpik water-purifying system, and snowmobiles for Polaris.
The company's first project for BMW—seat designs for the 850i—came about in 1986. Less than a decade later, the Munich-based auto manufacturer put the finishing touches on acquiring DesignworksUSA. The objective: to get their team of car designers working on projects with industrial design colleagues and reap the cross-functional benefits.
"The goal is generating added value through the transfer of ideas back and forth," says Laurenz Schaffer, president of DesignworksUSA. "We collect a lot of knowledge from a creative standpoint, and BMW wants to understand what we're learning from other industries in terms of technology." Since the change in ownership structure, there have been a number of high-profile projects, both automotive and non-automotive, to emerge from this now-international design team.
The DesignworksUSA client list is a veritable who's who of current global brand powerhouses; it includes Adidas, Coca-Cola, Intel, Microsoft, Procter & Gamble, and Umbra. At times, work for these clients can help inform the BMW Group design and vice versa, and that's precisely when the DesignworksUSA offering moves far beyond simply slapping a luxury carmaker's logo onto a seemingly unrelated product. The iDrive controller, a DesignworksUSA contribution, gradually made its way into the entire BMW vehicle lineup. In 2007, DesignworksUSA created passenger cabin concepts for Embraer. The team's modern jet interior has since gone on to become Embraer's template when presenting bespoke interior concepts to their own customers.
This approach has yielded tremendous results. This year alone, the firm has been recognized with a Red Dot product design award for their work on the Dassault Falcon 2000S business jet, as well as honourable mentions for the Intermarine 55 luxury yacht, and John Deere's 460E Articulated Dump Truck and 944K Wheel Loader.
It seems that when it comes to toys of all shapes, sizes, and types—including cars—DesignworksUSA has all the bases covered.
Photo ©BMW Group DesignworksUSA.