Fashion Designer Wanze Song on Creativity and the Dumpling Bag
Wanze Song is making a name for herself for more than her popular Dumpling Bag.
During the first lockdown in 2020, Wanze Song was housebound with her parents in the Toronto suburb of Scarborough with little to do besides help her mom make dumplings. She was home for what was supposed to be a month-long visit from Shanghai, where she was working for the fashion brand Xiao Li, but the pandemic left her stuck in Toronto. "I remember just being eager to make something at home," says the designer, who was born in China and moved to Toronto at 17. She studied fashion design at Toronto Metropolitan University before stints in Berlin and London, where she worked part time as a design assistant at Kiko Kostadinov. She wanted to design something "that gives the same feeling as a dumpling"—one of comfort and coziness.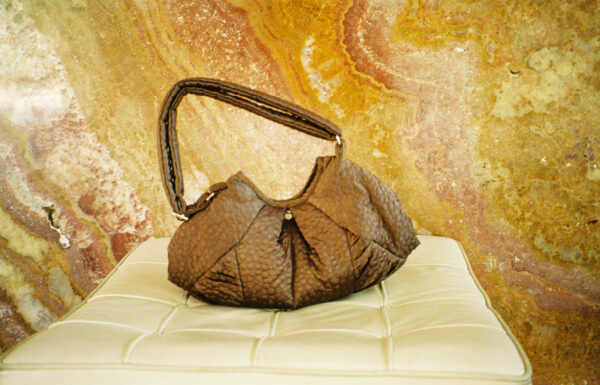 Song unwittingly launched the hero product of what would become her eponymous brand: the Dumpling Bag, a crescent-shaped, padded handbag with adjustable straps for versatile styling options. "It became a hit," she says. After posting the purse on her Instagram account, she was inundated with DMs from friends asking her to make them one. "I was known as the bag lady for the longest time." The Dumpling Bag is the Toronto equivalent of Telfar's Shopping Bag or Luar's Ana bag: a cult status symbol ubiquitous among the city's creative class. (Song's studio has become their de facto clubhouse—everyone who passes through gets a photo taken wearing head-to-toe Wanze for an Instagram story.) The bag's instant success motivated her to officially launch Wanze.
Fall/winter 2023 is a cohesive collection of rigorous tailoring crafted from luxurious fabrics with unexpected technical flourishes. Like a pair of triple-pleat trousers, cut wide from two-tone Zegna wool, the side seams replaced with elongated front darts that lead into side pockets for a fluid silhouette. Or a zip blouson made from Italian technica radzimir, a lustrous silk—a customer favourite now carried by the influential Toronto menswear shop Lost & Found.
As a one-woman show, Wanze Song is chiefly concerned with the craft of clothes-making and connecting with her customers. "I get the most fulfillment doing the patterns," she says. Her process as a designer produces "three serotonin doses"—idea development, packaging the finished product, and seeing her customers in her clothes—that make the taxing, sometimes lonely work of a designer worthwhile. "It just feels like you're able to build from zero to this vision," Song says of seeing her ideas come to life. "I think that's why all the designers struggle and do this, because that feeling cannot be replaced by anything else."
Photography by Devon Corman