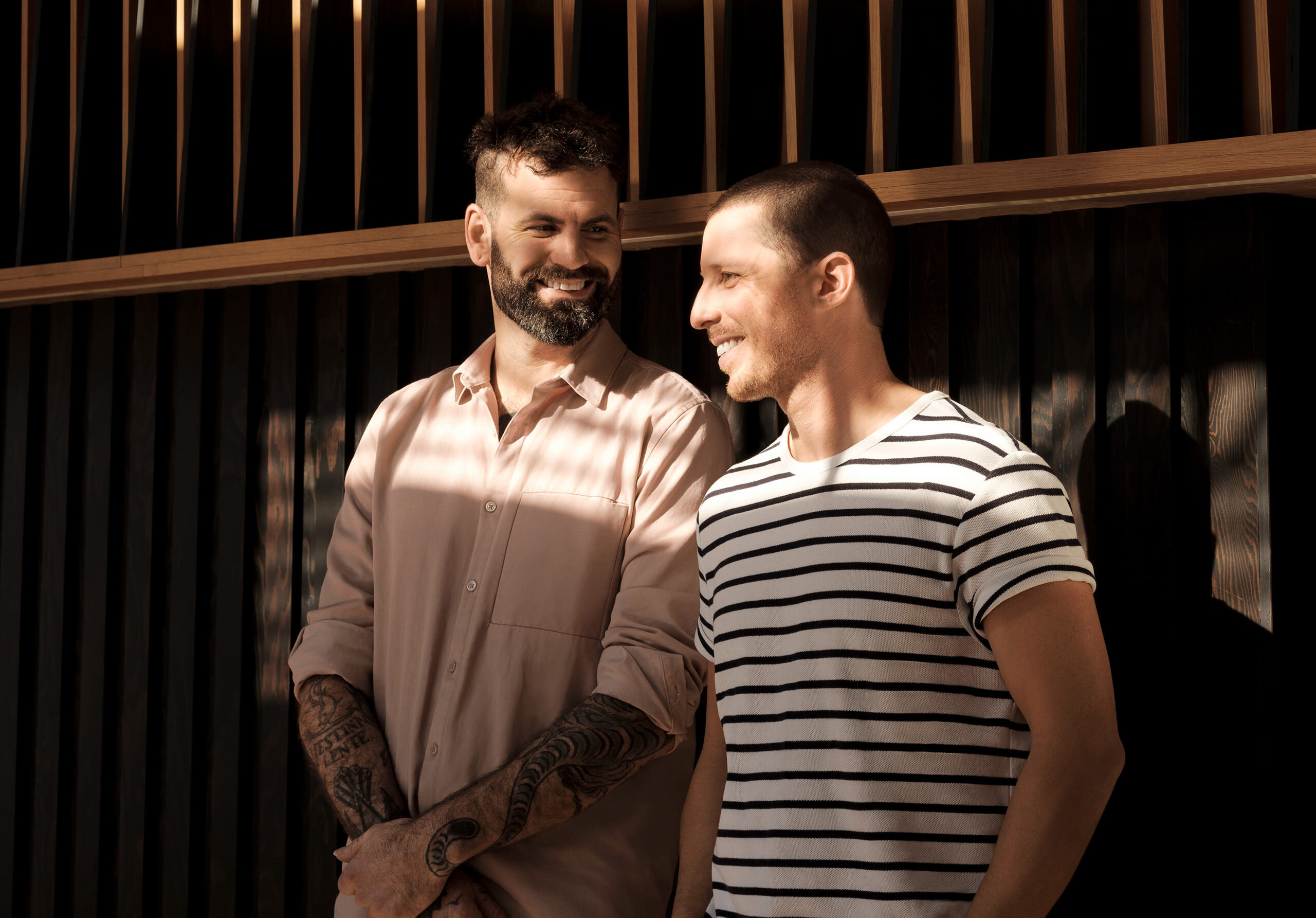 Montreal's Ménard Dworkind Is Adept at Creating Dramatic Spaces
Sitting low against the Saint Lawrence River, Montreal is rarely seen from a vantage. Its cityscape is modest—there are no glass skyscrapers competing with mountain peaks, nor an interest in superfluous record breaking. Instead, the city, almost defiantly, keeps its architectural treasures intimate—they must be experienced close up, not viewed from afar. The city's most compelling public architecture is retracted deep underground. Place-Saint-Henri metro station, designed by pioneering industrial designer Julien Hébert and architect Jean-Louis Lalonde, is one of Montreal's most successful modernist sites. Vertical swaths of brightly painted brick greet passengers. Brutalism's heavy concrete is levitated, transformed into soaring honeycomb skylights. Each aesthetic choice seems to guide passengers, welcoming them into a singular vision.
Montreal's successes mirror Ménard Dworkind (MRDK) architecture & design's most engrossing work. MRDK excels at transformation—creating cohesive visual narratives that consider every detail. Helmed by designer Guillaume Ménard and architect David Dworkind, the design studio, officially established in 2019, has quickly become Montreal's go-to, notably for the hospitality industry, having opened three of the city's most exciting new restaurants—sushi hub Ryú, natural wine bar vinvinvin, and pizzeria Vesta—within a short span of six months.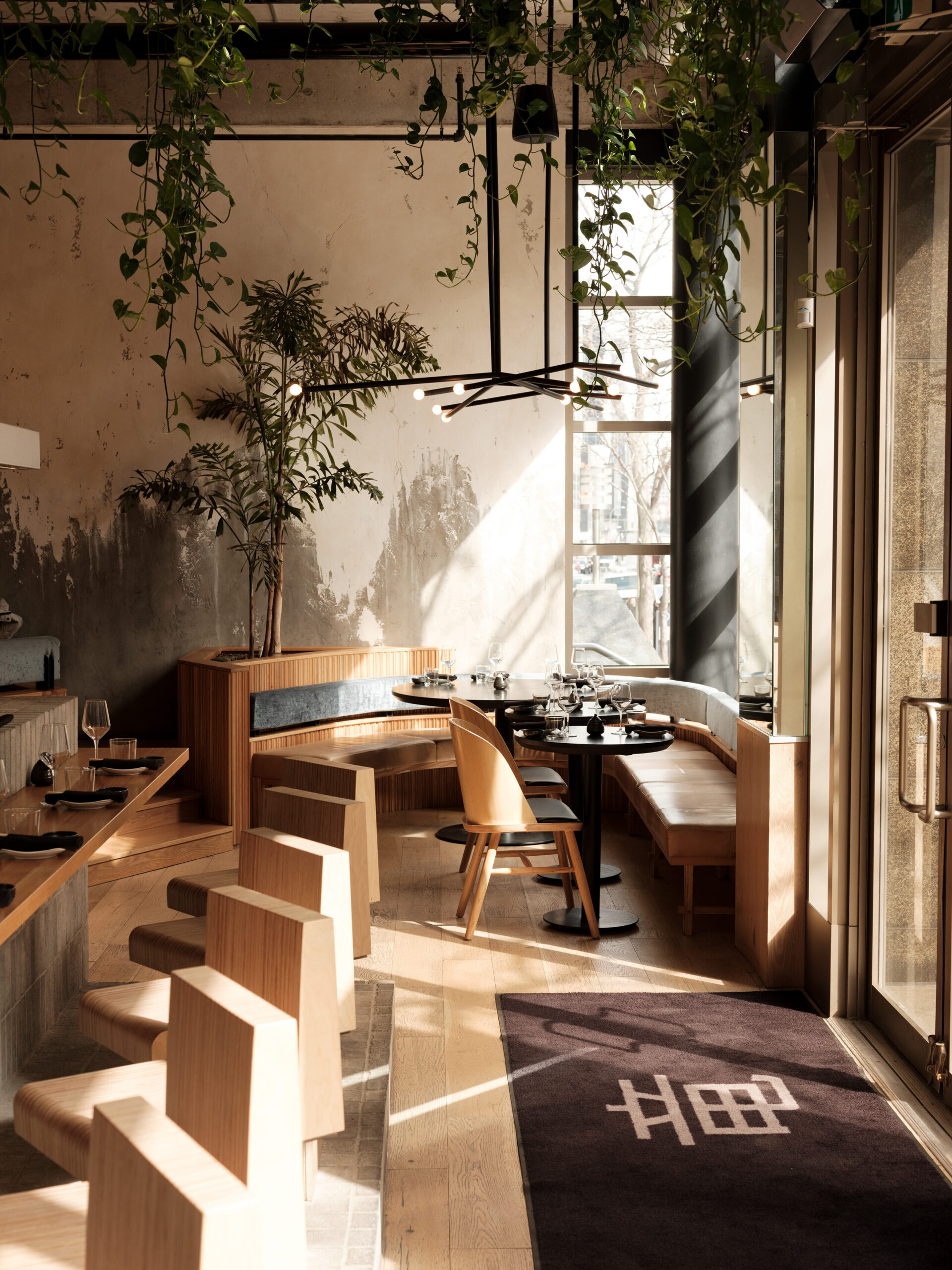 Ménard and Dworkind are informed by the architecture of Montreal's mid-century accomplishments. "Everything that I like about Montreal architecture comes from the 1960s and the '70s," says 38-year-old Ménard. Gesticulating with inky-tattooed forearms in MRDK's sunlit Plateau office, he names famed architect Moshe Safdie as one of Montreal's worthy contributors. "Habitat 67, that project is still super impressive. And you can see how it continues to inspire architects—like Bjarke Ingels. You can see how advanced [Safdie] was in the '60s." Habitat 67, unyielding in its vision, has a quality Ménard admires, too, in the underground metros. Place-Saint-Henri is an example, as is Peel metro station, remarkable for its modernist colourful tile piece by artist and interior designer Jean-Paul Mousseau.
"Montreal has been a dead zone for many years," says Ménard. "I feel the city plays too safe." But "it's a UNESCO city of design," interjects Dworkind. "You know, I don't agree with that," laughs Ménard. There is perhaps a tension in the city between the coldness and directness of the brutalism of the past, and a desire for architecture that is enveloping and warm, countering the bitterness of winter. "I think people in Montreal don't really like crazy, rich architecture," Ménard continues. "They prefer cozy, not too overdesigned."
But like the brutalists of Montreal's past, MRDK isn't creating spaces to be ignored. Rather than play it safe and favour the comfortable, the duo's impulse for audacious design is exactly what has made the studio resonate within the city.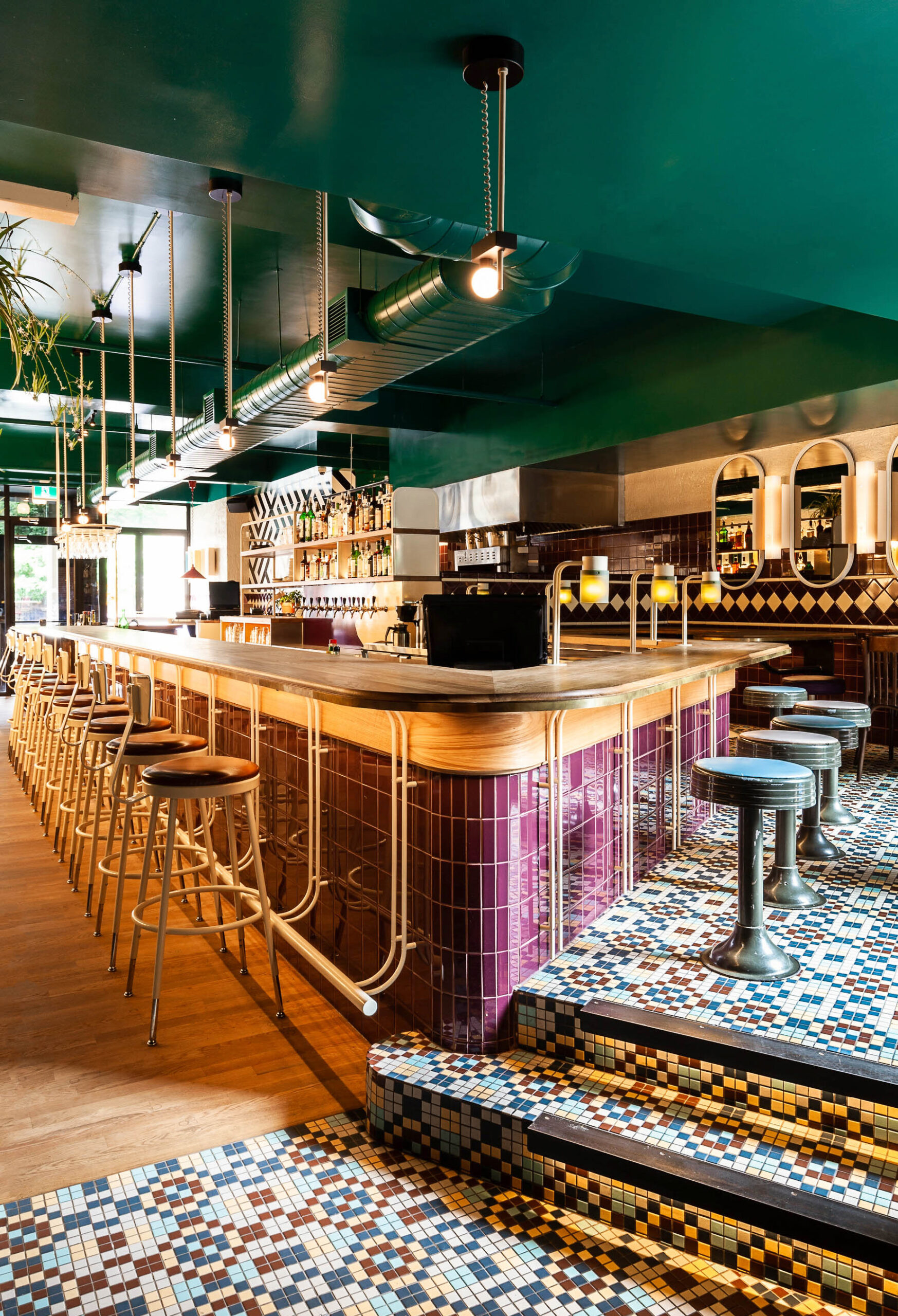 MRDK strikes a balance between reference and reality that seems to come naturally through collaboration. "We're very similar in our [design] language, so we're tackling our work in the same mindset with the same aesthetic," says 33-year-old Dworkind. "As things evolve, we're splitting up the projects in the design process. One of us will tackle one side, and we critique each other as we go. This is opposed to how we started, when both of us would design two iterations of the same project, and often show the client both options and let them choose."
This constant communication, dialogue, and critique is what the design duo recognizes as a signature strength. "Sometimes it's just a slight difference in the vibe, like if the walls are a different colour, but they're never total opposites," says Ménard. "Your ideas grow faster together, and it goes somewhere else, as well. That's the strength of two heads together."
Dworkind, who holds a master of architecture degree from McGill University, joined forces with Ménard in 2018 to establish MRDK. The two had previously headed their own practices, David Dworkind architecture and Atelier Mainor respectively, and during that time Ménard began building pieces from scraps he found in Montreal's junkyards. Growing up, he had worked as a carpenter with his father, establishing Atelier Mainor as a place to experiment with materials like concrete, wood, and steel. "I was looking for a creative incubator—to explore different methods and possibilities," he says. Designing one-of-a-kind salvaged pieces for restaurants like Vietnamese pub Le Red Tiger and Kamé Snack-Bar, Ménard retained a close connection to craftsmanship. "What inspired me, and still does, is the mix of contemporary technology available and traditional methods to work in a different manner—a question of balancing nostalgia and innovation," says Ménard.
"Our relationship was originally an online romance," Dworkind jokes. The two had been following one another on Instagram, keeping tabs on the work each was doing, and "then Guillaume [Ménard] got this large project that he felt was too big for just one person. So he reached out," recalls Dworkind. The ambitious project was designing Miss Wong, a sprawling Chinatown-inspired brasserie in the Montreal suburb of Laval. Even as the space verges on the ornate—22-foot-high ceilings, dark-green walls, neon signage, folding scissor gates, and hanging lanterns—its kitsch is never saccharine.
MRDK's work—an aesthetic equilibrium between its penchant for exuberance and the shared obsession with detail—is exhibited in vinvinvin. The natural wine bar in Montreal's up-and-coming Rosemont–La Petite-Patrie neighbourhood is so the current pulse that the interior could have been clichéd. Abstaining from the markers of a classic wine bar—marble, teak, muted colours—the team behind vinvinvin (the triple-vin name represents the three owners) was searching for something more akin to the vivacious spirit of wine. "The sommelier, Nik [Nikolas Da Fonseca], came to the office with two bottles," Dworkind recalls. "We tasted an $80 French wine, and then he pulled out this second bottle of wine with a funky label and a beer bottle top, Strekov 1075 Portugal from Slovakia. A [$30] natural wine with a lot of funk."
"That was the best design brief we've ever had," laughs Ménard. "It gave us a direction where nothing really fit together—the colours, the labels—and we kind of understood, if not the madness, then the freedom." Vinvinvin's design is untethered to a particular place or tradition. Like the wines, the building blocks of tradition are there, but presented in new ways. A vintage dresser is topped with a slab of travertine, set with a recessed sink for icing wine and two inverted curved tubes that act as a wine glass rack above. The walls are richly decorated, plastered with creamy coloured purple-and-white tiles, crowned with off-white stucco. MRDK finds its groove in the irreverent playfulness—wrapping vintage vanity lighting fixtures bought at a liquidation sale with painted-steel wall panels. Additional custom light fixtures are courtesy of frequent collaborators Lambert et Fils, which made bar lights from cut and sandblasted glass from wine bottles and telephone wire.
But bucking the trend is always a rare and risky move in hospitality. Ruled by the power of social media, restaurateurs, hotel partners, and myriad additional players often take the shiniest bait from current design, finding safety in ubiquity. "If the client is asking for that Instagram moment, like, 'How about we put neon on that wall?' [then] we have to convince them that we
can go that route, but in three years, you'll have to change it," says Ménard. "We're aware of the trends and the fashion, and a lot of our clients are asking for that, so we try to put a bit of that into our projects without exploiting it 100 per cent."
Style takes a back seat in MRDK's most demanding project to date, a 26,000-square-foot Montreal office space for San Francisco–based customer service software company Zendesk. "The way we [approached the layout] was going from the more public space towards the more private space," Dworkind explains. "It's so big that we can treat the passages like highways and streets and back streets, so it's almost like urban planning." Offices rely heavily on spatial design to navigate interpersonal relationships, and Ménard and Dworkind are looking to the small moments to add comfort to the nine-to-five. "One of the strategies was to separate the open-plan desk space into smaller spaces so you don't have like 100 people sitting in a line," Dworkind notes. "I would say of the 26,000 square feet, almost half of the space is for break-out space: a lounge, a kitchen, a café, a creative corner, library space, meditation room," adds Ménard.
Much like a restaurant, a café, it's these close moments, where guests can touch the materials, meet a friend for a perfectly lit drink, where servers can chill the wine while reaching for a wine glass, that create an experience. Design choices that guide and mitigate a day, not dictate it. There should be room enough for visitors to be part of the space before moving on to the next destination.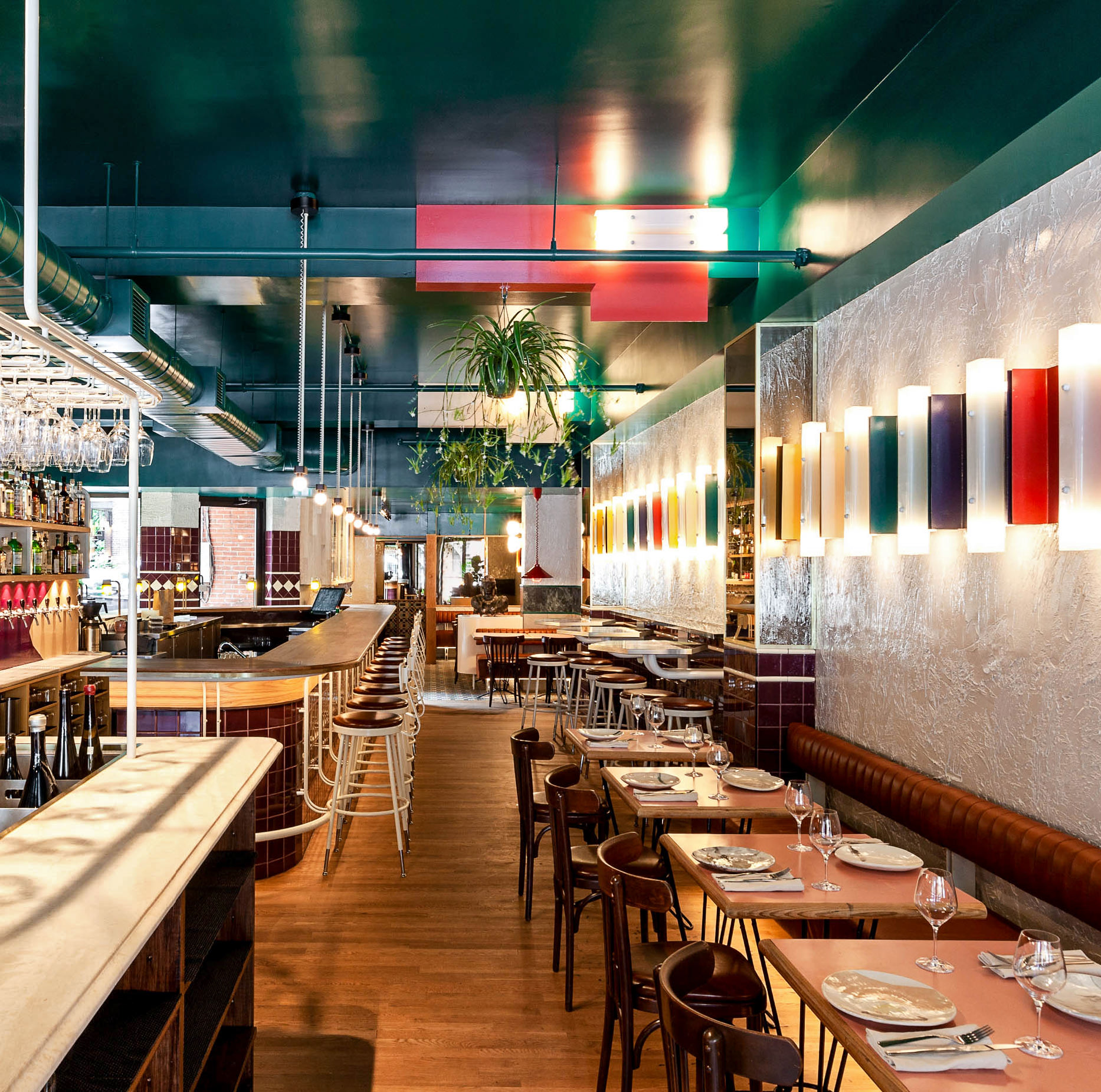 Interiors photos by David Dworkind.
_________
Never miss a story. Sign up for NUVO's weekly newsletter, here.