Fisun Ercan Is a Turkish Chef in the Countryside of Quebec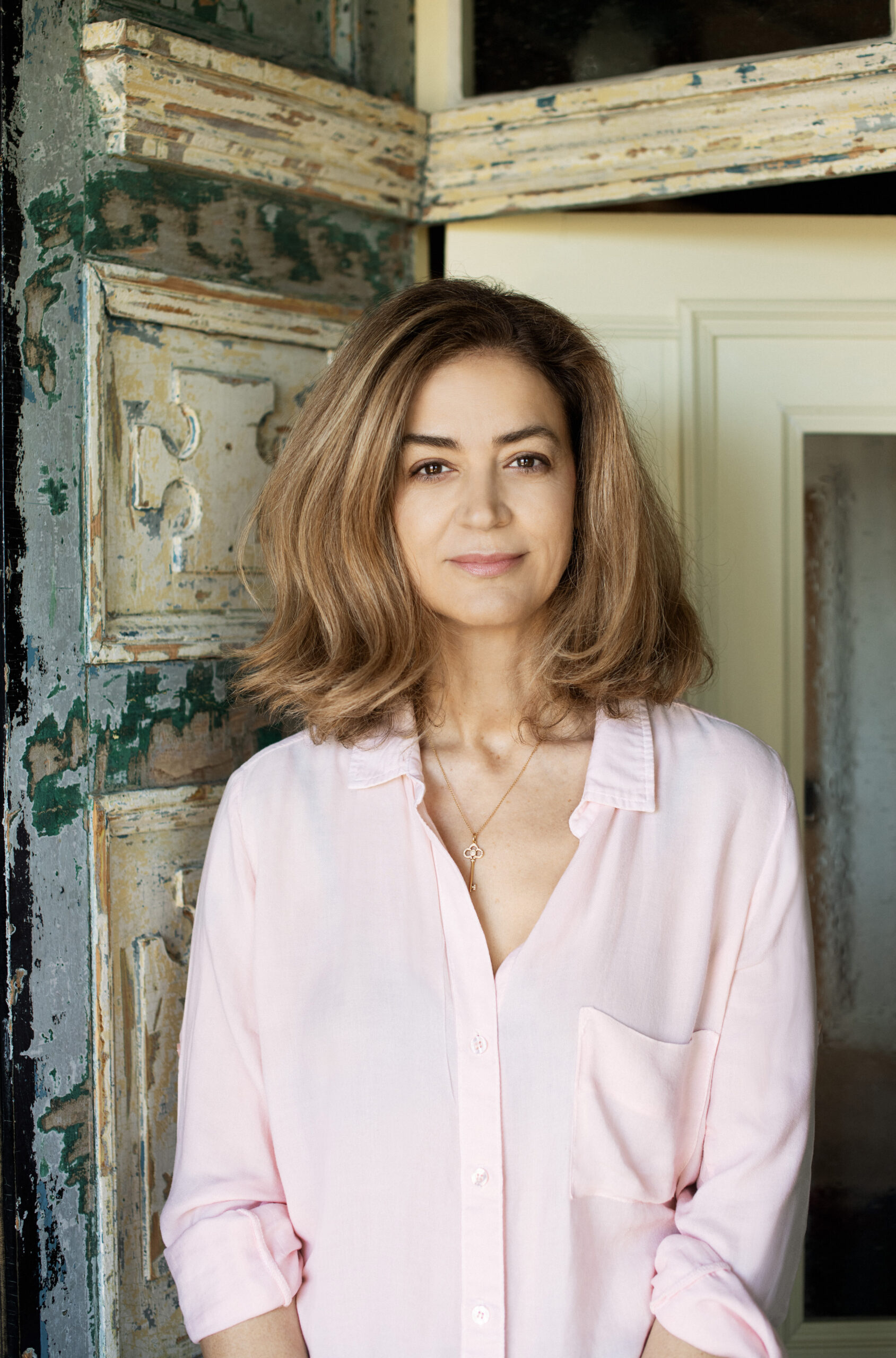 Fisun Ercan stands at the counter of the magnificent kitchen in her 19th-century farmhouse. Making fennel fritters, she casually slides spoonfuls of batter into a pot of boiling oil, while explaining how she and her husband, Tulga Kalayci, have spent the past two years renovating this property in the heart of Saint-Blaise-sur-Richelieu, about a 40-minute drive from Montreal. First, they planned and planted a two-acre garden, then they began a year-long renovation of the 162-year-old stone farmhouse.
Between anecdotes about the challenges of organic gardening, Ercan carefully arranges the fritters in a bowl lined with sheep's milk yogurt, adds a sprinkle of Maldon salt, and passes them around. Each bite is a mix of crunch and tang, the gentle anise flavour of the fennel enhanced with herbs from her backyard. Out of nowhere comes a bowl of velvety hummus topped with sautéed mushrooms, followed by a platter of charcuterie and cheese with marinated vegetables. Ercan then assembles endive leaves topped with quenelles of spicy lamb tartare. For the main course, she serves a plump, golden-roasted pheasant from a neighbouring farm accompanied by root vegetables grown steps from her kitchen door. It's foodie heaven: the subtle accents from Ercan's native Turkish cuisine make this farm-to-table cuisine at its best. "This is the way I like to cook," she says, "and it's the way I'm going to cook at my next restaurant."
At the age of 50, Ercan has owned two successful restaurants and is well on her way to opening a third—impressive for someone who only began cooking professionally in her 30s. But food and cooking are integral to her upbringing, her culture, her past, and her future.
Until the 2019 season of Iron Chef Canada when Ercan tied with star chef Rob Feenie in a battle involving beef, she was relatively unknown, although Montreal gourmets have followed her career since she opened her first restaurant some 14 years ago. Yet her route to Iron Chef's kitchen stadium certainly did not follow the predictable chef's path.
Ercan was born in the town of Seferihisar on the west coast of Turkey near the Aegean Sea. She was raised on a farm where her parents grew mandarins and olives. Her earliest childhood memories are all related to food. "I remember my father talking to my mother every morning about what we would eat," Ercan recalls. "He owned a supermarket, and everyone knew how passionate he was about food. Farmers brought him the best produce. We'd go foraging for herbs in the winter. Everything was cooked on a wood stove. Killing a chicken and plucking the feathers was totally natural for me. I thought everyone lived like that."
A farm-to-table lifestyle comes naturally for Fisun Ercan, having grown up on a farm in Turkey. Bika, the chef's newest restaurant located just outside Montreal, is a culinary ode to her childhood.
It was only when Ercan left home to go to university that she saw food in packages. "Food was always alive for me," she says, "so that was a bit of a shock." By her mid-20s, Ercan worked as a financial consultant, had a child, and then ran a daycare. Curious about other cultures, she set her sights on studying abroad. Her first choice was Australia, but she eventually settled on Toronto. After a few months in Canada, she visited Montreal and decided it was a city better suited to her personality. Says Ercan, "Montreal was more like home, more familiar. The only problem, to study in Montreal I would have to learn French." So she did. But when she was told her French wasn't strong enough for psychology studies, she switched to computer programming because, she notes, she is as passionate about solving problems as she is about cooking.
Yet while working as a computer programmer, Ercan found herself continually drawn to the kitchen. "I was cooking like crazy," she says. "I was inviting people over, bringing food to my colleagues at work. Everyone told me I should go into cooking, but I was 31." Eventually, Ercan took the idea of catering seriously and enrolled in a restaurant management course at LaSalle College in Montreal. Upon completion, she began looking for a site for a catering business and came upon a former Italian restaurant in Verdun. Back in 2006 when she opened, this neighbourhood in the southern part of the city was hardly the happening restaurant destination it is today. "It wasn't a great location," she says, "but it was a catering operation, so it didn't really matter. But the space was so big that we quickly turned it into a restaurant." She called her new restaurant Su, meaning water in Turkish. It also happens to be her daughter's name.
At that time, there was only one other Turkish restaurant in the city. And as much as Ercan knew she'd have an easier time opening a French or Italian establishment, she saw it as her mission to serve the cuisine of her homeland. "People were curious when we started, open minded, but we had to educate the customers. They didn't understand small plates, which is the style now, and also that Turkish cuisine is not all kebabs. If I just wanted to make money, I could have served grilled steak and pita. But for me it's a passion."
Ercan's style of cuisine is based on the traditions and ingredients she grew up with. Turkish dishes are rich in yogurt, olive oil, grilled meats, eggplant, peppers, garlic, nuts, and beans, as well as fruit like pomegranates, apricots, plums, and figs. Herbs and spices play a central role as well.
A night at Su ideally begins with a series of meze, appetizer-sized plates including dishes like kırmızı biberli ezme, a spread made with grilled red peppers, walnuts, and mint; or sigara böreği, cigar-sized pastry rolls filled with herbed white cheese. There are stuffed vine leaves, lamb tartare, and radicchio cups filled with cubes of marinated eggplant. Grilled meats and fish feature prominently in the main course selection, and the not-to-be-missed dessert is kunefe, a galette made of kadaif (shredded phyllo dough) with mozzarella, vanilla sugar, and chopped pistachios.
Ercan's success with Su led to the opening of her second restaurant in 2013, Barbounya, a more casual concept with a meze-rich menu including flatbreads, falafel, grilled meat and fish served family-style, and a fabulous Turkish brunch. But five years later Barbounya closed, and Ercan decided to end operations at Su as well. Her focus is now entirely on her farm.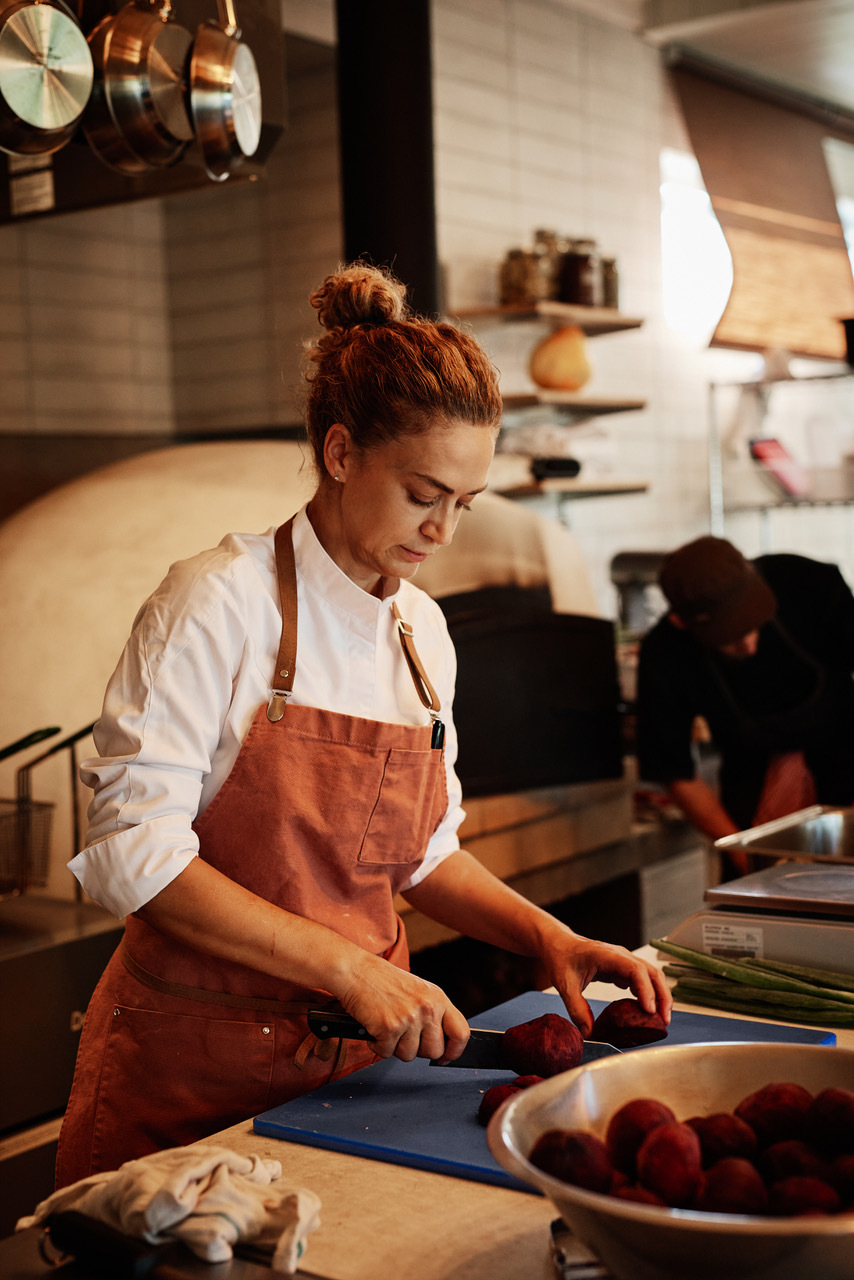 "When my father passed away three years ago," says Ercan, "I started to miss my childhood so much, and this house reminds me of my grandparents' farm." Beside her organic vegetable garden and next to a wood-burning oven, she added a new building for her latest restaurant, Bika.
Opened in July, Bika consists primarily of a large open kitchen with seating for 18 and offers a dinner service from Thursday to Saturday along with Sunday brunches. Describing the cuisine, Ercan says, "It's a farm-to-table experience, obviously with Turkish cuisine touches, but I cook with my senses, not with recipes. Zero waste is also a natural way of cooking for me since my childhood, so we are making a lot of transformation. I'm also preparing a line of ready-to-eat or ready-to-use food products to launch soon."
In a year of so much upheaval and transition, one might feel incredibly overwhelmed. Not Ercan, it seems. "I'm a very caring person. But I'm also very insistent about what I want. Very driven by my dreams, my visions. My staff thinks that I'm their auntie, but they say that they also see how serious I am in my eyes. They know when I mean business."
Restaurant photography by Daphné Caron.
_________
Never miss a story. Sign up for NUVO's weekly newsletter, here.