West Coast Darling Burdock & Co. is Getting its Own Cookbook
Chef Andrea Carlson's harvest table.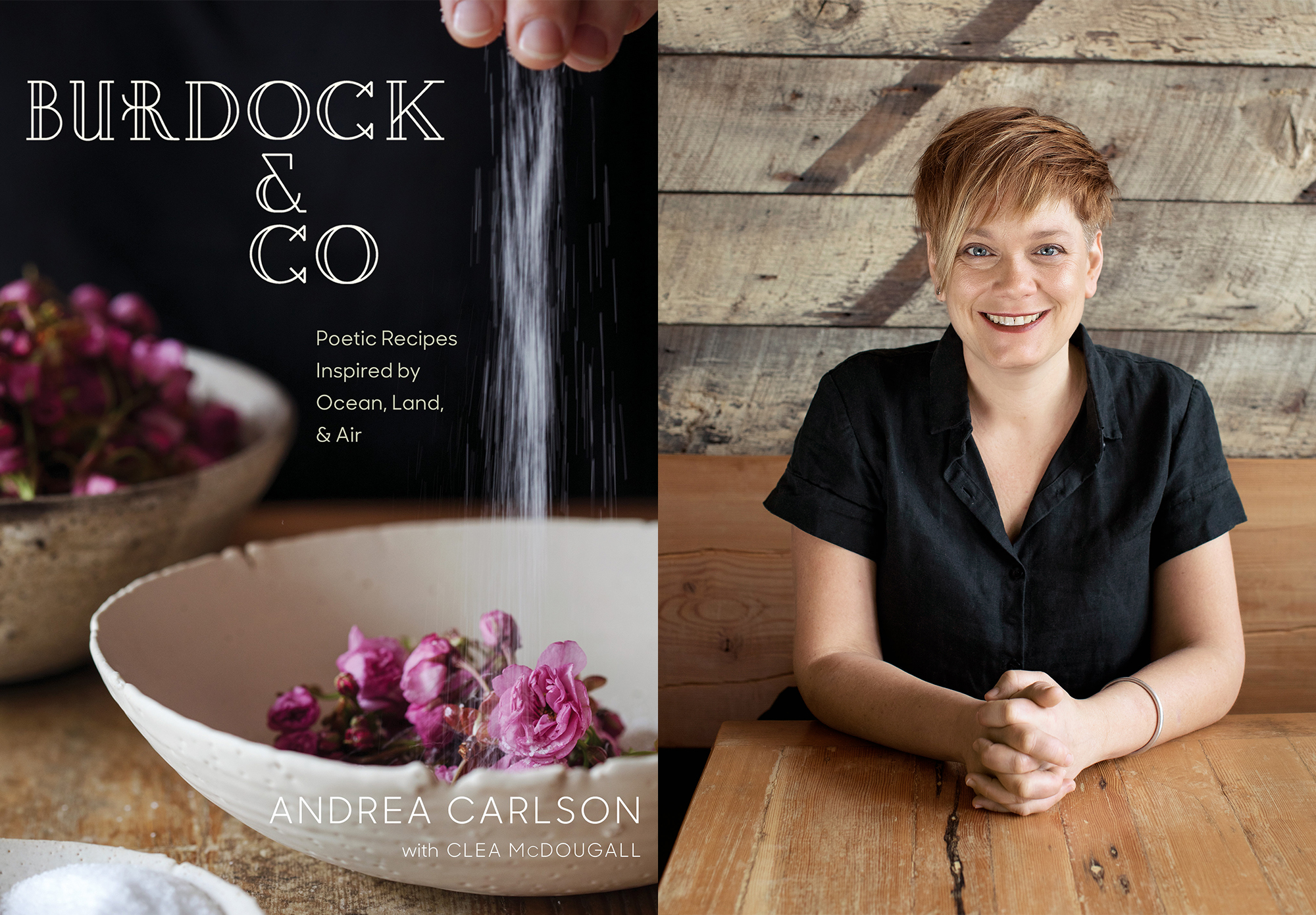 The humble turnip: it's usually not the first thing that springs to mind when people are asked to name their favourite vegetable. Yet it was one bite of a fresh turnip, newly harvested from the fields of East Sooke on Vancouver Island, that turned chef Andrea Carlson's perspective on farm ingredients upside down. She was working at Sooke Harbour House with Sinclair Philip—godfather of the seasonal and ethical locavore movement—and the kitchen crew was challenged to create a new menu each day. "It was a pivotal moment of learning," says Carlson. "If one of the most maligned, underappreciated root vegetables could taste so incredible, what else was there in store within the realm of fresh ingredients from the field?" It was an epiphany that crystallized her culinary purpose and set a lofty precedent for her future endeavours.
Carlson's early experiences with food were inauspicious. Frozen dinners and packages of cookies and chips were her staples as a latchkey kid growing up in Toronto; family meals were far from memorable, and her mother would always say she had learned to cook as a survival tactic. But a flicker of interest sparked for Carlson at age 13 when she picked up Craig Claiborne's New York Times Cookbook. It led her to explore classic recipes by Julia Child and Pierre Franey, and she began making dishes like chicken parmigiana when people came over for dinner. "At the time, I didn't realize how much those first forays into cooking really meant to me," she reflects. "But I found myself gravitating toward culinary school because I loved the tactile aspect of cooking and how actively it engaged all my senses."
After her studies at Dubrulle Culinary Arts (now part of LaSalle College Vancouver), Carlson did a stint at Star Anise, Adam Busby's celebrated French restaurant in Vancouver, before opening Sunflour Bakery on Savary Island in 1997 with her life partner, Kevin Bismanis. They ran it together for eight months before he started architecture school. "[The island is] a little off-the-grid paradise," she says. "Every morning, we'd walk barefoot [through the forest] to a nearby spring and collect water for the day's bread. To this day, it's still one of my most treasured food memories." This pared-down way of living reinforced her connection to the environment, and her involvement in sustainably minded organizations such as Friends of Clayoquot Sound and the Sierra Club dovetailed neatly with the culinary path she was about to follow.
In 1998, Carlson joined the kitchen brigade of Robert Clark's C Restaurant as sous-chef. Clark's impassioned philosophical approach to cooking and commitment to helping launch the Ocean Wise sustainable seafood program resonated deeply with Carlson. "C was really the first restaurant in Vancouver that actively advocated for a conscious approach to our food systems and paved the way for moving in that direction." she says. "It's what started me on the path of sustainability."
At this point in her career, Carlson was looking to stretch her wings. She had known about Sinclair Philip for years and was drawn to his reputation for breaking new ground in terms of a chef's approach to local eating. She joined him at Sooke Harbour House, where his three-acre garden was a veritable paradise of rare herbs and edible blossoms, including flavours and ingredients she'd never worked with before. "My palate grew by leaps and bounds. Sinclair taught me so much about the beauty of subtlety." His methods for sourcing regional ingredients—diving for sea urchin and harvesting seaweed—were virtually unheard of at the time and were considered quite exotic. "One of his strongest influences on me was in menu writing. Sinclair was very precise about language. He'd never say parfait or chawanmushi. Instead, he'd detail a very, very specific expression of what the dish was, without appropriating some sort of cultural dish." "Seaweed" wasn't referenced; rather, it was one of the four varieties of kelp that had been harvested. And he eschewed the more colloquial term "spot prawn" in favour of the accurate term, "spotted shrimp".
"I wanted to open it up and make this calibre of food readily available to everyone."
In 2002, she returned to Vancouver and to C Restaurant, this time as pastry chef, before taking the helm as chef de cuisine of Raincity Grill, a restaurant at the forefront of the city's regional cuisine movement. Inspired by Alisa Smith and James MacKinnon's year-long 100-Mile Diet, Carlson earned the spotlight with the launch of her groundbreaking 100-mile tasting menu, containing only foods and wines that had been grown, raised, or processed within a 100-mile radius of the restaurant. Her transition to executive chef at Bishop's in 2007 was a natural one, as John Bishop was a pioneering champion of the city's farm-to-table movement long before it became a culinary catchphrase.
The start-up process for Carlson's own restaurant began about seven years before she served her first dish at Burdock & Co in 2013. Her motivation: a desire to bring local, organic ingredients out of fine-dining kitchens and into a more widely accessible context. "Before the farmers' market network and CSAs [community-supported agriculture models] developed into what they are now, small-scale growers like Glorious Organics could only sell to restaurants who could afford to use their products. I wanted to open it up and make this calibre of food readily available to everyone."
Even with 16 years in the industry under her belt, Carlson was still a rookie on the ownership side of the restaurant equation, and it took some time for her to grow into Burdock & Co, in both philosophy and practice. She also opened with a radical wine list, offering only natural vintages; one of Carlson's favourite experiences was nervously agreeing to a very specific list put together by manager Julie Sopuck and then-sommelier Jesse Walters for a special event. "It was essentially a love letter to orange and rosé wines. No white wines [or red] at all—just orange and rosé." Definitely a daunting proposal in the days when natural wines weren't part of Vancouver oenophiles' lexicon. "But I loved coming up with dishes to complement them. I put sea urchins and cured fishes and cured yolks on the menu."
Burdock's menu—and Carlson's upcoming Burdock & Co cookbook (releasing in October)—reads like a paean to the changing seasons. Carlson spotlights the natural abundance of regionally grown and foraged ingredients, and her intensely vegetable-focused dishes shine alongside sustainable proteins from the land and sea.
Sugar snap peas and beans from Hannah Brook Farm are served in a delicious, verdant jumble with goat's milk Juliette camembert cream from Salt Spring Island Cheese and Glorious Organics' fava tips and sorrel ice. Sea urchin from Fresh Ideas Start Here is accented by steamed Japanese-style egg custard, the soft briny pop of cured salmon roe, and the crunchy counterpoint of a black rice cracker. And exquisite 75-day dry-aged Hopcott Farms steaks are Japanese charcoal–grilled and served with no adornment other than shio koji butter and red wine jus.
Carlson's indelible imprint on Vancouver's food industry far supersedes her role as a female chef. Rather, she has chosen to focus on building community by encouraging people to slow down and connect with one another over the simplicity of a shared meal. And she places huge importance on nurturing respect and connectedness among the members of her Burdock crew. "Calling us a great restaurant family may sound cliché, but a lot of kitchens really aren't like ours," she says. The heart of the harvest is what nourishes us, and Carlson is reaping its bounty in spades.
_________
Never miss a story. Sign up for NUVO's weekly newsletter.