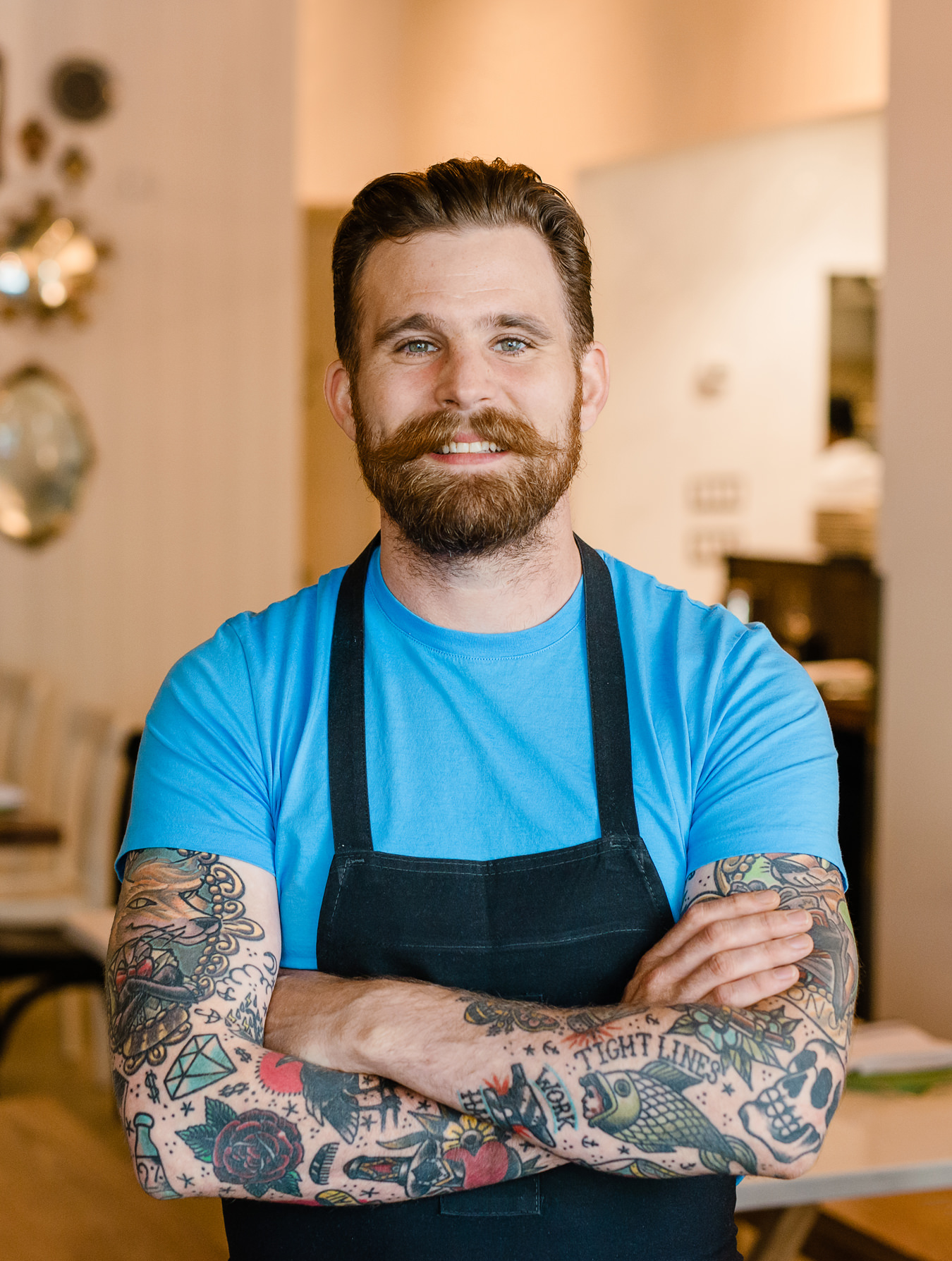 Of all the ironies implied by Saskatoon's tongue-in-cheek status as "the Paris of the Prairies," the most obvious may be the city's historical lack of refined cuisine. "There wasn't such a thing as fine dining in Saskatoon when I was growing up," says chef and restaurateur Dale MacKay, "or any place using local or seasonal products." While the riverside city has always had one of the highest number of restaurants per capita in Canada, casual fare long dominated the scene—that is until MacKay's homecoming. The founding member of Grassroots Restaurant Group, MacKay owns three establishments in Saskatoon: Ayden Kitchen & Bar, which opened in 2013 and where he is chef and co-owner; Italian-inspired dining room Little Grouse on the Prairie, launched in 2016 and overseen by chef Jesse Zuber; and a pan-Asian restaurant called Sticks and Stones, new this year and helmed by chef Nathan Guggenheimer. Together, these establishments are pioneering next-generation Saskatoon dining—a polished new wave, buoyed by MacKay's Top Chef Canada celebrity (he won the inaugural season) and the enthusiasm of a young population, while the city's formerly lacklustre culinary reputation shrinks like a blip on the prairie horizon.
MacKay had a troubled youth. "I was dyslexic, and school to me… Walking in the building put pressure on my chest. I just felt awful all the time," he recalls. At home, his work ethic and culinary proclivities manifested in an early obsession with baking sugar cookies, which he'd cut into rounds with his mom's Mason jars, and his grilled cheese–making competitions with friends. But outside the kitchen, things weren't as under control. MacKay got kicked out of two elementary schools for bad behaviour and battled cancer as a preteen. It didn't take long for him to want a change. "I did Grade 9 for about half a year, and then I peaced out," he says. On his 15th birthday, MacKay landed in Vancouver, where he washed dishes and harboured fantasies of doing more. Then he watched Boiling Point, a 1999 documentary series about Gordon Ramsay's quest to become the world's youngest three-Michelin-starred chef and, entranced by Ramsay's leonine force, booked a ticket to London. "The discipline [shown in the series] was just so intense, and that's what I was looking for," he says. Five days later, MacKay showed up at Ramsay's restaurant and landed a job with no formal culinary training. He was 20 years old.
Eventually MacKay became an opener for Ramsay, overseeing a total of seven restaurant launches in London, Tokyo, and New York. Then, in 2007, with a stacked résumé, MacKay returned to Vancouver to become executive chef at Daniel Boulud's bastions of French lusciousness, Lumière and DB Bistro Moderne, where he oversaw the kitchen with a Ramsay-influenced tyrannical flair. "When I was running Lumière, we were trying to be one of the best restaurants in the world, not just the country, so stakes were very high—even one little herb or one little smudge on a plate—to me at that time, that just ruined the whole fucking meal," he recalls. When Lumière shuttered in 2011, MacKay quickly opened his own restaurant, Ensemble, and then its sister bistro, EnsembleTap. But the money wasn't there, nor was the love he had once felt for the city. "In Vancouver, they want local, they want organic, but then they want to pay less than [what] you buy for. So from a business standpoint it's exhausting, and it's a fickle town." MacKay wanted out: no more $40,000-a-month rents, no more jaded food bloggers looking for their next victim. So, when his restaurants failed, MacKay paid his suppliers, said his farewells, and, in the immortal words of the Guess Who, went runnin' back to Saskatoon, where rents were cheap, sales were strong, and the community was happy to have him.
"I learned lots coming from the arrogance of fine dining. You start to understand what a person really wants out of a dish."
Re-established in his hometown, MacKay proceeded to apply a fine-dining methodology to the accessible menu of his first restaurant, the upscale-rustic Ayden, named after his now-teenaged son (MacKay is a single dad). "I learned lots coming from the arrogance of fine dining. You start to understand what a person really wants out of a dish," he says. "I made a very conscious effort when we opened up Ayden to put everything on the menu that people already knew, but just make it taste better, give it a little bit of a twist, and get people to trust you, and then slowly take them further down a path." Burgers melt with bone marrow; chicken wings are tangy with lemongrass and lime; and a riff on mushroom toast is served with an egg yolk blackened by fine nori powder. "I'm making people sound like old farmers here, but it's true that when they trust you, they will come back more and more," MacKay says. "That's when they try new things and start eating charcuterie, not just beef jerky."
With Ayden established and drawing national recognition, MacKay felt it was time to offer something more refined. "We would never have opened up Little Grouse right away because it wouldn't have made sense," he says. But once Saskatoon was behind MacKay's mission to put the city on the culinary map, he called on Jesse Zuber—who was closely trained by MacKay in Vancouver ("I have been meaner to him than anybody in my life," MacKay says of his time working with Zuber). Despite—or because of—their intense relationship, Zuber moved to the Prairies to work at Ayden before crafting the plates of delicate braised octopus strozzapreti, branzino in onion nage, and ricotta beignets with yuzu bay leaf sorbet at Little Grouse when it opened. Soon, Nathan Guggenheimer and Christopher Cho, MacKay's fellow Grassroots partners, brought Sticks and Stones' Korean kimchi-spiced stews and Japanese ramen into the mix. MacKay feels a restaurant in Regina will be next, if they can find the right spot.
Design-wise, MacKay favours heritage buildings, and each Grassroots property has a distinct character. With beaten wood floors, blue velvet, and bits of brass and wrought iron, Ayden's decor is just a little bit saloon. Little Grouse has a more grandmotherly touch—clustered picture frames, floral china, wall-mounted vintage silver spoons—while Sticks and Stones displays Japanese-inflected murals.
When asked if he's feeling like a big fish in a little pond, MacKay demurs. Boosting local farmers, fellow chefs, and restaurateurs, his passion for Saskatchewan's culinary community is evident—and he works to celebrate its richness by hosting annual ticketed Prairie Feast celebrations to which chefs from around the country are invited to discover the Prairies' bounty. He's on the city's tourism board, too. "I want to try and keep pushing Saskatoon and Saskatchewan forward," he says.
MacKay's success and experience have given him the opportunity to kick-start his community's culinary profile. "People definitely know who I am, but I don't really care about that stuff," he says. "We just want to be part of a change."
Photos by Bob Deutscher.
Never miss a story, sign up for NUVO's weekly newsletter, here.