Shiseido: The World's Oldest Cosmetics Company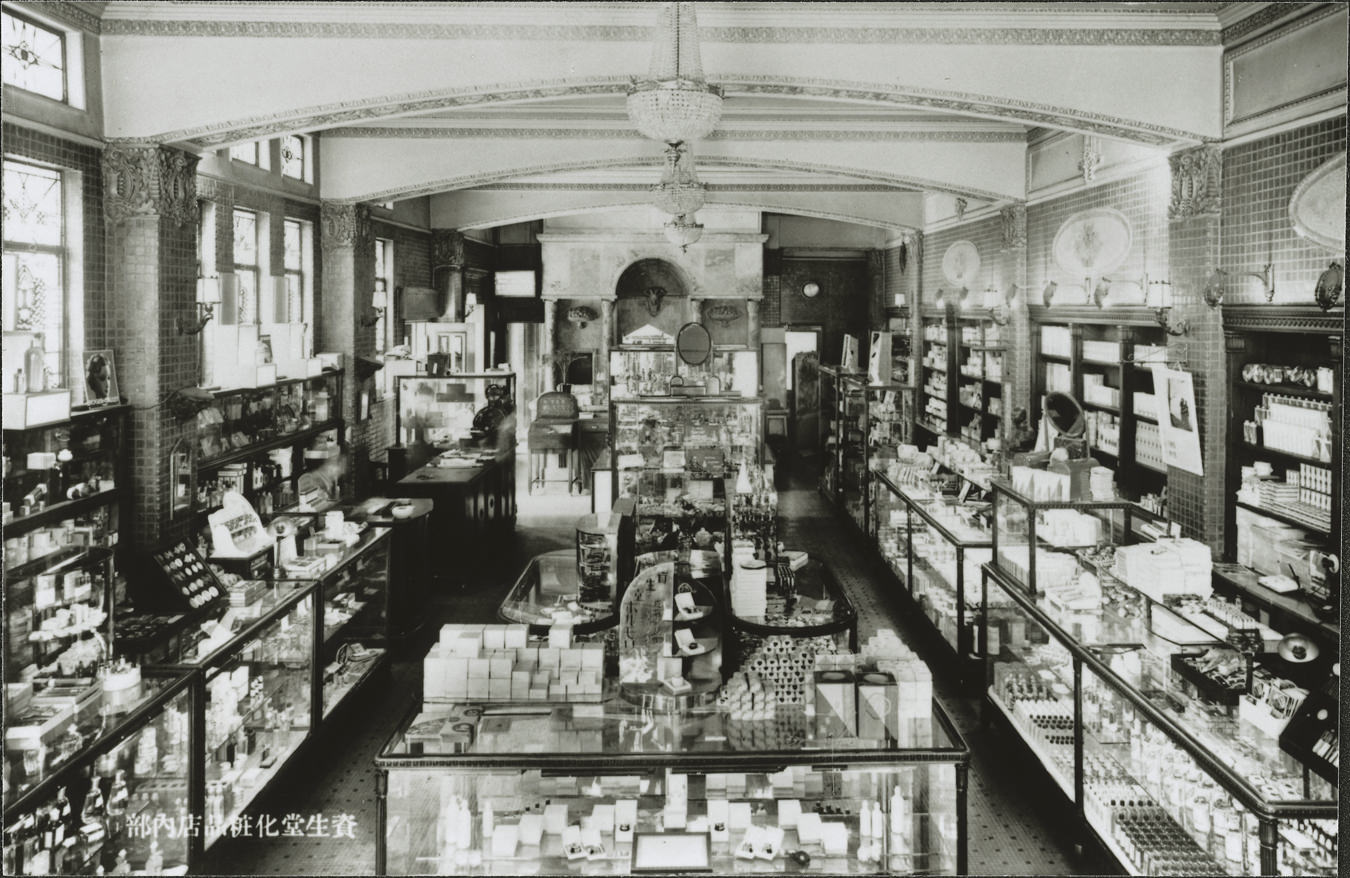 Mitsunori Ishii handles the specimen with utmost care. Nestled in his white-gloved hands is a Ziploc bag containing a porcelain vessel dating back to 1888. Tissue paper and bubble wrap coddle the artifact: Fukuhara Sanitary Toothpaste.
When Arinobu Fukuhara, founder of Shiseido, opened the Shiseido Pharmacy in Tokyo's fashionable Ginza district in 1872, the country's first Western-style pharmacy was born. Fukuhara was educated in Western medicine and had been a chief pharmacist to the Japanese navy. As a man of science, he was dissatisfied with the quality of Japanese medicine, and set up Shiseido with the aim of improving medical and dispensary practises. When Shiseido introduced Japan's first toothpaste, which was much smoother than the salt and powdered limestone people had previously cleaned (and damaged) their teeth with, the product—scientifically designed to dissolve tartar and eliminate bad breath—was an instant hit.
Ishii, director of the Shiseido Corporate Museum, has handled thousands of Ziploc bags. Every single product Shiseido has produced is housed here—catalogued in modular shelving units that go on as far as the eye can see. The museum, located in Kakegawa city, Shizuoka, a two-hour bullet train ride from Tokyo, is dedicated to the world of Shiseido. Exhibits related to the company's history from its establishment to the present day are on display: products, packaging, advertising, information, and even a small theatre space for viewing the beauty brand's TV commercials. There are approximately 200,000 items in the collection. It's an astonishing number, but Shiseido is 144 years old and counting.
If the Shiseido Corporate Museum is a shrine, Ishii is its proud leader. His knowledge of the oldest cosmetics company in the world is staggering. Every object has a story, and Ishii doesn't tire of telling them. Shiseido shifted from pharmacy-based products to cosmetics in 1897 with the introduction of Eudermine, a softening lotion to hydrate the skin, packaged in a ruby-red bottle worthy of a high-class perfume. (Over a century later, Eudermine remains a favourite with consumers.) Early on, founder Fukuhara was looking for interesting ways to expand his business and set off on a fact-finding tour of the United States. What he witnessed in American drugstores excited him and provided him with new inspiration for his business back home. He returned to Japan with a soda fountain—the first in the country. The Shiseido Parlour was established and people flocked to Ginza to try the novelty. The Tokyo Ginza Shiseido Building has seen a few iterations over the years (the current design is by Ricardo Bofill), but the Parlour remains a fixture, selling cakes and biscuits and omiyage (souvenirs). Today, the distinctive burnt-orange–clad 11-storey building is more than just a showroom for the company's cosmetics: its 10th floor restaurant, Faro, serves some of the best Italian food in the city.
There have been plenty of firsts for Shiseido; the introduction of Rainbow Face Powder in 1917 exemplified Fukuhara's constant eye on the West. The idea of a face powder that came in seven colours was novel at a time when white face powders were the norm in Japan. The product was based on the idea of applying powder using a combination of colours—white, yellow, beige, rose, peony, green, and purple—to match each person's skin tone.
As a man of science, Arinobu Fukuhara was dissatisfied with the quality of Japanese medicine, and set up Shiseido with the aim of improving medical and dispensary practises.
The word Shiseido is derived from a passage in the classic Chinese cosmological text, the I Ching, praising the virtues of the Earth. By using the Japanese Hanatsubaki (Camellia) as a company trademark, Arinobu's son Shinzō Fukuhara, who became the first president of Shiseido in 1927 when the company incorporated (and was an accomplished photographer), drew plenty of symbolic inspiration from Eastern tradition—but the business style would be resolutely Western. Shinzō continued to grow Shiseido and assert his artistic influence on the company, developing an advertising campaign using some of Japan's most sought-after artists of the time. (He is also responsible for creating what is now Japan's oldest existing art gallery, the Shiseido Gallery in Tokyo.)
Shiseido is ranked the fifth largest cosmetics company in a global industry worth $465-billion (U.S.). Brands vie for position and hire beauty ambassadors to increase awareness. From Isabella Rossellini to Julia Roberts—the list goes on and on. But in 1930s Japan, the beauty evangelist whose name echoed on everyone's lips was Miss Shiseido.
Roughly 50 years before home computers existed, Shiseido had the idea that beauty tutorials could double as entertainment. The company put out ads requesting "women from respectable families" and eventually chose nine young women to receive a rigorous education not only in cosmetics application and skin care, but also in fine art, literature, music, nutrition, and even drama. Their original hallmark production, Theater of Modern Beauty, combined a musical-variety show and beauty lessons. The show featured Miss Shiseido members playing sisters, one traditional, the other modern—each act focused on one of them giving the other a beauty tutorial. At the end of each performance, the nine Miss Shiseidos would descend from the stage to give audience members personalized beauty recommendations and apply products to their faces. The Miss Shiseido reps were far more than simply publicity machines. They became beauty and fashion icons for women around the country, with fans flocking to their appearances to get a first-hand look at their idols in hopes that some of the glamour and worldliness might rub off on them. After a brief hiatus during the Second World War, the Miss Shiseido program was revived to even greater fanfare. One year, when only 15 spots were available, over 1,300 women applied to become a Miss Shiseido. The theatrical Miss Shiseido program made way for the modern-day beauty consultant.
Shiseido focused on international expansion throughout the 1960s, with subsidiaries established in the United States in '65 and Italy in '68, followed by France, Germany, and China in 1980. At the same time, the product offerings increased. The 1980s saw Shiseido's skin-care lines multiply, the 1990s Shiseido Suncare, and 2004 brought the contemporary Shiseido Men line, from shaving cream to moisturizer. Today, the Shiseido repertoire is composed of multiple hundreds of SKUS—359 of them available in Canada—and 85-year-old Yoshiharu Fukuhara, grandson of the company's founder, is its honorary chairman.
As of December 2015, Shiseido included 97 group companies (including Clé de Peau Beauté, Benefique, bareMinerals, and Nars as well as fragrance brands Elie Saab, Issey Miyake, Narciso Rodriguez, and Serge Lutens) with 763.1-billion yen ($9.5-billion Canadian) in consolidated net sales. This past July, the Shiseido Group announced a licensing agreement with Dolce & Gabbana to manufacture and distribute its fragrance, makeup, and skin care, as well as the acquisition of Gurwitch Products (brands Laura Mercier and RéVive).
Shiseido has become a household name not just in Japan, but in Asia and all over the world. Omotenashi, a heartfelt welcome originating from the Japanese tea ceremony, is the Shiseido credo and its approach to hospitality. It is a spirit that continues to be passed through the company to this day.