Nars Andy Warhol Collection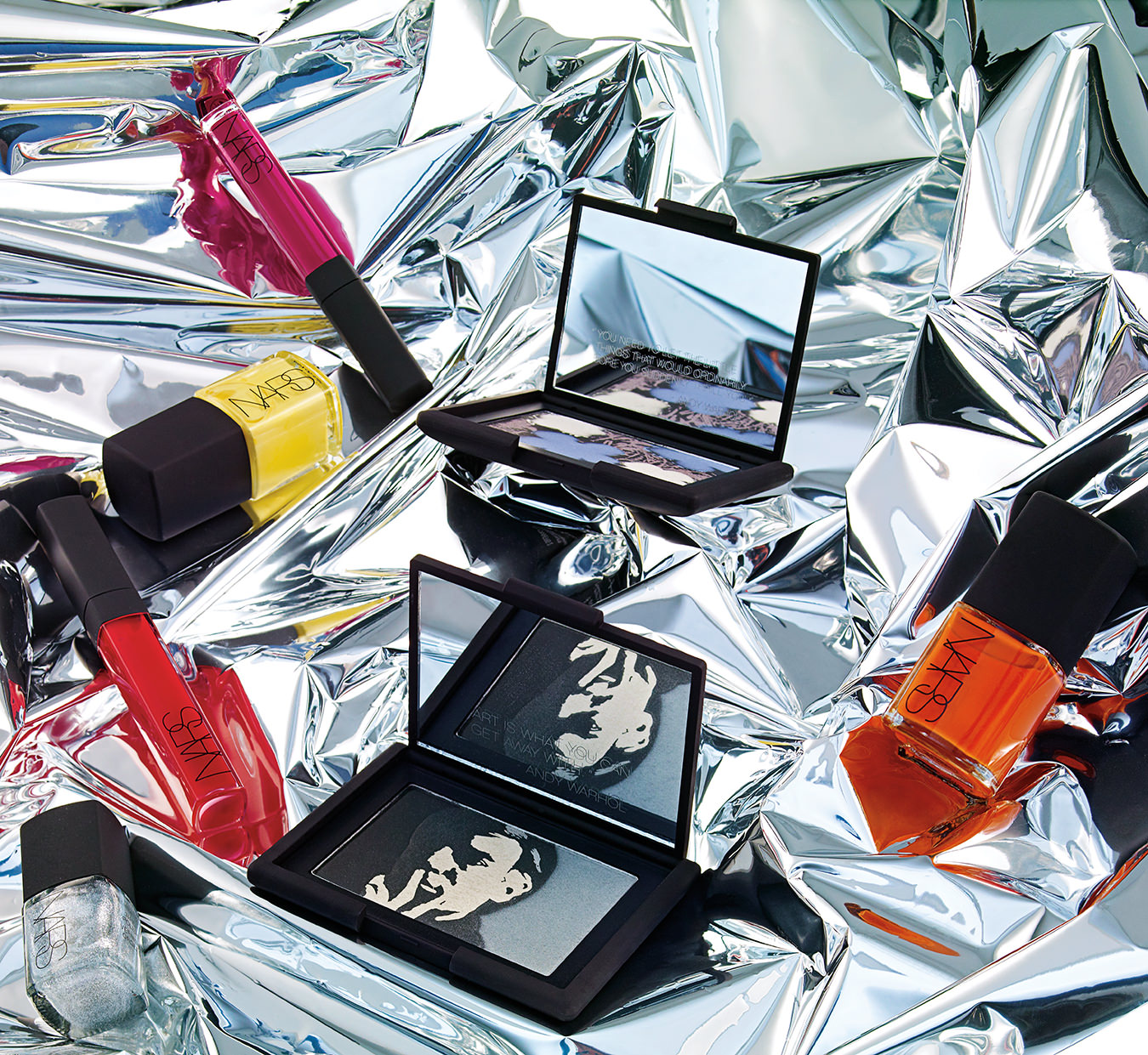 If, as iconic pop artist Andy Warhol said, everyone is famous for 15 minutes, then he'd be pleased to know that the makeup line François Nars has created to honour the 25th anniversary of his death will last longer than that. Warhol was one of the most controversial and prolific artists of the 20th century; Nars, just as fashion forward and creative, has spent the past two years developing a glamorous and flamboyant collection—divided into three lines: Color, Pop, and Silver Factory—to pay homage to the artist and his avant-garde, "superstar" Factory friends.
"I've been a fan of Andy's work since forever," says Nars, a well-dressed man with dark hair and boyish good looks, who sports a trimmed beard and mustache, and his signature black-framed glasses. "His artistic point of view has been so informative in my work. His influence is threaded through Nars [the brand]. Fabien Baron, editorial director of Interview magazine, which Andy founded, designed the Nars logo. I like to think there's always been a connection between our work."
The pairing of products is not new to the Andy Warhol Foundation for the Visual Arts. Designer Philip Treacy put Warhol's Marilyn Monroe and Elizabeth Taylor images on his bags and hats. Dom Pérignon put Warhol's colourful silkscreen touches on their bottles. Skateboarders of all ages have whizzed by on a variety of Warhol's most famous works thanks to Alien Workshop. But Nars is the first to capture both the artist and the sparkly, ostentatious feel of the sixties and seventies. The Nars Andy Warhol Collection boasts an impressive 29 pieces, and each item is like a piece of cosmetic art.
"In considering brand partnerships, the Andy Warhol Foundation thinks about the company—not the category—and what it stands for," says Michael Hermann, licensing director for the Warhol Foundation. "The collaboration process for the collection was really exciting and organic. It wasn't just about choosing an image to accompany a product—it was about communicating the creative vision of both Andy Warhol and François Nars."
François Nars was born in the South of France and has had a lifelong affaire de coeur with all things fashion. He migrated to New York in the mid-eighties after graduating from the Carita beauty school in Paris and apprenticing with Olivier Echaudemaison. From 1984 to 1996, Nars was the exclusive makeup artist for Versace. Though he was working with a venerable list of publications and designers, Nars felt limited and frustrated by the makeup lines at his disposal. In 1994, he launched a collection of 12 lipsticks at Barneys New York; he's now released more than 400 products, and in 2000, the brand was acquired by Shiseido. Nars's daring flair for colour and textures, and the distinctive way he translates beauty, have earned him his own piece of star status.
"François Nars's point of view has always been refreshing in the beauty sphere," says Louis Desazars, CEO for Nars Cosmetics. "Rather than celebrating one ideal of beauty, François is drawn to what is unique, to character over simple beauty."
Nars has always been inspired by colour visualists, including Picasso and Matisse. His matte Outremer eyeshadow is based on Yves Klein blue. His Okinawa eyeshadow trio is a nod to Mark Rothko.
In Nars's world, Warhol's famed can of soup has been morphed into a notable lip motif. Each of the five mini glosses' names are reminiscent of a place or person: Silver Factory, Chelsea Girls, Drella, Myths, and Blue Movie. Warhol's many muses are highlighted as well. Debbie Harry is fondly remembered with an eye and cheek palette. The colours were inspired by Warhol's use of diamond dust; to authenticate the makeup, Nars added real micronized diamonds. Model Edie Sedgwick is captured in a 16-millimetre film canister, and her gift set includes Film Star pure matte lipstick, a Carpates eyeliner stylo, Deep Throat / Amour mini blush duo, and Edie eyeshadow. Candy Darling, another Warhol Factory refugee, is paid tribute in a silver deluxe cosmetics bag, complete with mini Candy Darling nail polish, Woman in Revolt Larger Than Life lip gloss, and a Femme Fatale eyeshadow duo.
Warhol's 1967 Self Portrait and 1965 "Flowers" series are screened onto eyeshadow palettes. And Warhol word-isms like "All is pretty" and "I've never met a person I couldn't call a beauty" are printed on the mirrors.
The Andy Warhol Color Collection also offers names as significant as the people and places they emulate. Larger Than Life lip gloss offers Holly Woodlawn as a bright orange-red, and a piece of Penny Arcade can be fashioned on your perfectly puckered lips in raspberry. Your nails can sport a piece of Warhol as well. Purple has been dubbed the New York Dolls, and teal is called Superstar.
Though the colours are appropriately lavish for the decades they're saluting, some might believe them too flashy for regular wear.
"I don't think women should be afraid of bright colours. This collection is confident, graphic, and I hope women embrace that," Nars explains. "Making a look work is about finding a balance. Pair a bold lip with a lighter eye, or go the other way around."
Rather than garnering only 15 minutes, Nars has captured an artist, a feeling, and a time period while turning his makeup moment into an eternity.