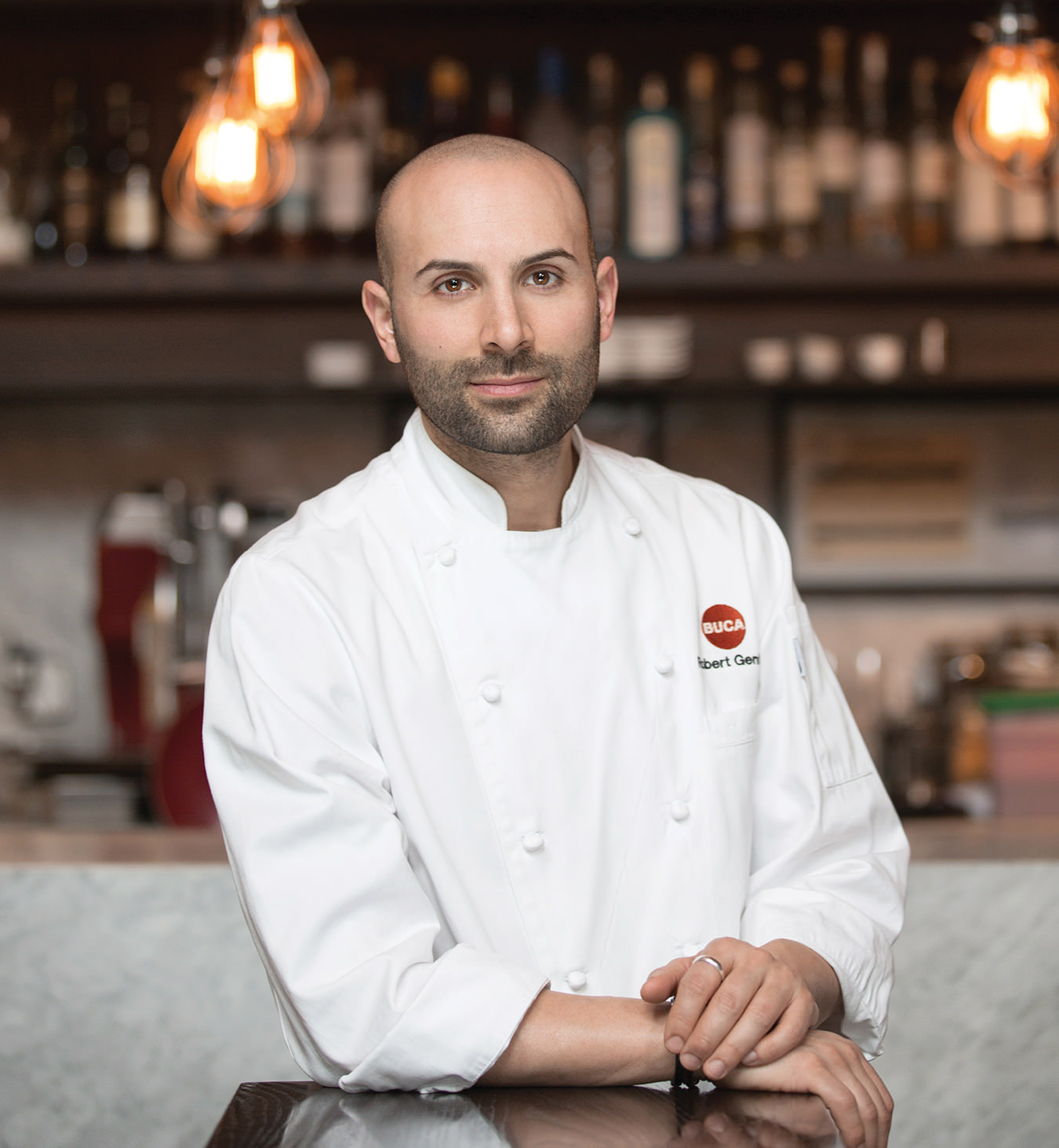 Rob Gentile's got a lot on his plate. In addition to running Buca Osteria & Enoteca—the Italian restaurant he heads in Toronto's King West neighbourhood—he's set to open the seafood-themed Buca Yorkville in the new Four Seasons Residences complex before the end of the year and a separate Bar Buca even sooner. He's training for a half-marathon this fall. Oh, and in the middle of all this, he's planning his wedding. At least the catering's taken care of.
At the ripe old age of 34, Gentile has already been in the restaurant industry for over 20 years. He landed his first job, washing dishes at a now-defunct Italian restaurant in Brampton, at the age of 13, but only after his mother came in and agreed to it. He continued to work in kitchens throughout his teenage years, and at 18, fresh out of culinary school, he landed a job at North 44 working under chef Mark McEwan. "From his time at North 44, I could tell that he was a very inspired and curious chef," McEwan says of his protégé. "He was hard working, came in early and stayed late, put his time in, and soaked up information from all around him. It does not surprise me in the least that he's turned out to be such a formidable force within the culinary world."
Like nearly everyone with an interest in Italian food in Toronto, I've eaten at Buca numerous times since it opened in 2009. I joined in the chorus of glowing reviews touting the pasta (hand-cranked bigoli with duck offal ragù), the pizzas (quail egg and bottarga), and the charcuterie (prosciutto and lardo from specially raised pigs).
It's early on a Tuesday evening when I arrive at the restaurant to chat with chef Gentile. I've asked that he join me for dinner and prepare a selection of his favourite dishes from the current menu. He strolls over from the kitchen in a well-tailored, immaculately white chef's jacket, his head more closely shaved than his face, which sports a few days' worth of stubble.
Chef Gentile is intensely dedicated to using seasonal ingredients. A lot of chefs pay lip service to the idea of eating seasonally, but few adhere as closely to those cycles as he does.
ANTIPASTO: Carpaccio of lamb on a sweet pea purée with fava beans, fried chickpeas, pecorino, and duck egg bottarga.
One of the defining characteristics of Buca is its intense dedication to seasonal ingredients. A lot of chefs pay lip service to the idea of eating seasonally, but few adhere as closely to those cycles as Gentile. "Our menu develops by the week and the month," he tells me. "It's constantly changing." Each menu is stamped and dated, and the restaurant has developed a proprietary computer program that allows staff to go in and make changes by the day. "If a new item is coming on the menu that we've developed, the cooks are given recipes and prep lists documenting what they need for that specific dish," Gentile says.
"We try to stay ahead on ingredients. We try to know before something changes, and we have a backup plan. Let's say, for example, fava beans, sweet peas, and fresh chickpeas fall out of season. We need to be able to determine if at the beginning of September legumes are done, what are we going to change that to? In the case of lamb, it can go very well with something like nipitella, a kind of Italian mint. We can go into root vegetables that are starting to be harvested. Late-harvest wild berries, elderberries would be in season. And we can do that with the whole menu."
PRIMO: House-made pesto-stuffed burrata with organic heirloom tomatoes and family vinegar.
With two new establishments set to open this year, Gentile finds himself transitioning into more of a managerial role. It's a position he says he relishes: "When you first open, you have a team you've never worked with before and you have a crazy chef who wants to do all these things," he says, "but a crazy chef can't do all these things on his own. You've got 12 cooks in there at any given time, and they all have to be damn good in order to execute food to the level that I may want it to be. You've got to build the team and train your staff, maybe let some go, maybe rehire. It took a long time to get the team to the point where we can do this kind of thing every day."
The fresh burrata that the kitchen makes daily is a prime example of how well the team has grown over the past four years. "If you had told me last year we'd have to do 25 orders of burrata before service every day, there's no way," Gentile says. "But now we know that Sam, she can do it, so we go to the farm and get the milk and add the rennet 45 minutes before we start service. This way, little by little, one dish at a time, it evolves."
PASTA: Gnudi of bufala ricotta and scallop dumpling, Ottawa Valley sweet corn purée, saffron-charred cipollini onions with sweet corn shoots, smoked butter, and andouille.
Of the growing Buca empire, Bar Buca has proved the most challenging. "In Italy, a bar is not the same as a North American bar where you go to drink beer, eat wings, and get smashed," Gentile points out. "A bar in Italy is a place where you go in the morning before work to have an espresso and something sweet for breakfast. You go back at lunchtime for a panino and maybe a glass of wine. After work you go for aperitivi with your colleagues, and maybe you take a date there later at night. That's the kind of bar we're trying to bring to Toronto. We've never really seen that, and we'd like to be able to put those kinds of bars in different neighbourhoods around the city."
SECONDO: Olive oil–poached B.C. halibut and Swiss chard purée with pickled abalone, chanterelle mushrooms, pickled walnuts, sorrel, truffle, and smoked chicken broth.
At approximately 3,500 square feet, the much anticipated Buca Yorkville in the Four Seasons Residences complex will seat around 70 people, with a few dozen more patio seats. It will be primarily a fish and seafood restaurant, but a rather unique one. "We go to Italy a lot for developmental educational purposes," Gentile says. "We did one trip where we covered the whole east coast from Venice down to Ancona. This is where we came across this concept of salumi di mare, where you cure seafood like you would meat. So if there's a cut of tuna, you do it like prosciutto. If there's a swordfish, you do it like bresaola. If there's octopus and gelatin involved, you do sausages. You can do cuttlefish like lardo." It's taken a lot of research and several trips to Italy, but the restaurant is slated to open before the end of the year, and the concept is unique to Canada.
DOLCE: Panna cotta with strawberry jelly, 15-year-old balsamic vinegar, whipped mozzarella, and ground Tuscan pistachios.
Throughout our meal, I'm struck by the fact that rather than eighties hair metal or vintage hip hop (two ubiquitous genres in Toronto restaurants lately), a series of string quartets by Haydn has been playing. It's something of an unexpected choice for a restaurant in this neighbourhood with a young chef and a hip clientele. It's so out of the ordinary, in fact, that it makes these 17th-century musical compositions seem almost rebellious. Chef Gentile, too, despite his spotless, carefully tailored chef jacket and cordial manners, has something of the rebel about him. From the corner of one perfectly turned sleeve, a swirl of ink peeks out. It's a tattoo—one of several the chef admits to. "I've got a yin-yang on my back, a big phoenix on this arm, and a knife wrapped in grapevines here," he says. "On my leg I've got a pin-up girl holding a pig's heart."
"What about the one on your forearm?" I ask. In cursive script, it reads Now is all we have. "That's something I try to live by," he says. "I'm a firm believer in being in the moment, and this reminds me to get on it now. Not tomorrow. Nothing to do with the past. Now's the time. I feel like every day's a new day, and there's no time for me not to be productive. That's the way I try to push myself and that's the way I see life."