Interior Designer Trip Haenisch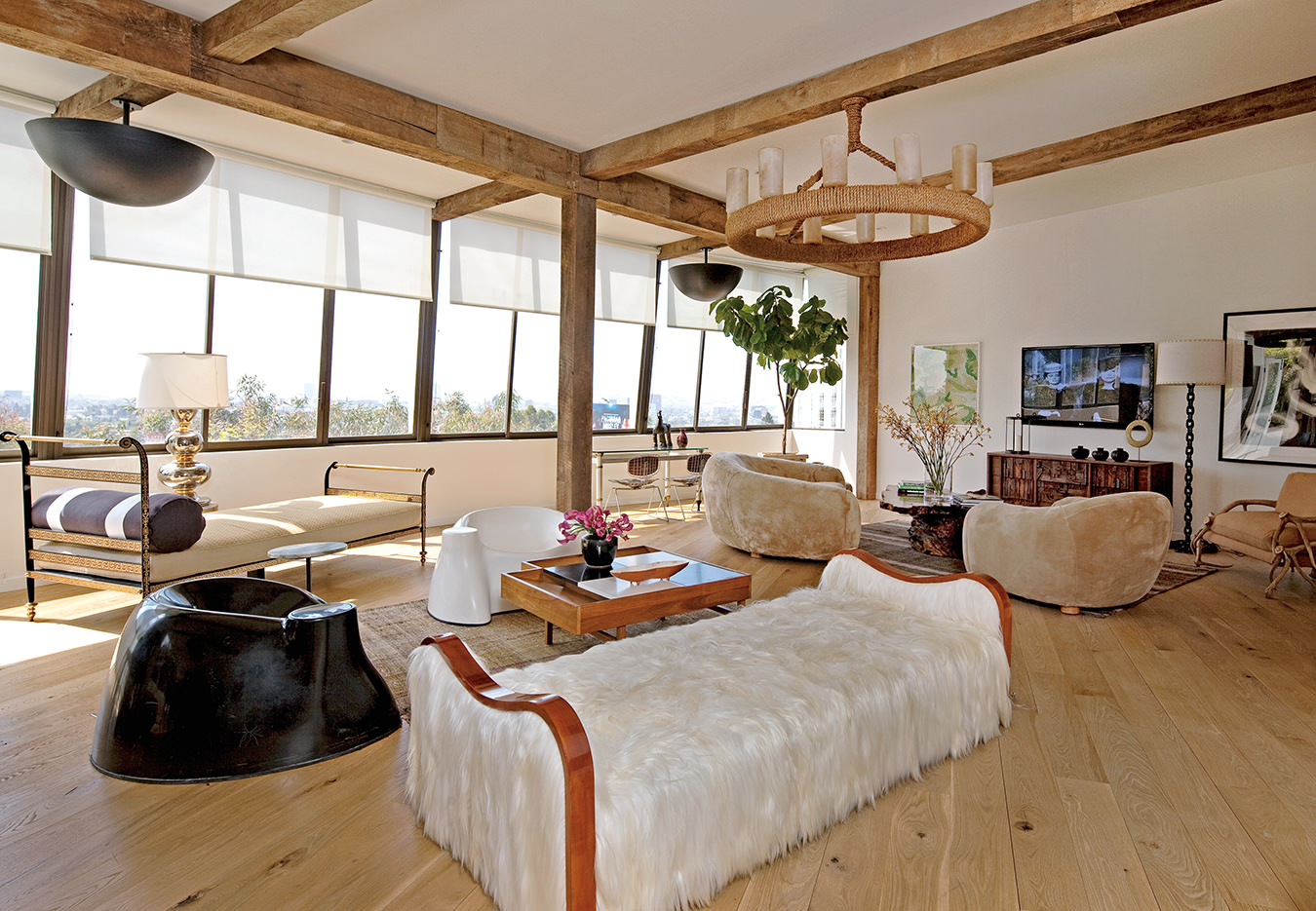 At the age of 23, Trip Haenisch packed his wardrobe in the back of his black Mazda RX-7, strapped his television set into the passenger seat, and set his compass for Los Angeles. He pulled out of his parents' driveway and never looked back. He hadn't the slightest inkling he would one day become one of the most revered interior designers in L.A., with a client list that any Hollywood agent would kill for. He just knew he wanted to get out of Kansas City. "I only knew one person in Los Angeles, who let me sleep on his floor for a while," Haenisch recalls. "I would never do it now, but sometimes if something doesn't feel right, you have to take the chance."
Haenisch has risen from the floor of a friend's apartment by the beach to a plush mid-century modern home in Beverly Hills complete with a 1981 Tawaraya boxing ring bed designed by Japanese architect Masanori Umeda, a piece that has become synonymous with the Memphis Design Group. The fabled bed, which currently resides in Haenisch's 19-year-old son's room, can fetch six figures at auction. But he isn't about price tags or pretense by any measure; Haenisch is into working hard and having fun. And fun certainly isn't hard to come by at the Haenisch household; beyond the boxing ring bed, a lifeguard chair soaring over two metres into the air sits in the backyard like a soldier between two pine trees. "My home is a bit of an adult playground," says Haenisch. "I go a little crazy in my own space because I usually don't get permission to in my clients' homes."
Success in the interior design world didn't come beckoning the instant Haenisch arrived in California. Before he became celebrated for the "organic modern" look he has masterfully cultivated in bedrooms, bathrooms, and breakfast nooks, he worked for Barry Manilow. Shortly after moving to California, Haenisch went on the road, touring Canada from Vancouver to Toronto selling "Copacabana" tees at the Manilow merchandise table. But with a business major in tow and an inherent sense for aesthetics, the interior design world soon became an unstoppable force in Haenisch's life. "Even before I was a decorator, I was always an observer, and found great interest in how spaces made people feel," he says.
Haenisch owes his informal interior design education to observing his ex-partner Waldo Fernandez, one of Beverly Hills' veteran designers, with whom he shares their son. For close to 20 years, Haenisch learned from exposure. "I'd go to antique stores and see a pile of what looked like trash, but Waldo would see a lamp, dust it off, clean it up, and put a light in it. Then I'd see it in someone's home. I became a student by watching," he says.
"I can make a room pretty, but I like to go beyond that," Haenisch says. He takes pride in describing his aesthetic as "collected" versus "decorated".
When the couple split up, Haenisch started to veer away from the subdued style and neutral palettes he remembers living in with Fernandez. "I started using colour simply because it made me really happy." Like a well-composed dish at a chic L.A. comfort food restaurant, Haenisch's rooms are relaxing yet are packed with taste; they are often composed of organic materials and local flavour, and sprinkled with pops of colour and whimsy. When you cross the threshold into a Haenisch-designed room, in an instant you picture yourself living there. A high quotient of livability and excitement is what strings together many of his clients' homes. He uses colour to anchor a room, with cerulean blue wallpaper in a white bathroom or a monochromatic deep plum slipper chair in the corner of a living room surrounded by tans and beiges. Bursts of colour anchored by natural tones might be Haenisch's signature, but he is all about the needs of his clients. While most decorators might tell you their dream job is having free rein, Haenisch enjoys clients who get into the process with him. "It's their house, I want to know how they want to live. I want to create something that's personal to them," he says.
Haenisch has worked for big names, including Hank Azaria and Courteney Cox, but he also makes room for clients that aren't as bankable. "When you give people a space that they're proud of, it feels great to me. I'm glad to be part of that," Haenisch says with an honest smile. No matter the budget or the name, he often finds himself befriending his clients and learning as much from them as they do from him. One of his most recent clients renewed Haenisch's daily sense of gratitude for his life as he observed them in their home holding hands before meals and saying what they are thankful for each day.
In an industry famous for materialism and excess, Haenisch has a surprisingly grounded world view. "I know so many people who are miserable even though they're surrounded by yachts and beautiful vistas," Haenisch says as he recalls being at a fanciful celebrity wedding in Capri a few years ago. "It's just stuff, and it can all be replaced, and if the house burns down, I can find more stuff. It's more about people and relationships than anything else."
Seeing the positive in tricky situations is what elevates an interior designer from good to great. When an object is unaffordable or unfindable, Haensich is quick to remind his clients that there is no right or wrong, no single answer, but that there are piles and piles of right answers. And if an item only exists in Haensich's head, he'll design it himself. "I go to sleep visualizing rooms and juxtapositions in my head," he says. From large-scale brass pendant lamps to concrete-and-oak benches, his own designs straddle both the laid-back and the glamorous traits that polarize and define his adopted city. When Haenisch isn't filling a room with his own creations, he's shopping everywhere from antique stores on the coast of Maine to online auctions across the Atlantic. "The Internet has made the design world so small and accessible," Haenisch says as he steps around four rusty white Bertoia chairs crowding his West Hollywood office.
Designing and shopping like a pro is part of the gig, but Haenisch sets himself apart with his off-the-beaten-path methods for finding pieces for his clients. He takes great pride in describing his aesthetic as "collected" versus "decorated". "I can make a room pretty, but I like to go beyond that," Haenisch says. Oftentimes he will begin by shopping at a showroom such as the Los Angeles International Design Center, but then he incorporates finds from antique stores, flea markets, or auctions, which in turn creates a room that looks less out of the box and more like a journey. "I really enjoy the twists and turns each room can take," he says. A Haenisch interior often looks as if it has been the benefactor of decades of collecting, not months of decorating.
Being at the top of the interior design world demands being not only versed in the vast furniture world, but also in fine art. In that regard, Haenisch has his finger squarely on the pulse of the contemporary photography market with an arsenal of knowledge that ranges from the legends, such as his friend the late Herb Ritts, to up-and-comers like Arkansas-based Michael Schultz, who creates oversized colour photographs that Haenisch describes as "mind-blowing". Photography is clearly one of Haenisch's passions, and an element that often punctuates his interiors. The other visual element closely tied to the designer is a mixture of textures. Seagrass rugs, rough-hewn planks, and mesh-backed Eames Management chairs can all live harmoniously in a Trip Haenisch interior. "I don't like things that are too slick," he said
Haenisch describes himself as someone who likes to take risks with his work—certainly a point that doesn't need much convincing, from the man who decided to drive straight through from Kansas City to Los Angeles some 30 years ago. His clients would agree, too, it was certainly a trip worth taking.
Top photo by Tim Street-Porter.