Hong Kong's hottest Michelin man.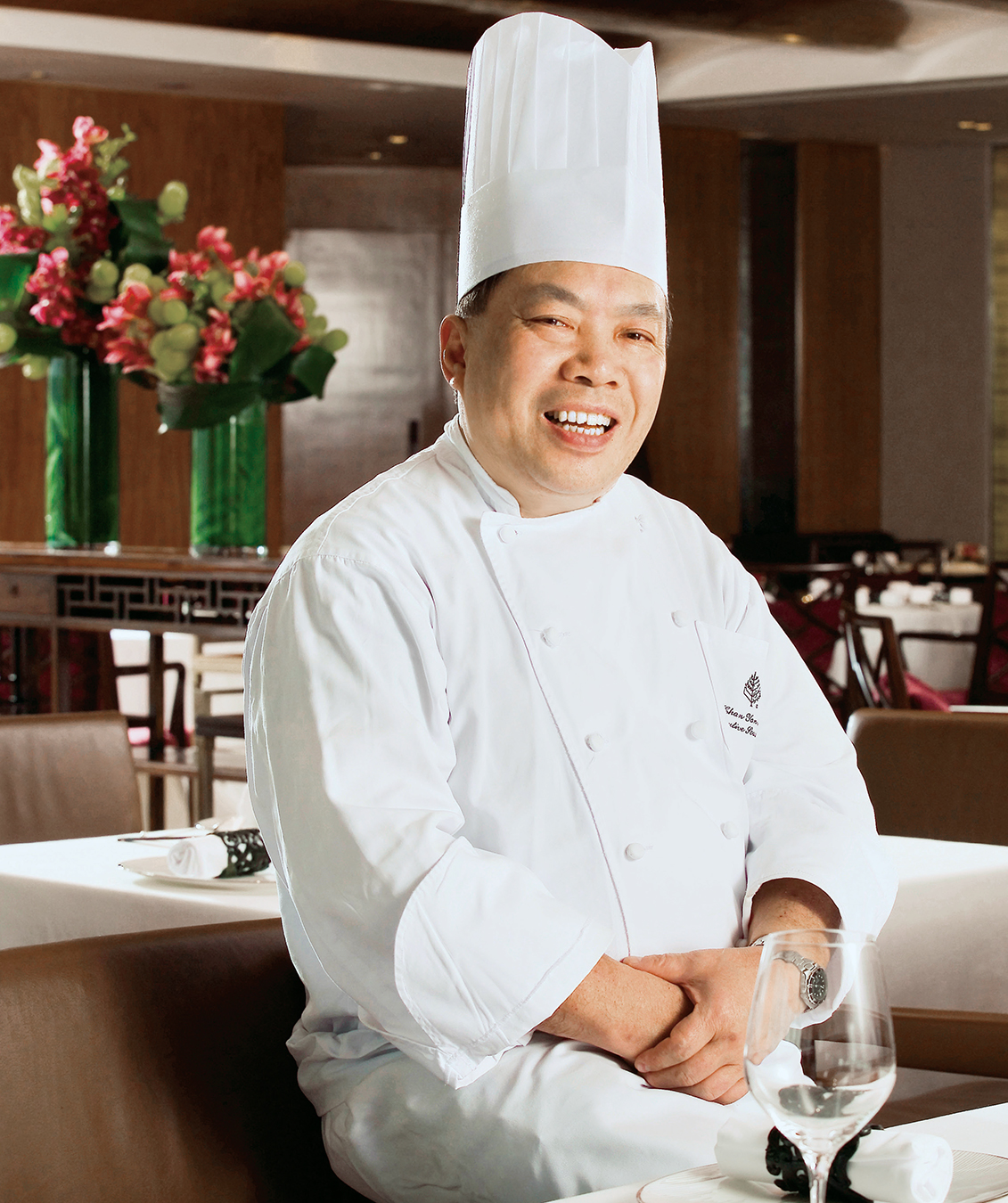 Chef Chan Yan Tak, executive chef of Lung King Heen, the celebrated Chinese restaurant at the Four Seasons Hotel Hong Kong, is a man of few words.
The first Chinese-food chef anywhere to be awarded three Michelin stars (which occurred last December when Michelin issued its first directory of restaurants in Hong Kong and Macau) and the recipient of the highest rating for food in Zagat Survey's first-ever Hong Kong guide (also published last year), chef Chan downplays his honours. He seems far more intent on creating innovative, elegant cuisine.
Responding to a congratulatory greeting from a recent overseas guest at Lung King Heen, a dark-wood-panelled and silver-leaf-ceilinged aerie in Hong Kong's Central District, chef Chan brushes the kudos aside, urging his visitor to eat rather than chat. The food, he says, "is not good cold—it's better to eat it hot."
Jean-Luc Naret, director of Michelin Guide, recalls chef Chan's reaction when he called to tell him he had been awarded three stars. "He was very humble, very loyal to the company. He couldn't understand the impact the three stars would have," Naret says.
Such modesty and humility are not surprising, given the chef's 35-year-plus career in restaurants in Hong Kong, an Asian capital famous for its galaxy of dining options.
As a teenager, Chan (who admits today only to being "50-something") became a kitchen hand in a local restaurant where, at his young age, he was not allowed to use a knife, but instead did chores like washing vegetables and plucking poultry.
Chan eventually worked his way up and joined the kitchen staff at Fook Lam Moon, a family-owned Cantonese restaurant in Wanchai. (It received one star in the new Michelin Guide.) In 1984 Chan joined the team that opened what was then Lai Ching Heen, the formal Cantonese restaurant at the Regent Hotel in Tsim Sha Tsui. (The hotel is now managed by InterContinental, and while the restaurant still serves Cantonese cuisine, it is now called Yan Toh Heen.) He worked there for 16 years, helping it win pre-Michelin and pre-Zagat honours, including coming in third two consecutive times on the International Herald Tribune's annual list of the world's 10 best restaurants.
Chef Chan's cooking career came to a halt abruptly in 2000 when his wife unexpectedly died, as there was no one to look after his teenage daughter.
Serendipitously, he was approached several years later by the Four Seasons Hotel Hong Kong for advice about opening Lung King Heen (which means "view of the dragon" in Cantonese). "He came on a consulting basis originally, but I talked him into taking more of an official role," says William Mackay, general manager of the hotel.
As is true of most of what happens in life, timing was everything. The chef's daughter was about to enter college in Great Britain, which freed him up to once more don his white uniform and toque and lead the restaurant's team of 24 Chinese chefs.
Chef Chan's strength lies in his eminent ability to combine ingredients, flavours, and cooking techniques of the East and West in a style that is uniquely his own.
Asked what he likes best about his job, Chan laughs and says, "I enjoy every part of it. I love the team, we are like brothers."
The meticulously clean kitchen is divided into different sections, with chefs washing and chopping vegetables; creating the restaurant's stock, which combines chicken, Yunnan ham, and pork, and is used to boil vegetables and make sauces; and preparing dim sum, which are cooked to order and, if they are steamed, are shown to guests in pretty bamboo baskets. The pièce de résistance for dipping dim sum: chef Chan's custom-made XO sauces, his own versions of the spicy Asian sauce named after brandy grading terminology. (XO is an abbreviation for extra old.) One of his sauces combines ham, dried shrimp and scallops, garlic, lemongrass, chili, and other seasonings, while another is a mix of tofu, soybeans, and other secret ingredients that make it, according to Four Seasons, the only vegetarian XO sauce in Hong Kong.
Pride of place in the kitchen is reserved for chef Chan's fish tank, located directly inside the entrance. Swimming around in the tank are Pacific and tiger garoupa and lobsters, all caught in Malaysia's South China Sea; fresh fish and seafood are delivered daily to the restaurant. The menu changes with the seasons to reflect the chef's commitment to serving only the finest, freshest ingredients.
Chef Chan admits one of his favourite dishes on Lung King Heen's menu is steamed fish. "It doesn't matter what kind—its freshness is the most important factor," he says.
Among the dishes recently on the menu that showcase Chan's ability to coax out seafood's pristine flavours are two star garoupa specialties: one features a seared fillet in soy sauce, the other a steamed fillet served with mung beans that have been chopped and deep-fried until they are flaky. The crispy scallops with fresh pear—a dish featuring deep-fried scallops and coin-shaped slices of pear that was originally created for Lai Ching Heen—exemplifies his ability to combine ingredients, flavours, and cooking techniques of the East and West in a style that is uniquely his own. His steamed goose liver flavoured with abalone sauce also combines Oriental and Occidental influences.
Chef Chan's desserts are equally inventive. The mango pudding topped with a sweet soup of puréed mango, tapioca, and shredded pomelo is notable. And the chef's pastries and petits fours—such as the tiny puff pastry painstakingly formed by hand to resemble a walnut shell, then stuffed with a crunchy filling of caramelized walnuts, or a shimmering cube of amber-coloured jelly of osmanthus (a flower) flecked with tiny bits of goji berry—are miniature works of art.
Ever curious and eager to hone his skills, chef Chan scours Hong Kong bookshops for cookbooks by his equally illustrious counterparts, to study their use of ingredients, and he often visits local restaurants.
"I always go out to try new food, go to restaurants that have been recommended and not recommended," he says. "When someone says a menu is rubbish, I go try it. I want to know why they made a mistake, so I can avoid the same mistake."
Reflecting on his Michelin stars, he admits that at first "it made me feel very proud, happy, excited. Afterwards, I didn't want to put pressure on myself or the team, because pressure makes everyone nervous and they make a mistake. I don't want this kind of thing happening in my kitchen."
If Michelin and Zagat are right, such mistakes are not likely.