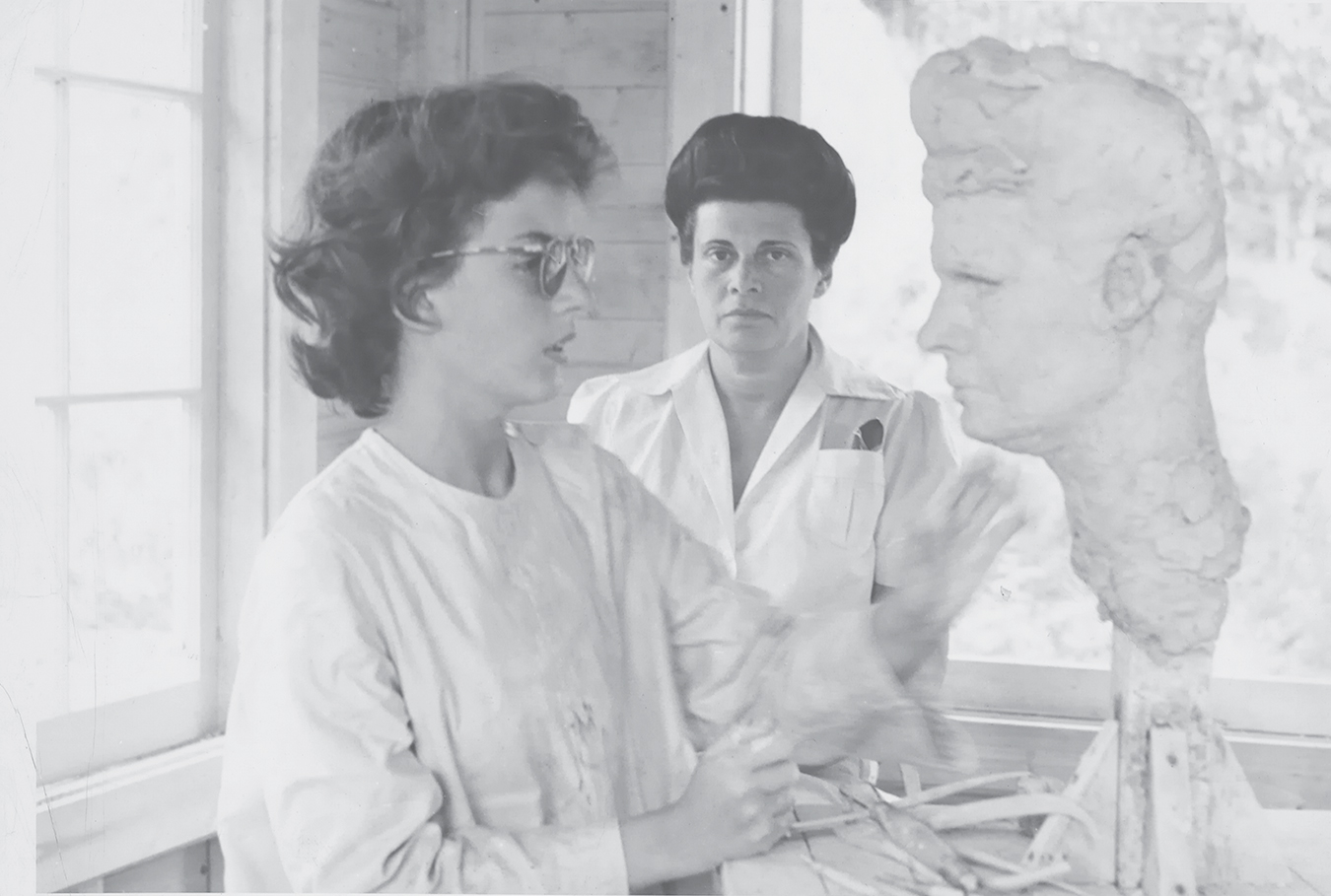 "I'm like the Queen now," jokes Phyllis Lambert. "I have a real birthday and an official birthday."
Lambert, who quietly turned 80 this past January, celebrated the occasion much more loudly and publicly six months later at the Canadian Centre for Architecture, the remarkable institution she founded in Montreal in 1979. The CCA, her legacy to Quebec, Canada and the world, is a unique facility dedicated to the notion that architecture is not just for architects, but rather belongs to all.
There is nothing else anywhere that resembles the CCA. Yes, there are architectural museums and, of course, plenty of schools, but the combination of the scholarly and the curatorial puts the Centre in a league of its own. Much like its founder, the CCA is ultimately about more than architecture; it addresses the nature of humanity's relationship to the environments we create for ourselves.
Though Lambert is herself an architect, aside from the CCA, she's best known as a pioneering urbanist who helped save Montreal from itself, and the daughter who persuaded her father, legendary Seagram Company founder Samuel Bronfman, to hire another legend, modernist form-giver Ludwig Mies van der Rohe, to design the Seagram Building in Manhattan. With that one act, Lambert changed the face of New York City and architecture forever.
One of Canada's pre-eminent octogenarians, she still shows up at her office daily, despite her age. Although she handed over the reins of the organization some time ago, Lambert remains active and engaged. She couldn't do otherwise. "I'm still the chair of the board," she explains. "But Mirko [Zardini] runs the show. We talk. I'm interested. He's interested."
But as much as ever, it seems Lambert is fuelled by rage—over how we deal with our cities, the buildings we design and the architectural heritage we have wrecked.
"This stupid country," she says in exasperation. "The United States is even worse. And China! It's like North America after the war, busy destroying its history." But on the other hand, Lambert admits, "The quality of architecture definitely improved after World War II. We went through a period when everyone was producing copies of Mies's work, and then we went through postmodernism. The long period of economic hardship that followed was good because it helped us get rid of all those bad designers."
Well, maybe not quite all. But the recession also helped stop the destruction of vast numbers of fine old buildings. Though she rails against the developers who, aided and abetted by politicians, tore down so much of Montreal's past, a lot remains, partially due to the downturn that hit Quebec after the advent of the FLQ and the ascendancy of separatism in the sixties and seventies. When other Canadian cities were fast razing their historic centres, Montreal's was ignored. Three decades later, blocks and blocks of 19th-century limestone buildings have been revived and reused.
"Mies van der Rohe was someone who could build complexes. The thing about his work is that it's not a building—it's an environment. No one understood as well as he did that it's about public and private space."
When Lambert set out in the 1980s to construct a building for the CCA, she situated it on property she bought in order to save the impressive Shaughnessy House from being demolished. Eventually, fully restored, it became part of the complex.
"Everything was going downhill," she says of Montreal 30 or 40 years ago. "So we got together and worked out a plan. We needed to find a way of mediating things. You have to make a lot of noise, and I make a lot of noise."
Indeed, that's something at which Lambert excels. As a child growing up Jewish among the WASP elite of Westmount, she was considered headstrong and wilful, even a tomboy. As she makes clear, hers was not a happy childhood. Though her father had amassed an enormous fortune, she found family life "a prison". She remembers dinners at which the talk was all about money and business, subjects that couldn't have interested her less.
By the time she was nine or 10, the young Phyllis had decided she wanted to be an artist. She drew and painted continually, but her heart was set on sculpture. In time, she headed to Paris to study art. "I was a sculptor when I was a little girl," she says. "I wanted to go to Cranbrook, but went to Vassar [College] instead. In the forties, before my father decided to build a building in New York, I was at an arts conference where I was asked to be head of the art committee. A member of the committee had the idea for doing a show of art and architecture. That's when I started to get interested in architecture. When my father said he wanted to do a building, I started to take courses in architecture. He proposed a building that was absolutely obnoxious. So I wrote my father a long letter—I was in Paris by then—and he suggested I come back and help choose the marble," says Lambert.
"After that, I became the person to choose the architect. I realized that if I didn't stick around, the building wouldn't get built. So I basically became the client for the Seagram Building. It was a marvellous experience."
Lambert's pleasure is evident even 50 years after the seminal 38-storey tower was completed. Though Mies's functionalist aesthetic was more theory than reality—the I-beams that extend vertically up the building serve no structural purpose—the Park Avenue skyscraper set the tone for decades of corporate modernism. By the time Mies died in 1969, he had produced similar projects in cities around the world, including the Toronto-Dominion Centre in Toronto (for which he was again recommended by Lambert), Westmount Square in Montreal and the IBM Plaza in Chicago.
"For me," Lambert explains, "Mies was someone who could build complexes. The thing about his work is that it's not a building—it's an environment. No one understood as well as he did that it's about public and private space."
But the International Style pioneered by Mies would quickly evolve into architectural orthodoxy, verging on the messianic, that brooked no criticism. "It became a school," Lambert says. "People stopped thinking. They said, 'This is the way you do things.'" The reaction was postmodernism, a "cleansing period" during which the pendulum swung to the opposite extreme.
The Canadian Centre for Architecture, Lambert's legacy to Quebec, Canada and the world, is a unique facility dedicated to the notion that architecture is not just for architects, but rather belongs to all. "Architecture is ideas," Lambert argues, "ideas and education."
Where does that leave us today? According to Lambert, "We're in a hugely interesting time. We're finally paying attention to the city, and we're thinking about how one building relates to another. Even New York is finally starting to do really interesting things again."
Nevertheless, she remains deeply skeptical about the advent of the "starchitects", those globe-trotting practitioners whose work appears in city after city, instantly recognizable and always hyped. It seems that no community in the world is immune, except perhaps Montreal. Not surprisingly, this is something that gives Lambert much hope for her hometown.
"It's the Bilbao effect," she says dismissively, referring to the famous Guggenheim Museum designed by Frank Gehry in that small Spanish city on the Atlantic Coast. The building, which opened in 1997, is widely credited with having put Bilbao on the map. The results have been dramatic: literally billions of dollars have been spent in a community that virtually no one had heard of before, and tourists now show up in droves. Since then, Gehry has gone on to design buildings in dozens of cities; even Toronto hired its native son (Gehry was born in Toronto but moved to California in 1947 at the age of 18) to redo the Art Gallery of Ontario. The $254-million addition is not as grand as some of the architect's projects, but it has already generated considerable controversy even though it doesn't open until 2008. Lambert considers Gehry seriously overrated.
Then there's New York-based Daniel Libeskind; Lambert calls his Jewish Museum in Berlin "appalling". Though she has yet to visit his Michael Lee-Chin Crystal at the Royal Ontario Museum, she is adamant: "I don't think I would like it. I don't know why the ROM would get Libeskind—he has done so very little. It's all about ego. I think it's crazy."
So whom does Lambert admire? Well, let's start with Dutch architect Rem Koolhaas. "He's just fantastic," she says, the sternness of her voice modulating into something altogether more positive. "Gehry should be so good. Rem has a remarkable ability to gather and use data." Certainly in a building such as the Seattle Central Library, which opened in 2004, Koolhaas has proved himself a master of mixing utility with integrity. This brilliant structure has redefined our understanding of library architecture, transforming it into a space that is at once fully accessible and usable, but also dignified and urban.
Also high on Lambert's list is American architect Peter Eisenman, probably better known as a theorist and writer than a practitioner. But as far as the best Canadian architect? Lambert answers with one word: "Arthur."
She's referring, of course, to Arthur Erickson of Vancouver. His credits include the Vancouver Art Gallery and neighbouring Robson Square, the Museum of Anthropology at the University of British Columbia, the Canadian Embassy in Washington and the stunning Museum of Glass in Tacoma. "Arthur, and only Arthur. He's a world-class architect, and endlessly inventive. He's amazing," she says.
"Architecture is ideas," Lambert argues, "ideas and education." This, of course, is the basis of the CCA. Although it was founded in 1979, the Centre's facilities weren't built until 1989. Designed by Montreal architect Peter Rose, this exquisite structure manages to pay homage to the city's heritage, but without slavishly imitating it. The façades are made of the grey limestone found throughout Montreal. The classical influence is evident, but the lines are clean, crisp and decidedly modern.
We spend most of our lives in buildings that were designed by someone or other. And yet we have precious little input into that world we inhabit.
More important, however, is what goes on inside the building. Lambert conceived the CCA as a place of scholarship, but also one of discussion. The exhibitions range from the architecture of Disney theme parks to a survey of architectural toys organized by Vancouver-based novelist and artist Douglas Coupland.
In less than 30 years, the CCA has emerged as a world centre for the study of architecture. In the immediate context of Montreal, Lambert's creation has inspired much debate about the city, its architecture, and the preservation of urban heritage.
In the broader perspective, it has had the effect of raising public consciousness about the ubiquity and significance, individual and communal, of architecture. After all, we spend most of our lives in buildings that were designed by someone or other. And yet we have precious little input into the world we inhabit. The CCA demands that we educate ourselves, and in doing so prepare to play a larger role in the big public discussion about the quality of the built environment.
"Nobody knew what an architectural museum was when we started," Lambert recalls. "But since then, we have effected a lot of change. We have played a role in Canada and internationally. We ask questions about the time and place in which we live."
Despite all the mistakes we have made, Lambert is adamant that she's an optimist. For example, she points out, when she built the CCA there were very few landscape architects in Montreal, or Canada. Since then, she says, they have risen to the forefront. "These things take time. It's part of our new interest in cities."
Few people enjoy the enormous wealth of a Phyllis Lambert, but even fewer use it as wisely. Not only did she acquire much of the CCA's collection, she bankrolled the building itself, for which no expense was spared.
A small but extremely telling detail is an object included in the 80th-birthday exhibit the CCA curators organized in Lambert's honour. It is item 0001, the first piece catalogued in the Centre's vast collection, a marvellous sketch from the workshop of the great 18th-century Italian artist/architect Piranesi; it's surpassingly beautiful. Lambert bought it in 1955, more than half a century ago.
As much as anything, the tiny, perfect drawing is a monument to Lambert's abiding commitment to architecture. It began as instinct, but as she says, "After a while, instinct's not enough." Though she studied architecture formally, at Yale and the Illinois Institute of Architecture, and won a 1970 Massey Medal from the Royal Architectural Institute of Canada for the Saidye Bronfman Centre in Montreal, her real contribution has been to global architectural culture. Through the CCA and its extraordinary collection and exhibition program, she has brought architecture to a larger audience. In this way, she has helped make the world a better place—and, indeed, our places a better world.
Direction: Sandra Zarkovic. Styling: Phyllis Lambert's own. Production Assistant: Julie Cusson. Location: Canadian Centre for Architecture.