International Contemporary Furniture Fair
Highlights from NYCxDesign.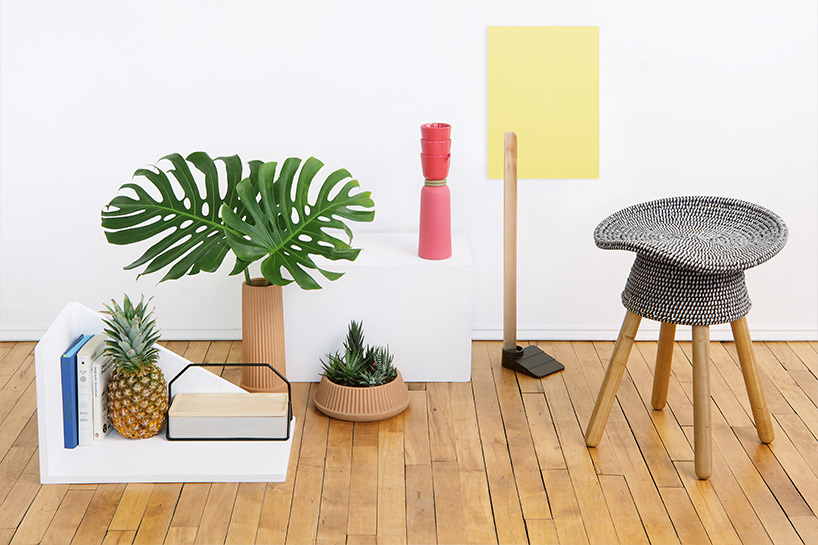 The International Contemporary Furniture Fair (ICFF) is held every spring during NYCxDesign (New York's design week). It's a dizzying spectacle that draws almost 30,000 visitors. There are over 600 exhibitors from nearly 40 countries, spread over 15,000 square metres of Manhattan's Jacob K. Javits Convention Center. Even at a brisk clip, it takes hours just to stroll by—let alone absorb—the myriad (and gorgeous) chairs, rugs, light fixtures, tiles, tubs, and more. After sitting on, treading over, and just plain admiring the collections all weekend, here are six highlights.
Umbra is well known for its cheerful housewares. This year at ICFF, the Toronto-based company unveiled a decidedly higher-end line, done in collaboration with emerging design stars like Vancouver's Lukas Peet and Montreal-born, London-based Philippe Malouin. The collection is called Umbra Shift, and features well-made, ingenious housewares: a folding chair that converts into a coat hanger, for example, or a storage caddy that doubles as an iPad stand.
In the past few years, area rugs have gone from being basic floor coverings to serious artistic statements (and, in the process, have elevated the floor to the status of the "fifth wall"). Germany's Jan Kath designs tapestries that pay tribute to Europe's textile history. He starts with patterns that play off baroque, ornate looks, adding abstract details and vivid hues. Designs are digitally rendered and then hand-knotted to blend the classic with the contemporary.
After taking in countless, colour-filled booths, the achromatic set-up of Taiwanese studio Haoshi—which is Chinese for "good things"—was refreshing. The standout among the pieces was the Swallow clock, a surreal arrangement of 12 white resin birds arranged as if flying in formation around the second, minute, and hour hands.
Often, simple is the hardest thing to do well. Hawaii-born, Brooklyn-based designer Syrette Lew (who runs the studio Moving Mountains) pares her pieces down with aplomb. The lines are subtle, but her proportions, materials, and colours make them shine. Her seven-foot A-Frame mirror is particularly charming. The triangular frame gives a space a sense of dynamism, and the large reflective surface adds depth.
Standing desks have been a big buzz for years now, ever since companies like Facebook and Google started offering them to employees. But usually, height-adjustable work surfaces are more functional than fabulous. Germany's Stilvoll makes a version—the Crescendo C2 Maximus—that works on both an aesthetic and an ergonomic level. The top slides open to reveal hidden storage compartments and a tilting work surface. The rosewood version has a grain that's almost too pretty to work on.
Finally, ICFF features design contingents from countries like England, Brazil, and the Philippines. With respect to all those countries, the one that caught our eye the most was the Inside Norway pavilion. Beautiful throws and elegant wooden trays were among the highlights, but the most covetable piece was a vintage lounge chair by Fredrik Kayser. It's may be just a well-weathered, leather sling in a simple wood frame, but after several long days of walking (and walking and walking and walking), that soft-looking seat was calling our name.