Chalet in Oka by Paul Bernier Architecte
The work of architecture firm Paul Bernier Architecte can be described as thin—not in a pejorative way or as lacking conceptual depth. No, there is a fineness, a delicacy, to the Montreal-based studio's work that can be seen in the thin columns and the gently screening wood of the Chalet in Oka.
Oka, a small town on the Lac des Deux Montagnes, a widening of the Ottawa River west of Montreal, is most famous for its cheese and the armed confrontation between the government and the local Mohawk over a golf course expansion in 1990. During the summer, the lake is a popular recreational area, and this home, right on the water, had to be made taking into account the 100-year flood line, a set back that led the architects to choose the peculiar, almost gyroscopic, profile.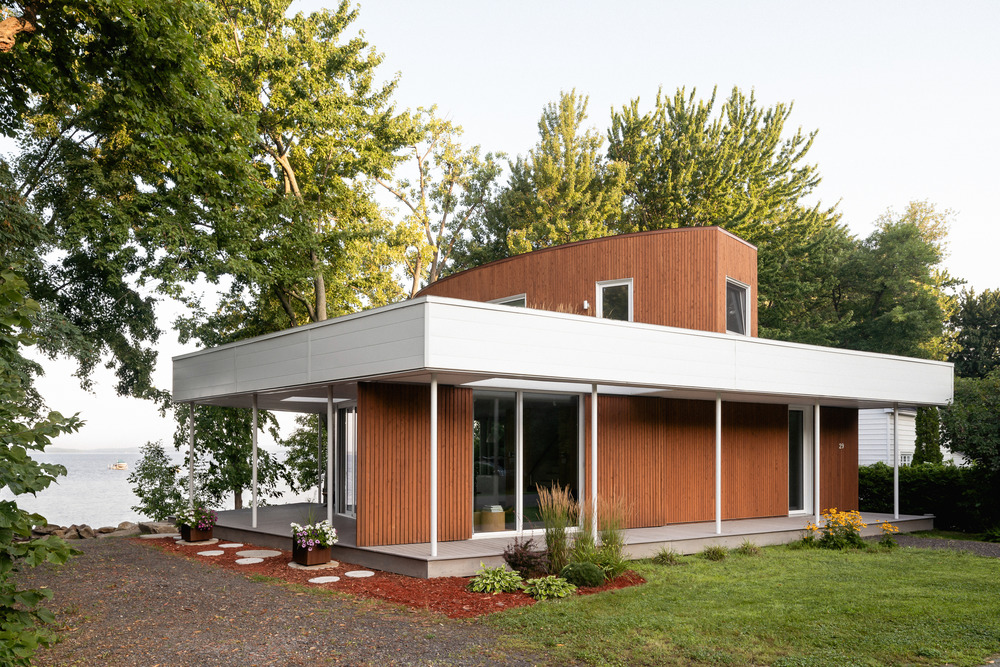 Built to reflect the owners' passion for sailing and the outdoors, the home's wood exterior and the white protective roof that cantilevers out over the patio give a lightness, and the reference to boats is solidified by the elliptical master bedroom that sits on top of the ground floor. A  walk-out door from the master suite to a rooftop garden is a beautiful touch to keep the owners connected to the outdoors. Because of this, they have nicknamed the home "Le bateau dans les arbres" (the boat in the trees).
Downstairs, a central staircase slatted in natural oak extends the circular structure. Generous floor-to-ceiling windows at the rear let in light and views of the lake beyond. A thoughtful touch, the street-facing windows are covered by sliding cedar slats so inhabitants can open up or (battening down the hatches) close off the house to the neighbourhood.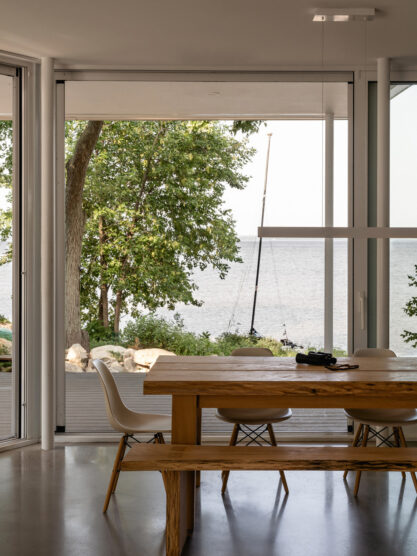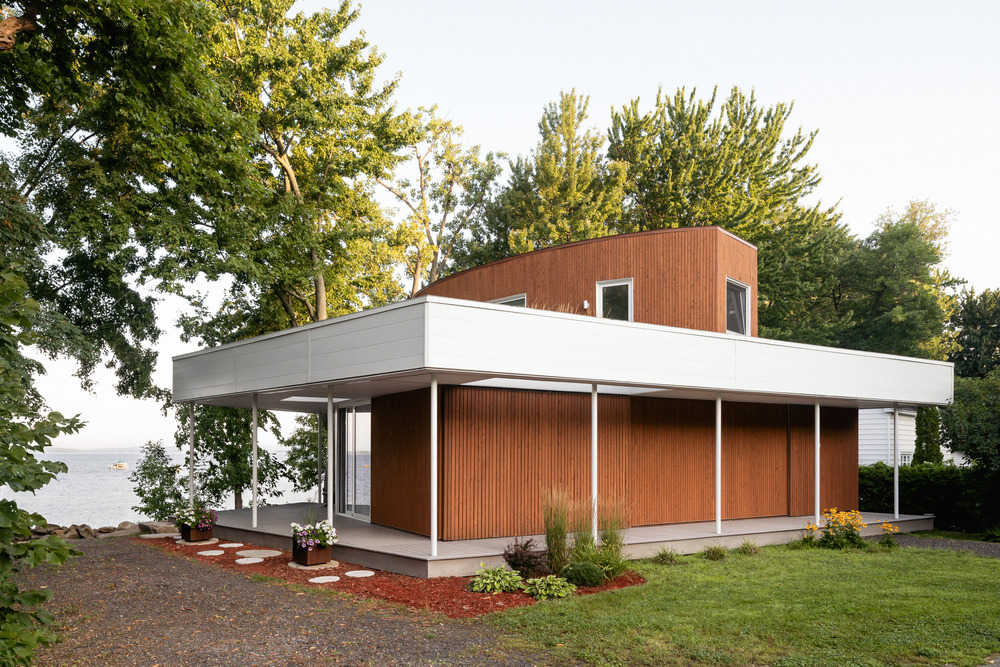 The polished concrete flooring bridges the gap between the beach and cabin aesthetic, and the standalone fireplace, popular in Quebec, stands out from the white walls and ceiling in the living and dining rooms. The kitchen is tucked away between the staircase and the lake-facing wall.
The white veranda that extends from the ceiling, which adds modern flare to the rustic cedar, stretches around the home on two-and-a-half sides, while the "boat" above is cantilevered over the beach side of the house. This ample shade provides shelter in the winter, while skylights placed strategically above admit plenty of sun.
Photography by Raphaël Thibodeau.
—
Part of our Home of the Week series. Read more HERE.