The prestigious address in Barbados.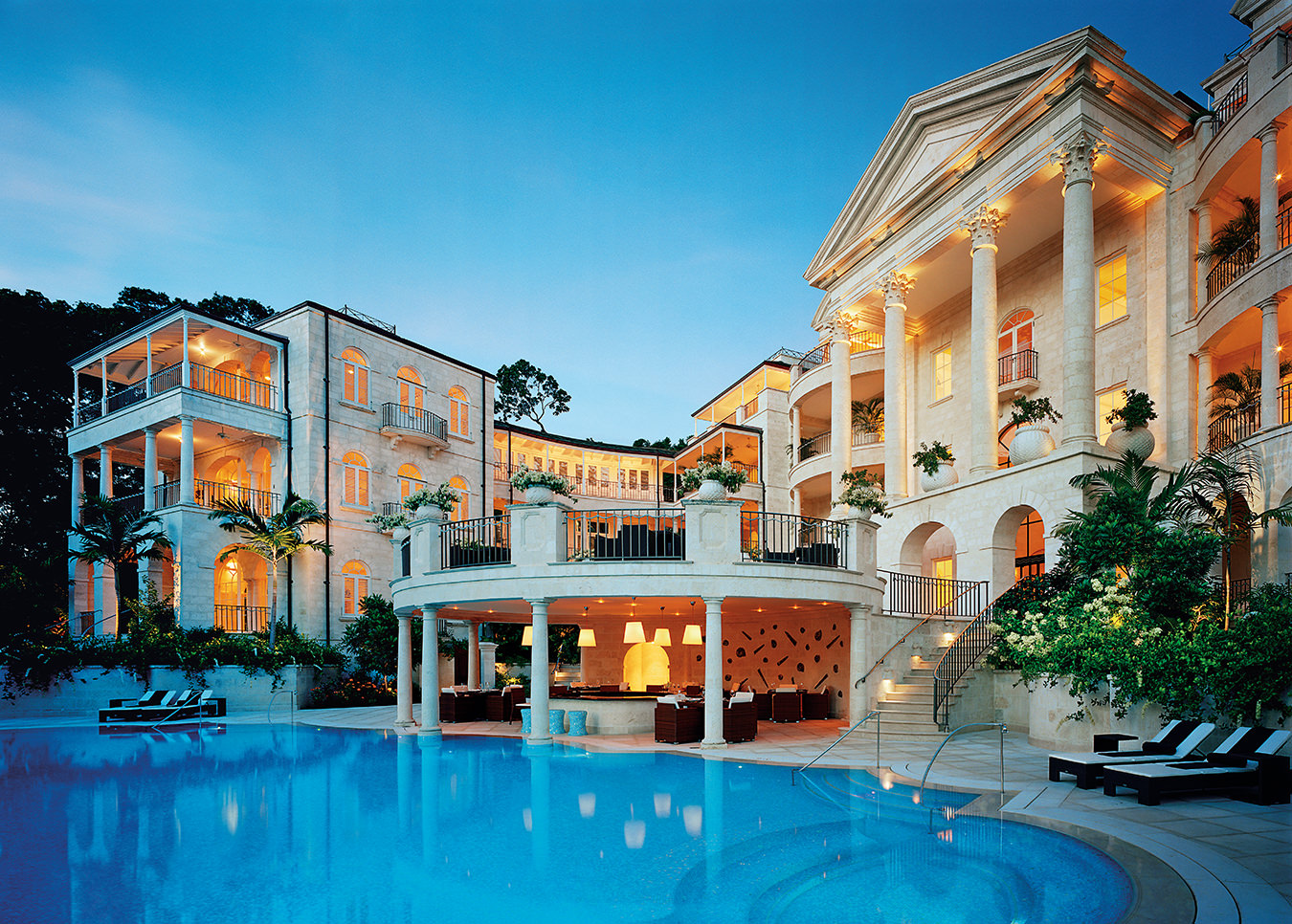 One Sandy Lane in Barbados stands out because of attention to detail and a dedication to the best of everything. But there's more going on here than flash and finery; beneath the sun-drenched surfaces of this extraordinary project exists an intelligence that raises it above the merely bespoke. One Sandy Lane isn't just another pretty architectural face in a world overwhelmed by designerly pulchritude, it's a computerized living space carefully fitted into a landscape that is both public and private.
Occupying a prime location on the west coast of Barbados, One Sandy Lane boasts some of the Caribbean's most spectacular sunset-viewing vistas. The shoreline here is sun and sand, where tourists and locals sail, swim, snorkel, and fly through the air on giant boat-drawn kites. In the midst of all the activity, One Sandy Lane sits tucked away behind a series of exquisite tropical gardens. Alone but never lonely—that's the promise of a project like this. With the ocean on one side and the capital, Bridgetown, down the road (a 15-minute drive), residents of One Sandy Lane can join the crowd or stay away when it threatens to become madding.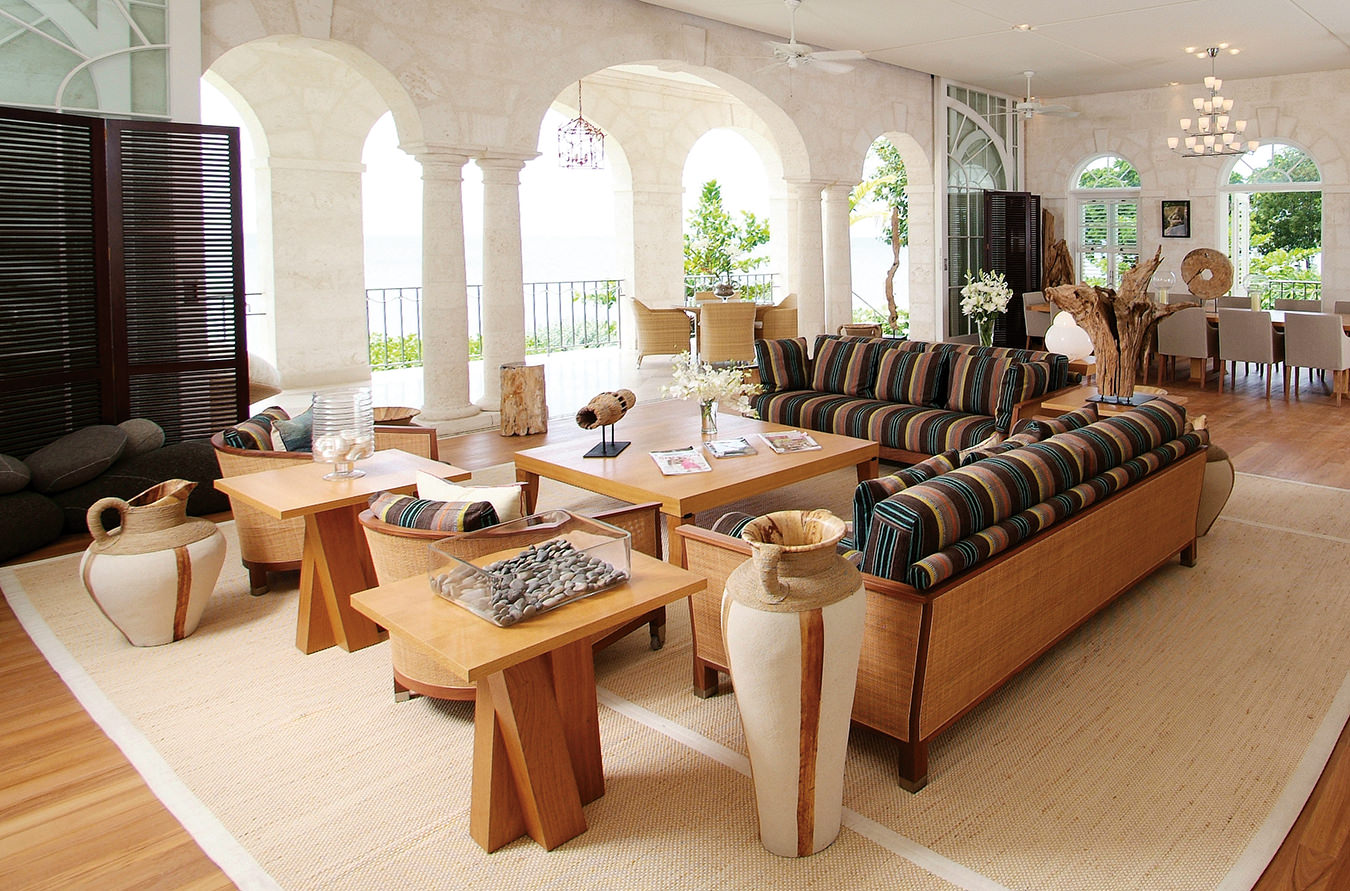 The commitment to excellence has been complete from the start. In the beginning, plans called for as many as 15 living units. That was eventually reduced to eight residences, some as large as 9,500 square feet. Each unit includes five bedrooms, five bathrooms, and plenty of space in between. Even more impressive, however, is the great degree of privacy of the units. One Sandy Lane provides owners with enough room (and amenities) to be as self-contained as anyone could possibly want.
"Each unit is a private residence, not just an apartment," says Barbadian architect Larry Warren, designer of One Sandy Lane and one of Barbados's leading practitioners. "They were designed for maximum privacy but [are] still connected. There are lots of common areas, but they're used by choice. They're not forced upon you."
The floors are made of Italian marble, the walls are plaster, and the exterior is coral stone. Architecturally, the style might best be described as Caribbean classical. By contrast, the interiors are cool and contemporary, if not clearly modernist in spirit. Things feel sophisticated yet comfortable. The quality of the furnishings and fixtures, though obvious, does not distract from appreciating the spaces themselves. Indeed, One Sandy Lane's greatest claim to fame could well be the impressive interiors, and the experience of wandering through these exquisite volumes rendered in glass and stone. As one space flows into another, each room, though separate, feels part of something larger. Because the ceilings are so high—12 to 15 feet—they create an impression of expansiveness and ampleness. At the same time, despite their significant size, the rooms never seem cavernous or overwhelming. The dimensions are generous, but not gratuitously so.
Of course, this is Barbados, one of the most pleasant islands of the West Indies. The weather can be hot, humid, rainy, or suddenly stormy, but generally it's an enviable climate. That's why every unit at One Sandy Lane includes an area that can be opened to the sky. Imagine an enormous balcony, a vast loggia, an indoor/outdoor studio/living room/viewing platform facing the Caribbean Sea. These intentionally intermediate areas happily blur the distinction between indoors and out, without sacrificing one for the other.
One Sandy Lane sits tucked away behind a series of exquisite tropical gardens on the west coast of Barbados. Alone but never lonely—that's the promise of a project like this.
"It was conceived to be a little over the top," admits Warren. "The client wanted a wow factor. It's quite a large building, intended for a luxury clientele. It's also a fairly advanced building for the island."
At the same time, it blends seamlessly with the former British colony's architectural past. The decision to construct One Sandy Lane of locally quarried coral stone gives the complex an obvious connection to its context: physical, cultural, and historical. The heavily textured material, which can be seen throughout the island, contrasts nicely with Warren's choice of architectural language. Though derived from English neoclassicism, with its connotations of symmetry and refinement, One Sandy Lane still accommodates the rougher charms of coral stone. The dialogue and tension, even, between the two animate the building in a profound way. To some, it symbolizes empire and colonialism; to others, cultural adaptability and endurance.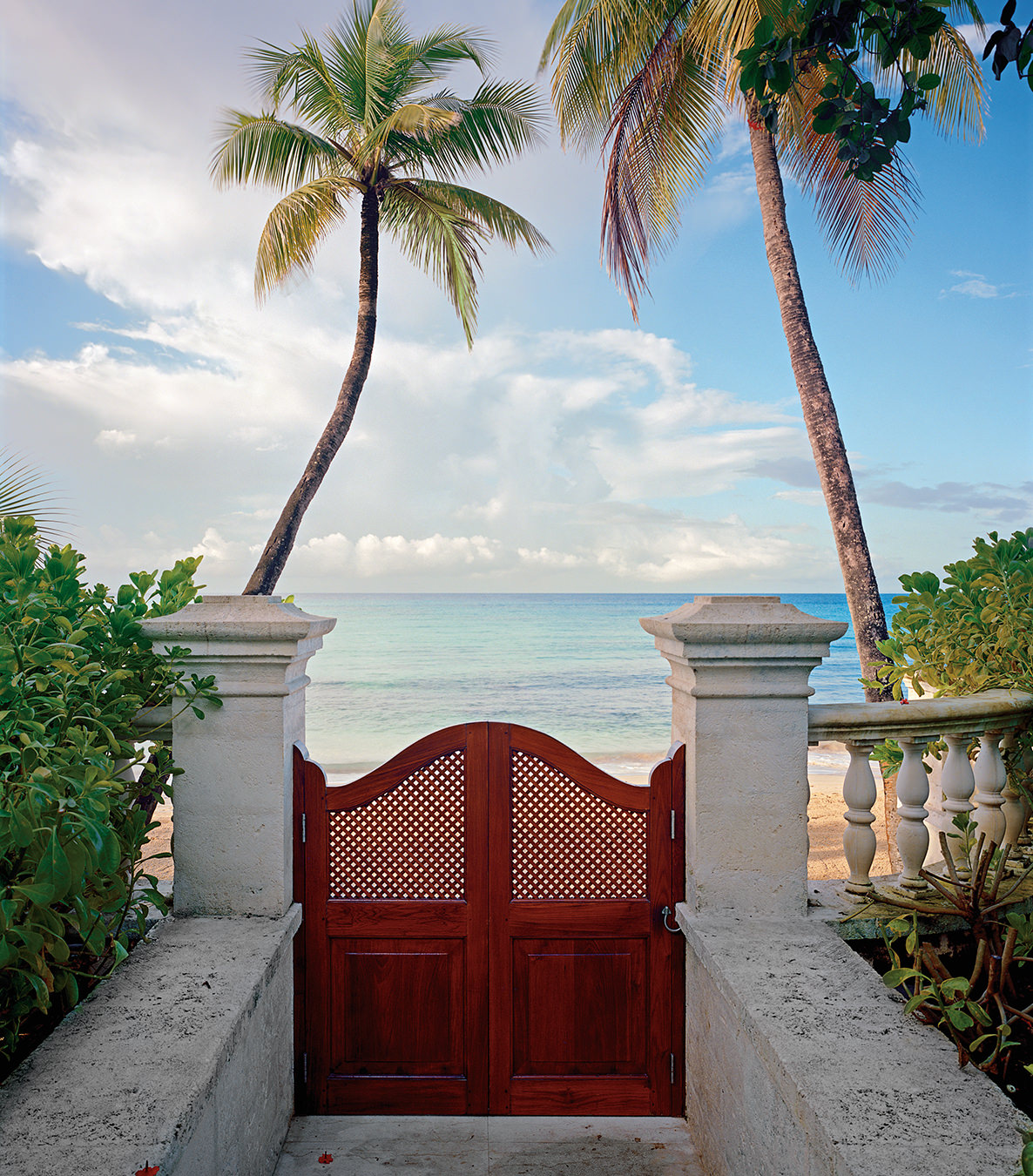 Certainly, those who appreciate the smaller things will duly note One Sandy Lane's numerous fluted columns. Though carved of coral stone, they are fully Corinthian, which means they are highly embellished. It also situates them—and the building—within a European architectural tradition that dates back several thousand years. It this sense, it has shared cultural lineage with many of the most significant buildings anywhere.
"Going with coral stone was a really good decision by the client," says Warren, who studied architecture in Canada at the University of Manitoba. "It is very strong, but easy to work. Cutting it is a bit like cutting dense foam. But it adds a big expense to building. By the time you add up all the columns, it can get costly. On the other hand, it will last forever, really.
"The architecture of the building is descended from the architecture brought to Barbados by the English during the Georgian period. It is a West Indian interpretation of the classic English architecture of the time."
Little surprise, then, that Barbados retains strong ties to the United Kingdom. Residents still refer to it as Little Britain, and the signs are everywhere, most notably on the roads, where cars drive on the left. As Warren explains, British interest in Barbados most recently got going in earnest in the 1990s, when aging baby boomers began buying land to build their holiday homes. Real estate prices have increased accordingly; there are now private houses on the island worth $30-million to $40-million.
"We've gone from a hotel to a luxury villa economy," he asserts. "We are an isolated population, but people really do like to come to Barbados."
"Each unit is a private residence, not just an apartment," says Barbadian architect Larry Warren. "They were designed for maximum privacy but [are] still connected."
And who can blame them? With its varied terrain—gentle and sloping on the west side, rocky and rugged on the east—it isn't the Caribbean of scrubby landscapes, hot and dry. Barbados is an island of sugar cane plantations and lush gardens. Known for its lack of crime, relative prosperity, and general orderliness, this is a community where the wealthy have had few qualms about investing.
Unlike many tourism destinations, Barbados has the feel of a genuine community. It is a place that people visit, but also where they live. "We're marketing the property to those who know Barbados, who know its history," says Richard Hudson, One Sandy Lane's general manager. "It gained independence from the U.K. in 1966."
A transplanted Briton himself, Hudson moved his family to the island three years ago. His confidence in its future can be seen throughout One Sandy Lane. "We are trying to build one of the best properties in the world and maintain it," he declares. "It took four years to construct. We've sat on it for about a year and a half. We wanted to let the garden grow in so it looked as though it had been here for a while."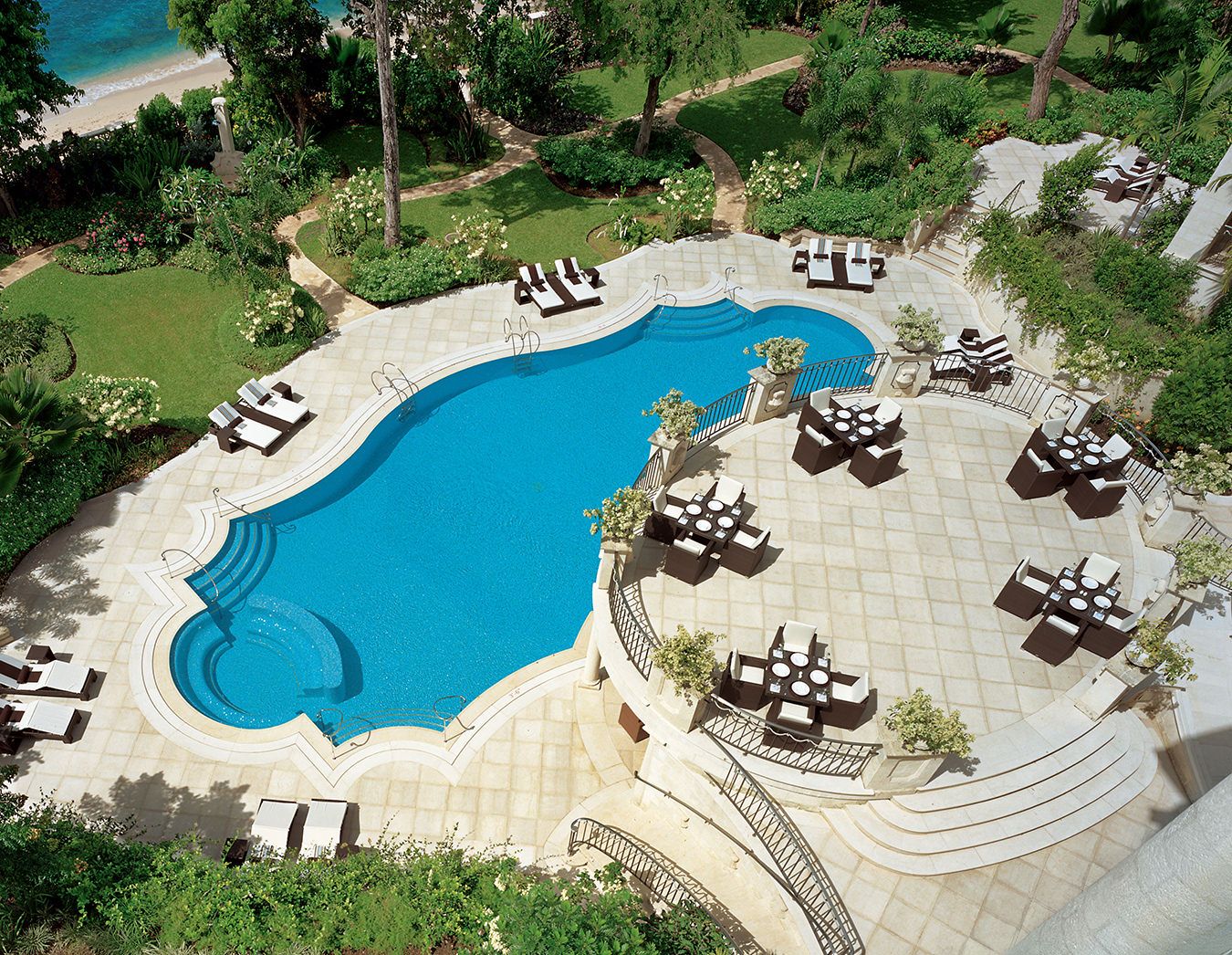 Indeed, the garden, a riot of bougainvilleas, rhododendrons, and trumpet vines, appears to have been in place for years. It is immaculately and lovingly tended, and a magnet for hummingbirds and butterflies. The shrubs and flower beds also form the barrier that separates One Sandy Lane from the public beach on the other side. Barbadian law does not allow private ownership of the shoreline up to the high tide line; as a result, beaches are linear open spaces of sand and water, and are open to everyone.
At One Sandy Lane, even the underground parking garage is a thing of beauty, or if not beauty, then efficiency. Forget darkened corners, oil spots, and layers of dust; the walls and floors here gleam. "We treat the building like a mega-yacht that's on land," says Hudson, pointing to a series of cupboards full of the computers that control the units. No space is wasted, and no opportunity for efficiency overlooked.
The yacht comparison is apt; there's a whole lot more space in the condo, of course, but it has been designed as if every square inch could be the difference between sinking and sailing. For example, railings on the oval staircase that rises up through the centre of the building were handmade by French artisans who were flown into Barbados to work on the property. Made of stainless steel, they are decorated with swag, rendered in the same material.
Despite global economic turmoil, Barbados seems to have found a formula that keeps it moving ahead, slowly but surely. The pace of development on the island is based on a methodical approach to growth. Barbadians understand the value of what they have and don't want to repeat the mistakes of other tourist communities that have killed the goose that laid the golden egg. More than anything, One Sandy Lane represents an unparalleled vote of confidence in the island. Although the units are priced between $22-million and $25-million, Hudson doesn't worry about selling them. He wants to get it right. And it helps not to be in a hurry.
Photo provided by One Sandy Lane.