Oribe x Antoinette Poisson References 18th-Century French Traditions
Beauty meets craftsmanship.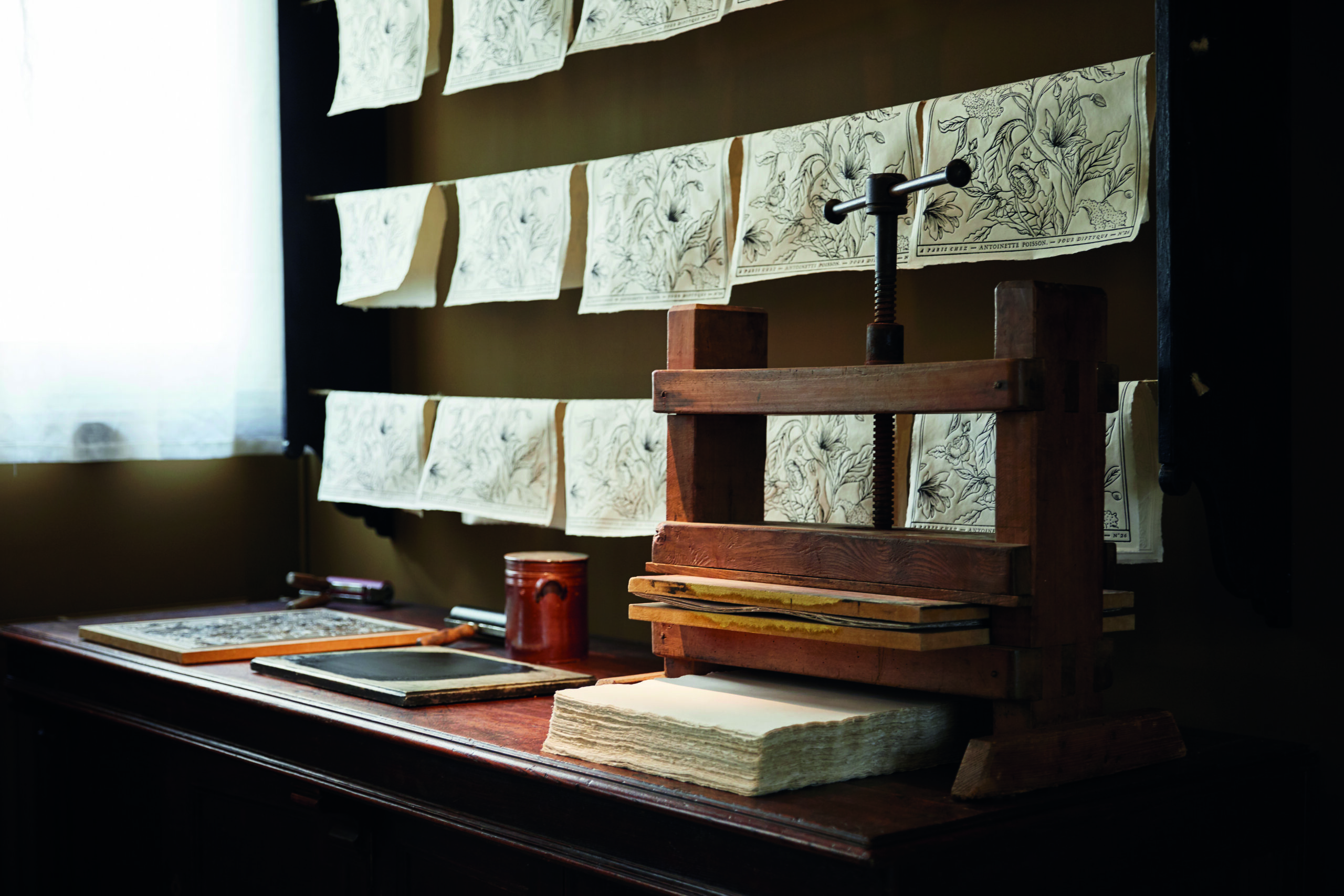 Each holiday season, luxury hair-care and beauty brand Oribe partners with artists to design the packaging for an exclusive holiday collection. This year, history and art are elements of an exciting partnership with Parisian design atelier À Paris chez Antoinette Poisson. The collaboration celebrates historical craftsmanship in both the design space and the beauty realm, which share an ethos of quality and detail. The limited-edition holiday collection includes five value sets that feature Oribe's most popular products—such as the Dry Styling Collection and the Signature Experience Collection, which is infused with Oribe's signature Côte d'Azur scent.
À Paris chez Antoinette Poisson is located in a quaint courtyard in the Bastille district of Paris. The cobblestone streets and heritage buildings, which have housed craftsmen, furniture designers, and woodworkers, serve as the perfect backdrop for the atelier's creative designs. The studio houses the brand's handcrafted creations, which include domino paper sheets, wallpapers, printed linens, perfumes, and stationery.
Co-founders and artistic directors Jean-Baptiste Martin and Vincent Farelly launched Antoinette Poisson in 2012 after restoring a historic house in the Auvergne, where the duo discovered the remnants of domino paper underneath layers of wallpaper that had accumulated over the years.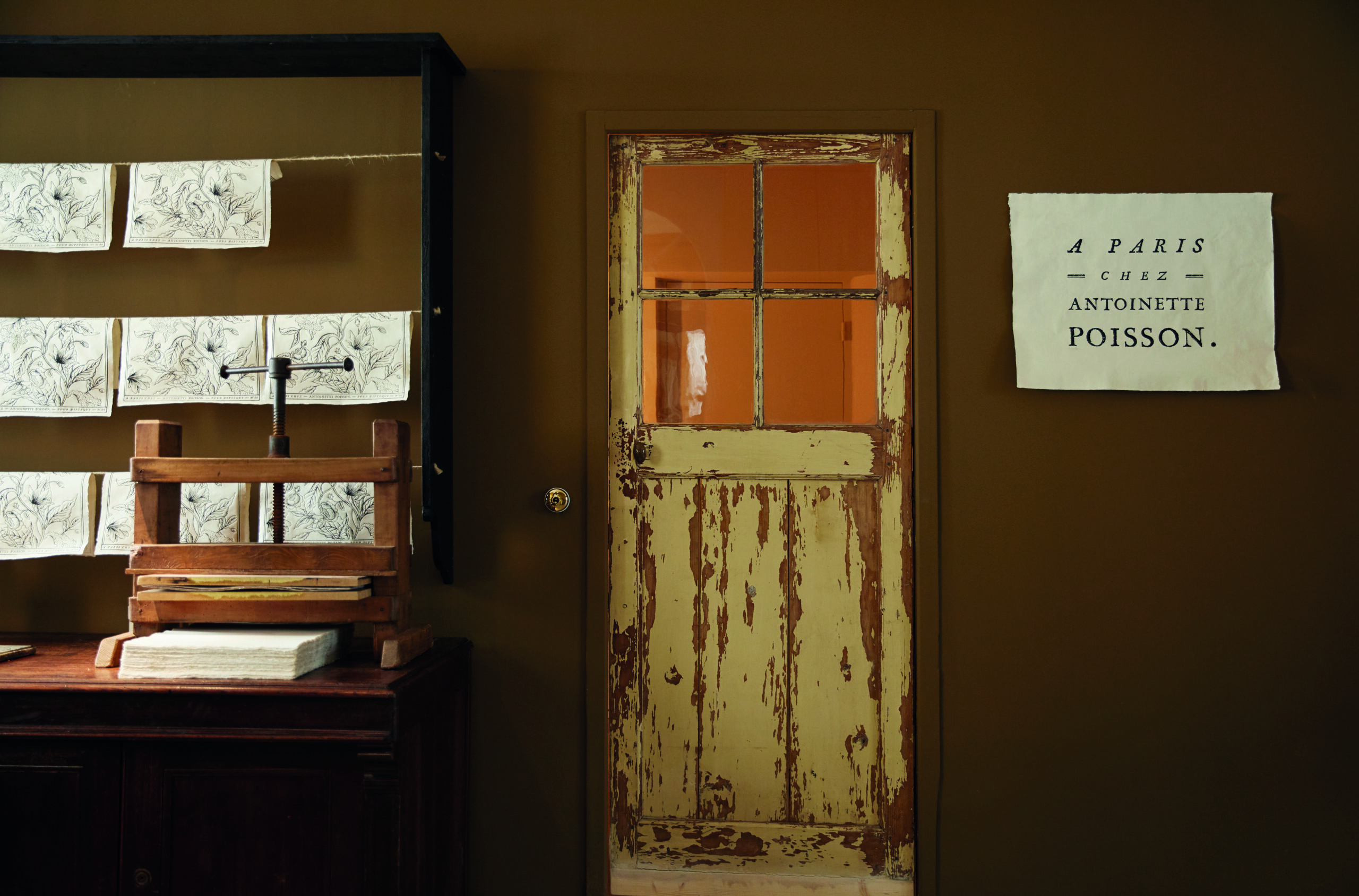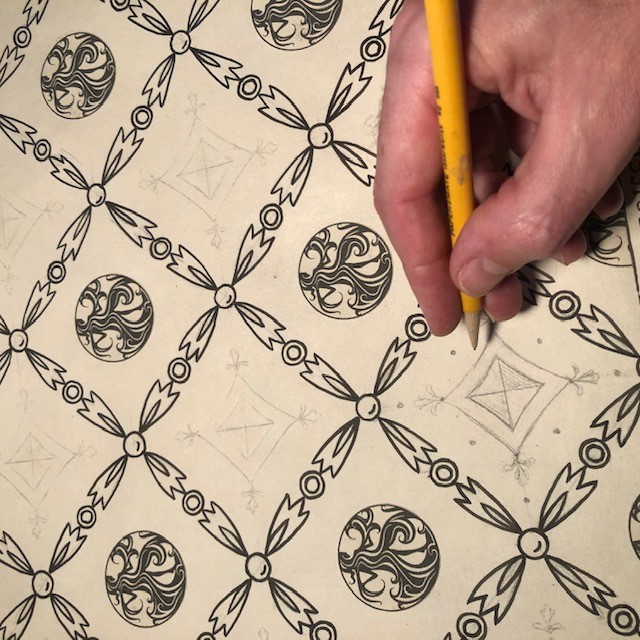 Domino paper was created using an 18th-century technique called dominoterie. Typically, these papers were used to line the insides of cabinetry, chests-of-drawers, and book covers. The paper was later adopted as wallpaper and reimagined as various elements of contemporary interior design. Martin and Farelly realized that they could create new designs using centuries-old methods.
Antoinette Poison designs and produces domino paper in its Parisian atelier using the 18th-century technique. The designs are hand-drawn, digitally remastered, and then sent to the block-maker. The blocks are inked and printed one sheet at a time, then intricately hand-painted by Martin and Farelly. The heritage restorers are poets with a paintbrush, telling stories through their intricate craft, creating beautiful pieces that depict the narratives of a time gone by—and now, sharing a piece of that history with you.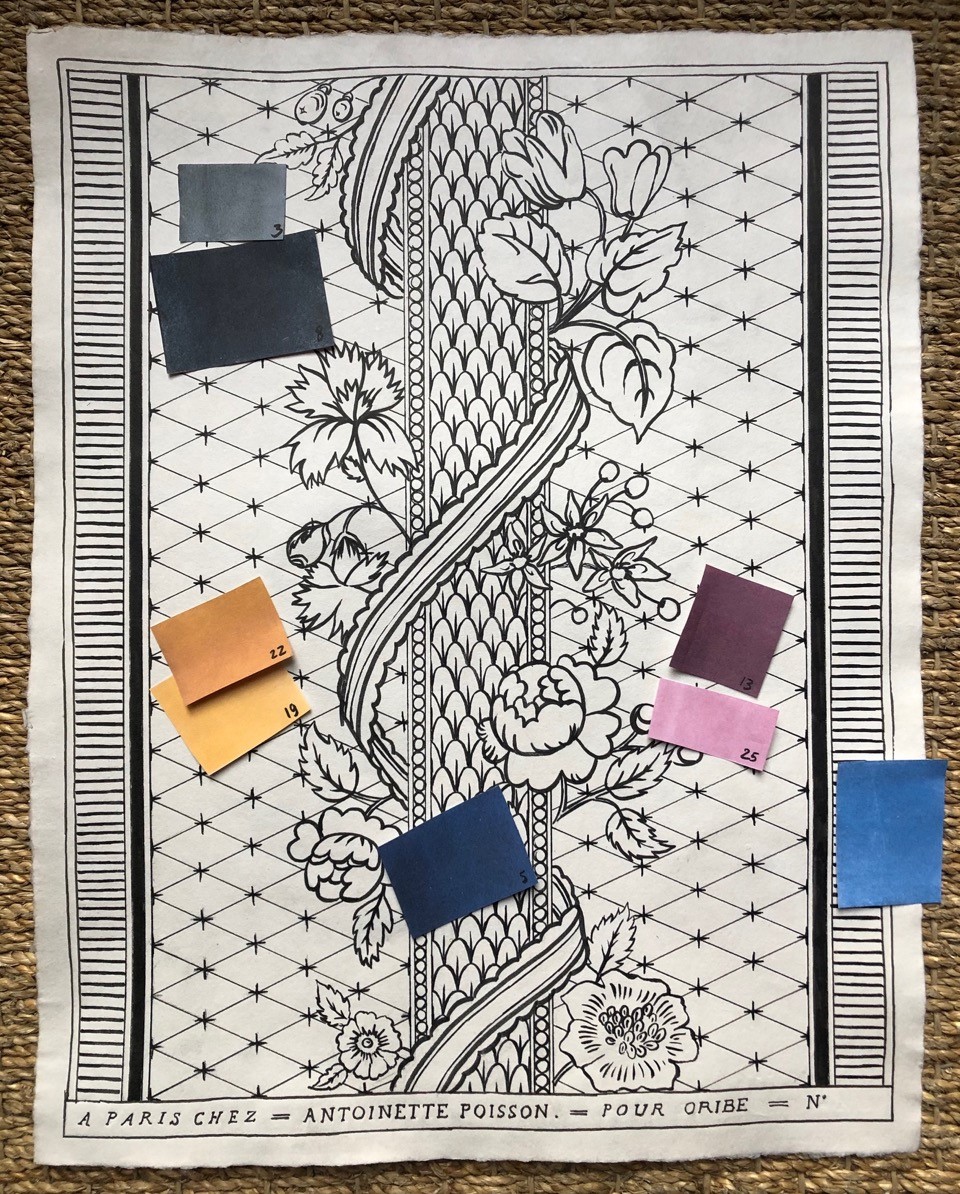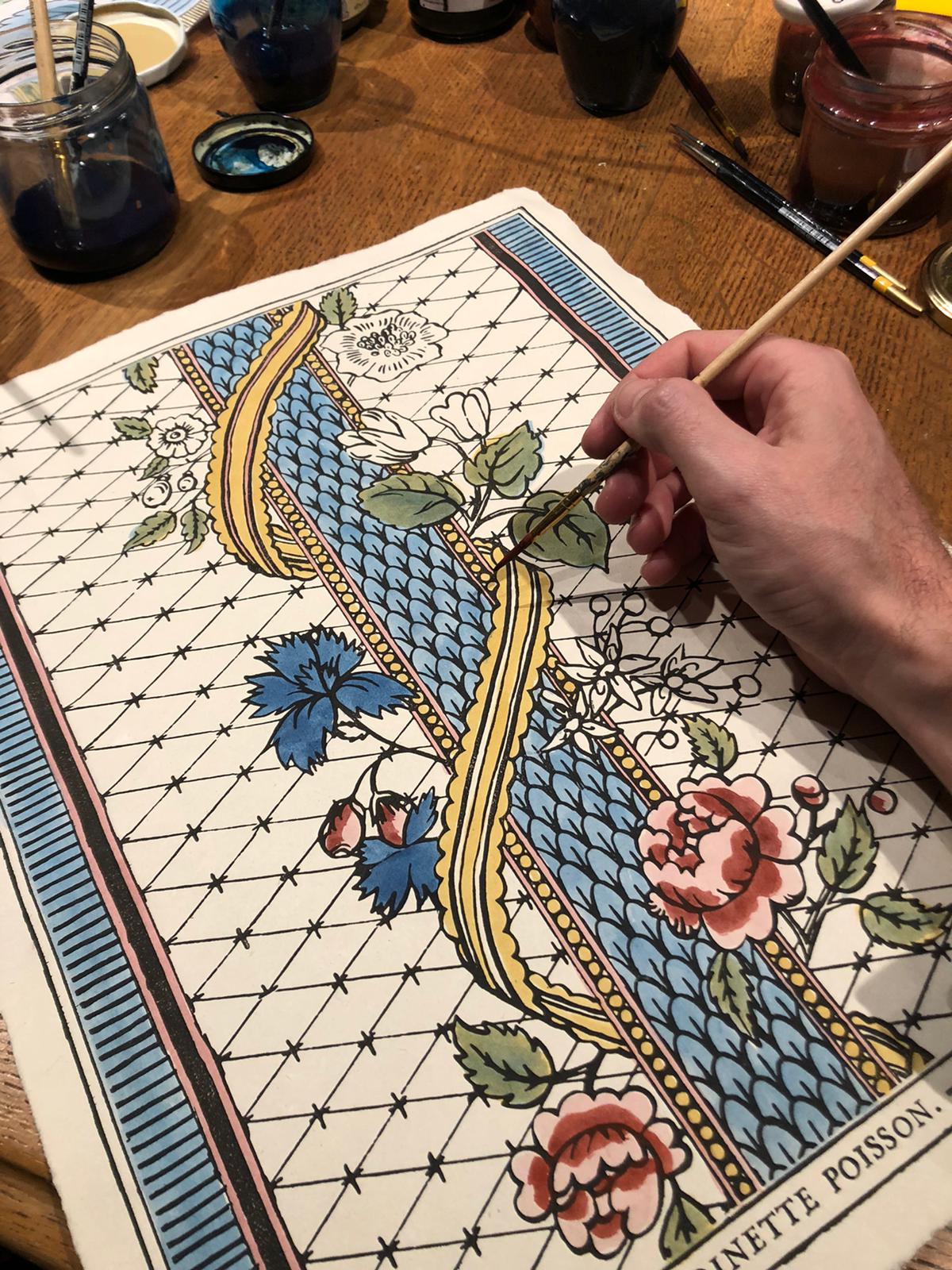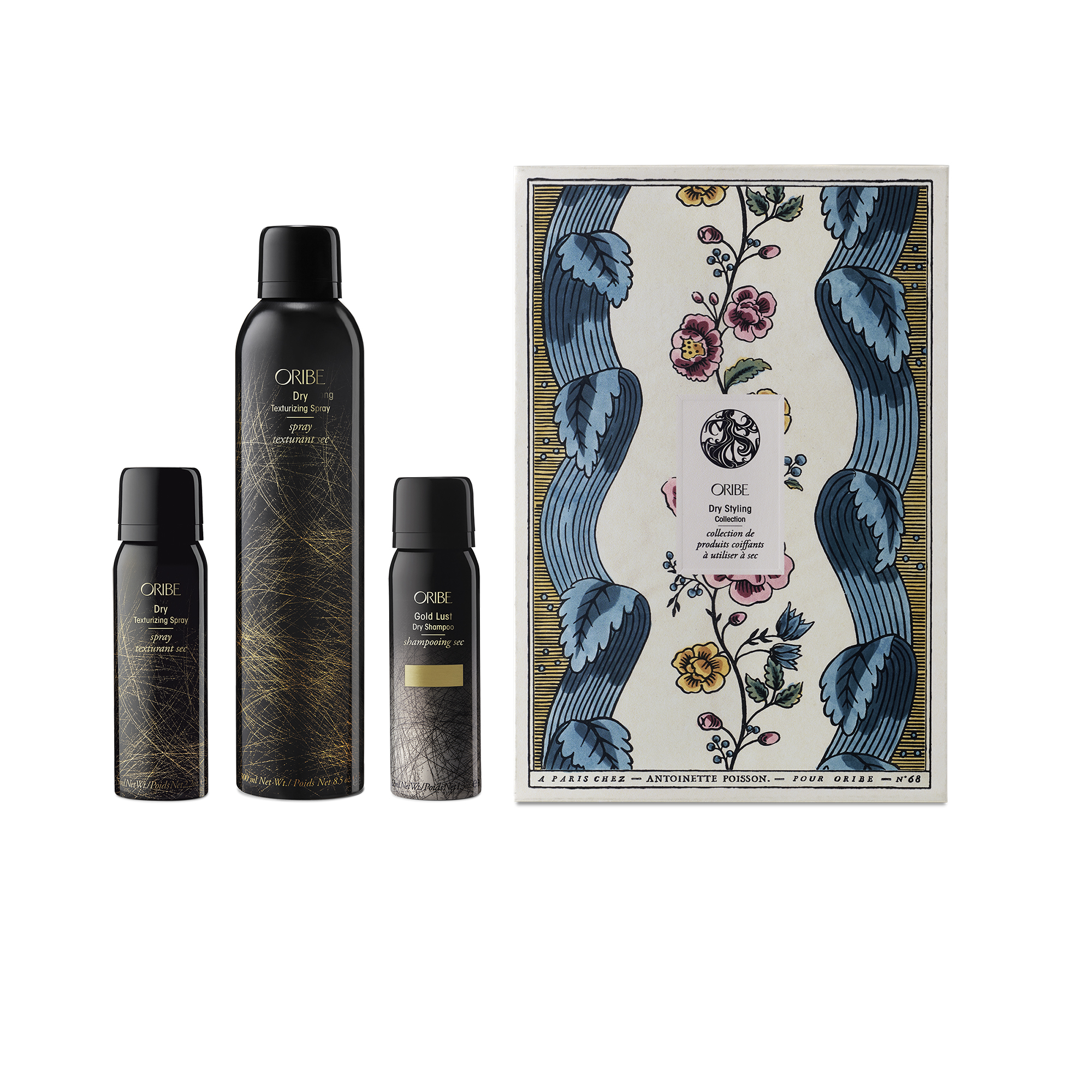 The packaging created for this collection was inspired by the atelier's 18th century design practice and Oribe's signature emblems. "We wanted to combine our French heritage and fondness of 18th century motifs with elements of Oribe's history. The resulting designs incorporate different aspects of the Oribe brand, from the goddess logo to the flowers used in the Côte d'Azur fragrance, including edelweiss and orange blossom," say the artists. Ribbons with hand-painted depictions of the flowers that make up the notes of the Côte d'Azur fragrance adorn some items in the holiday selections, while Oribe's goddess emblem has been combined with a checkerboard pattern—a recurrent 18th century theme known as cloisonné— in another. The boxes are meant to be kept as a keepsake, like a decorative object one might find in a French château.
Images courtesy of Oribe and Antoinette Poisson.