Infiniti Showcases Its Intelligent All-Wheel Drive System Technologies
Winter driving in Montana.
On the frozen pavement of Yellowstone Airport, in the picturesque western state of Montana and with the Rockies as a backdrop, Infiniti recently showcased its Intelligent All-Wheel Drive system technologies offered as standard equipment across the brand's portfolio of SUVs and cars.
Closed for the season, the expansive runway accommodated several handling exercise stations, such as a skid pad and slalom on pure ice, where drivers learned to control a vehicle, equipped with proper Bridgestone Blizzak DM-V2 winter tires, in slippery conditions before being set loose on a short snow track to put together everything they had learned.
Here are details of three of the models tested, including their traction-enhancing abilities.
2023 Infiniti QX55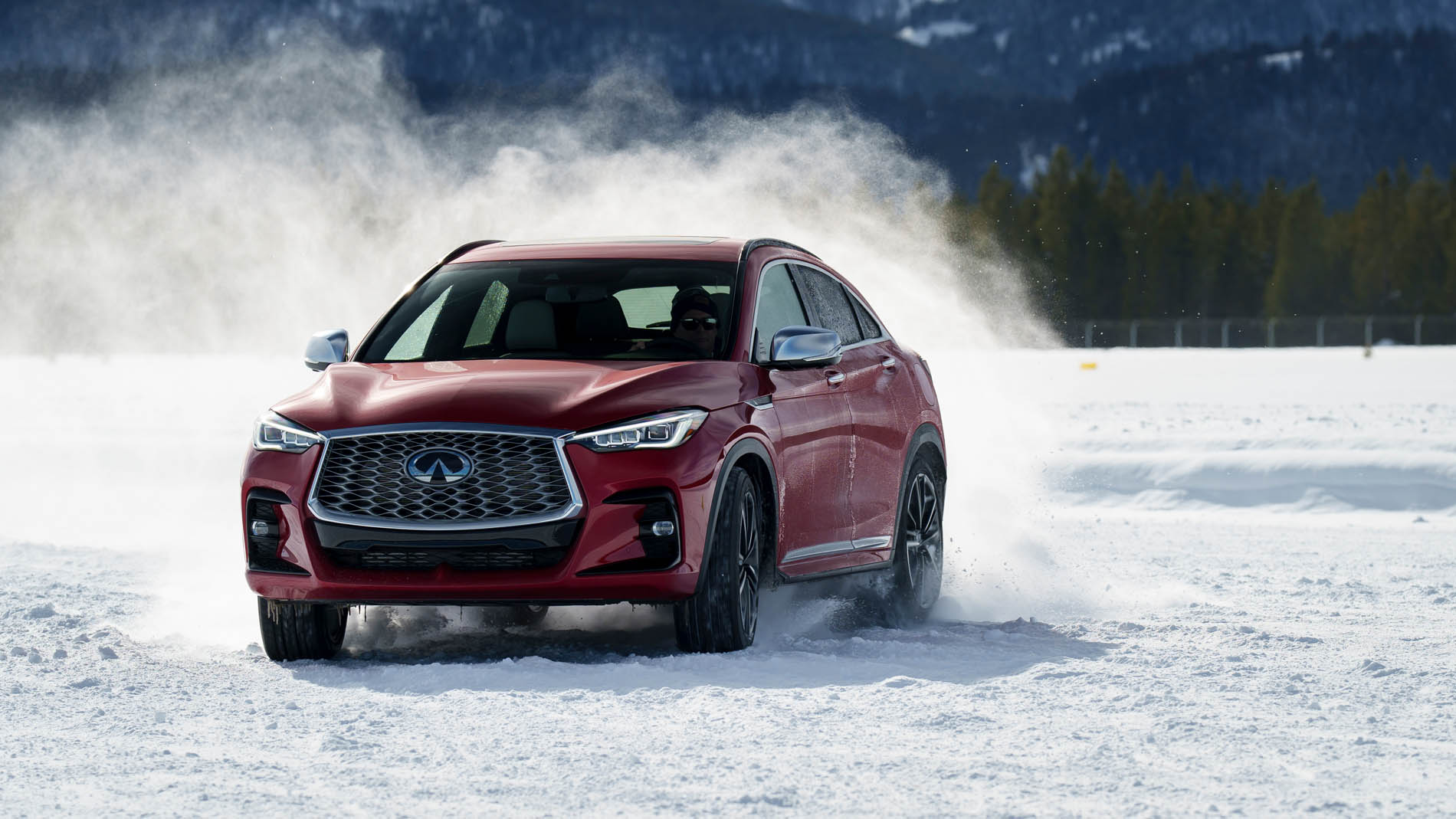 The newest product to join the lineup is the QX55, introduced last year, basically a coupe-style version of the QX50 featuring an aggressively sloping roofline and raised tailgate design combined with a lower-slung stance.
The crown jewel is the 2.0-litre four-cylinder variable compression turbo engine that, as the name suggests, allows on-the-fly adjustment of the motor's compression ratio, improving both performance and efficiency. Sending torque to all four wheels at the start, during regular commuting as much as 100 per cent is directed up front to save fuel. However in inclement conditions like Montana's, the power can be split 50:50 to help the compact crossover gain additional grip, especially while turning.
2023 Infiniti QX60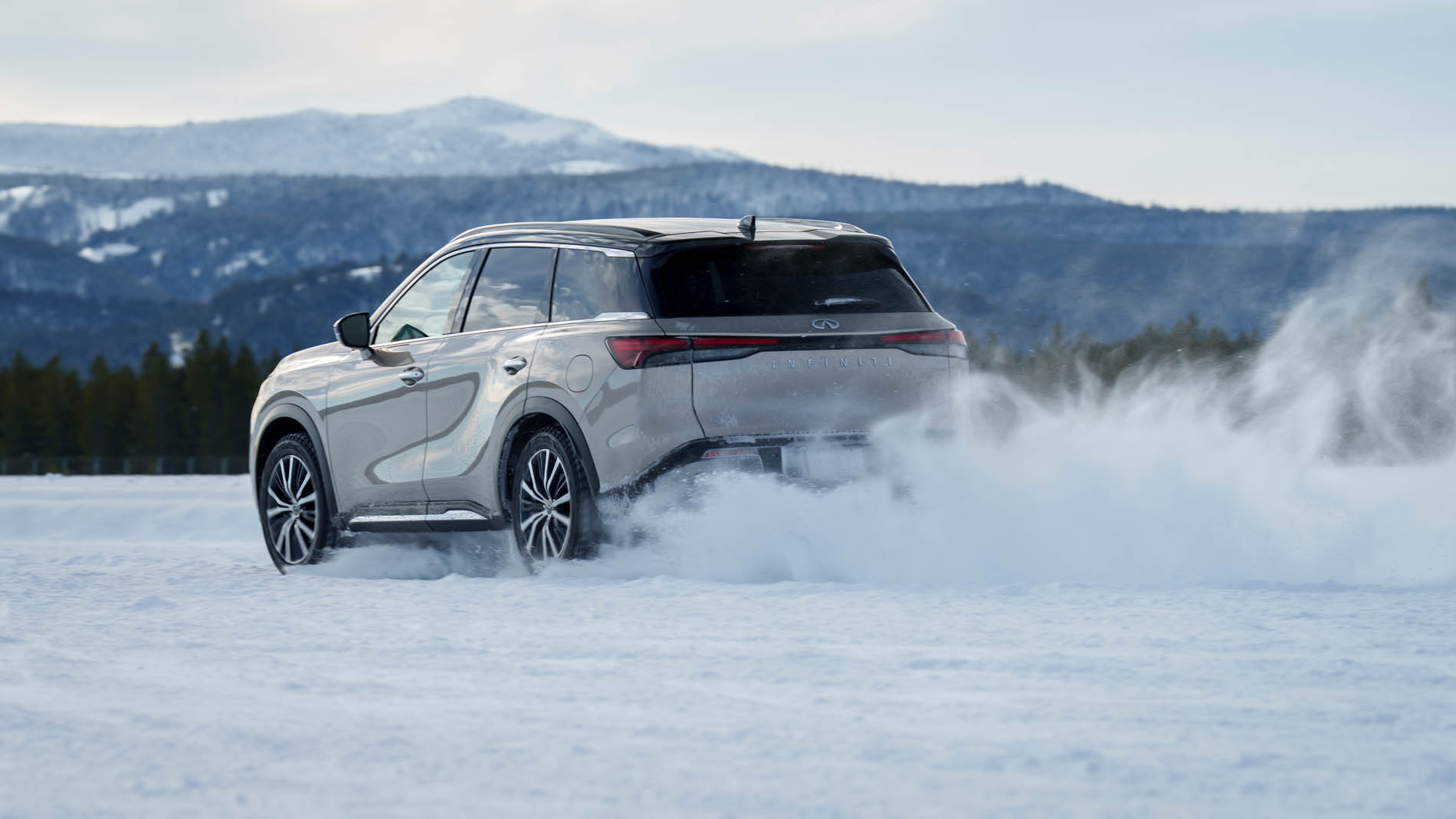 Formerly known as the JX, the second-generation mid-size QX60 was also launched last year, with a beautiful sculpted exterior and intricate Japanese origami-inspired mesh grill. Interior options include semi-aniline leather seats, open-pore wood trim, and ambient lighting bathing the space in a soft glow. The powertrain consists of a silky-smooth 3.5-litre V6 mated to a nine-speed automatic transmission.
Infiniti's AWD system is a bit more sophisticated in the QX60. Rather than using a traditional electromagnetic mechanism coupling that needs to detect wheel slippage before taking action, a sensor-laden direct coupling setup continuously monitors the road surface and can predict when to send up to 50 per cent of torque to the rear wheel. Even cornering at speed in deep snow, and with all the electronic driving aids turned on, it was virtually impossible to lose control of the vehicle.
2023 Infiniti QX80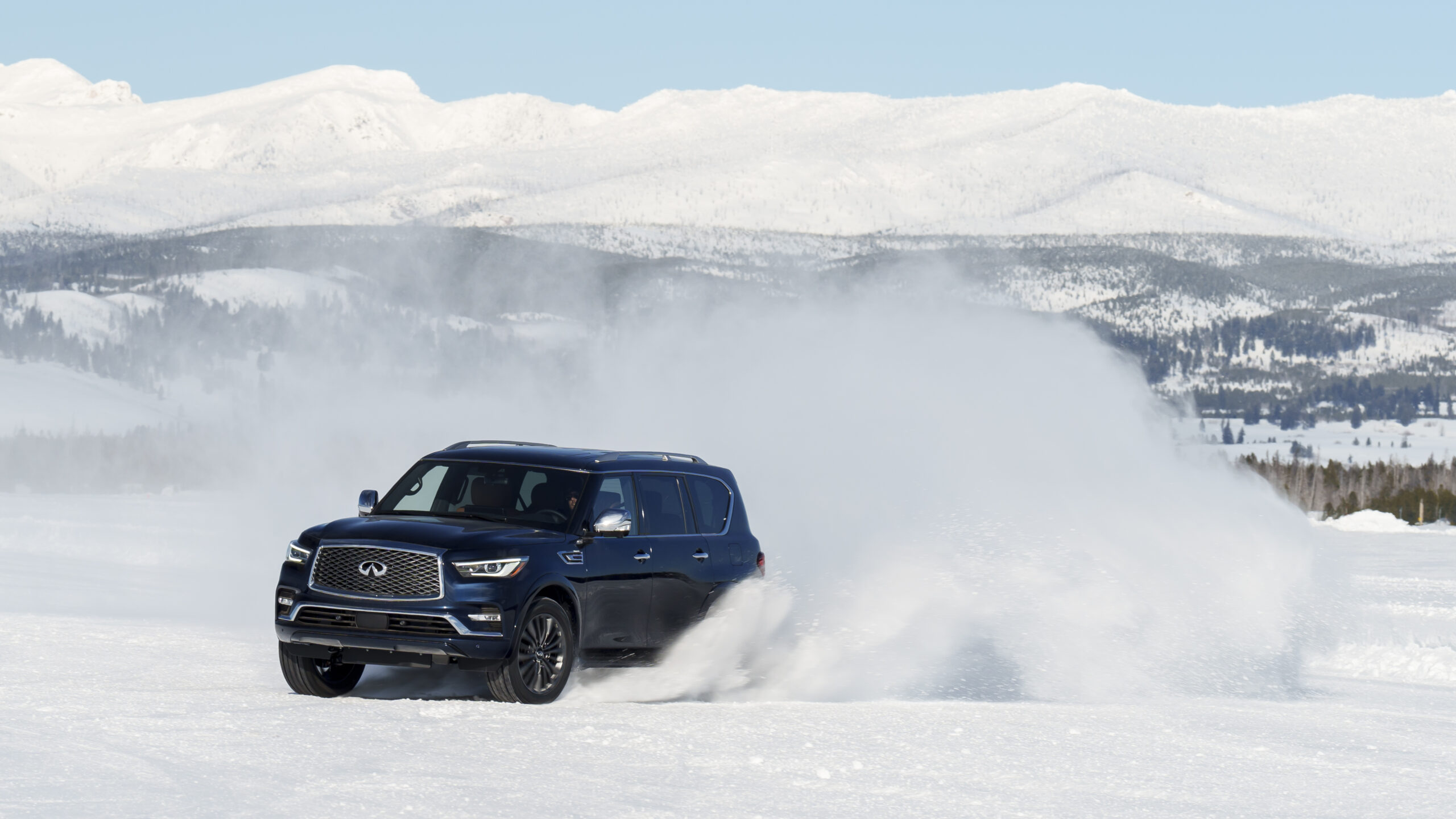 This full-size SUV is not only the brand's flagship but is also the most rugged of the bunch, sporting the same body-on-frame construction usually found in pickup trucks—though you wouldn't necessarily be able to tell from the sleek LED headlights, curvaceous body panels, beautiful chrome accenting, optional napa leather upholstery, and 17-speaker Bose Performance stereo. Propelling the massive frame is a 400-horsepower 5.6-litre V8.
Unlike the two aforementioned models, the QX80 relies on a more robust four-wheel-drive system to tackle challenging environments. In Auto mode, power is continuously and instantly distributed to the front and rear wheels as needed to maintain optimal traction, but users may manually choose either 4WD High (for icy or light off-road conditions) or 4WD Low (for slow-speed, heavy off-roading duty on steep inclines and declines).
The 2023 Infiniti QX80 is assembled in Kyushu, Japan, while the QX60 is built in Smyrna, Tennessee. Both the QX50 and QX55 are produced at the joint Infiniti and Mercedes-Benz facility in Aguascalientes, Mexico. All are available in dealerships now.