Welcoming the All-New Rivian Brentwood Space
The California-based electric vehicle manufacturer wants Rivian Spaces to be a place to learn about EVs.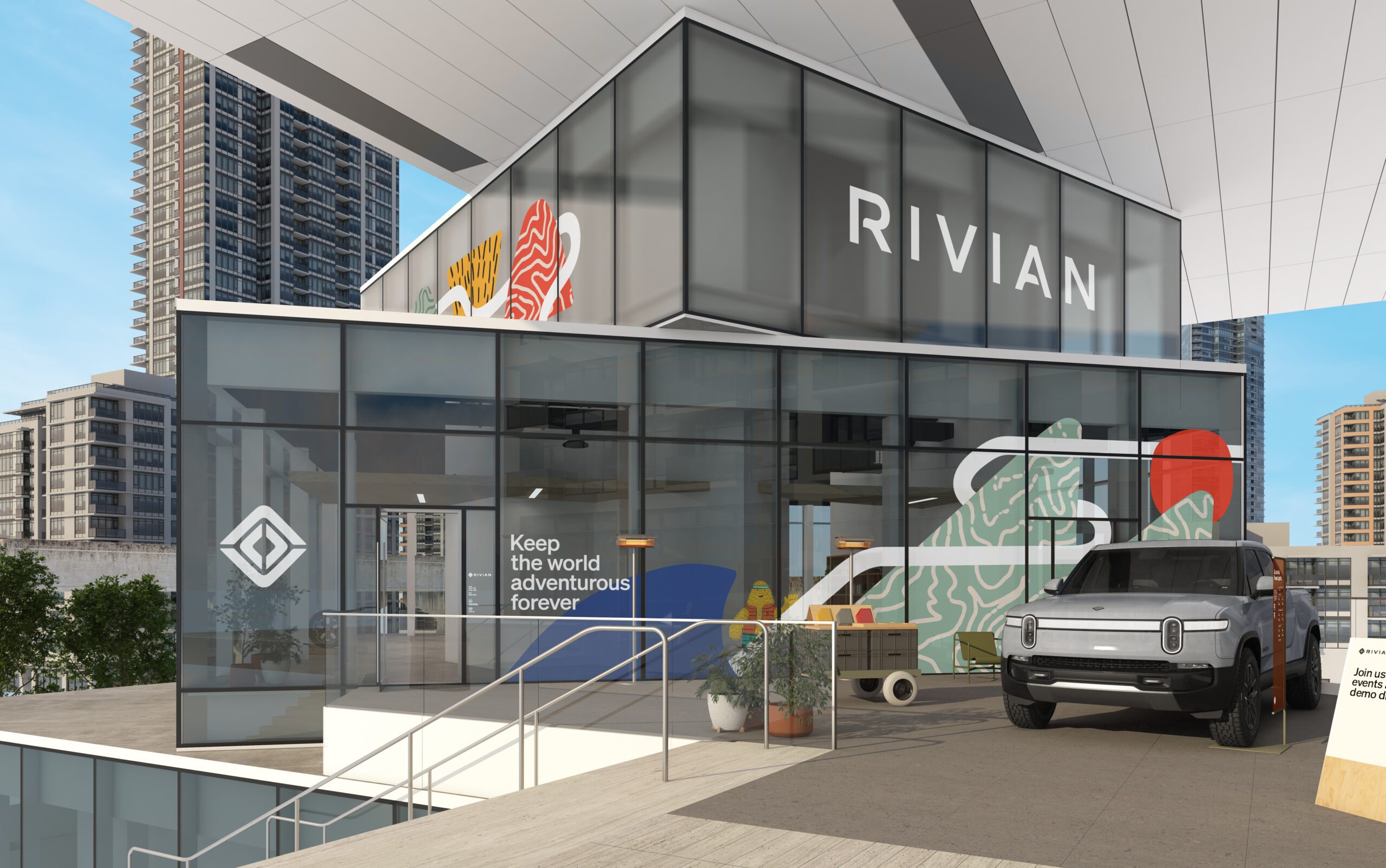 It goes without saying that e-commerce has become a game-changer, though there's nothing quite like seeing and touching a tangible product up close. This is partly the reason behind the recent debut of Rivian Spaces, a collection of pop-up and permanent so-called retail and experiential centres. The latest is in Burnaby's the Amazing Brentwood shopping centre.
"The Rivian Spaces program has a few different goals," Denise Cherry, senior director of design and retail development, explains during a phone call just ahead of the July 28 grand opening. "First and foremost is to meet our customers, our community, and our future customers where they are. And so we think about that in terms of markets where we know there's interest and hunger for seeing and physically experiencing our vehicle, Vancouver being a great example."

The California-based electric vehicle manufacturer wants Rivian Spaces to be a place to learn about EVs. "In a lot of our stores, there's an incredible focus on trip planning, and being able to get out into the world and explore the world using the vehicles and what they enable you to do," Cherry says.
The 5,000-square-foot Brentwood location (1401 – 4501 Lougheed Highway) is the first in Canada and also the first to use augmented reality to allow virtual customization of either a Rivian R1T or an R1S. After slipping on a set of goggles similar to those used in VR gaming applications, users may swap out exterior paints on a superimposed digital model and even step inside to check out the cabin area and configure finishes and materials.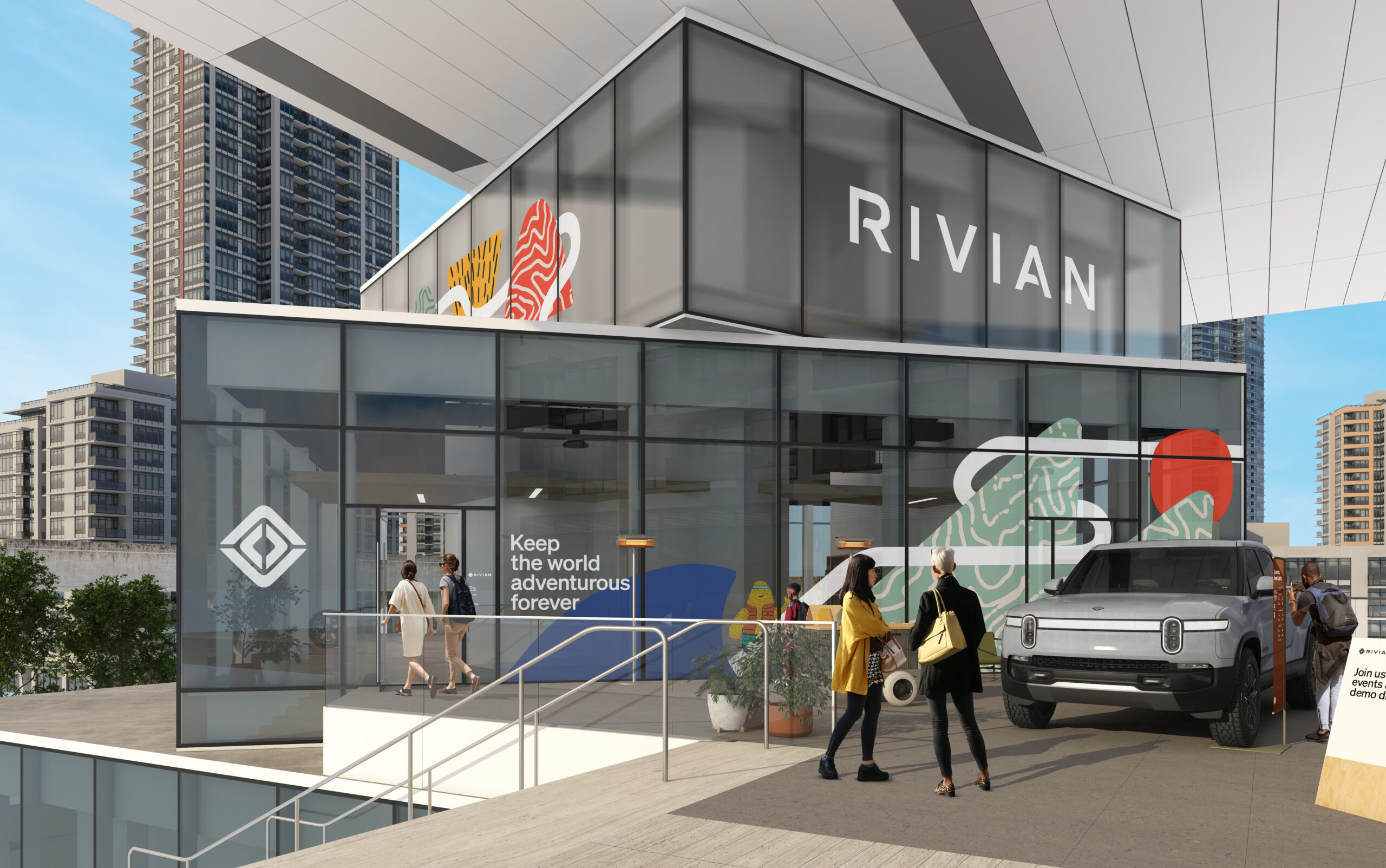 While all Spaces share an underlying utilitarian and adventure-themed aesthetic, with the trucks and SUVs serving as the centrepieces, each is inspired by local geography. The initial New York bricks-and-mortar location in the Meatpacking District features big loft-style windows and exposed beams, and Cherry says the Burnaby site boasts a Pacific Northwest–inspired colour palette and takes advantage of the mall's stacked glass-boxes architecture that makes the interior visible from multiple vantage points.
Guests of all ages are free to hang out in the lounge furnished with locally sourced vintage furniture, shop merch, or browse the information displays, constructed at the Rivian manufacturing plant in Illinois from sustainable plywood and diverted ocean-bound plastics. Experience Specialists are on hand to answer questions, facilitate a test drive, and help start an order, though pickups are in Richmond at the service centre. For $1,400, the brand offers home delivery anywhere in the province.
Cherry notes that current owners won't be left out. Down the road, the team is looking into hosting get-togethers and inviting in-house experts to showcase new app functionality, as well as other product-based programming.
The Brentwood store opens July 28, and there are special events planned throughout the weekend outside on the plaza level, including entertainment and catering by To Live For Bakery and Soon Coffee.
More than 10 additional Spaces are expected to launch across the U.S. this year.