Unfathomably Delicious Dumpling Recipe
Wow with these shrimp and pea tendril wontons from chef Eva Chin.
Eva Chin, executive chef at Toronto's Avling Kitchen and Brewery, has garnered praise for her Nordic-Asian cuisine that takes advantage of Canada's agricultural bounty, including produce from the restaurant's rooftop farm. Avling practises circular agriculture along with producing food and beer, limiting waste and maximizing sustainability. Now NUVO readers can be part of that circle. This week, chef Chin shares her recipe for shrimp and pea tendril wontons, to eat on their own or in a bowl of steaming hot chicken broth.
Ingredients
2 tablespoons sesame oil
1 clove garlic
150 grams pea tendrils
1 tablespoon kosher salt, divided
300 grams raw shrimp, peeled and divided
3 teaspoons cornstarch
1 teaspoon ground white pepper
1 teaspoon sugar
2 teaspoons chicken essence
1 tablespoon ginger juice
Square dumpling sheets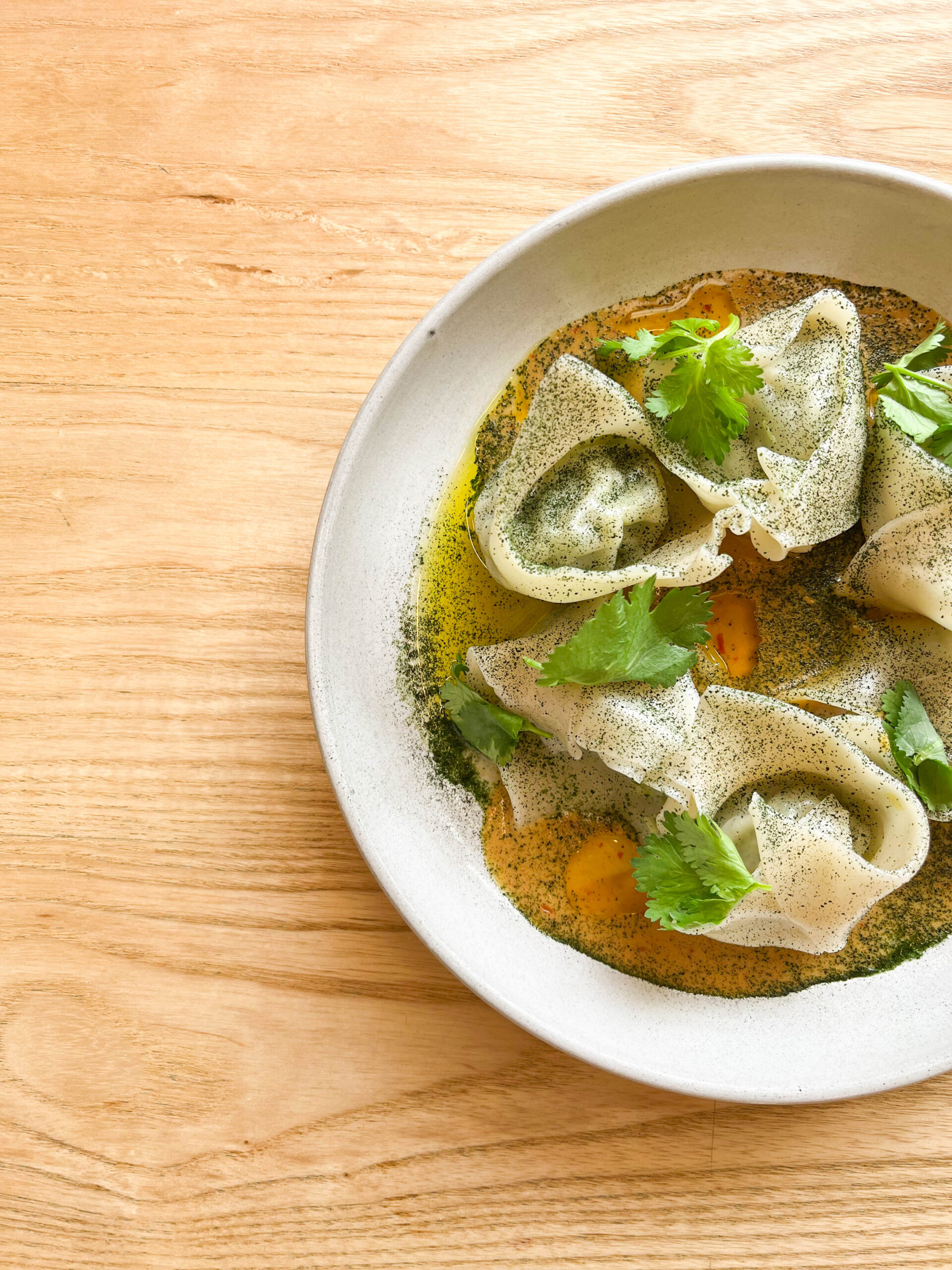 Method
In a small sauté pan over high heat, pour in sesame oil. Smash the garlic clove with the side of a knife or with the palm of your hand and let it infuse in the sizzling oil.
Once the garlic is sizzling and the edges are browning, cook the pea tendrils with half the kosher salt. Stir occasionally until the pea tendrils wilt, then immediately transfer to a plate and cool in the fridge. Discard the garlic and remaining oil.
While waiting for the cooked greens to cool, take half the shrimp and all the cornstarch and pulse in a food processor or magic bullet for 20 seconds until a shrimp paste forms.
Chop the remaining shrimp into small pieces.
In a medium mixing bowl, mix the shrimp paste, chopped shrimp, white pepper, sugar, chicken essence, and remaining the salt together.
Once cooled, finely chop the pea tendrils and fold into the shrimp mix along with the ginger juice.
Place 1/2 tablespoon of shrimp mix on the centre of a dumpling sheet. Wipe the edges of the dumpling skin with cold water and gently fold in half, making sure to press edge to edge, eliminating any air pockets and completely sealing. Bring together the two folded corners and pinch to form a "cross arm" of the dumpling edges.
Bring a small pot of water to boil over high heat. Place wontons into the boiling water and cook until the dumplings float and the filling is bright pink.
Enjoy with it your favourite chili oil or a bowl of hot chicken broth.