Two Comfort Recipes From Hy's Steakhouse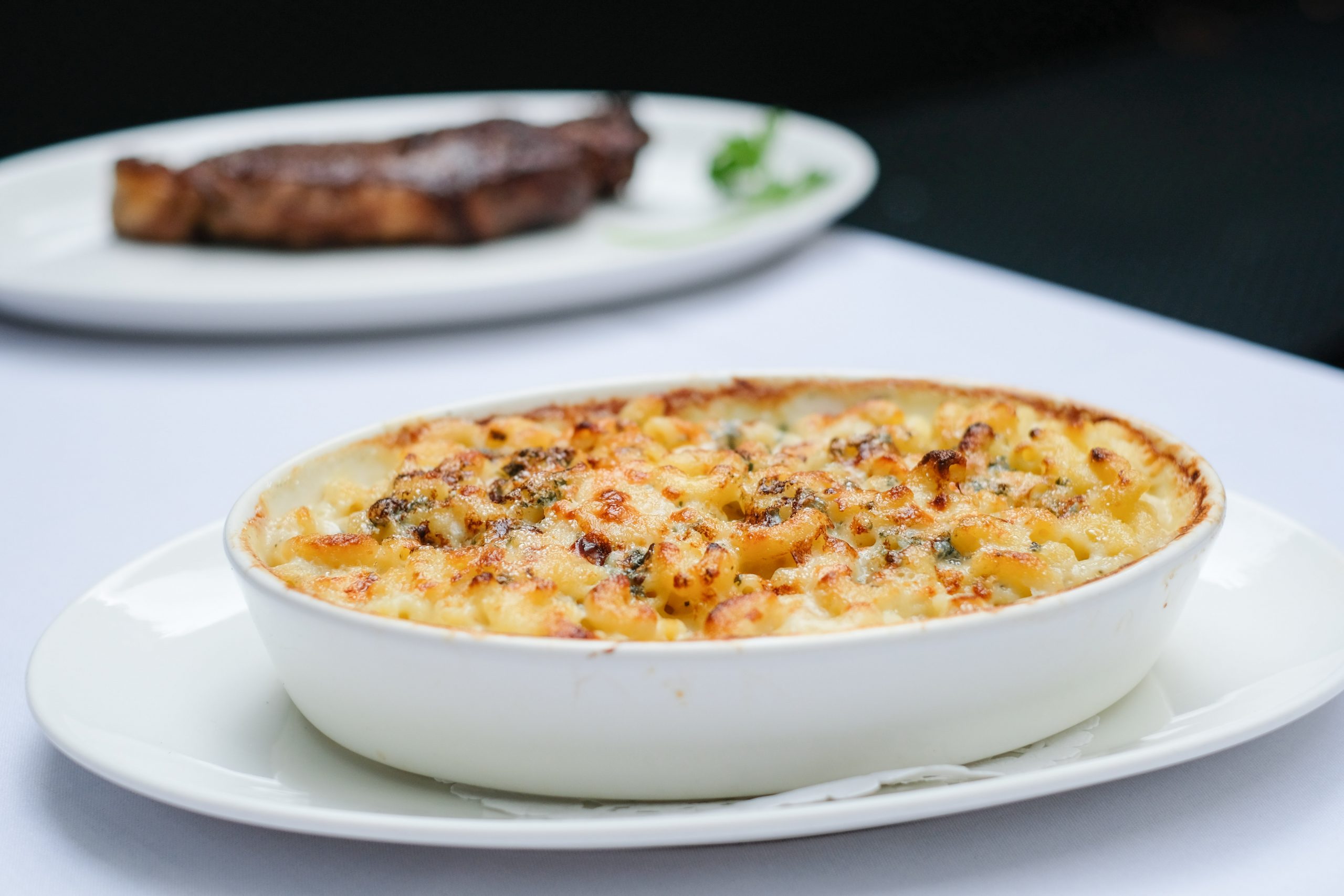 We could all use a bit of comfort these days and Hy's Steakhouse executive chefs are happy to oblige. The restaurant is offering take out in Vancouver, Toronto, Calgary, and Winnipeg but for those who aren't able to order-in or maybe they can't eat steak, the chefs have proven that they can do so much more to brighten your time spent at home. They are sharing two of their popular recipes for comfort food favourites, elevated mac and cheese and delicious chicken vegetable soup that home cooks can try.
Gorgonzola Mac and Cheese
Ingredients:
½ medium/large Spanish onion finely diced
3 tablespoons fresh unsalted whole butter
3 tablespoons flour
1 cup heavy cream
2 cups milk
3–6 ounces Gorgonzola cheese (depending on how strong a Gorgonzola flavour you want)
¼ teaspoon Tabasco sauce
Bread crumbs (optional)
Method:
Sauté the onion over medium heat in butter just until onion is translucent.
Add flour to create a roux. Reduce the heat and cook roux for 8 minutes (keep stirring).
Add milk and cream and return the heat to medium.
Bring to a boil while stirring.
Add cheese and Tabasco.
Season with salt and white pepper.
Reduce the heat and simmer for 10 minutes (continue to stir).
Remove from the heat and fold in cooked macaroni.
** At this point you can serve and eat or:
Place in a casserole dish, sprinkle the top with bread crumbs, and bake for 30 minutes at 350°F.
Chicken Vegetable Soup
Ingredients:
2 pounds chicken
Salt and pepper
2 tablespoons olive oil
1 pound potatoes
1 pound frozen corn
1 pound leeks
1 pound broccoli
200 grams oyster king mushrooms
1/2 pound (combined) carrots, celery, green peas
5 grams fresh turmeric root
4 litres chicken broth
50 grams unsalted butter
Chicken Method:
Season chicken with salt and pepper.
Drizzle olive oil on chicken (both sides).
Preheat oven to 400°F.
Insert chicken into the oven and cook for 20 minutes.
Soup Method:
Dice/chop all vegetables.
Sprinkle the 5 grams of turmeric root (ground) on the diced oyster king mushrooms.
Once chicken is baked, dice the chicken.
Preheat a stove pot at medium heat and sear the pan with butter and/or olive oil. Ensure the butter is melted (2 minutes).
Sauté the carrots, leeks, and celery, and season with some pepper in the pan (10 minutes).
After 10 minutes, place the mushrooms, turmeric, and chicken into the stove pot.
Stir for 30 seconds.
Add potatoes, corn, and green peas.
Stir for 30 seconds.
Add chicken broth and cook on medium heat for 10–15 minutes.
Last, add broccoli, and sprinkle with salt and pepper (5 minutes.)
Total cooling time: 30 minutes.
Proportion of vegetables to broth would be 70/30 per cent.
Bon appétit!
‌________
Never miss a story. Sign up for NUVO's weekly newsletter here.