The Under-the-Radar Island Paradise for Roman Vacationers
Why—and how—to visit Ponza.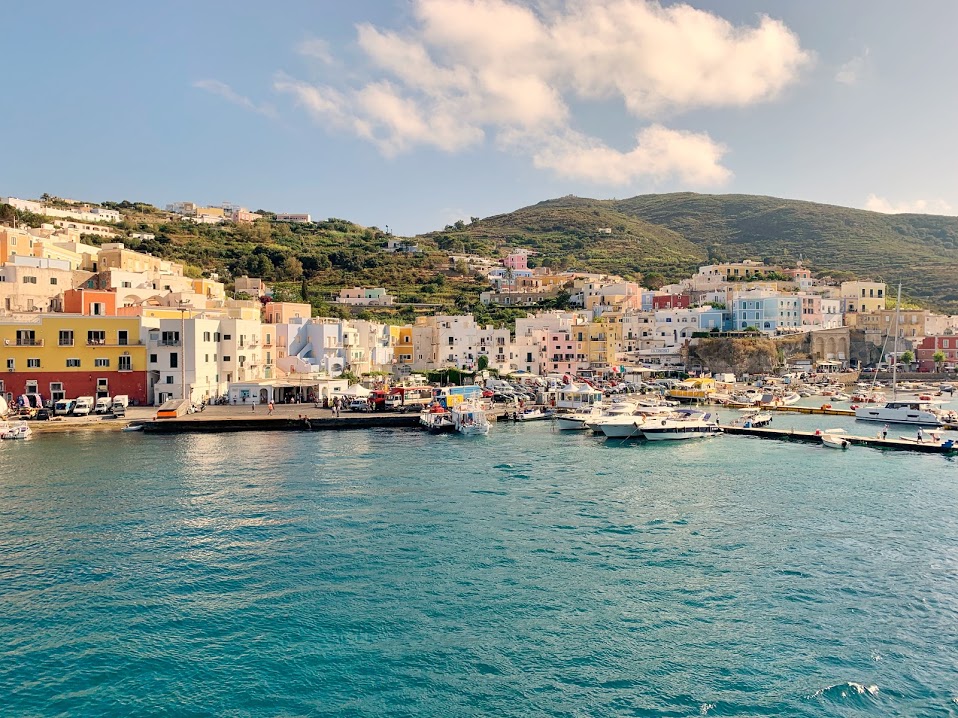 My Roman friend Giorgia, who makes a yearly pilgrimage to Ponza, is going to kill me for writing this. When I asked her for tips so I could plan a birthday vacation, she agreed, but tried to make me promise not to write about this place. (To be fair, I never quite agreed.) "It's a paradise as it is, still little known to the world," she wrote.
I must apologize to Giorgia, but this island is too idyllic to keep secret. Visiting it for the first time this summer, it struck me as a less developed version of the Amalfi Coast—with the same winding roads leading up to vertiginous cliffs, small coves, and grottos—but without the crowds. For now, tourism in Ponza is mostly domestic—and that's how Italians want it.
You see, this is the island that Romans escape to in the summer—and they don't want the hordes of selfie-stick-wielding tourists and extravagant prices now ubiquitous on the Amalfi Coast. To get there from Rome, you must take a regional train to the town of Formia, and then a hydrofoil (about 70 minutes) or a ferry (almost three hours) to the island.
Supposedly named for Pontius Pilate and part of the Pontine Islands group, it's far more under-the-radar than Capri or Ischia, which, thanks to Elena Ferrante, is now known around the world. Ponza, by contrast, is still a low-key paradise with less 4,000 inhabitants.
Of course, if you're going to Ponza, you'll want to relax by the sea. Most of the island's beaches are rocky coves where people spread out towels or rent lounge chairs to sunbathe on, but my boyfriend, Marco, and I rented a scooter and zipped around the island looking for the perfect little sandy beach, guided by advice from the locals about the tides and winds. The best way to see the island, I'm told, is to hire a private boat with a group of friends, so you can choose when and where to drop anchor and dive into the impossibly turquoise water.
The next time I go to Ponza—and I will return—I plan to do just that.
In deference to Giorgia, I won't give away all of her restaurant recommendations, but I will say we enjoyed a romantic dinner of freshly caught razor clams and swordfish with roasted vegetables at L'Aragosta, overlooking the port. On my birthday, we had a spectacular lunch at Ristorante Angelino, a casual family-run trattoria in the sleepy town of Le Forna. I had the scialatielli alla ponzese, a local specialty of fresh pasta with seafood and tomato sauce, and we shared an antipasto of sautéed mussels and clams, and a fritto misto.
On our way to catch the ferry home, we stopped at a fish shop. We bought a kilo of fresh clams and a whole sea bream, which we enjoyed for days—first pan-seared, and then in a risotto made with broth prepared using the bones. And that is one of the lessons of my new life in Rome: savour life—and don't let anything go to waste.
_________
Never miss a story. Sign up for NUVO's weekly newsletter here.