The Perfect Homemade Chicken and Waffles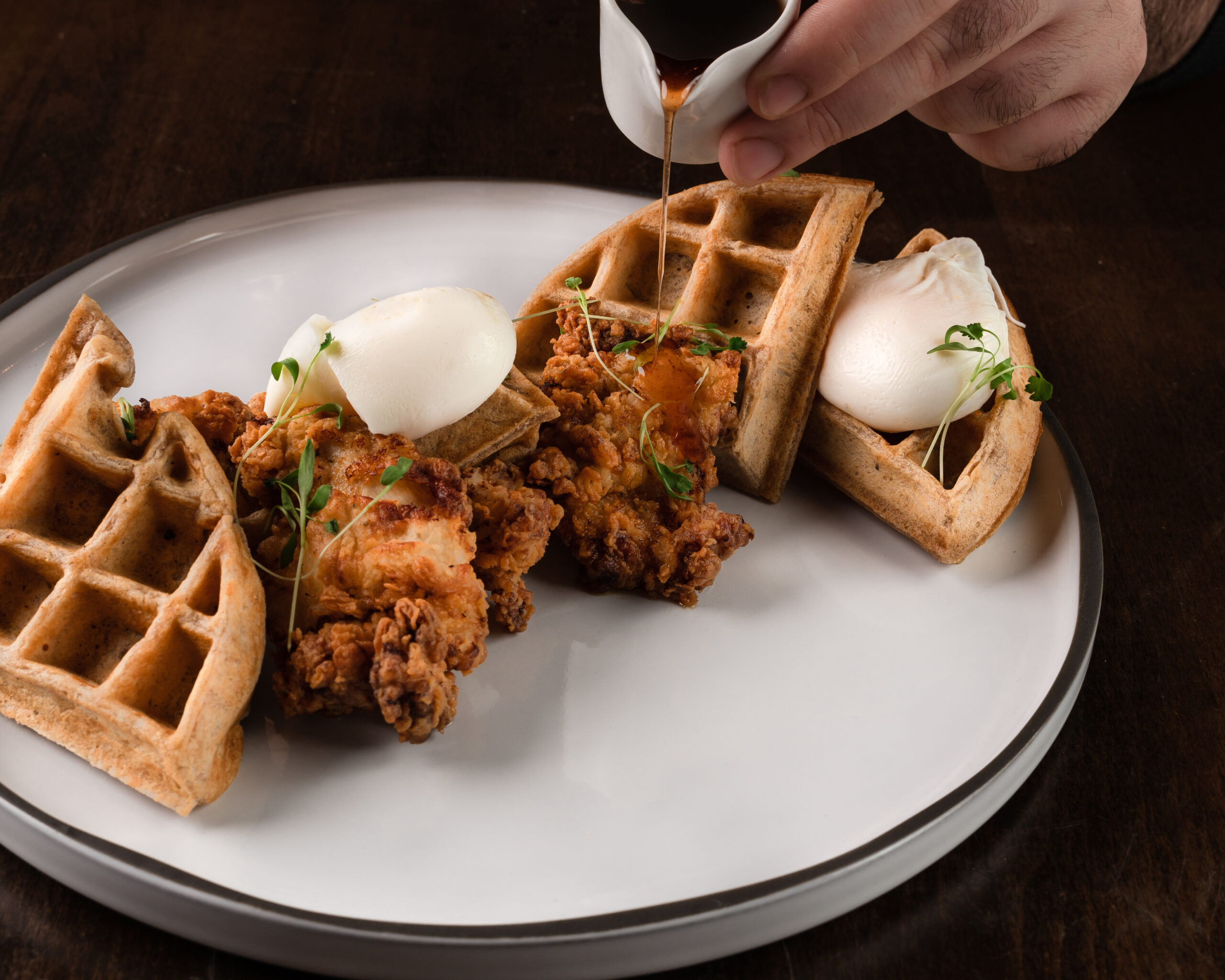 This week's recipe from chef Behshad Zolnasr of C|Prime is a reminder that sometimes the best things in life are best left untouched. The comforting combination of fluffy waffles and crispy chicken is equal parts savoury and sweet while also being 100 per cent soulful. That's not to say you can't add your own twist to this delightful classic—chicken and waffles are the perfect canvas for experimenting with sauces and syrups.
Ingredients
For the chicken marinade:
2 cups buttermilk
1 teaspoon paprika
1 teaspoon garlic powder
1 teaspoon onion powder
For the waffle batter:
2 cups all-purpose flour
1 tablespoon baking powder
3 tablespoons sugar
1/2 teaspoon salt
1 teaspoon cinnamon
½ teaspoon nutmeg
2 eggs
2 cups milk
½ cup vegetable oil
1 teaspoon vanilla extract
For the flour mixture:
½ cup flour
½ cup cornstarch
1 tablespoon paprika
1 tablespoon garlic powder
1 tablespoon onion powder
1 teaspoon salt
1 teaspoon pepper
For the chicken:
5–7 chicken thighs
2 cups canola oil
Method
For the chicken marinade:
Add buttermilk to a large bowl and incorporate garlic powder, onion powder, and paprika. Marinate chicken for up to 24 hours.
For the waffle:
Preheat waffle iron, and spray with nonstick spray.
In large bowl, whisk together flour, baking powder, sugar, salt, cinnamon, and nutmeg.
In a separate bowl, combine eggs, milk, vegetable oil, and vanilla extract.
Add wet mixture to dry mixture and combine well to ensure there are no lumps.
Pour batter onto waffle iron and cook for 3–5 minutes depending on how crispy you want the waffle.
For chicken flour mixture:
Add all dry ingredients to a large bowl and mix with a whisk until everything is incorporated. Set aside.
For frying the chicken:
Add 2 cups of canola oil to a pan over medium heat and heat the oil to 375°Fahrenheit.
Dredge marinated chicken in the flour mixture and gently place in the hot oil.
Fry chicken for 4–6 minutes depending on size, aiming for an internal temperature of 165°Fahrenheit.
To assemble
Cut the waffle into four pieces  and arrange with the fried chicken on a large plate.
Top with a syrup or sauce of your choice