The Perfect Christmas Turkey
The perfect turkey recipe from Naramata Inn chef de cuisine Stacy Johnston.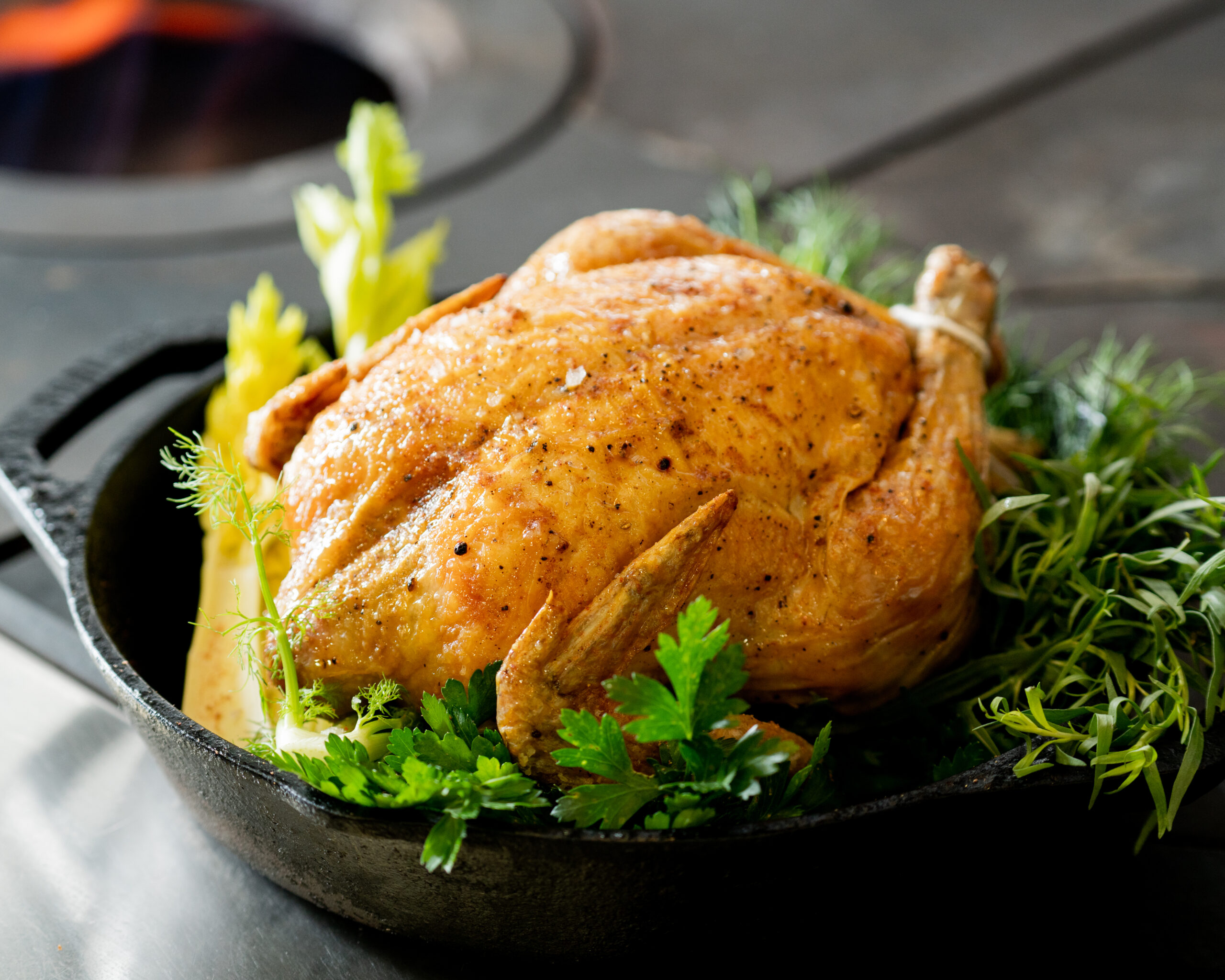 This recipe is for what Naramata Inn chef de cuisine Stacy Johnston calls "the perfect turkey." And, isn't that what we've been yearning for since turkey supplanted goose as the Christmas bird of choice? With just a simple 12–24 hour brine in addition to the standard cooking procedures, your turkey will be extra juicy and flavourful. Now that you have the perfect turkey recipe, don't forget a bottle of the perfect Naramata wine.
Serves up to 8 people.
Ingredients
For the brine:
Turkey (12-20 pounds)
16 cups water
1 cup kosher salt
3 tablespoons brown sugar
½ cup apple cider vinegar
4 bay leaves
8 sprigs thyme
5 cloves of garlic
4 sprigs sage
¼ cup black peppercorns
For the turkey:
Brined turkey
½ pound butter
Sage
Canola oil
Salt
Pepper
Method
For the brine:
Remove the turkey from its packaging and set in the bottom of a stock pot or bucket large enough to cover the turkey in brine.
In a pot, combine 4 cups of water, salt, sugar, and apple cider vinegar. Bring this mixture to boil. Once all the salt has dissolved, remove from heat. Add remaining 12 cups of water and let cool.
Crush garlic and bruise herbs with the back of a knife and add to the brine along with the black pepper.
Once the brine is room temperature and won't cook the bird, pour over the turkey. Be sure to cover the breast and legs. If the turkey floats, put a clean, heavy plate on top to submerge it.
Cover the pot with a lid and/or plastic wrap and refrigerate for 12–24 hours.
For the turkey:
One hour before cooking, remove the turkey from the brine, rinse, and set on a cooking grate to drain. Pat with a paper towel until the skin dry.
Carefully peel back the skin from the bottom of the turkey breast. You should be able to get your whole hand underneath without tearing the skin.
Cut the butter into small cubes, bruise the sage, and carefully lay them under the skin and on top of the breast.
Rub canola oil all over the skin of the turkey and season with salt and pepper to taste. Remember, your turkey has been brined with salt so you won't need as much as you think.
Roast at 385°F until the skin is golden, then reduce to 300°F and cook until a digital thermometer inserted into the thickest part of the breast reads 160°F.
Let cool for 30 minutes before carving.